A Non-Comedogenic Pore-Minimizing Primer for Oily Skin
This cruelty-free, clean primer smooths skin texture, controls oil, and increases makeup longevity.
It's a part of Jane Iredale's redesigned primer series with contemporary, environmentally-friendly packaging.
It has a similar ingredient deck as the Smooth Affair® Facial Primer and Brightener, so it's also hydrating and soothing.
The key difference is its PoreAway™ Technology which constricts your pores, so you don't produce as much oil throughout the day.
This also helps your foundation glide on seamlessly and make it last though out the day.
It keeps your skin a little matte but won't dry you out or make you feel dry.
And it's not necessarily a matte primer, but it definitely helps with shine control.
If you're looking for a more heavy-duty matte primer, the Smooth Affair® Mattifying Primer may be the better choice for you.
The Smooth Affair® Oily Skin Face Primer works best for oily and acneic skin with large pores.
Coupon Codes: jane iredale – Smooth Affair® Oily Skin Face Primer
Get the best price with the latest premium promo and discount codes when you buy Jane Iredale online.
Sales and special gifts are limited-time offers.
(Can't see the codes? Some links are likely disabled by Adblockers.)
eCosmetics
RETAILER
Fast Free Shipping over $49* – 100% Satisfaction Guaranteed.
*at the time of publishing. Subject to change.
Overview: jane iredale – Smooth Affair® Oily Skin Face Primer
BEST SKIN CARE MAKE UP | JANE IREDALE
Verdict: A cruelty-free, clean primer that works best for oily and acneic skin with large pores
Best for: All skin types, especially oily and acne-prone skin
Brand & Product Line: Jane Iredale, "The Skincare Makeup"; Smooth Affair® Primers
Type: Pore-Minimizing face primer
Formulation Base: Water-based primer
Color: Transparent white
Consistency: Silky and lightweight, Feels like a gentle lotion
Finish: Soothing, Matte
Clean Beauty: Vegan & wheat-free. All Jane Iredale products are formulated without talc, mineral oil, synthetic preservatives, synthetic fragrances, parabens, phthalates, and artificial dyes.
Safety Studies: Non-comedogenic, does not clog pores. Dermatologist-tested. Sensitivity- and Allergy- tested.
Cruelty-free: Yes
KEY BENEFITS:
PoreAway™ Technology helps diminish the appearance of pores and clogged pores
Oil control for visibly reducing shine
Matte finish for an even skin tone
Improves skin texture and helps create a smooth canvas for makeup
Advanced mineral technology that color-adjusts to your skin
Reduces the appearance of pores and soothes blemishes
Helps keep makeup on longer
CONS:
I've personally found that it works best on my oily skin during winter. It's hydrating and soothing, but it can't stand too much humidity. The Smooth Affair® Mattifying Face Primer is a much better option if you have excessively oily skin.
For those who don't like scents in their products, note that this one has a light citrus smell. It's naturally occurring as a by-product of using organic ingredients, and it's not a strong fragrance.
Product Review: Packaging, Formulation, Results, Makeup-Artist Tips
Packaging, Size, and Versions:
The original versions of the Smooth Affair® primers came in luxurious gold colors.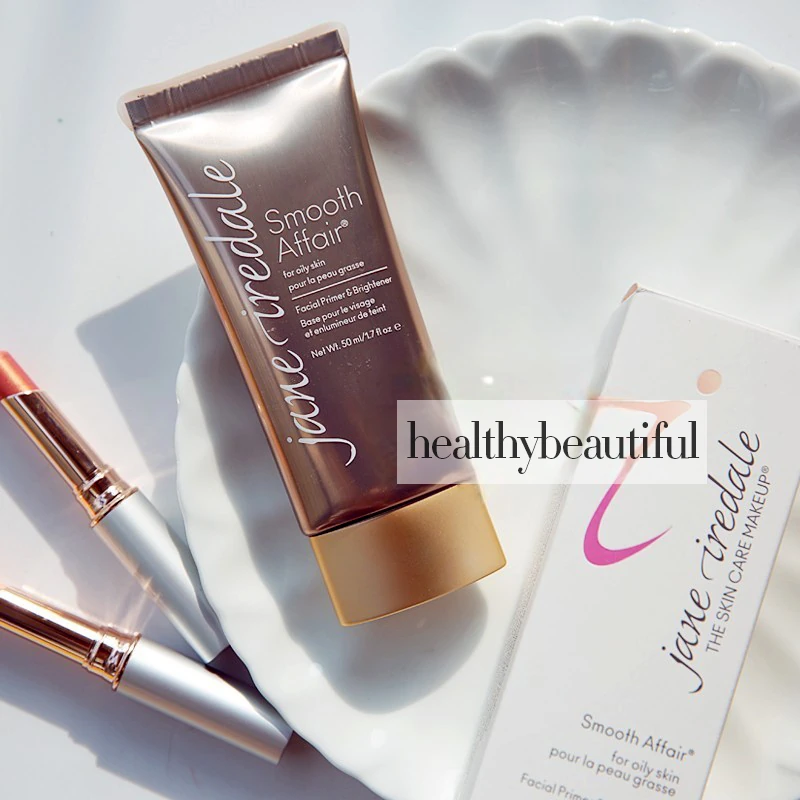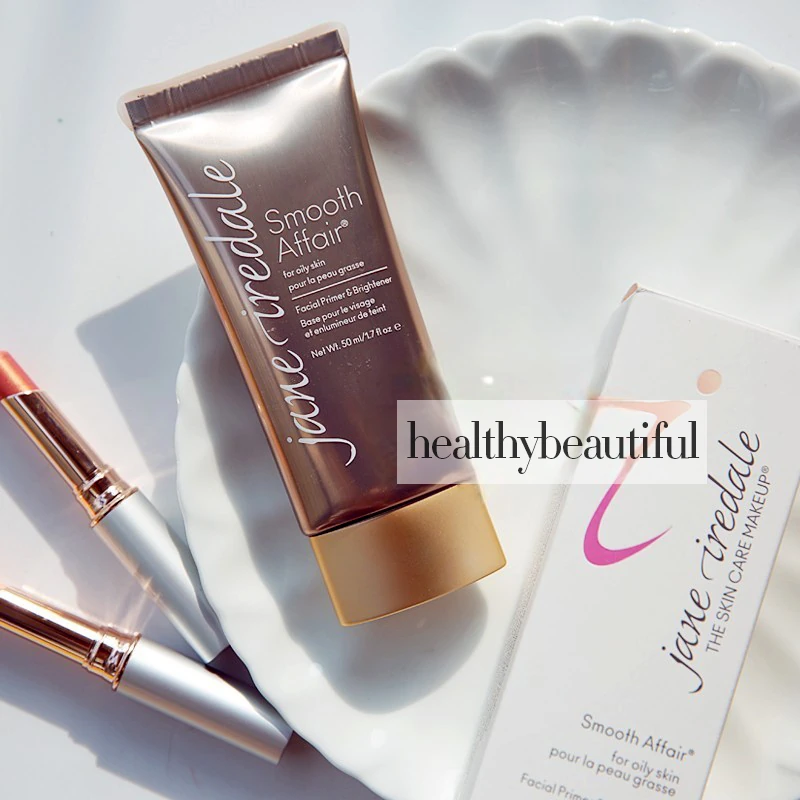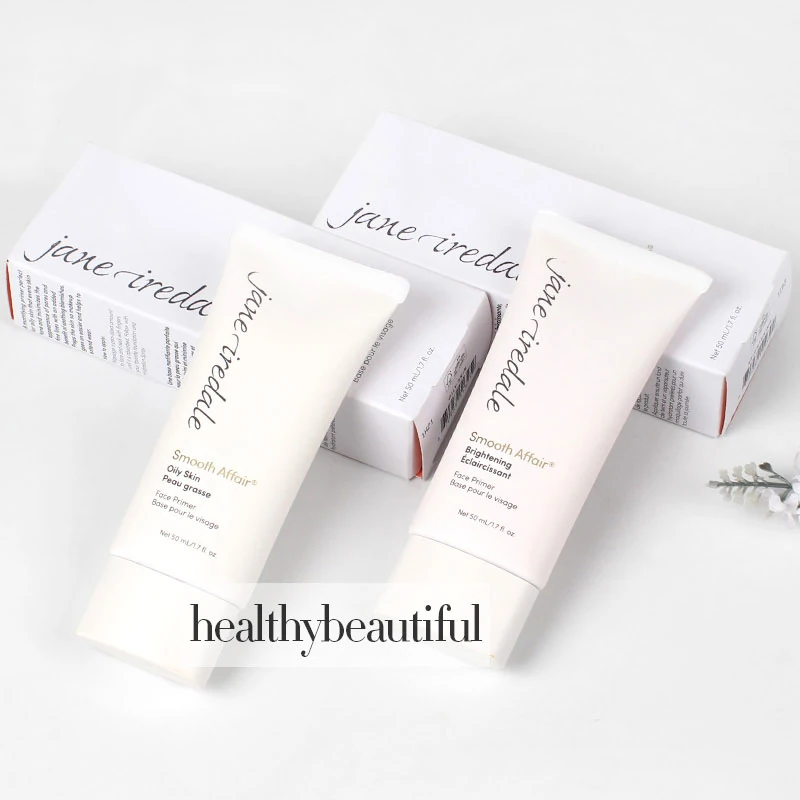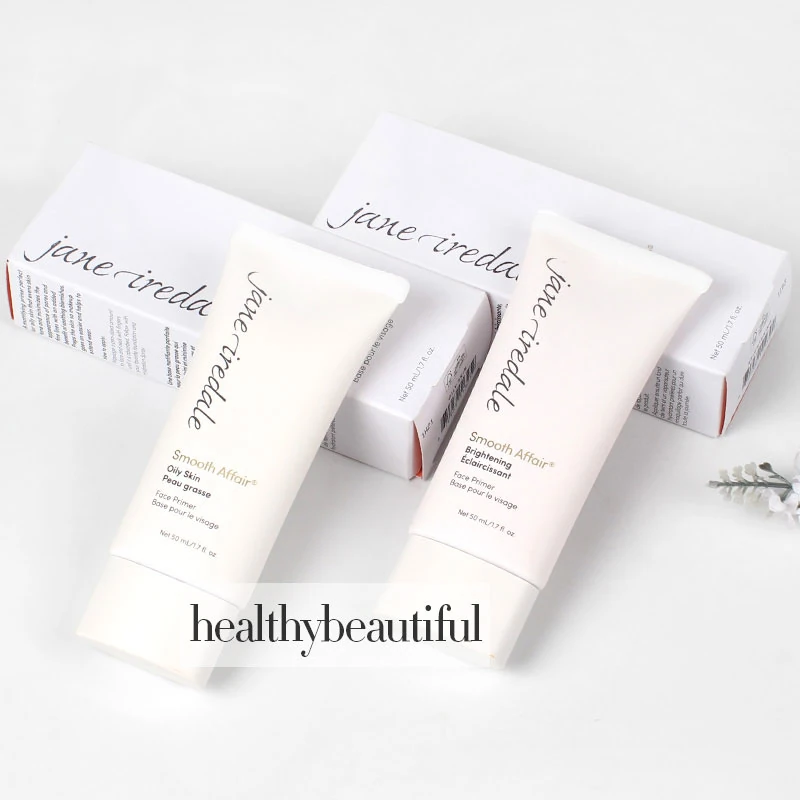 These new editions are more modern and minimalist, using fresh, sustainable packaging.
With this redesign, I assume they're trying to reflect the brand's roots in clean beauty and target a younger demographic.
All their face primers come in a one-size 50ml / 1.7 fl. Oz, which is the standard sizing.
You only use a pea-sized amount each time, so a bottle can last you a long while.
Product Formulation & Results:
This lightweight, water-based primer feels more like a gentle lotion.
I have oily skin, and this product is easy to apply and absorbs quickly.
I've used this as both moisturizer and base to stop my liquid foundation and bb cream from caking.
This primer makes the application smoother, leaving my skin soft and silky.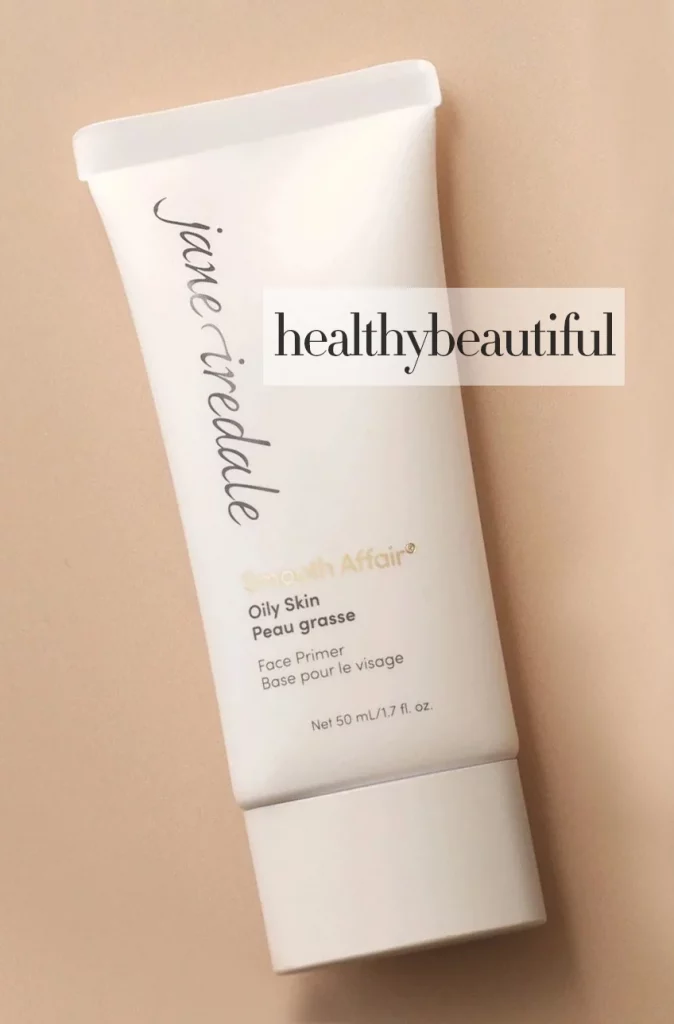 The Smooth Affair® Oily Skin Face Primer
With its new sustainable packaging
The Smooth Affair® Oily Skin Face Primer
Lightweight primer for oily and acne-prone skin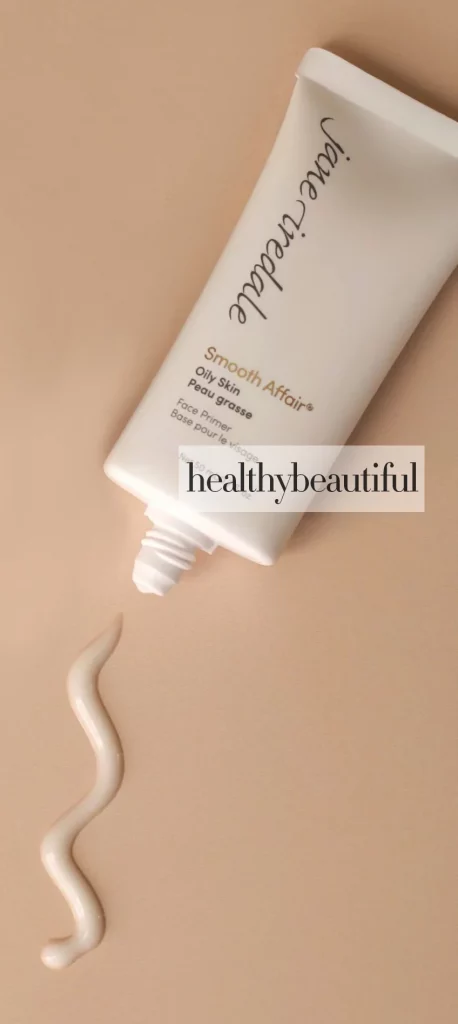 Skin Texture
I particularly love how it gets rid of any texture around my nose.
My skin looks smoother with or without makeup.
It feels hydrating, and long-term use shows a considerable difference.
I also use it on my face and eyes.
Oil Control
I found this primer's capacity for oil control depends on the season.
I get really dry in the winter, especially under my eyes but remain oily in my T-zone. This primer works for all areas, even though it's meant for oily skin.
It's not greasy at all and leaves my skin refreshed and hydrated. I get compliments whenever I use this.
Only in the winter, though—it's too much for me in the summer. It does nothing to control oil at all in that humidity.
During summer, it melts when I sweat at the end of the day.
It even made my pores look more prominent and my skin oilier after a session at the gym.
I recommend using the Smooth Affair® Mattifying Face Primer. during the summer instead, as that (ironically) has control oil better than this one.
On Acne & Inflammed Skin
I've been using this primer for a few weeks and was pleasantly surprised when it improved my complexion during a breakout.
I have sensitive skin when I have hormonal acne, and my skin doesn't usually tolerate any makeup.
However, this primer actually reduced a bit of the redness and inflammation after wearing it all day.
It applies well above the spots and covers the large pores.
Overall, I'd say it's also a good primer for acne-prone skin.
Makeup Longevity
I've had my foundation and blush last for 10+ hours in the winter wearing this primer with a bb cream.
A little bit of shine pushed through at the end but was quickly solved by loose powder.
Scent
It has a pleasant citrusy grapefruit smell, typical in the Smooth Affair primer line.
The scent fades off pretty quickly as soon as I put foundation over it.
It may be a natural fragrance, but it might bother some people, so something to take note of.
Discontinuation
With the introduction of the new Smooth Affair collection, the Smooth Affair® Oily Skin Face Primer is about to be phased out in favor of the Smooth Affair® Mattifying Primer .
They have it on sale in many places, so make sure to stock up before it runs out.
Key Ingredients:
PoreAway™ Technology – Helps reduce shine, the appearance of pores and clogged pores, and creates a smooth matte finish
Titanium Dioxide and Iron Oxides color spheres – Color capsules that adjust to the skin
Apple extract – soothing antioxidant that helps maintain elasticity to keep it firm and tight, malic acid gently exfoliates the skin
This primer is sensitive- and allergy-tested, so there shouldn't be any problems with irritation.
There are still botanical ingredients, so it can still irritate some, especially those with sensitized skin.
If you think you have damaged or sensitized skin, it's best to strip your skincare to just the following until you've re-balanced your skin:
a gentle cleanser (e.g. Dermalogica Ultracalming Cleanser – Gentle Non-Foaming Face Wash for Sensitive Skin) and
a skin-repairing moisturizer (e.g. Physiogel Daily Moisture Therapy Face Lotion or Eau Thermale Avène Cicalfate+ Restorative Protective Cream)
Make-up Artist Tips:
A pea-sized amount is all you need. Apply with your fingers for easier absorption.
You can mix this with any liquid foundation for sheer coverage.
It also works great on the eyelids and can be used as an eyeshadow primer.
You can also use this as a hand and body moisturizer.
Clean Beauty & Safety Tests:
Vegan and wheat-free.
Non-comedogenic, it will not clog pores or leave a greasy feel.
Dermatologist-tested. Sensitivity- and Allergy- tested.
All Jane Iredale products are formulated without talc, mineral oil, synthetic preservatives, synthetic fragrances, parabens, phthalates, and artificial dyes.
Cruelty-Free:
The Coalition for Consumer Information on Cosmetics (CCIC), the most reputable organization in the world for animal protection, has certified Jane Iredale as being cruelty-free through its Leaping Bunny Program.
Additionally, PETA has recognized that Jane Iredale cosmetics are cruelty-free.
Complete Ingredients:
Aqua/Water/Eau, Cyclopentasiloxane, Glycerin, Dimethicone/PEG-10/15 Crosspolymer, Coconut Alkanes (and) Polysilicone 11, Coco-Caprylate/Caprate, Stearoxymethicone/Dimethicone Copolymer, Camellia Sinensis (Green Tea) Leaf Extract, Raphanus Sativus (Radish) Root Extract, Pistacia Lentiscus (Mastic) Gum, Pyrus Malus (Apple) Fruit Extract, Pectin, Chlorella Vulgaris/Lupinus Albus Protein Ferment, Xanthan Gum, Citrus Paradisi (Grapefruit) Fruit Extract, Citrus Aurantium Dulcis (Orange) Peel Extract, Rubus Fruticosus (Blackberry) Fruit Extract, Helianthus Annuus (Sunflower) Seed Oil, Sodium Chloride, Lonicera Caprifolium (Honeysuckle) Flower Extract (and) Simmondsia Chinensis (Jojoba) Seed Oil, Lecithin, Alcohol Denat., Titanium Dioxide (CI 77891), Iron Oxides (CI 77489, CI 77491), Mica, Sucrose, Ethylcellulose, Hydroxyethylcellulose, Citric Acid
Please be aware that ingredient lists may change or vary from time to time. Please refer to the ingredient list on the product package you receive for the most up-to-date list of ingredients.
---
About the Brand
Introduced in 1994, Iredale Mineral Cosmetics is one of the pioneers of clean beauty as we know it today.
Best known as "the skincare makeup", Jane Iredale is the first to supply the beauty industry with high-performance makeup infused with topical skincare.
The brand formulates with powerful natural ingredients that are non-comedogenic, anti-inflammatory, calming, and soothing for the skin.
They also work with leading plastic surgeons and dermatologists to create skin-loving formulas that can cater to all skin tones, skin conditions, and types.
Their CEO and namesake, Jane Iredale, began her career as a casting director and producer in TV and film.
She's worked with actors and models and has seen firsthand the damage that heavy stage makeup can do to your skin.[1]
Her experience working with people whose career depends on a clear complexion moved her to launch her first line of clean, non-toxic mineral makeup.[2]
Fast forward, their current Skincare Makeup System now combines an infusion of botanicals, antioxidants, and sun protection without sacrificing color pay-off and performance.
All their products are formulated without talc, mineral oil, synthetic preservatives, synthetic fragrances, parabens, phthalates, and artificial dyes.
The line has new primers, all reformulated with skin-loving ingredients.
| | Illuminating Glow | Brightening | Mattifying |
| --- | --- | --- | --- |
| | | | |
| SKIN TYPE | All skin types, especially dry & dull skin | All skin types, especially aging & dull skin | All skin types, especially oily & acneic skin |
| FORMULA | Hydrating, Lightweight | Silky, Invigorating | Soothing, Mattifying |
| FINISH | Pearl, Soft-focus | Bright, Dewy | Smooth, Matte |
| KEY BENEFITS | Hydrates, Illuminates, Helps prevent moisture loss | Firms skin, Helps prevent moisture loss, Helps skin's elasticity | Helps regulate sebum production, Helps prevent moisture loss, Delivers antioxidant protection |
| IDEAL FOR | Looking for a radiant, healthy glow | Looking to blur pores for a flawless look | Looking to control and mattify skin |