Coupon Codes & Current Promotions
Get the best price with the latest premium promo and discount codes when you buy online.
Sales and special gifts are limited-time offers.
Healthy Glow Skin Store
Authentic Physician-Dispensed Skin Care Products. Subscribe & save 15%.*
Healthybeautiful Exclusive! Get 25% Off Site Wide with code: HEALTHYGLOW25. Limited redemptions.
Woman Owned 20% off Sitewide Coupon Code: SHOPSMALL20.
25% off Obagi Products! Use coupon code: obagi25
Walmart
Free shipping in select areas.*
Earn 5% cashback on Walmart.com. See if you're pre-approved with no credit risk.*


BeautifiedYou
Free US Shipping on all orders over $25. Under $25 has a flat $5 fee.*
Buy 3, Get 1 Free on Eminence Products at BeautifiedYou.com with code EMINENCE! (lowest priced item will be free)
Get 10% off SkinMedica with Code SKIN10 at BeautifiedYou.com.
15% off Obagi at BeautifiedYou.com with Code OBAGI15.
Dermstore
Earn reward points when purchasing this product as a rewards member.* Free delivery on all orders over $50.


*at the time of publishing. Subject to change.
Can't see codes? Try turning off any active adblockers.
Overview: EltaMD – UV Clear Tinted Broad-Spectrum SPF 46
Video: EltaMD UV Clear Tinted Facial Sunscreen Broad-Spectrum SPF 46
Winner: NewBeauty – Beauty Award, RealSimple – Smart Beauty Award, InStyle – Best Beauty Buy, SkinStore – Experts Choice
Verdict: The best non-comedogenic tinted moisturizer with SPF
Best for: Acne-prone, Hyperpigmentation, Rosacea
Brand & Product Line: EltaMD Skincare, Bestsellers
Formulation Base: Water-based moisturizer
Color: Sheer light brown
Consistency: Silky, Very lightweight
Finish: Dewy
Clean Beauty: Fragrance-free. Paraben-free.
Green & Cruelty-free: Vegan. No animal testing.
Safety Studies: Non-comedogenic skincare. Dermatologically-tested. Sensitivity-tested. Recommended for Daily Use by the Skin Cancer Foundation.
PROS:
Superior UVA-UVB sun protection from the #1 Dermatologist-recommended professional sunscreen brand
Recommended for Daily Use by the Skin Cancer Foundation.
Specifically formulated to soothe and protect sensitive, acne-prone skin prone to discoloration and breakouts often associated with rosacea and acne
Contains nourishing ingredients such as niacinamide (vitamin B3), hyaluronic acid, and lactic acid, which work together to promote healthy, vibrant-looking skin

Hyaluronic acid, boosts moisture retention, and diminishes wrinkles and fine lines
Niacinamide, a healing ingredient, effectively reduces inflammation to soothe acne flare-ups and helps to minimize the appearance of hyperpigmentation
Has antioxidants that combat skin-aging free radicals associated with ultraviolet (UV) and infrared radiation (IR)

Works well under makeup and can be worn alone
Glides easily and absorbs quickly without leaving any residue
Universally flattering tint that seamlessly blends with your skin tone to conceal discoloration and breakouts
Has an untinted version, the EltaMD UV Clear Broad-Spectrum SPF 46
Oil-free, lightweight formula
Vegan. No animal testing.
Non-comedogenic. Fragrance-free. Paraben-free. Dermatologically-tested. Sensitivity-tested.
CONS:
Not a universal shade, not a color match for very fair skin
More expensive than some other sunscreens on the market.
May not be suitable for those with extremely sensitive or dry skin.
Product Review: Packaging, Ingredients, Formulation, Results
Video: EltaMD Sunscreen Review | UV Clear, UV Elements, UV Physical & UV Glow
Packaging, Size, and Versions:
The EltaMD UV Clear Tinted Broad-Spectrum SPF 46 comes in a plastic airless pump container that allows for easy and mess-free dispensing of the product. The packaging also helps ensure that the formula stays fresh and stable. While the packaging is convenient, it could be better from a sustainability point of view.
At 1.7 oz, the size of this sunscreen is standard for facial sunscreen and is perfect for travel or everyday use. One bottle of this size usually lasts at least two months, which is a great value for the price point.
The brand offers a non-tinted version of this sunscreen as well. This is an excellent option for those with fair or dark skin tones who may find the tinted version too dark or light.
It's also worth noting that the label "UV Clear" has nothing to do with the color of this sunscreen. Instead, it refers to the formula's ability to clear the skin of acne and hyperpigmentation. The tinted version is directly stated on the packaging, so you can be sure you're getting the right product.
The EltaMD UV Clear, and UV Daily sunscreens can be easily confused because of their similar packaging. Both come in white plastic pump bottles, which look nearly identical at first glance. This can be especially confusing for those new to the brand or unfamiliar with the differences between these two products.
However, it's important to note that key differences between the EltaMD UV Clear and UV Daily formulas are marked on the packaging.
The UV Clear sunscreen is a mineral-based, tinted formula designed for acne-prone or sensitive skin. In contrast, the UV Daily sunscreen is a lightweight, moisturizing formula ideal for daily use and all skin types.
Despite their similar packaging, the UV Clear and UV Daily sunscreens are formulated with different active ingredients and serve different skincare needs. Pay close attention to the labeling and packaging when selecting a product to ensure you choose the right one for your skin type and concerns.
Key Ingredients:
Zinc Oxide is a powerhouse sunscreen agent that offers exceptional broad-spectrum protection against UVA and UVB rays.
Compared to other physical sunscreens like Titanium Dioxide, Zinc Oxide is even more effective because it protects against a wider range of UV rays. This makes it one of the most reliable options out there for daily sun protection.
While Zinc Oxide is known for its effectiveness, it's also notorious for leaving a white cast on the skin, which can be unflattering and inconvenient for daily use.
Fortunately, this sunscreen uses a tint that cancels out the white cast, making it more cosmetically elegant and suitable for everyday wear.
The tint blends in easily with most skin tones, making it a popular choice for people looking for a sunscreen that's both effective and aesthetically pleasing.
In addition to its impressive sun protection abilities, Zinc Oxide is also known for its stability and non-irritating properties. It's even used as a skin protectant and anti-irritant and is commonly used to treat skin irritations like diaper rash.
Overall, the EltaMD UV Clear Tinted Broad-Spectrum SPF 46 contains a blend of effective and nourishing ingredients that work together to provide superior sun protection, improve the appearance of damaged skin, and restore moisture to the skin.
The combination of Zinc Oxide, Niacinamide, Sodium Hyaluronate, and Tocopheryl Acetate makes it an excellent choice for those with sensitive or acne-prone skin.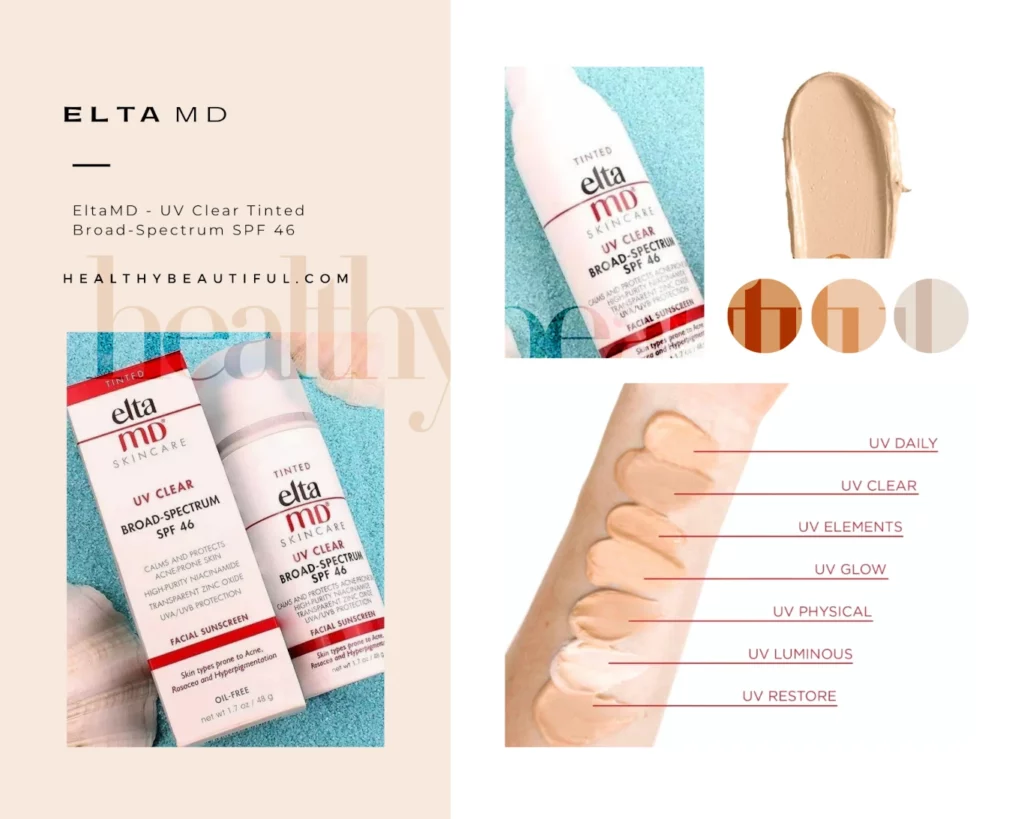 Complete Ingredients:
Active Ingredients: Zinc Oxide 9%, Octinoxate 7.5%.
Inactive Ingredients: Purified Water, Cyclopentasiloxane, Niacinamide, Octyldodecyl Neopentanoate, Butylene Glycol, Hydroxyethyl Acrylate/Sodium Acryloyldimethyl Taurate Copolymer, Polyisobutene, PEG-7 Trimethylolpropane Coconut Ether, Sodium Hyaluronate, Tocopheryl Acetate, Lactic Acid, Oleth-3 Phosphate, Phenoxyethanol, Iodopropynyl Butylcarbamate, Isopropyl Palmitate, Octyl Stearate, Iron Oxides, Triethoxycaprylylsilane
Please be aware that ingredient lists may change or vary from time to time. Please refer to the ingredient list on the product package you receive for the most up-to-date list of ingredients.
Ingredient Analysis:
The Good:
Product contains AHA, hyaluronic acid, niacinamide, SPF and Vitamin E.
Doesn't contain any harsh alcohols, common allergens, fragrances, oils, parabens or sulfates
Potential benefits from some ingredients: Good For Oily Skin, Redness Reducing, Reduces Large Pores, Anti-Aging, Acne Fighting, Brightening
The Bad:
Not Silicone-Free
Potential concerns from some ingredients: Drying, Irritating, Allergies, Eczema
Clean Beauty & Safety Tests:
EltaMD has not explicitly marketed themselves as a "clean beauty" brand. However, they do strongly emphasize the safety and effectiveness of their products.
The brand states that all of their products undergo extensive research and development to ensure they are safe for all skin types, including sensitive skin.
In terms of their ingredients, EltaMD is transparent about the ingredients they use and those they avoid.
They avoid using potentially harmful ingredients in their products, such as parabens, fragrance, and phthalates.
Additionally, their products are cruelty-free and gluten-free.
Product Formulation & Results:
I recently discovered two of my favorite sunscreens in the last few months, half a year or so, are the Elta MD UV Clear sunscreen line. These sunscreens come in the untinted and the tinted versions. I've used over a bottle of each, and I wanted to share my thoughts on both and compare the two.
Elta MD is known for having very high-quality, dermatologist-approved sunscreens and other skincare products. Over the last year, I've expanded my sunscreen skincare line.
I have to be honest. I used to hate using sunscreen. I was one of those people who did not put on sunscreen unless I knew I would be going outside. But lately, I decided it was time to up my game. I am entering my late 20s and want to be more vigilant about protecting my skin from the sun and UV radiation.
So I started looking at some high-quality sunscreens and then stumbled across the Elta MD UV Clear line. Despite combining chemical and physical sunscreens, they are not supposed to leave white casts. And both of these are meant for skin types that are prone to acne, rosacea, and hyperpigmentation.
Both of these formulations are very similar. The feel on the skin is almost identical. It glides so easily onto the skin.
And just as a quick recap of my morning skincare routine, I cleanse my face with the CeraVe foaming facial cleanser. I moisturize with the CeraVe moisturizing lotion that, yes, is meant for the body, but I love it on my face. And then, I treat my skin to the stubborn acne benzoyl peroxide gel from Neutrogena. And then I go ahead and apply my sunscreen.
So I already have a few layers of skincare products on my skin before using sunscreen. And it has no issues with pilling on the skin, which is a big concern for me, especially when using a leave-on gel like benzoyl peroxide.
I noticed some other formulations of sunscreens, notably the CeraVe AM facial moisturizing lotion with SPF 30 pills up badly on the skin, especially on top of other products. These, thankfully, do not have any of that issues. They spread around nicely on the skin. A bit of streaking happens as you work it into the skin, but it just takes patience. And once that is worked into the skin, you do not see any white cast.
The main difference between these two products is that the tinted one has iron oxides to create a little bit of that tinting, and the untinted one does not. Another added benefit of the tinted one with iron oxides is that it is also supposed to help protect against blue light. But otherwise, they are incredibly similar.
The most notable ingredients on both of these ingredient lists are niacinamide. Niacinamide is the third ingredient in both of these products, which is incredible, and that is why it is effective for acne-prone, especially oily skin types.
I noticed that throughout the day with both of these, my face is a lot more mattified than if I don't use either of these products. I've used other products with mattifying and oil-controlling ingredients; for some reason, my skin is usually very oily at the end of the day.
But with both of these, it does a great job controlling the oil throughout the day without drying, especially when applying it. I notice quite a bit of hydration when I first apply them. This is great because, on top of the benzoyl peroxide gel, my skin gets pretty dry, so I moisturize before applying the benzoyl peroxide. But this adds just the right level of hydration back to the skin.
It leaves my skin dewy for a bit, and I like that applying makeup on top of it. It helps the makeup stick to the face well. But throughout the day and at the end of the day, I noticed that my skin is nicely mattified, which, if you have struggled with oily, acne-prone skin, you know how important that can be.
From an appearance standpoint, tinted and untinted are almost identical. If you use multiple layers, you might get a little bit more of a white cast with the untinted version, or you might even notice a little bit more of a tan if you have very pale skin. For example, if you use multiple layers of the tinted version, but for the most part, on my skin type, I really don't notice any difference.
Unless I didn't take my time rubbing it into the skin, and it's left a little bit streaky, then the streaks will show a little bit more skin color if you use the tinted one or a little bit wider if you use the untinted one. But I usually mitigate that issue by rubbing it thoroughly into my skin. I personally cannot distinguish between the two.
Even approximately two hours after application, the two look almost indistinguishable. There isn't much cast on either side. If you use multiple layers of the tinted version, you might see a bit more of that tinting, but it's not very strong. Even though it is a tinted sunscreen, it doesn't provide that much coverage.
As for application, does it irritate? Does it sting the skin? These products do not usually irritate my skin. However, if I've noticed that I've gotten too much sun, or I'm a little bit wind-swept on my face, or I've just been picking at my skin when I shouldn't be, then I experience a little bit of sensitivity.
It could be from niacinamide, or it might be from another one of the ingredients on the ingredient list. So just be aware that if you have extremely sensitive skin or even very dry skin, I don't necessarily think that either of these will be for you. There is another EltaMD sunscreen line, the UV Daily, that I've heard great things about. This is meant a little bit more for those with normal or drier skin types.
Both of these sunscreens are roughly the same price. The untinted one is around $37, and I want to say the tinted one is around $39. So, it's definitely not a cheap sunscreen, but as I said, it is incredible on the skin.
Especially if you are someone who has been scared of using sunscreen for your entire life because you've struggled with acne and oily skin, then I highly recommend giving these a shot. I look forward to putting my sunscreen on every morning now, which I had never done until a few months ago. So, that to me is well worth the price.
---
About the Brand
Video: EltaMD Broad-Spectrum Sunscreens
EltaMD is the #1 dermatologist-recommended professional sunscreen brand, offering a range of products that cater to the needs of every skin type. Backed by its medical heritage, the company has spent the last 30 years working with some of the most renowned dermatologists in the country to develop safe and effective products for sun care, skin care, and post-laser skin care systems.
EltaMD formulates all of its sunscreens with zinc oxide, a natural mineral that acts as a shield, protecting the skin from the widest range of UVA and UVB rays. The company designs its sunscreens to be silky, blendable, and sheer, so they can be worn every day without feeling heavy or greasy.
For skin care, EltaMD offers innovative formulas that cleanse, renew, and heal the skin. Its range includes self-foaming cleansers, toners, and serums that help repair skin barrier damage. The company also offers post-laser skin care systems that are formulated to strengthen and protect compromised skin, preparing it for treatments and helping it transition safely and efficiently through the phases of wound healing.
EltaMD products are noncomedogenic, sensitivity-free, fragrance-free, and paraben-free, making them safe for even the most sensitive skin types. All of its lotion and cream sunscreens, as well as its UV Aero spray sunscreen, are recommended by The Skin Cancer Foundation as effective broad-spectrum sunscreens.
EltaMD believes that the responsible and innovative application of medical expertise and science will change how physician-dispensed skin care products treat people. As a trusted brand in the industry, EltaMD invites everyone to try its products and experience the difference for themselves.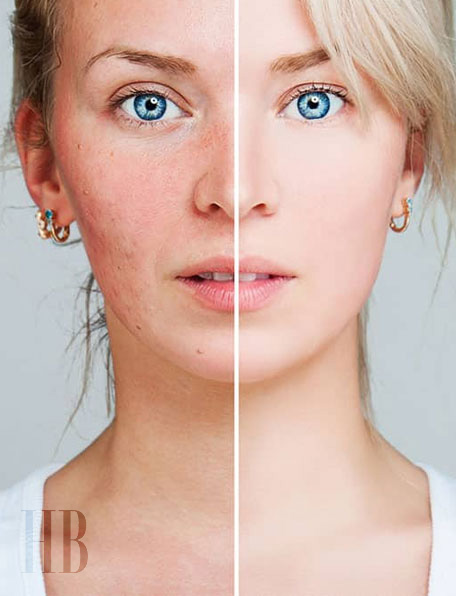 Recommended Acne Programs
---
If you're suffering from severe acne, it's best to undergo a program that will help you get to the root of the problem and address the causes. 
References:
Kołodziejczak-Radzimska, A., & Jesionowski, T. (2014). Zinc oxide—from synthesis to application: a review. Materials, 7(4), 2833-2881.
Newman, M. D., Stotland, M., & Ellis, J. I. (2009). The safety of nanosized particles in titanium dioxide–and zinc oxide–based sunscreens. Journal of the American Academy of Dermatology, 61(4), 685-692.
Song, H., Beckles, A., Salian, P., & Porter, M. L. (2021). Sunscreen recommendations for patients with skin of color in the popular press and in the dermatology clinic. International Journal of Women's Dermatology, 7(2), 165-170.
Lyons, A. B., Trullas, C., Kohli, I., Hamzavi, I. H., & Lim, H. W. (2021). Photoprotection beyond ultraviolet radiation: a review of tinted sunscreens. Journal of the American academy of dermatology, 84(5), 1393-1397.
Torres, A. E., Awosika, O., Maghfour, J., Taylor, S., & Lim, H. W. (2022). Practical guide to tinted sunscreens. Journal of the American Academy of Dermatology, 87(3), 656-657.
Guan, L. L., Lim, H. W., & Mohammad, T. F. (2021). Sunscreens and photoaging: A review of current literature. American journal of clinical dermatology, 22(6), 819-828.
De La Garza, H., Visutjindaporn, P., Maymone, M. B., & Vashi, N. A. (2022). Tinted Sunscreens: Consumer Preferences Based on Light, Medium, and Dark Skin Tones. Cutis, 109(4), 198-223.
Smejkalova, D., Huerta-Angeles, G., Ehlova, T., & Dobrouc, D. (2015). Hyaluronan (Hyaluronic Acid): a natural moisturizer for skin care. Harry's 9th Edition, 2, 605-622.