Replenish Dehydrated Skin with Hyaluronic Acid
If you have unbalanced dry skin, dehydrated skin, acne-prone skin, sensitive skin, or are worried about your skin losing its firmness due to age or external factors–you're on the right track with hyaluronic acid.
One of the causes of these issues is the diminished ability of your skin to retain moisture.
To reverse this and bring back your skin's natural ability to retain water, re-introducing the key molecule that makes it happen–hyaluronic acid.[1]
To do this, you'd think you'd have to go under the knife or spend thousands of dollars on ridiculously expensive products but that's not the case at all nowadays.
If you understand what you're looking to address, what the procedures are, and what ingredients you need; you can certainly find a solution among the hundreds of products that are out there.
Video: What is Hyaluronic Acid? by Clinical Director Lovely C. Laban GNP-C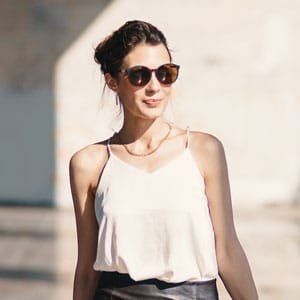 Ask the Expert: What is Hyaluronic Acid? + Tips for Maximum Skin Absorption
by Samantha Welch, Esthetician
---
Hyaluronic acid has an extraordinary ability to retain moisture and restore elasticity to the skin. It holds up to 1,000 times its weight in water. It's extensively used in skincare because of this.
It is one of the key ingredients in most cosmetic surgeries like commercial dermal filler injections and lip augmentations[2] e.g. Restylane®[3], Hylaform®[4], and Juvederm®[5].
Hyaluronic acid in serums and creams has been proven to
reduce wrinkles[6]
provide relief for extremely dry skin like eczema
fortify sensitive skin
and plump maturing or aging skin
Hyaluronic acid is also present in a number of sunscreens because it is also capable of protecting the skin against UV radiation.
Below are the best hyaluronic acid products for most skin types based on specifications, consumer reviews, and cost-effectiveness.
Damp skin is more permeable than dry skin.
For maximum absorption, make sure to apply serums, lightest to thickest, on a slightly damp, freshly cleansed face.
Follow this with a moisturizer to lock in hydration and prevent TEWL (transepidermal water loss or water evaporating off your skin).
Esthetician's Choice:
The Best Hyaluronic Acid Serums
If you have concerns about skin sensitivity, it's best to buy products with basic formulations. This way, you reduce the chances of irritation.
If you're always on the go and would like a holy grail hyaluronic acid product that combines a laundry list of benefits in a bottle, go with formulations that are suited for your skin type and has ingredients that can address your skin concerns.
The below products are primarily focused on hyaluronic acid so its main job is to erase fine lines, plump and firm the skin, and minimize pores. Other complementary ingredients, however, are added to give your skin a boost in areas where you need them.
Make sure to choose products according to your skin type and specific skin problems you're looking to address. Look for the 'Best for' line in the review boxes below.
Vegan & Organic Hyaluronic Acid Serum – 100% Pure of a 1% solution 2oz
Best for: Sensitive skin, Acne-prone skin, Large pores
Our Review:
With over 98% organic ingredients and 1% pure HA–this is the strongest hyaluronic anti-aging serum available.
Vegan, organic, oil-free, hypoallergenic, and paraben-free. It only has 4 ingredients (organic Aloe Barbadensis Juice, Sodium Hyaluronate/Hyaluronic Acid, Gluconolactone, Sodium Benzoate) which reduce any chances of irritation, especially for sensitive and acne-prone skin.
You can apply it not just to your face but other areas where you feel could use firming and plumping up like the décolletage, the jawline, hands, etc.
It's also reported to be receptive to other topical medications like retinol, salicylic acids, moisturizers, and the like; making it one of the best hyaluronic acid serums for acne-prone skin.
---
Vichy Mineral 89 Fortifying, Hydrating & Plumping Daily Skin Booster, Face Moisturizer with Hyaluronic Acid
Best for: Dry & dull Skin, Sensitive skin, Re-balance compromised moisture barrier ie. irritated skin; City living
Our Review:
Vichy Mineral 89 is non-comedogenic, 100% paraben-free, fragrance-free, silicone-free, and oil-free.
Non-greasy. Non-sticky. Non-shiny. Tested On Sensitive Skin. Allergy-Tested.
Vichy, one of Europe's leading brands for anti-aging, has come out with something akin to an anti-pollution product. The Mineral 89 serums help strengthen the skin and be more resistant to environmental aging and other stresses like fatigue.
Along with their blend of hyaluronic acid and Vichy Thermal Spa Water (naturally rich in 15 beneficial minerals + antioxidants), it re-balances the skin's moisture barrier for a healthier, more radiant glow.
The texture of the serums is lightweight and easily absorbed. It's 100% transparent, can provide 24-hour hydration, and goes well under makeup. Great for acne-prone skin.
If you live in the city and you're always about and about, this serum should give your skin the nourishing boost and protection it needs for daily life.
Non-greasy. Non-sticky. Non-shiny. Tested On Sensitive Skin. Allergy-Tested.
---
---
100% Pure Organic & Vegan Hyaluronic Acid Serum by Asterwood Naturals
Best for: Dry, dull, & dehydrated skin
Our Review:
This 100% pure vegan HA delivers intense hydration that keeps skin full and plump.
Other benefits include:
Enhance skin elasticity
Evens out skin tone for a brighter complexion
Reduce wrinkles and fine lines
Deeply moisturizes to hydrate dry skin
Improve skin texture
Note: This is a concentrated serum at 2% HA solution. Be sure to do a patch test on your neck to make sure you're not sensitive to it. If the serum is compatible with your skin, you can use it on your face, neck, and hands.
It comes in a generous 8oz that gives you a very affordable, effective solution to dehydrated and dry skin. Minimal ingredients also mean it likely won't clash and work well with your other skincare.
Fragrance-free. Oil-free. Paraben-free.
Not tested on animals.
Great Dupes: Hyaluronic Acid Serum 1 oz, 100% Pure Medical Grade Clinical Strength Hyaluronic Acid, Cosmedica Pure Hyaluronic Acid Serum
---
Raw Biology Organic Liquid Facelift with Vitamin C Serum, Retinol and Hyaluronic Acid for Skin
Best for: Dull Skin, Discoloration (age spots, sun spots, blemishes), Uneven skin tone, Sagging skin, Wrinkles & fine lines
Our Review:
They say the best things come in threes. Raw Biology, known for their medical-grade organics, has packaged their anti-aging line into an all-in-one Liquid Facelift System. The brand is known for their skin restoring and rejuvenating line, targeted at aging skin.
This serum combines premium ingredients scientifically designed to brighten a dull complexion and resurface youthful skin. You can use them daily or every other day, depending on your skin issues and tolerance.
Hyaluronic acid for erasing wrinkles, lines, sagging, dark circles (Use AM & PM)
Vitamin C for rebuilding collagen & elastin, fighting free radicals & soften skin & scars (Use AM and/or PM)
Retinol (Vitamin A) for resurfacing, discoloration, blemishes & toning (Use PM only as it can induce sun sensitivity)
Ironically, what makes it unique is also its drawback–three bottles that you have to religiously use in tandem to get results. If you have time carved out for your skincare routine, this might work well for you. If you're someone on the go, the all-in-ones might be a better fit.
Raw Biology is hyaluronic acid without Alcohol, Parabens, Sulfates, or Gluten.
Certified Organic, Vegan & Kosher. Made in the USA. No Animal-Free Testing.
---
Mario Badescu Hyaluronic Emulsion with Vitamin C
Best for: Combination, Dry, or Sensitive skin. Dull skin, Discolorations
Our Review:
Celebrity favorite Mario Badescu is well-known for their advanced formulas tailored to correct skin imperfections. The brand's classic line of problem-solving skincare uses high-grade botanicals and curative methods hailing from Eastern Europe. Their range of products focuses on enhancing your skincare routine to achieve a flawless complexion.
Their serum features:
Hyaluronic acid for intense hydration
Collagen and Elastin moisturize the skin and give it a nourishing boost
Vitamin A enhances the skin's texture and plumps as it hydrates
Vitamin C is an antioxidant that helps skin clarity by fading out any discolorations
The liquid is lightweight, fast-absorbing, and odorless; making it easy to layer with other products. You can use this twice a day and under make-up.
One thing worth mentioning is that it has retinyl palmitate, a derivative of Vitamin A. This ingredient induces skin renewal but also sun sensitivity, so make sure to use sunscreen after when you use this in the AM.
This is a great anti-aging starter if you're in your twenties. The ingredients are fewer as well, in comparison to the others which makes it more suitable for sensitive skin.
Great Dupe: AHC Aqualuronic Emulsion for Dehydrated Skin – Triple Hyaluronic Acid Face Lotion
---
YEOUTH Medical Grade Hyaluronic Acid Serum Plus Vitamin C & Tripeptide-31
Best for: All skin types especially Mature skin. Sun damage, Fine lines, Sagging skin, Rough Skin, Age Spots
Our Review:
A medical-grade serum with a trifecta of anti-aging ingredients in one bottle:
Hyaluronic acid for intense hydration
Vitamin C acts as an anti-oxidant and battles free radicals that cause premature aging
Tripeptide-31, a powerful anti-aging ingredient that increases collagen production, tightens and firms the skin, and works to address wrinkles, roughness, and age spots
Labeled safe for all skin types, even the most sensitive skin around the eyes–crucial if you're concerned about crow's feet. This makes it stand out as most serums are too potent for this area.
Cruelty-free and Vegan. Made in the USA.
Glowing reviews in reference to its efficacy in as short as one week.
Great Dupes: TruSkin Vitamin C Facial Serum with Vitamin E & Hyaluronic Acid – Hydrating & Brightening for Dark Spots, Fine Lines, and Wrinkles, Eva Naturals Vitamin C Serum Plus 2% Retinol, 3.5% Niacinamide, 5% Hyaluronic Acid, 2% Salicylic Acid, 10% MSM, 20% Vitamin C – Skin Clearing Serum – Anti-Aging Skin Repair
---
Vernal Skincare – Hyaluronic Acid Serum With Vitamins C, A, D & E
Best for: All skin types, Dull & dry skin, Wrinkles, Sagging Skin
Our Review:
Lab Certified and highly potent, Vernals' products always hit the homerun with their creams and serums. Their hyaluronic acid line is no different.
Extremely light inconsistency, it can go on flawlessly under makeup so you can use it round the clock for full efficacy. Once you've put it on, you can feel it start to slightly pull once it starts to dry, which is the product at work. It can penetrate the skin and target deep lines.
The bottle also has a generous amount, so one can last for a long time.
---
Hyaluronic Acid Sets
If you're looking to achieve the full efficacy of hyaluronic acid from a brand, getting complementary products is the way to go.

Getting a complete set gives you an easy and proven system to follow without worrying about ingredients counterbalancing each other.

Below are some of the highest-rated hyaluronic acid sets in the market today.
YEOUTH 5 Pack: Best Complete Anti Aging Skin Care System – Balancing Toner for Face, Vitamin C Serum, Hyaluronic Acid Serum, Eye Gel Cream, L22 Face Moisturizer 100%
Best for: Dehydrated skin, Mature skin, Wrinkles & fine lines
Our Review:
A complete anti-aging set with the highest quality medical grade formulation.
It deeply hydrates and moisturizes to reduce crow's feet, fill fine lines, wrinkles, and even out skin tone, bags and puffiness around the eyes. It also defends against free radicals and firms the skin.
Balancing Facial Toner – prepares the skin for the routine, helps in dermal healing, and reduces irritation and redness
Vitamin C & E Morning Serum – Acts as a shield from damaging elements and effectively protects the skin from free radicals, helps in reviving sun-damaged skin
Hyaluronic Acid Plus Night Serum – nourishes the skin with medical-grade HA and tightens the skin with Tripeptide 31, also contains a powerful vitamin C
L22 Anti-Aging Moisturizer – deeply moisturizes, heals, and soothes the skin with its patented L22 Lipid Complex. It also has been clinically proven to repair the skin's lipid barrier
Radiance Eye Gel – infused with hyaluronic acid and Tripeptide 31, it helps to boost collagen production and retain moisture, helps reduce crow's feet, fine lines, and wrinkles
Interestingly, if you've ever heard of the famous and rigorous Korean skincare regimen, the concept is very similar.
Free from: Parabens, Sulfate, Phthalates, Fragrance, GMO, Triclosan. Made in the USA.
---
Cosmetic Skin Solutions 5 Combo Pack – Cleanse | Correct | Resurface | Moisturize | Masque
Best for: Dull & dehydrated skin, Mature skin, Uneven skin tone, Wrinkles & fine lines
Our Review:
This dermatologist-recommended (including mine) brand put together all of their best-selling products in a single line. These are manufactured using pharmaceutical-grade ingredients with world-class product formulations.
The set includes:
Exfoliating Gel Cleanser – combines five botanical extracts with natural AHAs (alpha hydroxy acid) to gently exfoliate and prepare the skin for the rest of the treatment;  chamomile, cucumber, and aloe soothe and leaves the skin fresh and rejuvenated
Retinol 1.0 Creme Advanced Formula – a high strength vitamin A that offers intensive repair; it regenerates skin cells, reduces blemishes and pigmentation, improves fine lines and wrinkles, and even out skin tone
Resurfacing Serum – a combination of natural AHAs lactic and glycolic acid, this serum helps promote cellular turnover to replenish and retexturize the skin, kombucha contains amino acids and enzymes
Day Moisturizing Creme – has unique pore-minimizing properties with a blend of plant extracts and astringents; formulated with marine and sea algae to provide nourishing minerals and amino acids; vitamin A & E fights free radicals and protects the skin with antioxidants
Hydra B5 Masque – intensely hydrating that restores its skin to its optimal moisture balance; ideal for dehydrated, stressed, and dry skin; high concentrations of hyaluronic acid and vitamin B5
Not tested on animals. Gluten-free. Made in the USA.
---
References:
Eleni Papakonstantinou, Michael Roth & George Karakiulakis (2012) Hyaluronic acid: A key molecule in skin aging, Dermato-Endocrinology, 4:3, 253-258, DOI: 10.4161/derm.21923
FDA-Approved Dermal Fillers. U.S. Food and Drug Administration. https://www.fda.gov/medical-devices/aesthetic-cosmetic-devices/fda-approved-dermal-fillers
Restylane. (n.d.-b). Drugs.Com. https://www.drugs.com/restylane.html
Monheit GD. Hylaform: a new hyaluronic acid filler. Facial Plast Surg. 2004 May;20(2):153-5. doi: 10.1055/s-2004-861757. PMID: 15643583.
Bogdan Allemann, I., & Baumann, L. (2008). Hyaluronic acid gel (Juvéderm) preparations in the treatment of facial wrinkles and folds. Clinical interventions in aging, 3(4), 629–634. https://doi.org/10.2147/cia.s3118

Pavicic T, Gauglitz GG, Lersch P, et al. Efficacy of cream-based novel formulations of hyaluronic acid of different molecular weights in anti-wrinkle treatment. Journal of Drugs in Dermatology : JDD. 2011 Sep;10(9):990-1000. PMID: 22052267.