Jump to: Editor's Choice: The Best Benzoyl Peroxide Creams, Gels, & Lotions
Most mild to moderate cases of acne can be treated effectively with drugstore cleansers and ointments.
The strongest and most effective over the counter acne treatments contain benzoyl peroxide.
How Does Benzoyl Peroxide Work?
Topical benzoyl peroxide in cream, gel, or lotion form works to both prevent and treat inflammatory acne (cysts, red pimples, and zits) and non-inflammatory (blackheads and whiteheads).
It has 3 major acne-fighting actions:
It's a very effective exfoliant – it clears pores of clogged oils and dead skin which are the root causes of blackheads and whiteheads. This exfoliation action also expedites cell turnover, which helps heal the spot.
It's anti-bacterial – by releasing oxygen, which is lethal to the p. acne bacteria.
It promotes wound healing – by attracting macrophages and histiocytes (types of white blood cells that protects the body from infection) into the wound.
Jump to: Editor's Choice: The Best Benzoyl Peroxide Creams, Gels, & Lotions
Video: What is Benzoyl Peroxide? by Dr. Schultz, MD
Editor's Choice: The Best Benzoyl Peroxide Creams, Gels, & Lotions
---
These are our choices for the best topical treatments with benzoyl peroxide based on formulation, our experience, value for money, specifications, and consumer reviews over the years.
Jump to: Product Comparison Table – The Best Benzoyl Peroxide Lotions, Creams & Gels
Make sure to choose one that is most suited for your skin type and condition.
Best for: All skin types, mild to moderate acne
Video: Applying Acne.org Benzoyl Peroxide on The Acne.org Regimen
Best for: Dehydrated, Oily, or Dry skin; Spot treatments, Under make-up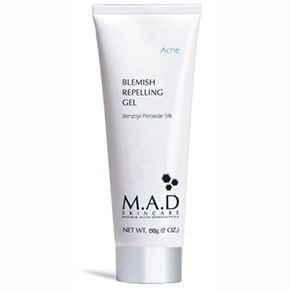 Best for: All skin types, prone to redness & inflammation
Best for: Spot treatments, Acne blemishes, Blackheads, Whiteheads
 Best for: Medium to Severe Adult Acne on All Skin Types
 Best for: All skin types, Resistant skin
Product Comparison Table: The Best Benzoyl Peroxide Lotions, Creams, & Gel
---
| Brand / Product Name | Benzoyl Peroxide Strength | Added Benefits | Best for (Skin Type & Condition) | Product Image | Jump to Review | wdt_ID |
| --- | --- | --- | --- | --- | --- | --- |
| Paulas Choice Clear Acne Treatment Regular Strength Lotion with 2.5% Benzoyl Peroxide for Moderate Acne | 2.5% | AHA+ BHA very gentle toner.Soothing plant extracts (minimize skin peeling & dryness). Sets to a soft, invisible, matte finish. | All skin types, Mild to moderate acne | | | 1 |
| 2.5% Benzoyl Peroxide Dr. Song Acne Gel Treatment Lotion | 2.5% | Simple, affordable benzoyl peroxide lotion. 100-day money back guarantee. | All skin types. Resistant skin. | | | 3 |
| Acne.org 16 oz. Treatment (2.5% Benzoyl Peroxide) | 2.5% | Pharmaceutical-grade & triple milled for extra penetration. Preventive acne treatment. | All skin types. For overall face treatment. | | | 4 |
| Glytone Acne 3P Treatment Gel | 5% | Patented time-released micronized benzoyl peroxide. Non-whitening matte finish. | All skin types especially dehydrated, oily or dry skin. | | | 5 |
| PCA SKIN Acne Cream | 5% | Lactic acid (gentle exfoliation). Tea tree oil (antibacterial). | All skin types especially those prone to dry patches. | | | 6 |
| M.A.D Skincare Blemish Repelling Gel Benzoyl Peroxide 5% | 5% | Green tea, licorice (antioxidant). Epilobium Fleischeri extract (oil control, pore minimizing) | Oily to Combination skin. | | | 8 |
| Glo Skin Beauty Clear Skin Spot Treatment - Acne & Pimple Spot Treatment, 0.5 fl. oz. | 5% | Aloe vera & Rosemary (anti-inflammatory, antioxidant). Glycerin (hydration). | All skin types especially those prone to redness & inflammation. | | | 7 |
| La Roche-Posay Effaclar Duo Acne Treatment with 5.5% Benzoyl Peroxide | 5.5% | Multi-award-winning Effaclar Dermatological Acne System. 5.5% micronized BP with micro-exfoliating lipo-hydroxy acid (LHA), proven to reduce acne by 60% in 10 days. | Spot treatments of acne blemishes, blackheads, & whiteheads. | | | 20 |
| Jan Marini Skin Research Benzoyl Peroxide Acne Treatment Lotion 10% | 10% | Highly micronized BP combined with specialized emollients for maximum delivery & minimum side effects. | Normal to Oily Skin. | | | 16 |
| Jan Marini Skin Research Age Intervention Duality - 10% BP | 10% | Ultra-micronized benzoyl peroxide, highly concentrated all-trans-retinol, green tea extract, advanced hydrators, anti-aging peptides and antioxidants. | Medium to severe Adult Acne on all skin types. | | | 17 |
How to Use Benzoyl Peroxide for Acne:
Before including this in your regimen, you need to be aware of its possible side effects. This is crucial because expecting these and knowing how to deal with it head-on is one of the keys of a successful treatment.
Possible side effects include:
Extreme skin dryness – If your skin is sensitive or isn't resistant enough, it can start to crack and peel off in blotches (Sounds scary, I know! But stay with me here)
Redness and skin irritation, a bit of stinging if you have extra sensitive skin
Now for the catch-22: dry skin can clog pores and irritated skin practically guarantees breakouts in acne-prone skin.
The solution?
Use a hypoallergenic, non-comedogenic moisturizer after application to counter the side effects and restore the skin's pH.
Be sure to find a moisturizer that is gentle and won't irritate your skin (opt for formulations for sensitive skin). Also, check that it is lightweight and non-comedogenic so as to not further aggravate your acne.
If used in daytime, complement with a broad spectrum sunscreen.
Important Notes: It's also important to acclimatize or let your skin adjust when incorporating any new product. Your safest bet is to start with the lowest % strength, using it once every other day. Gradually increase usage to 2-3 times daily or as needed as you go on. You can work your way up in % or frequency when you feel like your skin needs and is prepared for it. If any dryness or peeling occurs, reduce the frequency or % strength.
For best results, do not use hydroquinone and benzoyl peroxide at the same time. (It's a brightening/whitening ingredient. You can check the label of your other products if you're not sure.)
Jump to: Editor's Choice: The Best Benzoyl Peroxide Creams, Gels, & Lotions
You also need to set your expectations when using over the counter products like these. I've had acne since my teens until well into my twenties and have tried almost every acne product I can get my hands on in hopes of finding that miracle product that will end my suffering. (I know this sounds overly dramatic but when you've had acne for more than a decade, 'suffering' and 'agony' really isn't an exaggeration. 🙁 )
Benzoyl peroxide has been very effective for me but it is by no means a cure-all. If you're suffering from persistent acne, its best to undergo a program that will help you get to the root of the problem and address the causes. Acclaimed programs like Mike Walden's Acne No More and Clear Skin Unlocked can be a great start.
References
---
Adapalene/benzoyl peroxide clearly superior in facial acne. (2007). Inpharma Weekly, &NA;(1617), p.14.
Alvarez, O. (1983). Benzoyl peroxide and epidermal wound healing. Archives of Dermatology, 119(3), pp.222-225.
Benzoyl Peroxide Topical: MedlinePlus Drug Information. (2018).
Cohen, H. (1975). Benzoyl Peroxide Gel in Acne Treatment. Archives of Dermatology, 111(11), p.1535.
Colman, G. and Roenigk, H. (1978). The Healing of Wounds in the Skin of Piglets Treated with Benzoyl Peroxide. The Journal of Dermatologic Surgery and Oncology, 4(9), pp.705-707.
Del Rosso, J. and Zeichner, J. (2016). Advances in Acne Management, An Issue of Dermatologic Clinics. 1st ed. Saintt Louis: Elsevier Health Sciences.
DM, F. (2018). How patients experience and manage dryness and irritation from acne treatment. – PubMed – NCBI.
Evidence for the Use of a Benzoyl Peroxide Wash in Acne. (1984). InPharma, 441(1), pp.15-15.
Kawashima, M., Sato, S., Furukawa, F., Matsunaga, K., Akamatsu, H., Igarashi, A., … Katsuramaki, T. (2017). Twelve‐week, multicenter, placebo‐controlled, randomized, double‐blind, parallel‐group, comparative phase II/III study of benzoyl peroxide gel in patients with acne vulgaris: A secondary publication. The Journal of Dermatology, 44(7), 774–782. https://doi.org/10.1111/1346-8138.13798
Glymed Plus. (2017). GlyMed Plus.
Gloprofessional.com. (2017). glo minerals Makeup & glo therapeutics Skincare | gloProfessional. 
Mad-skincare. (2017). M.A.D. Skincare.
Panoxyl.com. (2017). PanOxyl | Acne Treatment with Benzoyl Peroxide Formula. 
Pcaskin.com. (2017). Skin Care Products. 
Rugbylaboratories.com. (2018). Home | Rugby® Laboratories.
How useful was this post?
Click on a star to rate it!
Average rating 5 / 5. Vote count: 2