The Best Hyaluronic Acid Serums of 2020 – If you have dry skin, dehydrated skin, or are worried about your skin losing its firmness due to age or external factors–you're on the right track with hyaluronic acid.
One of the causes of these issues is the diminished ability of your skin to retain moisture.
To reverse this and bring back your skin's natural ability to retain water, re-introducing the key molecule that makes it happen–hyaluronic acid.
To do this, you'd think you'd have to go under the knife or spend thousands of dollars on ridiculously expensive products but that's not the case at all nowadays.
If you understand what you're looking to address, what the procedures are, and what ingredients you need; you can certainly find a solution among the hundreds of products that are out there.
Video: What is Hyaluronic Acid? by Clinical Director Lovely C. Laban GNP-C
What is Hyaluronic Acid?
Hyaluronic acid has an extraordinary ability to retain moisture and restore elasticity to the skin. It holds up to 1,000 times its weight in water. It's extensively used in skin care because of this.
It is one of the key ingredients in most cosmetic surgeries like commercial dermal filler injections and lip augmentations e.g. Restylane®, Hylaform®, and Juvederm®.
Hyaluronic acid in serums and creams have been proven to
provide relief for extremely dry skin like eczema
fortify sensitive skin
and plump maturing or aging skin
Hyaluronic acid is also present in a number of sunscreens because it is also capable of protecting the skin against UV radiation.
Below are the best hyaluronic acid products in the market today based on specifications, consumer reviews, and cost-effectiveness.
Editor's Choice: The Best Hyaluronic Acid Serums
---
If you have concerns about skin sensitivity, it's best to buy products with basic formulations. This way, you reduce the chances of irritation.
If you're always on the go and would like a holy grail hyaluronic acid product that combines a laundry list of benefits in a bottle, go with formulations that are suited for your skin type and has ingredients that can address your skin concerns.
The below products are primarily focused on hyaluronic acid so it's main job is to erase fine lines, plump and firm the skin, and minimize pores. Other complementary ingredients, however, are added to give your skin a boost in areas where you need them.
Dermatologist tip for serums: Damp skin is more permeable than dry skin. For maximum absorption, make sure to apply serums on damp, freshly cleansed face.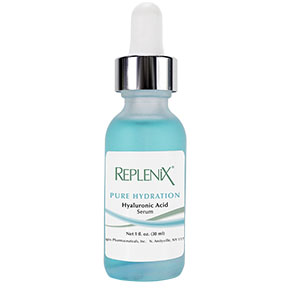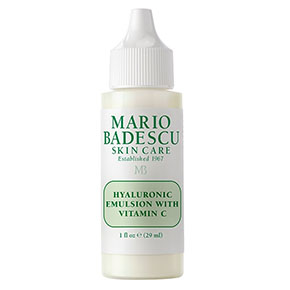 ---
References
Asterwood Naturals Hyaluronic Acid Serums. (2019).
Cosmetic Skin Solutions | Skin Care. (2018).
Dermatology Times. (2016). Skin barrier benefits of sunflower seed oil.
Drugs.com. (2016). Restylane: Uses, Dosage, Side Effects – Drugs.com.
Fda.gov. (2016). HYLAFORM – INSTRUCTIONS FOR USE – USA
Fda.gov. (2016). Soft Tissue Fillers Approved by the Center for Devices and Radiological Health.
Home – Raw Biology. (2018).
Juvederm.com. (2016). Collection of Dermal Fillers | JUVÉDERM®. 
Mario Badescu. (2018).

Papakonstantinou, E., Roth, M., & Karakiulakis, G. (2012). Hyaluronic acid: A key molecule in skin aging. Dermato-endocrinology, 4(3), 253-258. https://doi.org/10.4161/derm.21923

Pavicic, T., Gauglitz, G. G., Lersch, P., Schwach-Abdellaoui, K., Malle, B., Korting, H. C., & Farwick, M. (2011). Efficacy of cream-based novel formulations of hyaluronic acid of different molecular weights in anti-wrinkle treatment. Journal of drugs in dermatology: JDD, 10(9), 990-1000.

Organics, P. (2018). Passport to Organics.
Sublime NATURALS®. (2018).
The Huffington Post. (2013). What It Takes To Wake Up Gorgeous Like Miranda Kerr.
Topix Pharmaceuticals, Inc. | Medical Grade Skin Care Solutions Dispensed by Physicians. (2018).
Vernal Beauty – Anti Aging Skin Care For Face. Moisturizers, Serums. (2018).
Vichy Skin Care | Vichy Laboratories. (2018).
YEOUTH Natural Anti Aging Skin Care and Essential Oils. (2018).
How useful was this post?
Click on a star to rate it!
Average rating 5 / 5. Vote count: 2