The Best Glycolic Acid Lotions & Creams – A glycolic lotion or cream is one of the most effective ways to treat dull, pigmented, and acne-prone skin.
This type of acid or AHA (alpha hydroxy acid) penetrates through the upper layer of the skin and works to constantly replace and rejuvenate the skin. It increases the production of elastin and 143collagen, as well as reduce hyperpigmentation and uneven skin tone. The anti-aging effects of AHAs have been proven time and time again through rigorous clinical studies.
The benefit of using a glycolic acid lotion against having regular chemical peels is a gradual process that has zero downtime. There will be no visible flaking as long as the skin is hydrated and moisturized with every use.
It is also essential that glycolic acid creams are used in combination with gentle ingredients as much as possible in order to avoid any irritation or side-effects on the skin.
Glycolic acid lotions are also one of the cheapest and most effective treatments for acne-prone skin, Keratosis pilaris or chicken skin, sun-damaged skin, wrinkles, and fine lines. 
Recommended Skincare Routine with Glycolic Acid Lotion:
Use gentle and soap-free cleansers to avoid irritations. If you choose cleansers for sensitive skin, you won't go wrong.
In the morning, the skin needs protection from the sun not just as a general rule but also because glycolic acid increases the skin's hypersensitivity to the sun. Apply a minimum 30 SPF.
In the evening, the skin sets out to naturally repair itself. Apply the glycolic acid lotion right after cleansing to maximize its effect.
If you have very sensitive skin, you may want to start out using the product every other day instead of daily. You can increase the frequency and dosage over time as you see fit.
Video: 20% Glycolic Acid Lotion – If you want to LOOK YOUNGER, you HAVE to EXFOLIATE! 
Editor's Choice: The Best Glycolic Acid Lotions and Creams for the Face & Body
---
We've chosen the best glycolic acid creams and lotions for every available % concentration based on our analysis, specifications, value for money, and consumer reviews.
The list starts with face creams and finishes with body lotions. The strength of glycolic acid also goes up as it goes on.
If this is your first time incorporating acids in your regime, it's best to start with a low percentage and work your way up.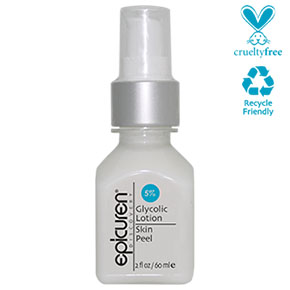 Video: 10% Glycolic Solutions Moisturizer | Peter Thomas Roth How To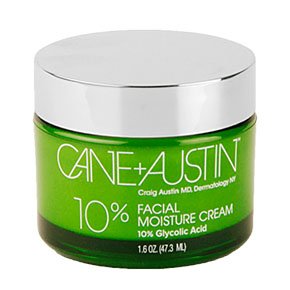 Video: Cane + Austin | Facial Moisture Cream
Editor's Choice: The Best Glycolic Acid Lotions for the Body
---
Glycolic acid body lotions exfoliate dead skin cells and keep the skin young and supple.
This is especially beneficial for dry skin and chicken skin, especially in areas like the knees, elbows, and hands.
For best results, use after bathing with an exfoliating body wash.
References
---
Acne.org Products – Cleanser, Benzoyl Peroxide, Moisturizer & More. (2018).
Alam, M. (2003). Glycolic Acid Peels. Archives of Dermatology, 139(9).
Behm, B., Kemper, M., Babilas, P., Abels, C. and Schreml, S. (2015). Impact of a Glycolic Acid-Containing pH 4 Water-in-Oil Emulsion on Skin pH. Skin Pharmacology and Physiology, 28(6), pp.290-295. [Source]
Bergfeld, W., Tung, R., Vidimos, A., Vellanki, L., Rernzi, B., & Stanton-Hicks, U. (1997). Improving the cosmetic appearance of photoaged skin with glycolic acid. Journal Of The American Academy Of Dermatology, 36(6), 1011-1013. doi: 10.1016/s0190-9622(97)80290-3
donell® | The Science of Skin Care. (2018).
Epicuren Discovery – Skin Care Products. (2018).
Emedicine.medscape.com. (2016). Keratosis Pilaris Treatment & Management: Medical Care, Surgical Care, Consultations. [Source]
Evaluation and treatment of the Aging Face. (1996). Dermatologic Surgery, 22(5), pp.489-90. [Source]
Extreme, B. (2018). Beauty Facial Extreme.

Kaminaka, C., Uede, M., Matsunaka, H., Furukawa, F., & Yamomoto, Y. (2014). Clinical evaluation of glycolic acid chemical peeling in patients with acne vulgaris: a randomized, double‐blind, placebo‐controlled, split‐face comparative study. Dermatologic Surgery, 40(3), 314-322. https://doi.org/10.1111/dsu.12417

Funasaka, Y., Sato, H., Usuki, A., Ohashi, A., Kotoya, H., Miyamoto, K., … & Ichihashi, M. (2001). The efficacy of glycolic acid for treating wrinkles: analysis using newly developed facial imaging systems equipped with fluorescent illumination. Journal of dermatological science, 27, 53-59. doi: 10.1016/s0923-1811(01)00119-0
Glytone-usa.com. (2017). Glytone USA.
Kaminaka, C., Uede, M., Matsunaka, H., Furukawa, F., & Yamomoto, Y. (2014). Clinical Evaluation of Glycolic Acid Chemical Peeling in Patients with Acne Vulgaris: A Randomized, Double-Blind, Placebo-Controlled, Split-Face Comparative Study. Dermatologic Surgery, 40(3), 314-322. doi: 10.1111/dsu.12417
Neoteric Cosmetics – Proven Skin & Hair Care Products. (2018).
Passion Naturals. (2018).
Physician Grade Anti-Aging Skin Care – NeoStrata. (2018).
Shop Paula's Choice | Paula's Choice. (2018).
The Art of Skin Perfection – Perfect Image. (2018).
Topix Pharmaceuticals, Inc. | Medical Grade Skin Care Solutions Dispensed by Physicians. (2018).
WOLF, B., PASTER, A. and LEVY, S. (1996). An Alpha Hydroxy Acid Derivative Suitable for Sensitive Skin. Dermatologic Surgery, 22(5), pp.469-473. [Source]
How useful was this post?
Click on a star to rate it!
Average rating 5 / 5. Vote count: 4