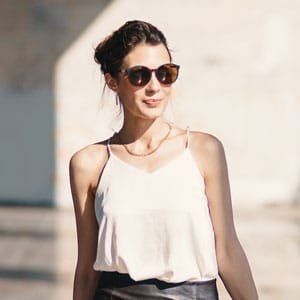 Ask the Expert: Does the Tria hair removal work?
BY SAMANTHA WELCH, ESTHETICIAN
---
Yes, it does.
We've tested over 35 devices, and the Tria 4x is the closest you can get to having professional laser hair removal results at home.[1]
This portable machine is also our Esthetician's Choice for one of the best laser hair removal devices of all time.
The Tria 4x is the singular hair removal product that uses an actual laser (diode, as opposed to IPL). The same diode laser used by physicians as one of the standards for in-clinic laser hair removal.[2]
As a byproduct of using real laser, the Tria 4x is the strongest and most powerful handheld device on the market with the highest energy fluence (J/cm²) we've seen in a consumer product yet.
(Average IPL devices clock in at 4-8 J/cm², while the Tria 4x has an outstanding 6-22 J/cm².)
Related Content: Product Comparison Table: The Top Home IPL & Laser Hair Removal Systems
Generally, the higher the energy fluence, the more effective your treatments will be.
Risks associated with high fluence and IPL are mitigated by safety features like a skin tone scanner, contact sensors, and a class 1 laser that cannot emit radiation at any hazardous levels.
Because of this, we believe the Tria 4x has the highest possibility of safely producing permanent results for those compatible with it compared to all other laser home devices.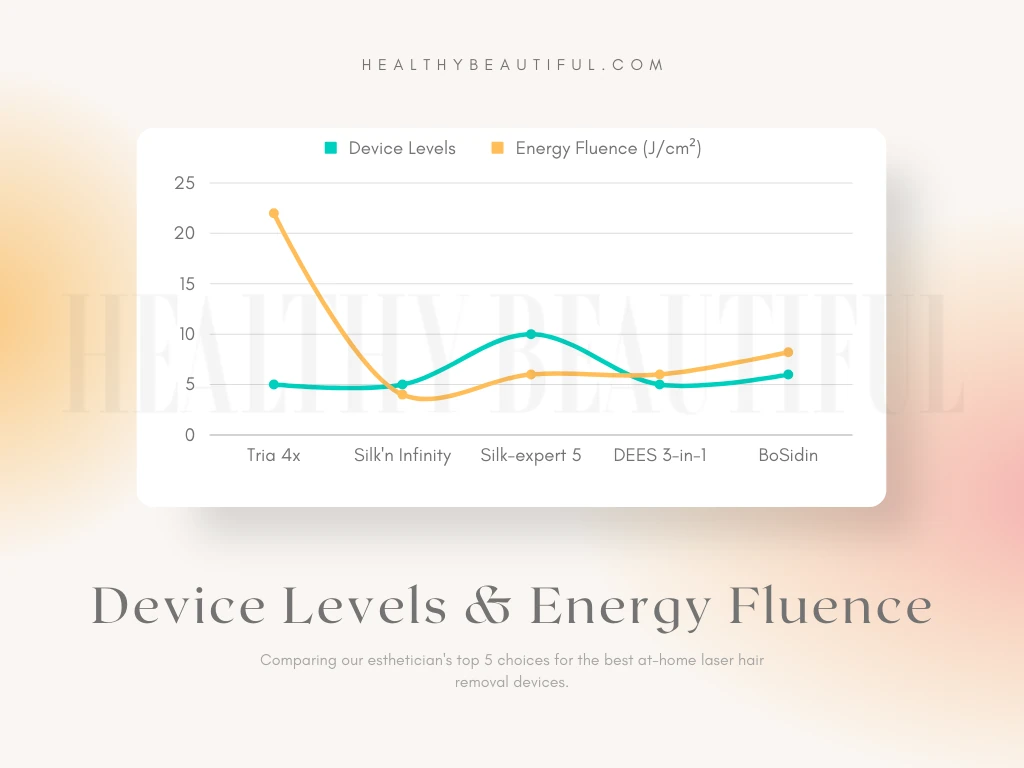 This miniature diode laser technology is proprietary. Until we see another true innovation like this, current and future hair removal brands will have to make do with IPL to make low-fluence, home-use devices.
Video: The technology behind Tria's Hair Removal Laser | Tria Beauty®
Viable Alternatives:
If you aren't compatible with the Tria or you don't think this is the right device for you, below are some of the other alternatives we've reviewed and highly recommend.
Tria 4x Coupon Codes
Get the best price with the latest premium promo and discount codes when you buy the Tria laser 4x online.
Tria hair removal sales and special gifts are limited-time offers.

(Can't see the codes? Some links are likely disabled by Adblockers.)
Amazon.com & Amazon UK
RETAILER
Amazon.com – Free shipping to US-eligible delivery addresses. 0% interest equals monthly payments for approved Amazon Store Cards.* One of the best deals on the Tria 4x.
---
Triabeauty.co.uk – UK
OFFICIAL WEBSITE
Free shipping on all domestic orders above £50. Paypal payment plans available. 60-day money-back guarantee. 2-year warranty.*
---
Currentbody.com
RETAILER
2-year warranty. UK and EU Plugs. Worldwide Shipping. 4.6/5 Trustpilot Rating. Lifetime Customer Support. Expert Consultation Available.*
*at the time of publishing. Subject to change.
Tria Hair Removal Videos: Tests, Long-term & Short-term Results, Tips & Tricks
For a more rounded perspective, we've collated consumer reports that should be more reflective of how the device works for a wider variety of users.
Video: Real Doctor Tries at Home Laser Hair Removal || Tria 4x Laser
Video: Tria 4X Laser – 6 week update
Video: TRIA LASER HAIR REMOVAL 4X UPDATE, 1 YEAR LATER!
---
How long does it take for Tria hair removal to work?
Following treatments of once every other week, it can take anywhere from 3 to 6 months to see significant results.
This depends on the treatment area, the thickness of your hair, its resilience, and other biological factors. Some users may respond quicker or slower than the average no. of treatments.
Does Tria remove hair permanently?
The Tria 4x's proprietary mini diode laser technology claims to be able to permanently disable the follicle's ability to re-grow hair.
Permanency still relies on the individual and several factors including hormones and medical drugs.
---
Tria Hair Removal: Before and After Photo Results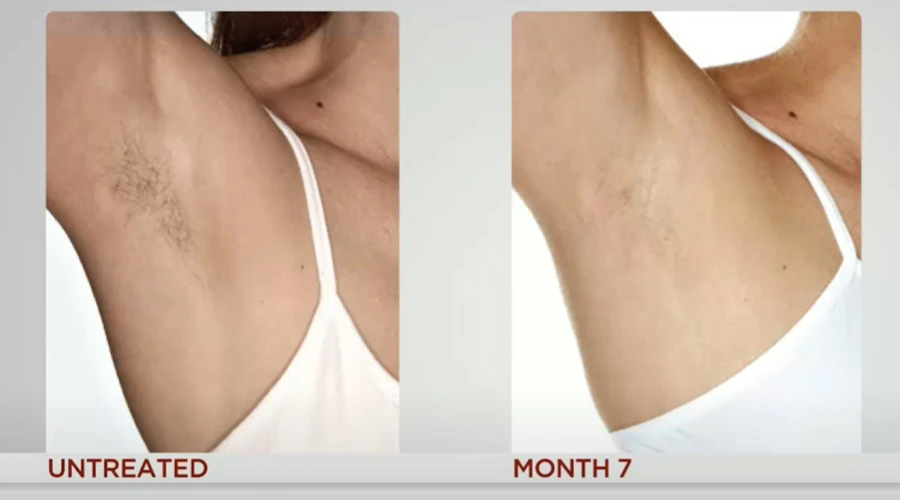 ---
Pros & Cons: Tria Hair Removal Laser 4x Device
Pros:
The first and only FDA-cleared at-home laser hair removal device that uses a true laser, diode (vs. IPL or radiofrequency used by other devices).
Diode laser is proven to be more effective than IPL and requires fewer sessions to achieve permanent results. It is one of the most effective (and expensive) types of hair removal technology also used by high-end clinics and dermatologists worldwide.[3]
Has the highest energy fluence/power of any at-home device at 7-22 J/cm2 vs. the normal rate of 4-8 cm2
The Tria 4x has won InStyle's 2020 & 2021 Best Beauty Buys Award, where they survey top dermatologists to find out which laser devices they recommend.
No eyewear is needed as the device has a Class 1 laser, the safest type that cannot emit radiation at any hazardous levels.[4]
Safety features include a skin tone sensor that protects the skin and contact sensor to protect the eyes.
Perfect for precision lasering; targets small areas like upper lips, underarms, and bikini lines
For those who have tried IPL technology and been proven to be ineffective for their hair growth, especially those dealing with hirsutism or PCOS
More portable and safer to use in the bathroom since its battery-powered
Brand Reputation. Tria Beauty has more than two decades of building innovative hair removal devices with solid customer support—something sorely lacking in cheap, off-brand devices.
Cons:
Small flash window size, inefficient to use in larger areas like legs and arms
People with low pain tolerance may not be able to maximize its high energy levels without numbing creams or cooling gels
High-end, one of the most expensive at-home devices
Needs re-charging after 30 minutes of use
---
Video: At-home laser hair removal with Tria Beauty
Video: Tria Beauty 4X Laser Hair Removal Device for Face & Body with Jane Treacy
---
Package Contents: Unboxing the Tria Laser Removal 4x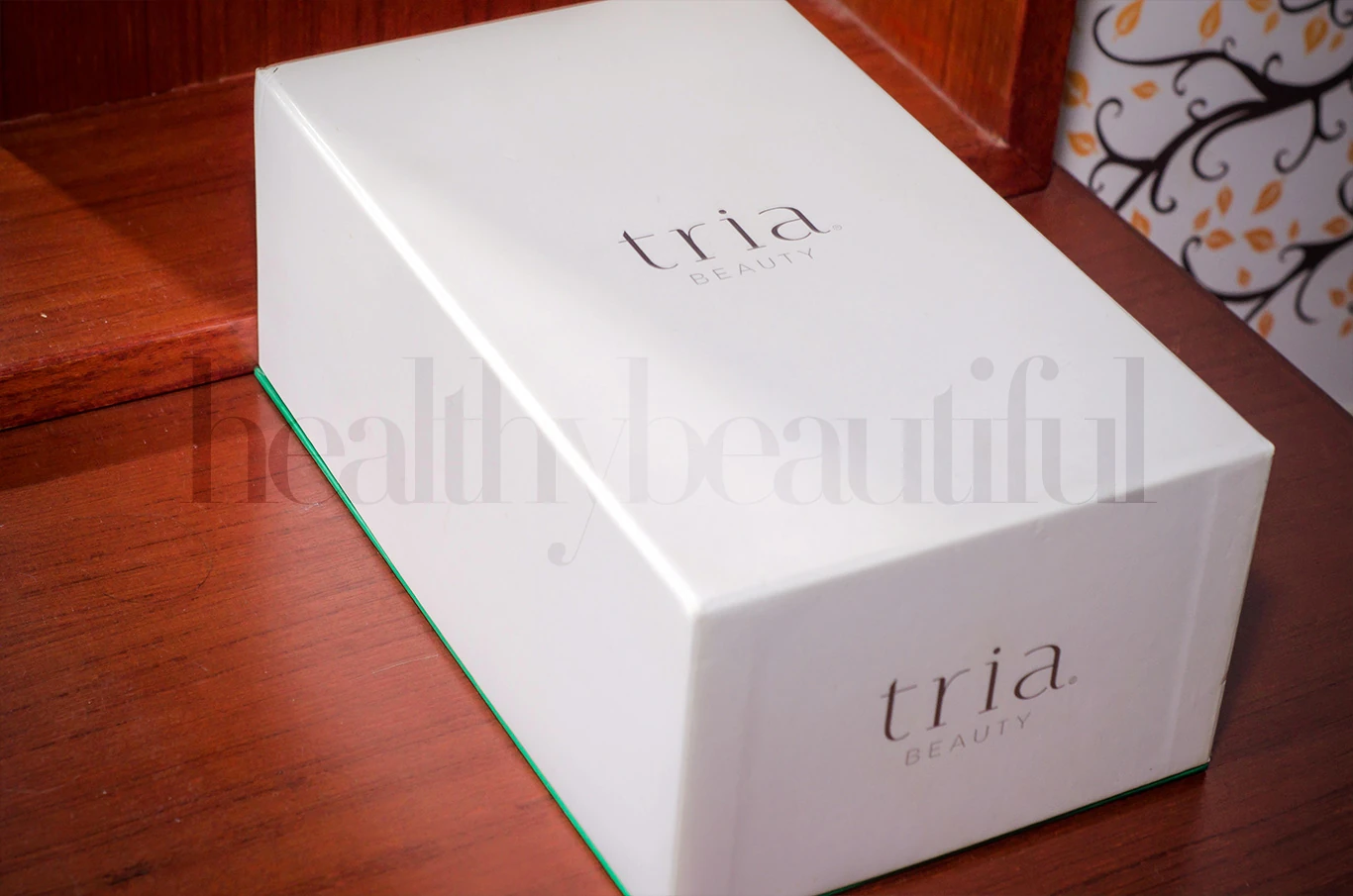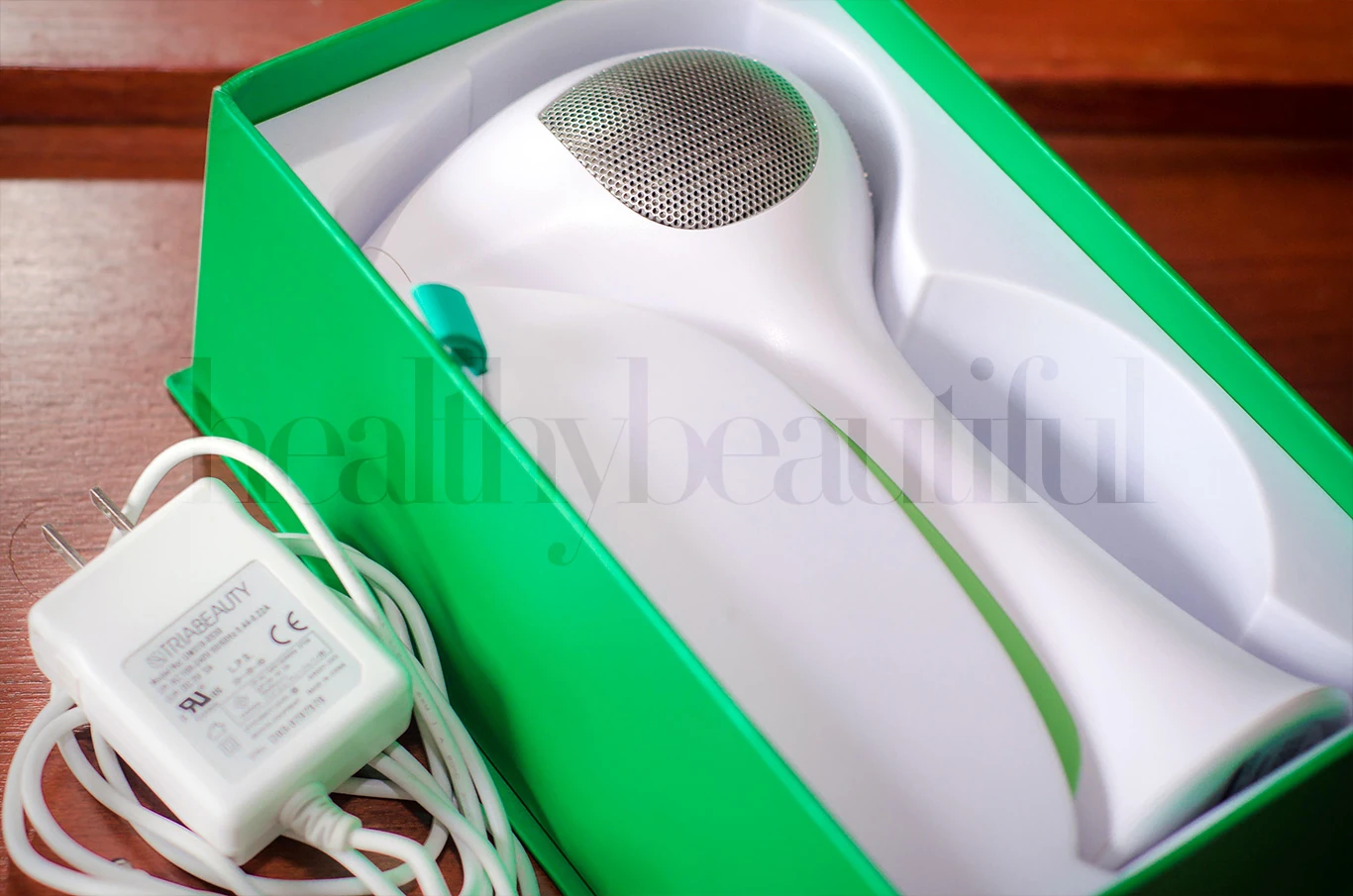 ---
Product Design & Our Experience Using the Tria 4X Laser
Ease of Use
One of my favorite things about the Tria is the freedom of movement you get from it being a cordless device.
It's shaped like a giant airpod and has a great balance to it. The ergonomic, silicone grip handle makes holding and maneuvering easy.
It's also the only laser hair removal brand we've come across that has battery-operated devices instead of mains powered. Even the smaller, portable ones the Silk'n Infinity are corded. (The brand has their portable version, the Tria Precision.)
Plugged devices can be a pain, with short cables that can be limiting or long ones that can get messy or in the way during treatments.
There's none of that here, nor is the turning and twisting involved in working with the constrained space you're given with a corded device.
The downside of having batteries though is the extra weight it adds and the charging involved. More on this below.
Size, Weight, & Portability
It's a robust device and carries some heft compared to other home laser hair removal devices.
I'd say it has about the same weight and feel of an industrial hairdryer.
This is likely because of the miniature diode laser machine inside and the lithium-ion batteries it carries.
The average IPL device work with just a quartz lamp and a filter, both of which are very light. They're all corded as well, so there are no batteries that add additional load. This is why you'll find most IPL devices are pretty lightweight.
I personally didn't mind the weight at the start, especially since my movements aren't limited by any cords, but it does take a bit of a toll after 30 minutes of use.
There is a portable version of this device called the Tria Precision if you're traveling often.
If this is something you do at home though, all things considered, I think the 4x is a much better deal than the Precision.
LED Display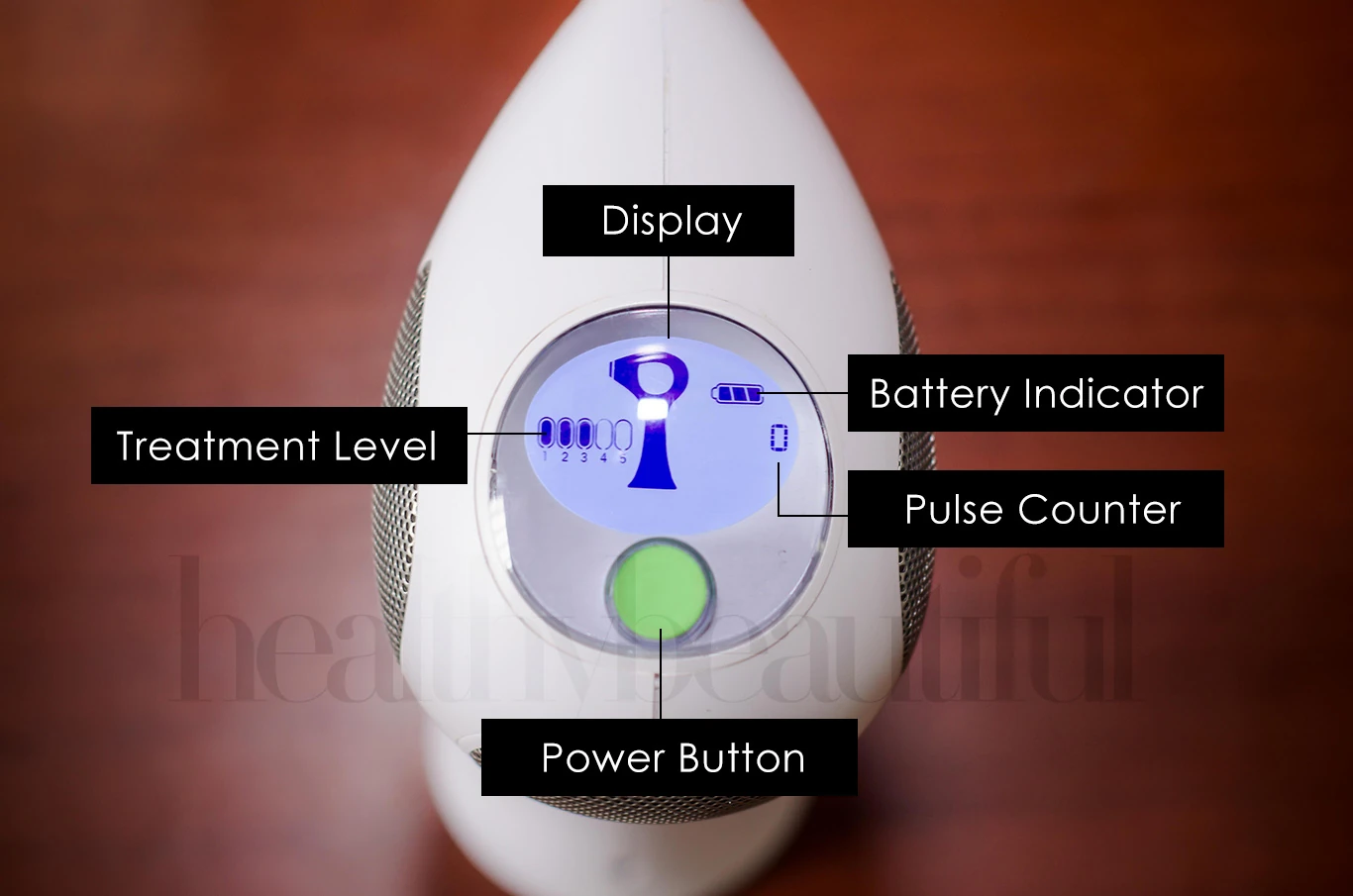 When you power up the device, you'll hear a beep and the LED display at the top of the machine will light up.
At the same time, a tiny red light at the bottom will glow.
This means the device is locked and would need to be unlocked through the skin sensor at the base.
To unlock, place the skin sensor on the area that needs treatment.
If your skin tone is safe to treat, the device will make a triumphant "ta-dah!" and unlock.
Once unlocked, there are several simple operation signs you'll see:
Treatment Level – You can cycle through energy levels 1-5 using the power button
Battery Indicator – Shows how much charge is left on the device, will blink on low when needs recharging
Pulse Counter – lets you know how many pulses you've made, acts as a guide so you'll know the average pulses you make per area
There's a plastic dome at the top that protects the LED. It's thick and sturdy, but not as secure as I'd thought as it came off one time when I accidentally knocked over the machine while charging. (Lesson: Don't leave it standing where you can bump into it.)
The device will lock automatically when it's not in use.
Skin Sensor
The Tria hair laser 4x skin sensor can be found at the bottom of the device.
You need to pass the skin tone test every time you need to use it to unlock the device.
Following the brand's instruction to scan the area you're going to treat is the most awkward process by far.
Some IPL devices like the Braun Silk Expert Pro 5 and Silk'n Infinity have their skin sensors near the treatment window so it's very convenient to test your skin tone.
The Tria's base is wide and bulky, which makes it unwieldy to use as a scanner for areas like the upper lip, jaw, or bikini.
To be honest, many people will just use their hands to unlock the device.
This can be a problem if you have a darker complexion and your skin tone varies on different parts of your body.
The brand recommends doing it every time, but I suggest a compromise: patch test on ALL areas at the beginning of your treatment, then just use your hands to unlock it after.
Jump to: Compatibility Guide: Skin Tone, Hair Color, & Treatment Areas
Treatment Window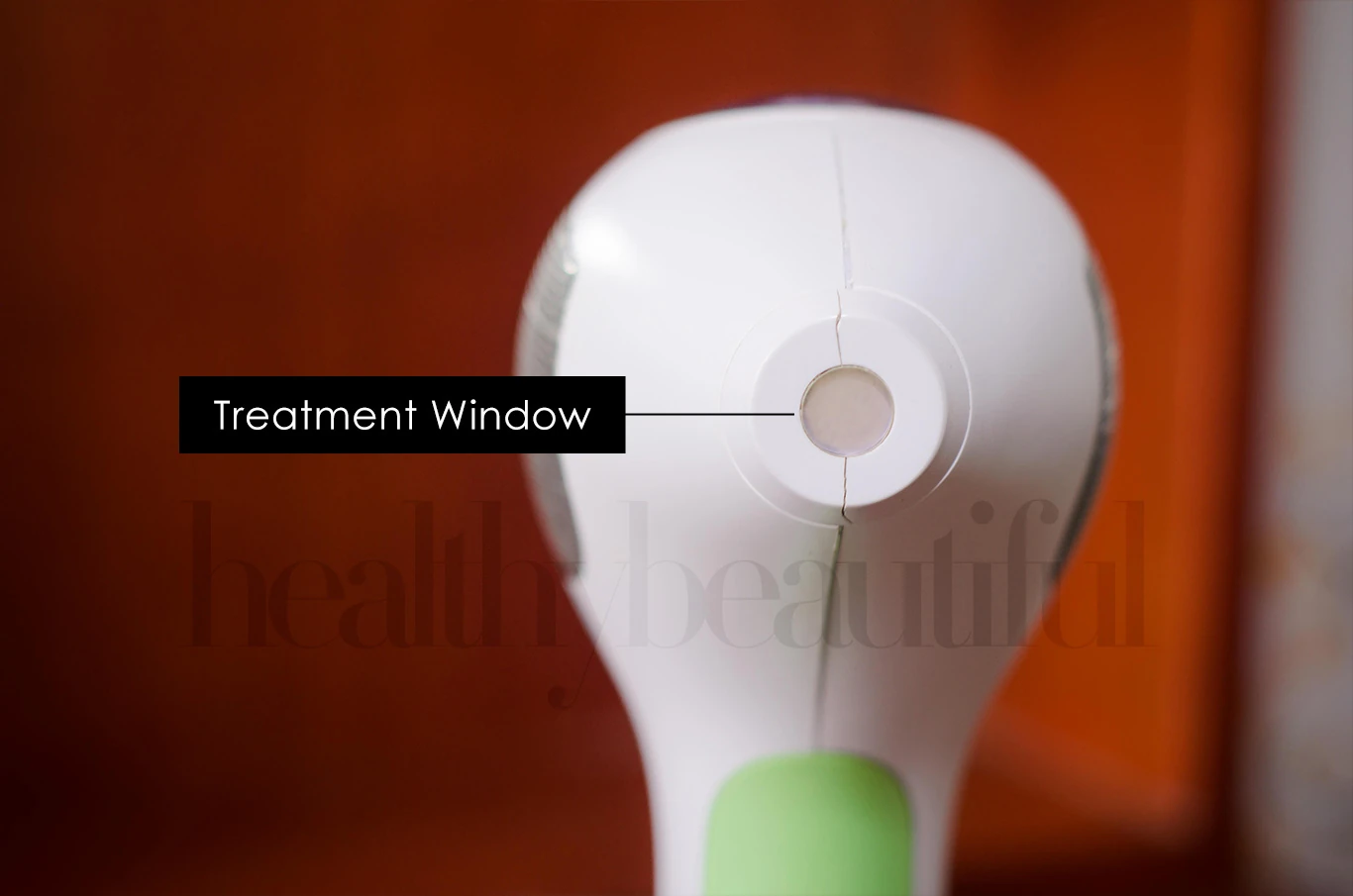 The spot size or treatment window on laser hair removal devices is the window where the optical energy is fired.
A small spot size is great for precision lasering on the upper lips, jaws, chin, underarms, and bikini areas.
This also makes it especially safe for preventing eye damage. (If you've ever used IPL on your face, you'll know that light emissions can be so bright it can penetrate through the skin and inadvertently cause ocular damage.)
The Tria 4x treatment size is the smallest we've seen in a laser home removal device at just about 1 cm².
This is the byproduct of using a diode laser, which is a focused beam, instead of IPL, a broad-spectrum light.
Lasers produce a single beam of concentrated light, precisely targeting the hair. IPL is a burst of scattered light like a fan.
Jump to: Technology: Diode Laser vs. IPL
The downside of small window sizes is it makes treating large parts like the legs and the arms really inefficient.
Areas like the lips and underarms only take about 25-100 pulses or 2-10 minutes total, while the legs take approximately 600 pulses or 30 minutes per side. That's just tedious and time-consuming.
And since batteries only last 30 minutes, and I've actually run out using it on just one leg.
This is by far the biggest drawback I've experienced using the Tria home laser 4x.
The easiest workaround I've found is to keep it charged by the bedside table and do treatments right before going to bed.
I do one area per day, starting from the upper lips and going down. This way it's a routine and I don't have to think about scheduling it separately.
And since diode laser requires fewer sessions than IPL, you'll see results much faster (just 3 months on average).
A little more effort is the compromise for permanent and quicker results.
Automatic Pulses through Skin Contact
Other devices give you the option of "pulsing" or "gliding".
Pulsing is manually pressing a button to activate the flash, while Gliding is an automatic flashing system that goes off every few seconds. It's a more convenient way to treat larger areas because you just "glide" the device on your skin instead of constantly pressing the pulse button.
Devices that have these features include the Silk'n Infinity and Braun Silk-Expert 5.
The Tria Beauty 4x is a bit of both—instead of a button, only full contact by the treatment window to the skin triggers a pulse.
This is primarily a safety mechanism to avoid any eye damage but is also a convenient way to do your treatments.
Cooling Fans
Once you start using the device, you'll hear the silver fans at the sides of the head recurrently make noise.
The Tria hair removal's fan is designed to prevent the unit from overheating.
One thing I've noticed is when the device starts to get warm, the time it takes in between pulses takes longer. Not a significant amount, but still noticeable once you start using it for a while.
The fan will also go on and off intermittently as it charges.
If you think it makes too much noise, you can press the power button to turn it off. This will lengthen the charging time though from 2 hours to 6 hours.
My advice, try to use and charge the device in a cooler environment.
Pain Levels
What does the Tria feel like?
To set the baseline, I have above-average pain tolerance and am used to professional laser hair removal used at the clinic.
I've tested the Tria 4x without any numbing creams or soothing gels prior to treatment.
Levels 1-2 feel like a soft snap of a rubber band on sensitive areas like the upper lip and underarms. On the jaw, arms, legs, and bikini area—it's just a warm sensation. No redness.
Level 3-4 feels like an intense prickling sensation on the bikini, arms, and legs, and is more painful in the upper lip and underarms. There's a little redness shortly after but faded with the cooling gel.
Level 5 was painful but still tolerable on the arms and legs. It stings too much for me in other sensitive areas though. This made me go back and settle on level 4 for the upper lip, underarms, and bikini.
Does Tria Hair Removal Hurt?
This depends on your pain threshold and the area you're treating.
Sensitive areas like the upper lip and underarms you will feel more than the jaw, legs, and arms using the same power level.
Some will have more sensitive skin than others and, to be honest, you'll never really know until you try it yourself.
Personally, I can go up to level 5 on my arms and legs but I can only tolerate up to level 4 on my face, bikini, and underarm.
There can be mild redness in the area that should fade in about an hour or two.
Another factor is the density and coarseness of the hair. The thicker your hair is, the more heat you're going to feel.
Terminal hairs are usually found in hormone-related areas like the jaw, underarms, and pubic hairs.
The good news is that as you continue with your treatment, the less pain you'll feel.
Not only because you'll eventually get used to it, but also because the hairs you're treating will get thinner and wispier in time.
At the clinic, it's not unusual to increase the power for clients as we progress with their treatment.
In the same vein, you can also increase your power levels as you continue.
Remember, the higher the level, the more effective and the faster you'll see results.
If your skin is too sensitive, you can opt to use numbing creams before treatment and/or cooling gels after to aid skin recovery.
How can I make my Tria less painful?
Like in professional laser hair removal, you can use numbing creams prior to treatment and soothing gels after to alleviate the pain.[9]
Another trick is using a cooling agent like an ice pack or even just ice before the treatment or immediately after relieve the area. This is called contact cooling and is a technique we use at the clinic to reduce discomfort or thermal damage to the skin.[10]
Before Treatment: Numbing Creams
The strongest over-the-counter topical numbing cream you can use is a 5% lidocaine used for tattoos, microneedling, and professional laser hair removal.
Numbing creams can help increase your tolerance for higher power levels, especially in sensitive areas.
IMPORTANT TIP: Once the numbness kicks in, make sure to wipe the area thoroughly before using the laser. You don't want any residue clogging up your treatment window.
After Treatment: Soothing Laser Gels
There are post-procedure gels you can use to help your skin recover from the treatment.
EltaMD in particular makes an enzyme gel, particularly for lasers.
Alternatively, you can use any number of cooling gels or an over-the-counter cortisone cream to soothe the area after your laser.
Before and After Treatment: The Tria Hair Removal Laser 4x Gel
Tria Beauty also has their own product that can be used before and after treatment.
The Tria hair removal laser 4x gel gives a tingly, cooling sensation to the skin which helps lessen the heat of the high-density laser.
I'd say that my skin feels cool for at least 10-15 minutes after.
This gel comes in a large 5-ounce product that's almost the size of the Tria, so it's going to last for a long time.
It won't be as strong as the numbing cream mind you but can help if you only need something soothing for your skin.
IMPORTANT TIP: Make sure this moisturizer is thoroughly absorbed before using the device. Any residue can clog the treatment window.
---
Quality & Durability: Lifespan & Battery
Tria 4x Lifespan
How long does the Tria 4X last?
How long your Tria 4x will last depends on several factors: the number of pulses, battery life, and general wear and tear.
The device has a lifespan of 90,000 pulses which is equal to approximately 2-3 years with recommended use.
The battery will be good for 300 recharges over the course of its life.
This is more than enough to see permanent results for whole-body treatments, especially with how quick results come compared to IPL devices.
When was Tria 4x released?
Tria Beauty was established in 2003, and the first Tria Hair Removal Laser was sold in 2005.
Version 2.0 was launched in 2009, 3.0 in 2011, and the Tria 4x was released in 2013.
Tria 4x still remains to this day the only true laser patented for home use.
These facts are important because a long product cycle means it has withstood the advent of new technologies and is a testament to quality, durability, and efficacy.
The Tria has won InStyle's 2020 & 2021 Best Beauty Buys Award, where they survey top dermatologists to find out which laser devices they recommend.
Tria 4x Battery
Battery Life
You need to charge the device before you start using it.
A full charge takes about 2 hours, with 30 minutes of use on average. The battery life is enough to use on the face, but not for large areas like the legs.
Time of usage can vary as well, with higher levels taking up more power than lower levels.
You can allot a treatment schedule, but I find that too much of a hassle. I personally leave it charging by my bedside table every other week and quickly do an area before going to bed.
I do my treatments while listening to a podcast instead of watching tv, so I can still see and make sure I cover all the areas properly.
The brand also recommends that the device de charged once every 3 months to keep the battery in top shape.
Battery Replacement
This device contains permanent, rechargeable lithium-ion batteries that can't be replaced.
A Tria hair removal battery replacement isn't possible, but the unit can be replaced by the company if it's still within the warranty coverage.
---
Technology: Product Specifications
Diode Laser vs. IPL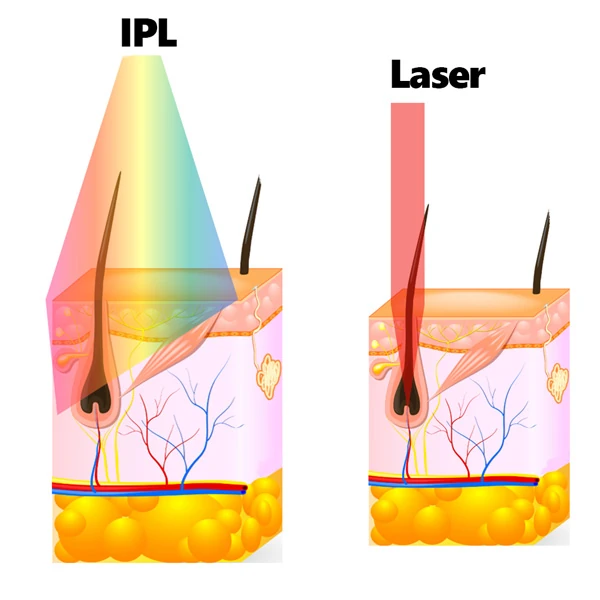 Lasers generate a single wavelength that is extremely concentrated and efficiently absorbed by the pigment in the hair.
IPL creates a broad spectrum of light which the hair absorbs only a fraction of, while the rest is absorbed by the skin.
A laser's single, focused beam creates more heat directed at the hair follicle, achieving better results.
What truly sets the Tria above and beyond other home devices is that it is the only device that uses a true laser, instead of IPL.
This miniature diode laser for home use is proprietary and exclusive to the brand.
All other at-home machines use IPL or different variations of it.
Video: Laser v IPL – which is best for hair removal? Tria 4x Laser and Philips Lumea Compared
Diode Laser
There are only four types of true lasers used in professional hair removal systems: Ruby, Alexandrite, Nd: YAG, and Diode.[5]
These are commercially successful lasers used by physicians to eliminate unwanted hair.
Its efficacy and safety among dermatologists are well-accepted and considered the standard for laser hair removal.
This technology is only available to medical professionals because laser machines are industrial in size, extremely expensive, and require laser expertise for safe and effective use.
That is until 2008 when Tria Beauty managed to transform the high-powered diode laser into a handheld device that's easy and safe enough for home use.
To his day, the Tria 4x is the only FDA-approved at-home laser hair removal device that uses a true laser, not IPL.
IPL (Intense Pulsed Light)
IPL, while also widely used in hair removal, is based on broad-spectrum light and has a non-laser source.[6]
IPL uses Xenon flash lamps instead of a true laser, which makes it less powerful but cheaper to manufacture.
You would need more treatments over a longer period with IPL to achieve similar results as lasers.
This makes IPL more affordable and popular in clinics and salons.
Comparison Table: Tria 4x vs. IPL Devices
We've broken down the core differences in technology and specifications below between the Tria 4x's diode laser compared to other IPL devices on the market today.
Tria 4x
Average IPL Devices
Power / Energy Fluence:
6-22 J/cm²
4-8 J/cm²
Energy Medium:
Diode Laser
Xenon Flash Lamps with wavelength filters
Power System:
Battery-powered, Cordless
Mains-powered, Corded
Safety Feature:
Skin tone and contact sensor
Skin tone and contact sensors, Cooling systems (Varies among brands)
Hair Compatibility:

Hair needs to be darker than its surrounding skin.
Same as the Tria 4x
Skin Tone Compatibility:

Fitzpatrick I-IV (light to olive skin tones)

Fitzpatrick I-IV (light to olive skin tones)

Exception: Silk'n Infinity uses IPL + Galvanic energy technology which allows for the treatment of darker skin tones.
Process:
Selective photothermolysis where the laser/light produces a specific wavelength that goes under the skin and is absorbed by the hair, heating it, and disabling hair growth. Hair will fall out on its own in the next few days.
Same as the Tria 4x
Pain Level:
Low to very high depending on the level.

Can be minimized with topical anesthetic or cooling gels
Low to average, can be minimized with cooling gels
Time:
Anywhere from 5 minutes in smaller areas to 30 minutes for each side of the legs.

Battery-operated, so treatments are limited to 30-minutes each before re-charging.
Anywhere from 5 minutes in smaller areas to 40 minutes for the whole body.

Corded and mains-powered, whole body treatments can be done in one session.
Frequency:
2x a week for 3 months for optimum results, then spot treat as needed
6-10 treatments, 4-6 weeks apart for 6 months on average. Treat as needed after.
Cost / Price:
SRP $499, which is at the higher end of the home device spectrum.
Professional Services: Charged per treatment area and type of laser, averages $143 per treatment.

At-Home IPL Devices: Ranges from $150-$500 per device.
Results / Effectivity:
Permanent hair reduction with maintenance.
Complete hair loss is possible with less resilient hair.
Same as the Tria 4x
Conclusion:
More powerful than any at-home IPL. This means less treatments are required and a higher probability of permanent results.

Best for: Stubborn, deep-seated dark hair prone to re-growth where IPL has been ineffective like hormonal areas on the jaw, underarm, and bikini; Precision lasering, looking for a cordless and portable device.
At-home IPL requires more treatments than laser and may produce less hair reduction. Maintence will likely be more frequent than the Tria 4x.

Best for: Large areas, on a budget, quick treatments, darker skin (Silk'n Infinity only)
Tria 4x Power (Joules)
A device's power or energy fluence is the amount of light delivered to a specific area.
Your hair follicle will absorb this light and transform it into heat, consequently destroying the hair.
This energy is measured by joules per cm².
The higher the joules, the easier it will be to permanently damage the hair so that it will no longer be unable to grow back.
This process has to be done safely and efficiently, without injuring the skin surrounding the hair.
Most IPL devices have an average of 4-8 J/cm².
The Tria hair removal 4x has an exceptionally high energy fluence of 6-22 J/cm2, making it the most powerful at-home laser device on the market today.
No other home laser device comes close in terms of hair-eliminating power.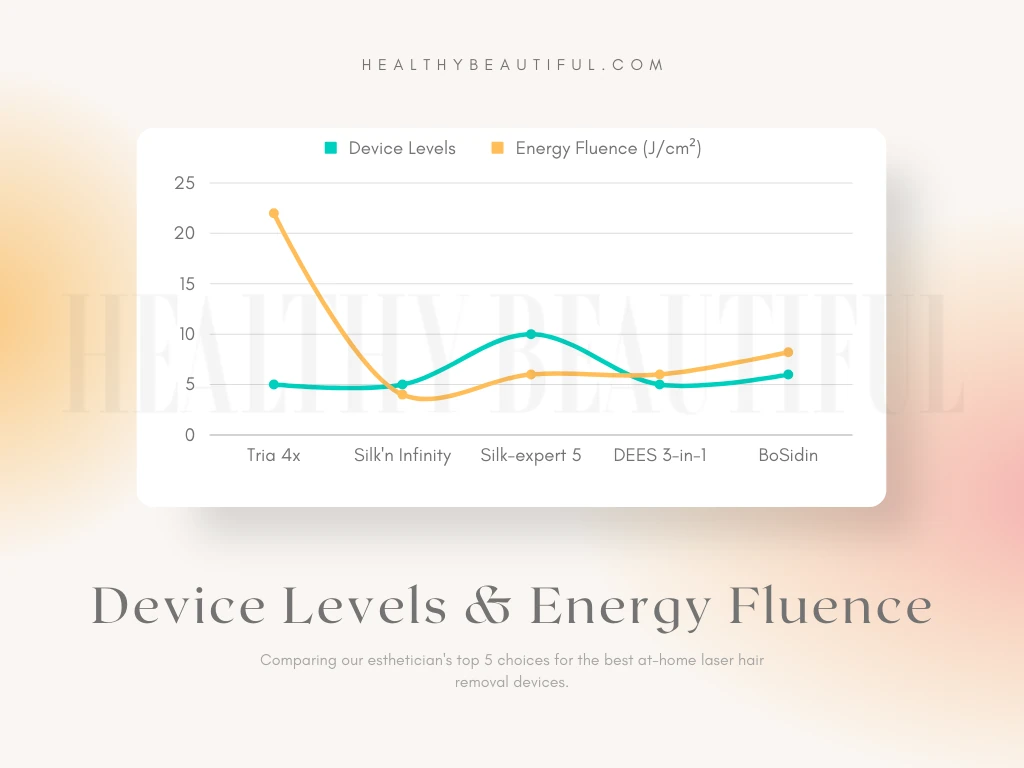 Energy Levels
There are 5 treatment levels you can choose from, which indicate the increasing intensity of the laser.
In a clinical study, higher energy levels were found to be 2-3 times more effective in reducing unwanted hair.
However, the higher the level, the more powerful the laser energy your device emits and the higher risk of side effects.
So while its recommended to use the highest setting in any device where possible, always make sure to patch test first and see how it feels before going all the way.
If you are sensitive to pain, you can use a cooling system or numbing creams to increase your pain tolerance.
Jump to: How can I make my Tria less painful?
Note that the benchmark is reliant on energy fluence. E.g., Tria's 5 power levels are distributed over a wide energy fluence of 6-22 J/cm². This means every level has a considerable jump in intensity compared to Gilette's 10 levels, where it maxes out at just 6 J/cm²
The Tria 4x significantly increases in intensity as you go from level 1 to 5.
Tria Laser 4x Voltage
The Tria 4x is dual voltage, 110-220v.
It has a battery charger input of 100-240 V~, 50-60 Hz, 37 VA, and a battery charger output of 5.0 V DC, 3.0 A/2.3 A.
Tria 4x Laser Wavelength
The Tria 4x has an output wavelength of 810 nm, the standard for diode lasers.
This range means it can reach roots at varying depths and deliver hair-eliminating energy where necessary.
Speed
After every flash or pulse, your device will need Time to "reload."
I've noticed that the pulses are slower on level 5 than on the lower levels.
The beeps that indicate a successful pulse also lengthens as you do your treatment.
This is pretty normal and happens to all home laser hair removal devices.
Higher energy levels mean the device is consuming more battery.
Tria 4x Cord & Power Adapter
The Tria 4x power adapter indicates 110-120 volts.
Unlike most IPL devices where you use it connected to an outlet, this laser device is battery-powered and used cordless.
The device won't work while charging, so you'll have to unplug it before use.
Technical Specifications
Below are the Tria hair removal laser 4x specifications as printed by the manufacturer:
| | |
| --- | --- |
| Technology: | DL (Diode Laser) |
| Laser Class:  | 1 |
| Maximum Energy Fluence/Power:  | 6-22 J/cm2 |
| Output Wavelength:  | 810 nm |
| Skin Tone Coverage:  | Fitzpatrick I-IV (light to olive skin tones) |
| Natural Hair Color Coverage:  | Naturally dark hair |
| Skin Tone & Contact Sensors:  | Yes, via manual digital checking upon opening the device |
| Recommended Treatment Schedule & Results:  | Once every 2 weeks, up to 3 months or until necessary |
| Lifespan/No. of Flashes:  | Built-in laser – 300 battery recharging cycles or 90,000 pulses |
| Flash Window Size:  | .81 cm2 |
| Flash Speed:  | 3-5 secs |
| Power System:  | Battery-powered, 30 mins |
| Can be used with a pre-treatment gel? | No |
| Battery Charger Input: | 100-240 V~, 50-60 Hz, 37 VA |
| Battery Charger Output: | 5.0 V DC, 3.0 A/2.3 A |
---
Safety: Skin & Eyes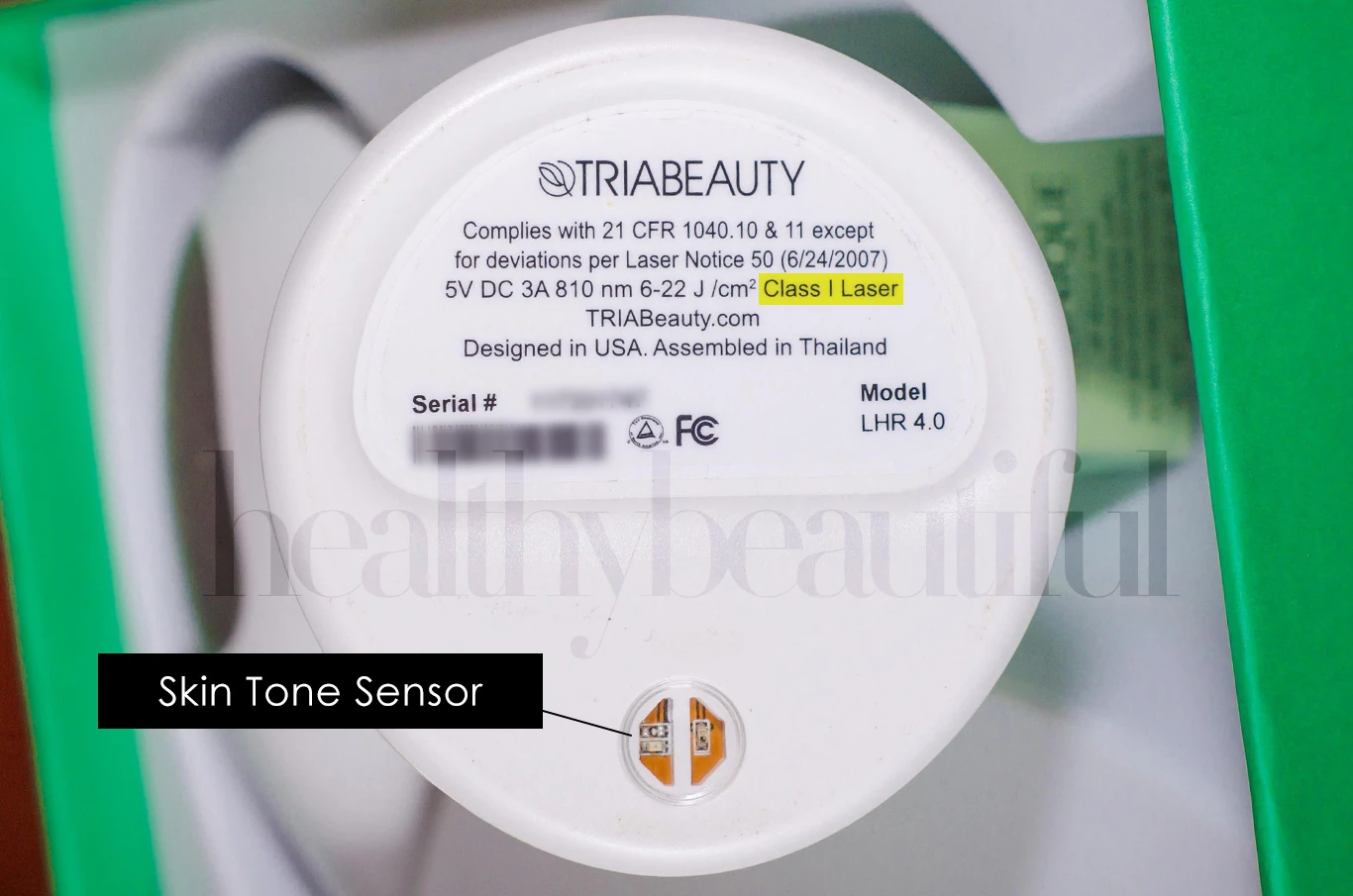 Eye Safety
Laser are classified according to their potential to cause biological damage.
Between Class I-IV, Class 1 is the safest as these are lasers that cannot emit radiation at any hazardous levels.[7]
The Tria hair removal 4x is classified as a Class 1 laser.
This device also has an added eye safety mechanism where the whole laser aperture needs to be completely covered by your skin to flash.
This skin contact sensor prevents any accidental pulses from occurring.
There is no need for protective eyewear because the laser is small and focused, unlike IPL where the light is bright and scattered.
Skin Safety
There is a skin tone sensor at the bottom of the device that you would need to pass in order to unlock the device.
This failsafe assures that only those with compatible skin tones will be able to use the device.
---
How to Use Your Tria Hair Removal Laser 4x
Video: Tria Beauty Hair Removal Laser 4x : How to Use | Tria Beauty®
Tria Laser 4x Instructions & User Guide
 This guide covers what to do before, during, and after your first treatment using the Tria 4x.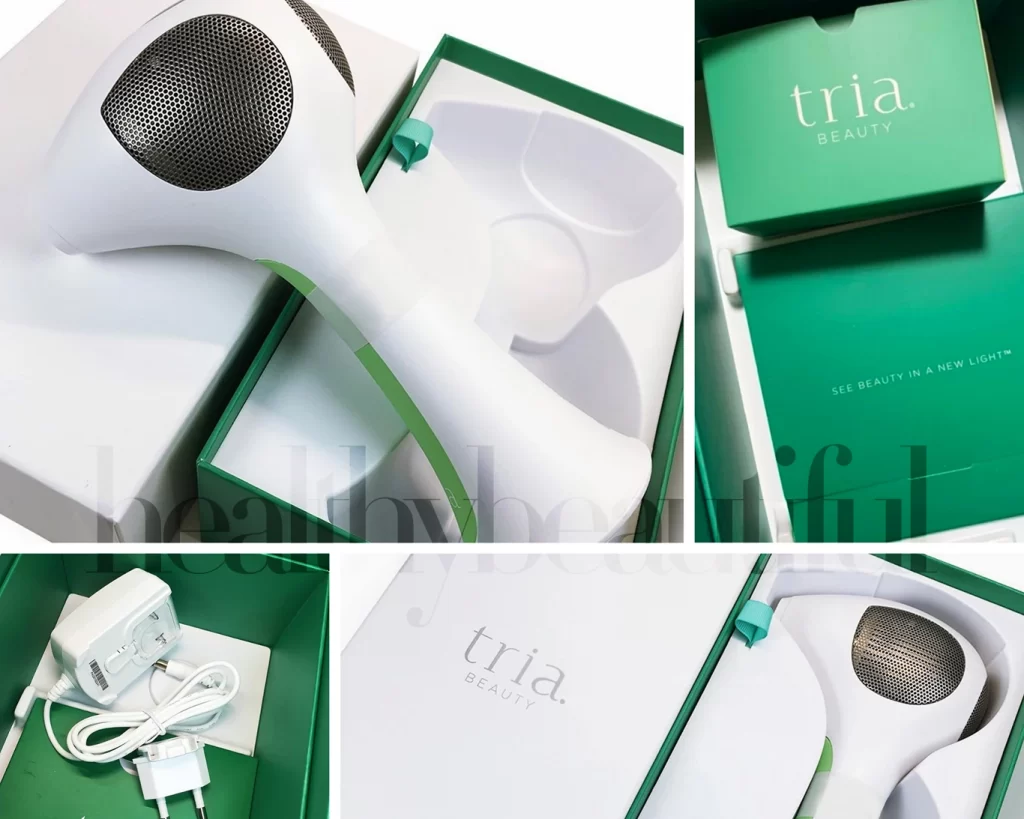 Total Time Needed :
30
Minutes
Required Tools:
– Tria Laser Hair Removal 4x
---
Compatibility Guide: Skin Tone, Hair Color, & Treatment Areas
As a general rule, most at-home laser hair removal devices will work on those whose hair color is darker than their skin tone.
This contrast is the ideal condition for selective thermolysis to occur.
Selective photothermolysis is using melanin to attract focused laser or light to the hair follicle, thereby destroying it, while keeping the surrounding skin safe from damage.[8]
This principle is the foundation of all laser hair removal.
The ideal candidate, therefore, is those who have dark hair and light skin.
Skin Tone
Tria Hair Removal Skin Tone Chart
Tria Hair Removal for Dark Skin & Indian Skin
The Tria 4x hair removal laser only works on Fitzpatrick I-IV, or light to medium skin tones.
Anything darker will be a competitive target for the laser and is a high risk for side effects like burns, dark spots, or hyperpigmentation.
If you have dark skin, the only other at-home laser hair removal device that can work for you are: the Silk'n Infinity, the illuminage elos, and mē Smooth. These devices have proprietary technology that can bypass the limitation of normal IPL and lasers.
Hair Color
Dark hair works best for most laser hair removal.
The only exceptions are professional Nd:YAG laser, long-pulsed diode, and devices with proprietary technology like the Silk'n Infinity, Illuminage, and me-elos.
For the rest, including the Tria 4x and other IPL devices, you need a potent dose of melanin on the hair for the treatments to be effective. This includes black to dark blonde hair.
The Tria 4x hair removal machine will not work on white, grey, red, or blonde hair.
White and grey hair do not have enough melanin. Red and blonde hair have a different type of melanin called eumelanin, which is not a strong enough chromophore for the laser to target.
Treatment Areas – Body Parts
The Tria laser hair removal 4x can be used from the cheek line downward for women and neck down for men, except the genital area.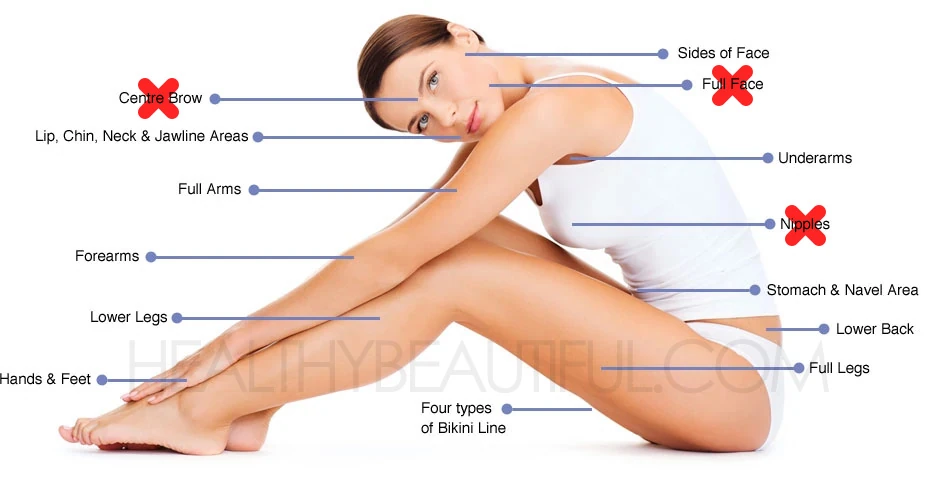 Tria Laser Hair Removal on Men & Women's Face
On female: Cheekbones below including the upper lip, chin, jaw, sideburns
On male: Neck below
Tria 4x on Eyebrows
Currently, no at-home laser hair removal device has been cleared by the FDA to be used near the eyes.
Laser hair removal for unibrows, eyebrow shaping, forehead, upper cheek, or anywhere near the eyes should be deferred to professionals.
Using Tria 4x On Men's Beard & Mustache
Unlike women, Tria hair removal on men's faces is only for the neck below. Male facial hair is too dense and coarse for the laser and has a high risk of skin injury.
Tria laser hair removal for the upper lip is allowed only for women.
Tria Laser Hair Removal for the Body
This includes shoulders, underarms, arms, hands, chest (excluding nipples), back, stomach, legs, feet, and bikini area.
Tria Hair Removal on Pubic Areas: Bikini, Brazilian, & Genital Areas
Tria hair removal for the bikini area is allowed, but not a full Brazilian.
The brand has advised that this should not be used on the genitals, including the nipples. These areas are too sensitive for the laser and may be darker than your normal skin tone.
There have been reports of some users using it for Brazilian on level 2, but please do so at your own risk.
---
Setup Guides: How to Unlock, Activate, Charge, & Reset Your Tria 4x
How to Charge your Tria 4x
Plug the battery charger into the charger socket at the lower back of the device and into the main outlet.
The LED display will show the Tria 4x charging through the battery indicator.
The Tria hair laser 4x will not operate while the device is plugged.
The silver fans at the side will also turn on intermittently to cool down the device while charging. You have the option to turn this off in the "Quite Mode" but charging will take longer. Press the power button to change charging modes.
Tria 4x Replacement Charger
Replacement chargers can be purchased on their website.
To prevent damage to the device, always use the Tria battery charger.
How to Activate Tria 4x
Video: How to Activate Your Tria 4x
Click here to activate the Tria 4x. Your machine will not work if it isn't activated.
Enter your email address and the serial number found at the bottom of your Tria 4x laser machine.
Once done, click the "Begin One Time Activation" button.
Confirm that your skin tone and hair color is compatible with the device.
Once done, you'll have to press and hold the power button for x number of beeps as instructed. The number of beeps will vary according to your compatibility. Make sure that your 4x is unplugged when you do this.
The device will make a successful beeping sound once done and the red light near the skin sensor at the bottom of your device will turn on. Your device is now ready to scan your skin tone.
Place the skin tone scanner against your skin. If your skin is compatible, the device will make a successful beep one again and your device will unlock.
Your Tria hair removal activation is complete, and your device is now ready to use.
How to Unlock Tria Hair Removal
Press the power button for 3 seconds to wake the device.
Look for the skin tone sensor at the bottom and place it against your skin.
If your skin tone is safe to treat, the device will make a series of beeps and unlock. If not, the device will remain locked.
How to Reset Tria 4x
If your device isn't charging properly, you may need to reset your device.
Plug in the device for 24 hours.
Take the battery charger and plug in and out of the device 5x in a row.
Charge the device for 2 hours, and use normally after.
---
FAQ: Frequently Asked Questions
---
References:
Wheeland RG. Permanent hair reduction with a home-use diode laser: Safety and effectiveness 1 year after eight treatments. Lasers Surg Med. 2012 Sep;44(7):550-7. doi: 10.1002/lsm.22051. Epub 2012 Aug 7. PMID: 22886431.
Goldberg DJ. One-year follow-up results of hair removal using an 810 nm diode laser. J Cosmet Dermatol. 2018 Oct;17(5):775-778. doi: 10.1111/jocd.12757. Epub 2018 Sep 24. PMID: 30251358.
Courtney E, Goldberg DJ. Clinical Evaluation of Hair Removal Using an 810 nm Diode Laser With a Novel Scanning Device. J Drugs Dermatol. 2016 Nov 1;15(11):1330-1333. PMID: 28095543.
"Laser Classes And Hazards | FACULTY OF ENGINEERING AND NATURAL SCIENCES." Laser Classes And Hazards | FACULTY OF ENGINEERING AND NATURAL SCIENCES, fens.sabanciuniv.edu, https://fens.sabanciuniv.edu/en/laboratory-safety/general-laboratory-safety/laser-classes-and-hazards.
Haedersdal M, Beerwerth F, Nash JF. Laser and intense pulsed light hair removal technologies: from professional to home use. Br J Dermatol. 2011 Dec;165 Suppl 3:31-6. doi: 10.1111/j.1365-2133.2011.10736.x. PMID: 22171683.
Babilas P, Schreml S, Szeimies RM, Landthaler M. Intense pulsed light (IPL): a review. Lasers Surg Med. 2010 Feb;42(2):93-104. doi: 10.1002/lsm.20877. PMID: 20166155.
"Laser Safety Training Guide." Laser Safety Training Guide, ehs.princeton.edu, https://ehs.princeton.edu/book/export/html/373.
Sadighha A, Mohaghegh Zahed G. Meta-analysis of hair removal laser trials. Lasers Med Sci. 2009 Jan;24(1):21-5. doi: 10.1007/s10103-007-0515-1. Epub 2007 Nov 20. PMID: 18027066.
Haas AF. Use of a unique cooling gel applied prior to laser hair removal. Dermatol Surg. 2000 Nov;26(11):1045-6. doi: 10.1046/j.1524-4725.2000.0260111045.x. PMID: 11096392.
Altshuler GB, Zenzie HH, Erofeev AV, Smirnov MZ, Anderson RR, Dierickx C. Contact cooling of the skin. Phys Med Biol. 1999 Apr;44(4):1003-23. doi: 10.1088/0031-9155/44/4/014. PMID: 10232811.