Esthetician's Choice:
The Best Silicone-Free Primers
We've curated the best silicone-free face primers based on our experience, formulation, claims, value for money, and consumer reviews.

All products listed are meticulously analyzed for ingredient safety and clean formulation.

Make sure to choose the primer that's best suited for your skin type and skin issues.
Featured in The Anti-Ageing Beauty Bible
Winner: Best in Beauty Icon, Readers Choice. Woman & Home Best in Beauty.
Winner: Best Instant Skin Perfector. Woman's Own Ageless Beauty Awards.
A classic and one of Clarin's most popular radiance boosters, this product is sold once every 20 minutes worldwide.
This is a multi-purpose 3-in-1 day cream, express face mask, and makeup primer.
It instantly moisturizes, tightens, and brightens your complexion. This is the ultimate refresher to help eliminate signs of fatigue.
Its improved formulation is now silicone-free and has 96% of its ingredients sourced from natural origin. This includes organic botanicals that protect the skin from indoor and outdoor pollution.
Key Ingredients:
Organic Acerola seed extract – Energizes the skin to reduce signs of stress.
Nopal Flower extract – Stimulates exfoliation to remove dead skin cells that dull the skin.
Organic Aloe Vera extract – Provides deep hydration
Organic Oat Sugars – Effectively tightens and tones the skin.
The Flash Balm is one of the few primers that can be used over makeup to refresh tired, stressed skin.
Note that this has a light scent from aromatics like Bergamot, Freesia, Rose, Jasmine, Ylang-Ylang, Musk, and Sandalwood.
Safety Testing: Allergy-tested. Non-comedogenic.
Clean Beauty: 96% of ingredients are of natural origin. Plant-based formula with organic extracts.
Formulation Base: Water-based primer
Color: Skin-toned, invisible finish
Consistency & Finish: Creamy, lightweight, with a fresh matte finish
Key Benefits:
Diminishes signs of fatigue
Provides a visible tightening and smoothing effect
Makes skin look radiant & restores its's youthful glow
Smooths and soothes the skin to prep it for makeup
Transforms into a 10-minute face mask for emergencies
Exfoliates gently to promote smooth skin
Features an Anti-pollution Complex for skin protection
Cons: 
We find that the glow effect diminishes after a few hours.
Some plant-based extracts can cause reactions to sensitive and sensitized skin.
Not fragrance-free
Make-up Artist Tips: 
After cleansing, apply a thin layer and do not rub. Glide in an upwards motion for a tightening effect.
When you apply this in a thick layer, you can use this as a 10-minute energy mask or a pick-me-up day cream.
Video: Lisa Eldridge – MakeUp Basics: Primer Tutorial (Skip to 6:20 for the Clarin's Beauty Balm)
AMAZON (US, UK, Canada, France, Germany, Italy, Spain)
*at the time of publishing. Subject to change.
Can't see codes? Try turning off active adblockers.
---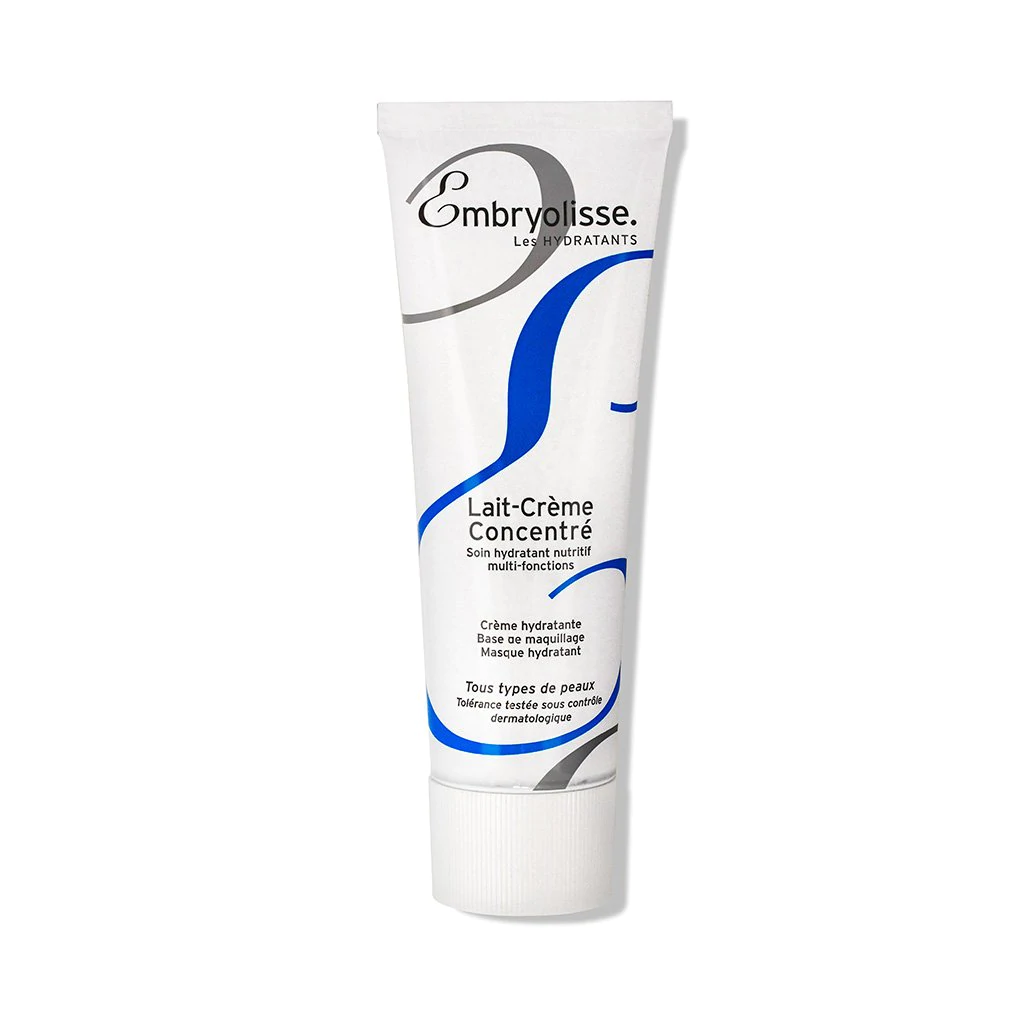 Embryolisse – Lait-Crème Concentré, Face Cream, & Makeup Primer
BEST FOR: All skin types, especially dehydrated and combination skin
 2022 NewBeauty – Award Winner
French beauty brand Embyolisse and their award-winning Lait-Crème Concentré have been global best-sellers for over 70 years.
Lait Crème Concentré is so popular that one is sold every 10 seconds worldwide.
And nothing vouches more for a formula than one that has stood the test of time.
This multi-function product has nourishing and moisturizing properties that come from natural origin ingredients. (This means it was extracted using Green Chemistry, NOT through petrol like most products.)
Shea butter is an excellent emollient that delivers essential fatty acids to repair the lipid barrier and increase elasticity.
Soy proteins tone and firm your skin to help diminish fine lines
Aloe vera & beeswax work together to soothe irritation or any redness
It leaves your skin plump and revitalized, alleviating any discomfort from dryness.
It's a cult product sold by millions to dermatologists and makeup artists. It is also a backstage staple at fashion week.
Celebrities use this as their swiss army knife of skincare.
It improves skin quality for makeup application and functions as a remover if you need to change looks quickly.
They use it to rehydrate the skin to fight off jetlag, as an overnight cream mask, and as a primer to improve overall complexion.
It can even be used as an after-shave.
The Lait-Crème Concentré also mixes incredibly well with other makeup. You can turn any cream foundation into a liquid and liquid foundation into a tinted moisturizer.
Mixing it with powder makes it creamier and helps apply highlighter or eyeshadows more consistently.
See makeup artist tips below for other pro ways to use the Lait-Crème Concentré.
Safety Testing: Non-comedogenic for all skin types.
Sustainability: Recyclable tube and packaging.
Formulation Base: Water-based primer
Color: Milky-white
Consistency & Finish: Light and milky texture with a soft satin finish
Key Benefits:
Multi-function: A primer, moisturizer, skincare mask, makeup remover, and an after-shave in one
Award-winning formula tested by time, a global best-seller for over 70 years
Natural origin ingredients, extracted using Green Chemistry
Rich in essential fatty acids and vitamins
A staple of celebrities and makeup artists on TV shoots, fashion shows, magazines, and movies
This can be used on all skin types
Cons:
Not fragrance-free
I can't use this for someone with very oily skin
Make-up Artist Tips:
If you have acne with flaky skin around the breakout, use a q-tip as an exfoliator to eliminate any dead skin cells. It's gentle and provides hydration, so the skin won't be tight and rough when you put on your foundation.
Absorbs quickly but takes a minute to settle before putting on makeup. Otherwise, your foundation isn't going to apply smoothly.
Great to use as a quick exfoliation on dry, dehydrated skin. Take a pea-sized amount on a cotton pad and slough off the superficial layer of dry skin. This will relieve your skin of that tightness and avoid making you look wrinkly underneath the makeup.
Use to break down makeup as needed to a thinner consistency. Using a cream foundation can transform it into a liquid foundation whenever you need a smoother application. A liquid foundation can turn into a tinted moisturizer for a healthier glow.
Create a luminous cream highlighter by combining the Embyrolisse with a powder highlighter. You can apply this on top of your foundation. This works amazingly well, especially under the brow.
Makes a great after-shave, especially for those who get skin irritations after shaving. Leave a thick coat on for about 5-10 minutes and wipe it off. This will hydrate your skin so you don't get that tight, red, irritated feeling.
Also makes for a fantastic cream for your hands, elbows, and anywhere you need instant moisturizing.
Video: TESTING OUT BEYONCE'S MAKEUP HACK FOR FLAWLESS SKIN | Beauty Bay
Embryolisse Official Website
AMAZON (US, UK, Canada, France, Germany, Italy, Spain)
*at the time of publishing. Subject to change.
Can't see codes? Try turning off any active adblockers.
---
Dermablend – Insta-Grip Jelly Face Primer
BEST FOR: All skin types, Longwear & full coverage makeup, Acne-prone skin
This powerful 3-in-1 multi-tasking primer gives 24-hour extended makeup wear. It's also an instant facial moisturizer, and delivers a subtle skin-tightening effect. All this makes for a better makeup application and longer wear.
Its unique jelly texture, formulated with panthenol (Vitamin B5) and cork extract, helps grip makeup for up to a 24-hour staying power. (You can sweat through a concert, and it will stick!)
In our opinion, this makes it one of the best primers for acne prone skin because having a solid grip on foundation and concealer means fewer touch-ups on spots and blemishes throughout the day. This is crucial for those battling acne.[2]
It's also quick-absorbing, formulated with plant extracts and glycerin to moisturize, smoothen, and tighten skin for enhanced makeup application.
The silicone-free jelly texture dries to a natural finish and creates a fresh canvas.
Safety Testing: Dermatologist-tested, fragrance-free, allergy-tested, sensitive skin-tested, non comedogenic makeup primer, non-acnegenic.
Clean Beauty: Formulated without parabens, phthalates, triclosan, or sodium lauryl sulfate.
Green & Cruelty-free: Vegan formula, no animal-derived ingredients or byproducts.
Formulation Base: Water-based primer
Color: Clear
Consistency & Finish: Jelly-like texture, natural finish
Key Benefits:
Unique sticky jelly texture grips onto makeup for up to 24 hours
Non silicone primer that preps skin for a smooth makeup application
3-in-1 product: makeup gripper, instant moisturizer, and tightening mask
Minimal ingredients developed for safety
Cons:
Super sticky, which may be hard to smooth on the face
It can be hard to use. You really have to practice as it can be really tacky.
Don't do your hair first! It's that sticky (yes, we're back to sticky)
Make-up Artist Tips:
Apply 1 to 2 pumps on your fingers and apply to your face in outward and upward strokes. Let it absorb for at least 30 seconds before applying your foundation.
Use a damp beauty blender to apply foundation for a smoothing effect.
Video: How To Apply The Insta-Grip™ Jelly Primer | Dermablend Professional
AMAZON (US, UK, Canada, France, Germany, Italy, Spain)
*at the time of publishing. Subject to change.
Can't see codes? Try turning off any active adblockers.
---
MILK Makeup is a cruelty-free, clean brand that made waves on social media with their award-winning Hydro Grip Primer.
Their latest release controls shine, hydrates, locks your makeup for up to 12 hours, and blurs pores.
The Pore Eclipse Mattifying + Blurring Primer is a silicone-free, 90% natural water cream primer that is a makeup-skincare hybrid.
It's formulated with ingredients that have long-term skincare benefits.
This is great for oily skin and anyone who wants to achieve more even-looking skin in the long run.
Niacinamide – a hero ingredient that helps minimize the appearance of pores, provides additional moisture and helps improve skin texture.
Bakuchiol – a popular natural alternative to retinol, a topical vitamin A that helps smooth skin texture, treat acne, and minimize fine lines
Lentil extract – helps control shine and acts like microfine particles that soak up oil all day long.
Moonstone – helps calm the skin.
Blurring microspheres – gives a natural soft-focus, matte finish throughout the day without causing a harsh drying effect.
Additionally, this can smooth out any healing blemishes or dry patches and fill in pores without clogging them.
This silicone-free makeup primer uses a formula that feels incredibly breathable, light, and refreshingly cool when applied.
It's infused with natural orange blossom and chamomile for a subtle, soothing scent.
There are two primers in their current line. They all grip makeup and smoothen the skin at their core but are reformulated to address different skin concerns.
Clean Beauty: All MILK products are free from Talc, Mineral Oil or Petrolatum, Resorcinol, Urea, Hydroquinone, Synthetic fragrances, Alcohol Denat, and Retinyl Palmitate.
Green & Cruelty-free: 100% Vegan and Cruelty-free Leaping Bunny Certified. No animal testing and no animal-derived ingredients, including fats, oils, or musk.
Formulation Base: Water-based primer
Color: Translucent, leaving an invisible finish on all skin tones
Consistency & Finish: Water cream formulation to a soft-focus, matte finish
Key Benefits:
Keeps makeup in place for up to 12 hours
Blurred pores thanks to a soft-focus filter
Help minimize the slide and cracking of your foundation due to sebum and oils
Reduce the appearance of pores over time
Skin-calming properties
It improves skin texture and keeps you looking fresh for hours
Maintain a natural matte finish
Cons:
It may not work for excessively oily skin on its own
It has fragrance, which can bother those who prefer scent-free products.
Make-up Artist Tips:
Before applying your makeup, wait one minute for it to dry to a translucent finish.
Works well in the T-zone areas for combination skin
It blends well with liquid, powder, cream, and stick foundations.
It doesn't leave your skin looking chalky. Using it with highlighters, creams, and glowy makeup will give you that controlled, dewy finish.
Video: MILK MAKEUP | MEET: PORE ECLIPSE MATTIFYING PRIMER
MILK Makeup Official Website
AMAZON (US, UK, Canada, France, Germany, Italy, Spain)
*at the time of publishing. Subject to change.
Can't see codes? Try turning off any active adblockers.
---
---