We're all looking for an effective IPL device that won't necessarily break the bank.
Top of the line brands like the JOVS Venus Pro, Tria Hair Removal 4x, Braun Silk-Expert Pro, or the Silk'n Infinity are safe and very effective, but can be an unexpected investment.
Budget-friendly alternatives are on the rise from smaller brands that can offer similar results with some compromise.
The Lescolton T009 Home Pulsed Light is a practical choice for those looking at affordable home laser hair removal solutions.
Resources: The Top 5 Best Home Laser & IPL Hair Removal: Esthetician's Choice
---
Pros & Cons:
Lescolton T009 Laser Hair Removal Device
Pros:
Cons:

PRICING:

Great price point for an at-home laser hair removal device
None
SKIN TONE COMPATIBILITY:

Effective on light to brown skin, Fitzpatrick I-IV (light to olive skin tones)
Not effective on dark skin, Fitzpatrick V-VI.

(PSA: Only three home devices are able to do this: Silk'n Infinity, mē Smooth, and illuminage elos.)

HAIR COLOR COMPATIBILITY:


Effective on darker hair colors
Not effective on lighter hair colors, but this is a normal limitation for most at-home devices.

SUITABLE AREAS FOR TREATMENT:

Hairline, Cheek, Lips. Back, Underarms, Chest, Arms, Abdomen, Bikini line, Thighs, Legs.
Not applicable on more sensitive areas of the body but again, a normal limitation for most at-home hair removal machines.

SAFETY:

Has safety goggles included in the package for eye protection


The device has a built-in sensor that detects proper skin contact before flashing.
Hard to see through the free goggles, you'll need to be in a fairly bright room.

COMFORT & EASE OF USE:

Very easy to use, small learning curve.


Has 5 levels of intensity that allow you to choose depending on your pain tolerance/comfort.


Has a manual and automatic setting that you can use for smaller and larger parts of the body


Very light and ergonomically designed
Wired, might be a little inconvenient if you can't be near an outlet.

TREATMENT DURATION/TIME:

Fairly quick, especially on the automatic setting where you can just glide the device on the skin and it continuously flashes.
Recommended that you have to go over each area 2x-3x for full efficacy.
PRODUCT LIFESPAN:
Has 2 A+ Quartz lamps, a yellow one for IPL hair removal (300,000 flashes) and a red one for skin rejuvenation and acne clearance (100,000 flashes). Most devices only have one lamp.


Replacement lamps are available in bundles.
The laser hair removal lamp needs to go over each area 2-3 times for each session, unlike other devices where you only have to go over each area once. This lowers the real value of those flashes to just 120,000 since you have to use 2x-3x more to be as effective.


Very hard to find, if at all. Comes in a pack instead of individually.
---
Lescolton Hair Removal Price
The Lescolton line of IPL (Intense Pulsed Light) machines is one of the most affordable hair removal devices for home use.
Typical at-home laser hair removal machines cost anywhere between $100 and $400. Lescolton's IPL hair removal devices range anywhere around $100+.
It's easy to use and has normal features as most IPL devices, but results take longer as its hair-eliminating power is limited.
Time, effort, and potential efficacy are the compromises for most IPL devices at this price point.
Whether this suits your need or if you require a more powerful device depends on the IPL machine's compatibility with your hair and skin, your lifestyle, and your budget.
---
Unboxing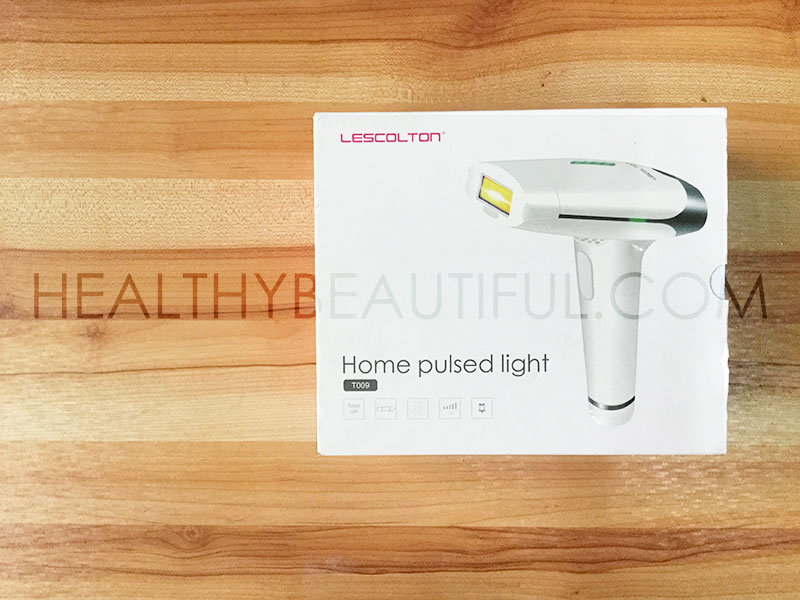 Out of the box, the Lescolton unit comes with several accessories:
A handheld IPL device

A detachable cord

2 quartz lamps that can be interchanged:

Yellow glass lamp – IPL hair removal
Red glass lamp – photorejuvenation for skin and acne clearance


Eye protector – This looks a bit ridiculous but it is the same ones used in laser clinics. It's very uncomfortable to wear though. You can use sunglasses with UV protection or laser safety glasses to protect your eyes. (Please don't look at the laser flash directly. No beauty treatment is worth risking your eyesight for. You can use the eye protector it comes with or look away every flash if you don't have glasses.)

Adaptor with US, EU UK plugs

User Manual
---
Product Design Overview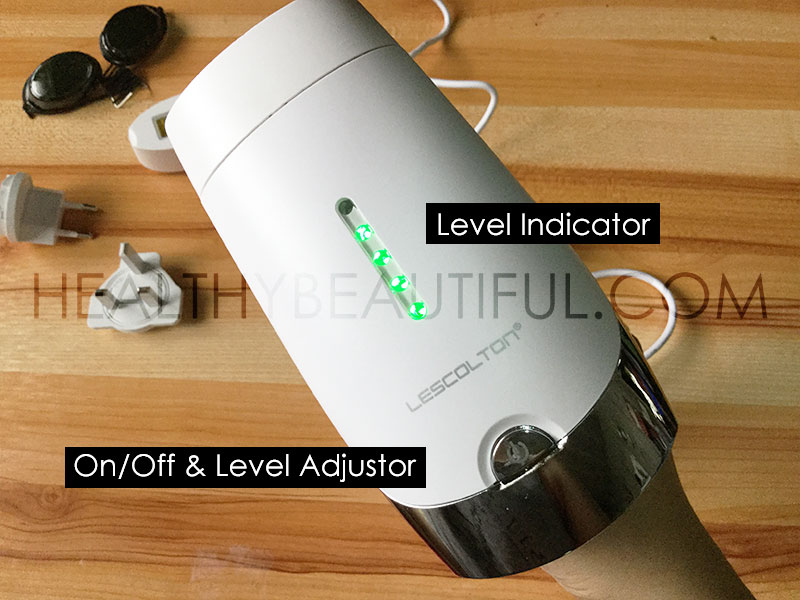 The Lescolton IPL device has a great design. Very light and easy to maneuver, even in hard-to-reach areas.
The main parts that you need to be aware of are:
On/Off button and Level Adjustor – One long press on the button will bring the device to life. Short presses will change the level or strength of the IPL as indicated by the little green lights.

Lever Indicator – Lights up as you go up on each level, from 1 to 5.

Quartz Lamp – Replaceable caps that you alternate between the yellow/IPL hair removal or red/skin rejuvenation.

Shot light button – Short presses to trigger IPL flashes. One long press to switch from manual flashing to automatic flashing, and vice versa.

Indicator Light – (It's not labeled in the photo but it's the small green light on the side view.) A steady green means its ready to point. Once you've positioned the device properly, the green light will start blinking. This means the device is ready to flash. FYI, the shot light button WILL NOT WORK if you've positioned the machine incorrectly. Just make a few adjustments until you get that blinking light. On automatic mode, the green light will just continuously blink.
The downside is the cord, which can be obstructive at times. Not a dealbreaker though.
---
Product Highlights
A+ Quartz Lamps
Aside from the Lescolton IPL being extremely affordable, it also comes with 2 quartz lamps.
The red one is for skin rejuvenation and acne clearance with 100,000 flashes.

The yellow one is for IPL hair removal with 300,000 flashes; which is really high considering the price point.
For reference, a regular quartz lamp average around 100k-150k. Having said this though, one very important point to consider is the power or hair-eliminating energy fluence that these devices have. [1]
Measured in J/cm2, this is a very important metric to consider when buying a hair removal machine.
Remember this: The higher the J/cm2 power, the more effective it is in eliminating hair and the faster the results. BUT the higher the laser power, the more painful each flash will be.
Lescolton recommends applying a soothing lotion or an aloe vera gel to help with skin healing.
The package doesn't mention the actual metrics but I've reached out to the supplier and it came out to 2-6 J/cm2. This is about the average power as most IPL devices. (They would have highlighted it if it had exceptional hair-eliminating power.)
For reference, the most powerful home device on record is the Tria 4x which clocks in at 7-22 J/cm².
Learn More: Top 5 Best At-Home Laser Hair Removal Devices: The Ultimate Review & Guide
Another thing to consider is the amount of repeated flashes each area needs. Higher-end home machines only need one pass, while the budget devices need 2-3 passes for every area.
5 Intensity Levels
This allows you to choose the intensity of the light emissions. Remember, laser intensity is directly proportional to its hair-eliminating power and risk of side-effects like redness, pain, and swelling. This means the higher the power the more effective the treatment but the riskier each flash will be.
We recommend starting at level 1 and moving your way up as you progress. The results might be tapered and will take longer, but it will decrease the chances of a painful treatments or redness and swelling.
Manual & Automatic Flashing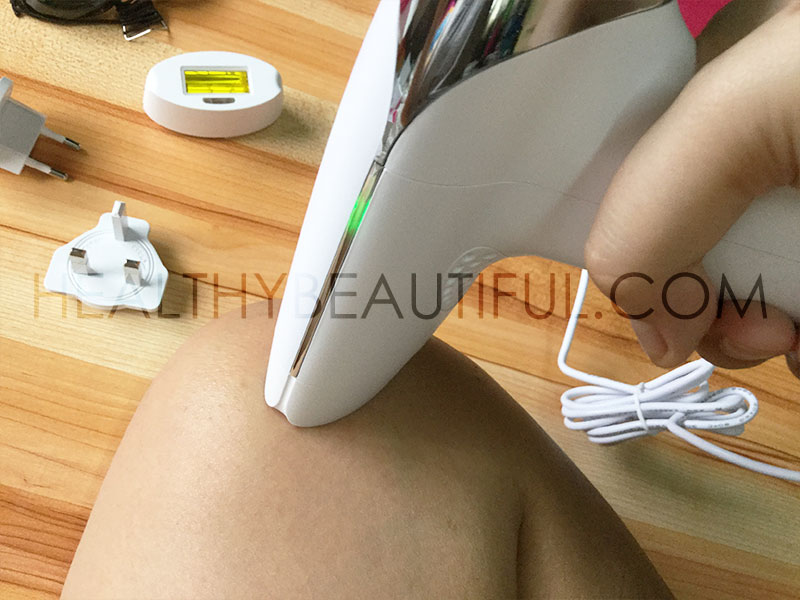 Manual flashing – You have to press the shot light button for every flash. This is useful for small areas where you need some kind of maneuvering or precise positioning, e.g. bikini area, upper lips.
Automatic flashing – Long press the shot light button (2 seconds) to activate automatic flashing. This is especially convenient for larger areas where you just go in one direction.
Note: The Green Light Indicator at the side is very important. One continuous light means its ready to point. Once you've properly positioned the machine, it will start to blink. This means it's ready to flash. The shot light button WILL NOT WORK unless that light is blinking.
In automatic flashing mode, this will just blink continuously and go off when the machine touches your skin.
Safety & Efficiency
The Lescolton devices has a safety feature where it only flashes when it's properly set to the skin at a 90-degree angle. This ensures that no flash is wasted and light is directed on the treatment area.
The box also comes with its own safety goggles for eye protection.
---
How to Use the Lescolton Home Pulsed Light: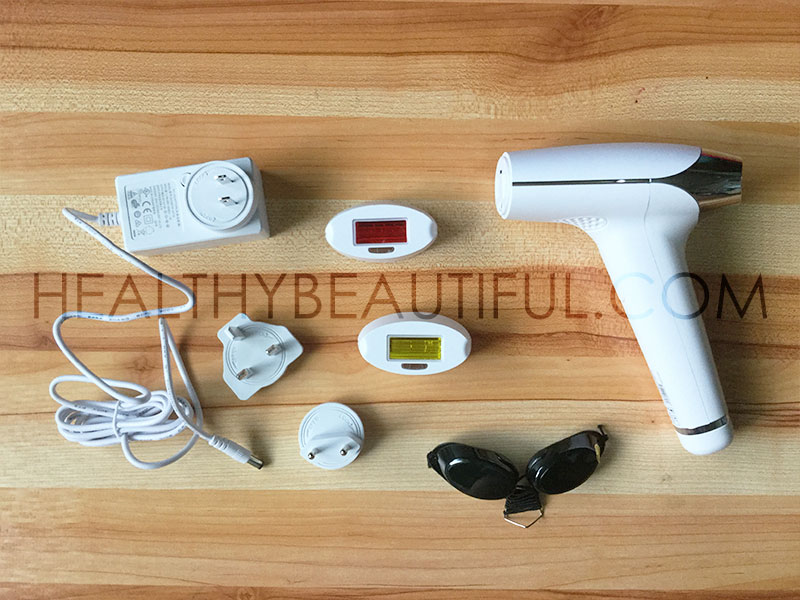 Total Time Needed :
45
Minutes
Required Tools:
– LESCOLTON IPL Device
– Protective glasses
Things Needed?
– Post-treatment Aloe soothing gel
Lescolton Home Pulsed Light English Instructions:
---
Post-Treatment Guidelines:
Around 20 minutes after your treatment, apply a cooling and healing moisturizer to help heal the skin. Lescolton recommends aloe vera gels.

DO NOT use lotions that can be irritating to the skin. There are things like AHAs or brightening products. Use something that's soothing instead.

DO NOT wet the treated skin or expose it to harsh sunlight within 2 hours after each session. This is to avoid any skin discoloration. It's recommended to do the treatment at night.

DO NOT sunbathe, steam bathe or have a warm bath within 48 hours after treatment. This is to avoid any swelling.
---
Course of Treatment:
IPL Hair Removal:
First Month – Use once every 4-5 days.
Hair growth will be unchanged during this period. Be patient as the laser gradually and safely damages the parts of the hair root that affects hair growth.

Second month – Use once a week.
Hair shafts will slowly get thinner and strands will gradually fall out.

Third month – Use once every 15 days.
Hair growth has mostly been suppressed and any growth is sparse. Hair can be easily plucked off.

Fourth month and beyond – Use once every 30 days.
Hair should be barely there after completing the course. Some areas that have thicker hair may require follow-up. Maintenance is required after a certain period of 6 months, 9 months, and 12 months.
Skin Rejuvenation:
Use once to twice a week for 2-3 months.
Note: Do not use both lamps on the same area in one sitting. If you want to follow-up say a laser treated area with a skin rejuvenation treatment, you must wait until the next day.
---
Treatment Duration:
Because of its ease of use, it takes relatively no time to finish each session.
Upper lips: 1 minute
Back: 12 minutes
Underarm: 2 minutes each
Arms: 3 minutes each
Legs: 10 minutes each
Bikini area: 10 minutes
---
Compatibility:
Skin tone, Hair color, Face & body areas
1. Skin Tone
The LESCOLTON T009i IPL is compatible with light to olive or mid-brown skin tones. This is Fitzpatrick I-IV.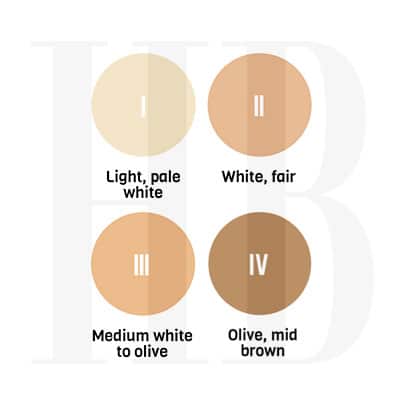 3. Face & Body Treatment Areas
The LESCOLTON T009 IPL can be used for partial face and body laser hair removal.
Coverage includes:
Face: hairline, cheeks, lips
Body: back, underarms or axilla, arms, chest, abdomen, bikini area, legs
---
Technical Specifications:
Model No.
T009
Lamp life span:
Hair removal lamp (yellow): 300,000 pulses
Skin rejuvenation lamp (red): 100,000 pulses
Maximum Energy Fluence/Power:
2-6 J/cm2
Technology:
IPL (Intense Pulsed Light)
Flash Window Size: 
4 cm2
Skin Tone Coverage: 
Fitzpatrick I-IV
Hair Color Coverage:
Naturally dark hair
Power Source:
Mains
Safety Protocol: 
Skin contact sensor, protective eye googles
Main Unit size:
7.2 x 3.1 x 6 in / 182 x 78 x 151 mm
Main Unit weight:
0.71 lbs / 0.32 kg
Package size:
3.1 x 7.5 x 3.7 in / 231 x 191 x 93 mm
Gross Weight:
2.4 lbs / 1.1 kg
Included in Package:
Main unit x 1, Lamps x 1 (hair removal & skin rejuvenation), Adaptor x1, Eye protector googles x 1, User Manual x1
Warranty:
One year on the main unit