The Dyson of At-Home Laser Hair Removal
The JOVS Venus Pro has earned its moniker with its innovative tech and award-winning product design.
Delivering more than Instagram aesthetics, it offers an exhaustive list of features that makes it stand tall in a highly competitive market.
The sheer number of configurations alone provides you with precision and efficiency that very few devices can match.
Its most unique features are: its ergonomic rotating head, use of a novel IPL called OPT, custom wavelength "modes", contact cooling, and having 11 international safety certifications.
This is in addition to other advanced features that JOVS has in common with some of the world's leading brands like the Braun Silk-Expert Pro 5 and Silk'n Infinity.
These and more ensure that treatments are painless and safe even when set to maximum power.
Our resident beauty editors have compiled this guide and tracked their results after four months of testing.
And after reviewing over 35 devices through the years, the JOVS Venus Pro is our Esthetician's Choice for the fastest & safest IPL device, ideal for sensitive skin.
By the end of this JOVS Venus Pro review, you will know everything you need to know about this device and decide whether it's the right fit for you.
JOVS Venus Pro Coupon Codes
Get the best price with the latest premium promo and discount codes when you buy online. Sales and special gifts are limited-time offers.
*at the time of publishing. Subject to change. *can't see codes? They might be disabled by an Adblock.
+ Get the Best Prices Online
Create Your Free Price Drop Alert!
Set Alert for JOVS I Venus Pro IPL Hair Removal Device for Women & Men with 3 Attachment Filters, Painless... - $199.99
Quick Overview: JOVS Venus Pro I & II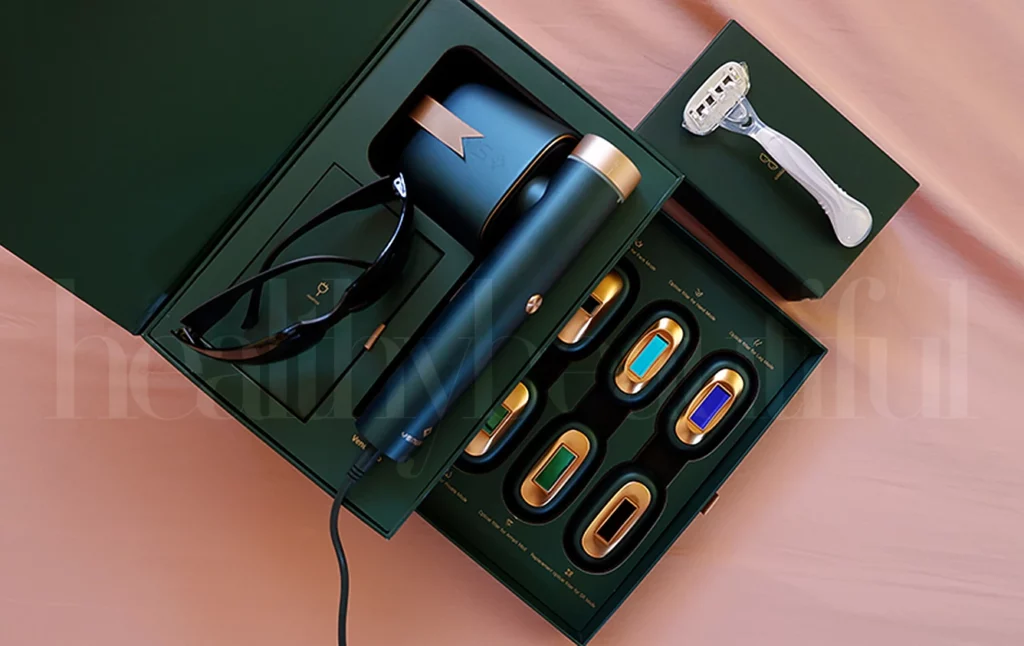 Verdict: The safest, fastest, & most ergonomically-designed at-home laser hair removal device, Perfect for sensitive skin
Awards: The first hair removal device to receive the Red Dot Design Award in 2020
Best for: Sensitive skin, Low pain tolerance, Quick full body treatments, Light to medium skin tones
Hair-Removing Technology: Advanced Optimal Pulse Technology (OPT) + Multi-Frequency Continuous Pulse Technology (MFCPT)
Energy Fluence / Power / cm² = Joules per centimeter: 1-5 J/cm² (Venus Pro 1); 1-6 J/cm² (Venus Pro 2)
No. of Flashes: "Unlimited" built-in flashes (500,000+); one of the highest among IPL home devices
Safety Mechanism: ICE Cooling System (JOVS Venus Pro I); Sapphire Skin Cooling System (JOVS Venus Pro II). Contact sensors. Custom optical filters & modes for each body part. Recessed flash window. FREE IPL glasses included.
Skin Tone Coverage: Fitzpatrick I-V (light to olive skin tone) compatible. Dark complexions are most compatible with the Silk'n Infinity.
Hair Color Coverage: Naturally dark to light brown hair compatible
PROS:
Award-winning build & product design. Known as "The Dyson of Laser Hair Removal". In our opinion, the most sophisticated & stylish IPL device currently on the market
Clinically tested with 11 internationally recognized safety certifications: FDA Clearance, RoHS Compliance, SGS Certified, PSE Certification for Japan, European Health, Safety, and Environmental Protection Standard Compliance, etc.
Advanced hair-removing technology with an IPL variation called OPT & MFCPT
Multiple safety mechanisms in place like skin contact sensors & recessed flash windows to prevent stray flashes from damaging your eyes
Painless treatments for even the most sensitive skin with its contact cooling mechanism
Has an "unlimited" number of flashes at 500,000+; one of the highest built-in cartridge available amongst all IPL devices
Precision & ease of use with its rotating head for hard-to-reach areas
2 flash settings for your convenience: Automatic flashing for large areas & Manual flashing for carefully treating small or sensitive areas
5 Modes for each body part: face, arms, underarms, legs, bikini
Special SR Mode for skin rejuvenation
Incredibly easy and fast treatments with just 0.7 – 1.5 seconds between flashes
Free IPL glasses and shaving razor
CONS:
Its auto flashes can be inconsistent when used for long periods of time.
JOVS recommends you do 3x a week instead of once a week or once every two weeks, like most at-home IPL devices.
Despite its ergonomic design, it's still a hefty device to manoeuvre around your body compared to smaller models.
There's no built-in storage for the IPL glasses and cords, unlike the handheld device that has its own pretty box.
Answer: If you have sensitive skin, dark hair, and a light to medium complexion, the JOVS Venus Pro is your best bet for safe, fast, and painless laser hair removal treatments at home.
Its unique contact cooling mechanism ensures maximum comfort even at the highest energy levels.[1]
Video: How to remove hair using IPL device ft. JOVS | Chris Han
It also has a laundry list of other high-tech features, but there are other devices that are equally competitive as well.
Your choice should ultimately come down to skin & hair compatibility, which functions you like best, and which would suit your lifestyle better.
If you don't think the JOVS Venus Pro is right for you, below are some of the other devices we've reviewed and highly recommend.
Viable Alternatives:
---
Video Reviews: Tests, Long-term & Short-term Results, Tips & Tricks, Before & After
Our testers for this JOVS hair removal review have dark hair and fall under Fitzpatrick III – IV.
For a more rounded perspective, we've collated consumer reports from those with different results and experiences with the product.
This should reflect how the device works for a wide variety of users.
JOVS IPL Before and After:
Video: Update Real Result of JOVS Venus Pro II Hair Removal
Video: JOVS Venus Pro II Hair Removal – Pain Free?
Video: JOVS Venus Pro II Hair Removal | Trying IPL Hair Removal for the first time!
Expected Results:
---
Product Overview
JOVS Venus Pro I Hair Removal:
Video: JOVS Venus Pro I Hair Removal Ad
Version I seems to be in the process of being phased out, as only version II is currently on their official US website.
Version I is still available but under a different label called Bosidin. You can get it on Bosidin's official site and Amazon.
JOVS Venus Pro II Hair Removal:
Video: JOVS Venus Pro II Hair Removal Ad
This is the latest release and the upgraded version.
JOVS Venus Pro Version I vs. Version II
So far, two versions of the JOVS Venus Pro have been released.
While both are available in white and emerald green, there are some core differences between the two:
Angles of the rotating head – Version I has a limited 180-degree angle. Version II has a more flexible 330-degree angle.
Size & Weight – Version I is a bit larger and heavier than the more compact version II.
Optical filters – Version I has six add-on body filters, while Version II has a universal filter.
Energy fluence – Version I only reaches up to 5 J/cm², while Version II is up one at 6 J/cm².
No. of Flashes – 500,000 flashes to "unlimited" flashes.
Everything else, from skin and hair coverage to features and operations, are very similar.
We currently have Version I on hand, so that's what we will be reviewing for the most part. But we will still compare both versions where we can for clarity.
---
Package Contents: Unboxing the JOVS Venus Pro Hair Removal
Video: JOVS Venus Pro Unboxing – Jovs Laser Hair Remover
What's Inside the Box?
Primary Components: JOVS Venus Pro unit, 6 Optical filters, Power supply cable, Adaptor, US/UK/EU/AU plug.
Accessories: User manual with free razor and IPL glasses.
The JOVS Venus Pro I box is emerald green and embossed with gold.
It has one extra green box for the adaptor and two white boxes for the accessories.
The main box opens to reveal the device and the user manual. Pull the gold ribbon tab to lift the items easily.
On the lower left is a small green booklet with the user guide. Located underneath that compartment is the mains-power supply cable.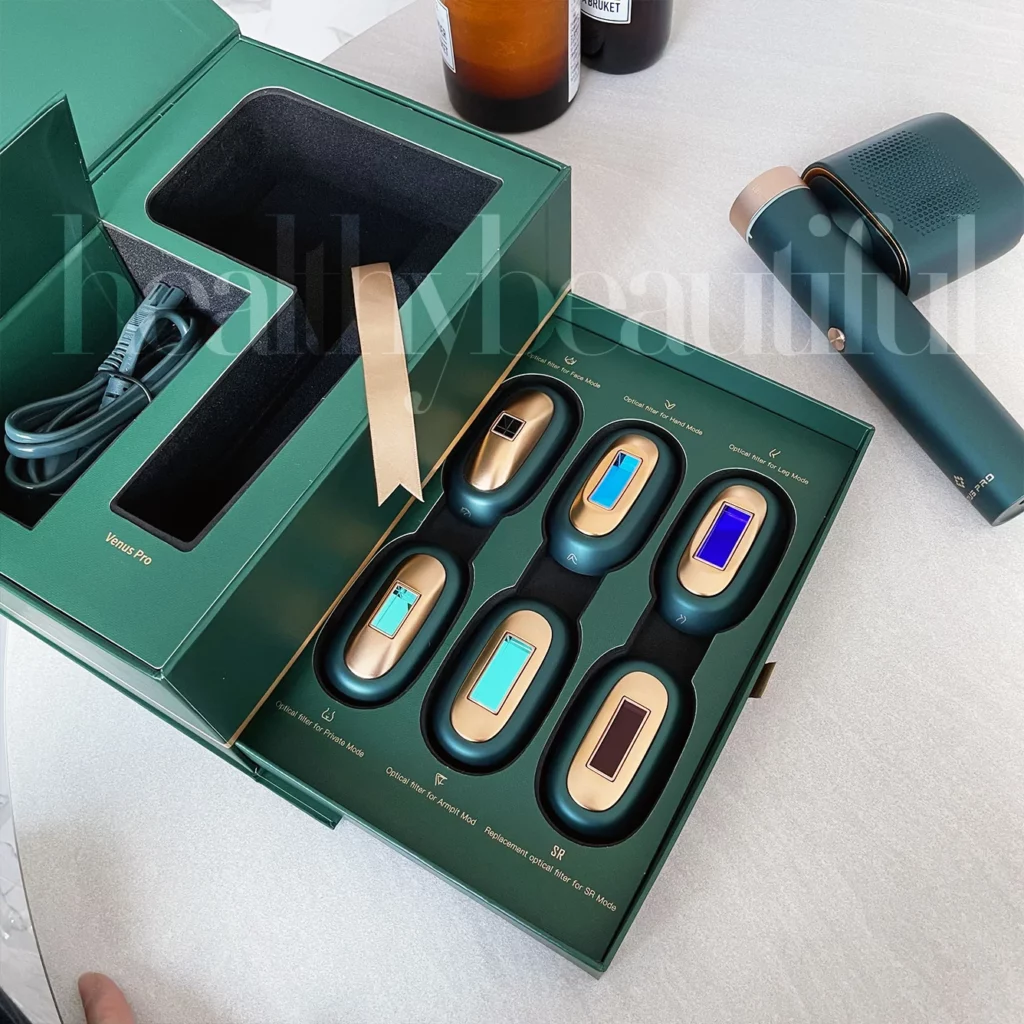 To open the bottom drawer, release the bottom magnetic clasps and pull the gold-ribbon tab.
Inside are six flash window attachments, each labeled accordingly.
These add-ons are optical filters that attach to the device. They are designed to treat various body parts, including the face, legs, underarms, and bikini line.
In addition, the JOVS Venus Pro comes with a red-light beauty skincare SR filter that can be used immediately after hair removal to convert it into a device for at-home facials.
The anti-aging treatment the SR attachment provides helps repair and improve skin cells' health, resulting in a firmer, brighter complexion and fewer wrinkles.
---
Product Design & Our Experience Using the JOVS Venus Pro Hair Removal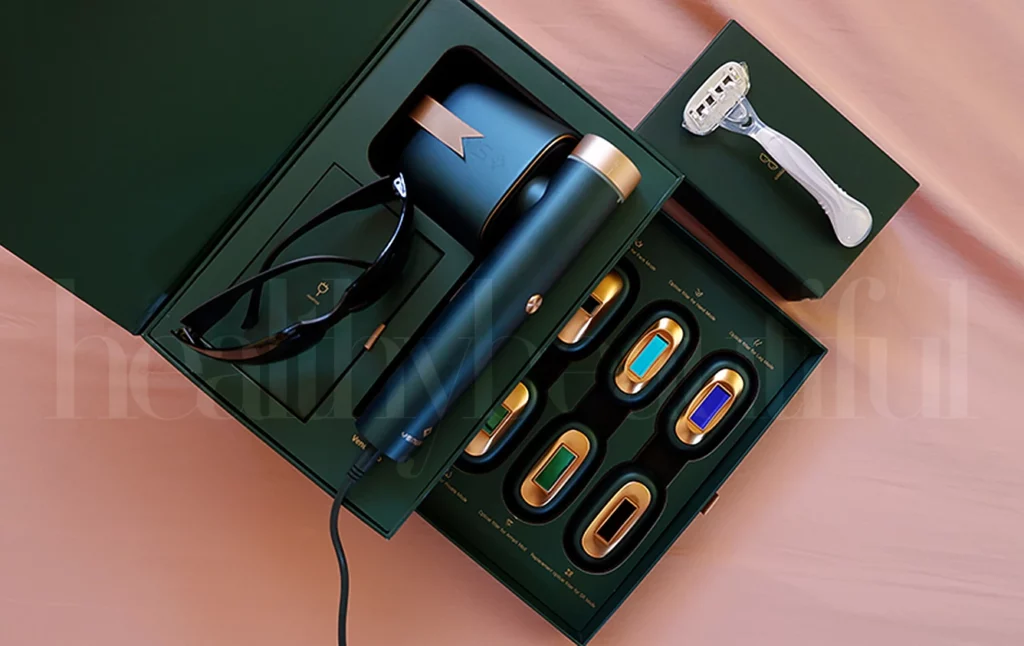 Quality & Durability
This is by far the most stylish and luxurious-looking IPL device I have reviewed so far.
With its matte metal finish, gold trim, and stunning emerald green color, the JOVS Venus Pro IPL device stands out from the crowd with its Instagram-friendly aesthetic.
In addition to being visually appealing, this product also feels high-end. It is quite different from the standard white plastic used for most home IPL devices. Even its two-tiered box is well-designed and feels quite decadent when unpacked.
The build quality is excellent as well. It's solid and robust but rather weighty at 465g. It has gold buttons and a dial, enclosed in a seamless metallic shell.
Ease of Use
Although the device has a rather chunky, angular shape, it is surprisingly comfortable to use. Its handle has the right diameter for a comfortable grip, and its auto-flash mode eliminates any strain while using the flash. The handle can be gripped in various ways, allowing you to work around your body differently.
The only problem with the JOVS IPL device is that it's heavy. When you're holding it upright or resting the weight on your legs, it's not an issue. However, I find it more comfortable to grip it with two hands when zapping the back of my knees and calves while seated.
Flashing is easy whether you have optical filters or not. Having gentle curves on the filters helps, but it's unnecessary for a snug fit.
Rotating Head: 180° (JOVS Venus Pro 1) / 330° (JOVS Venus Pro II)
In Version I, the rotating head rotates 180 degrees. Version II has more freedom with 330-degree movements.
This allows you to better position the flashes without turning the entire device. You can zap around your whole body without straining your wrist.
By rotating the head, you avoid holding your arm or wrist at an uncomfortable angle. It makes removing hair from difficult areas easy, comfortable, and foolproof.
Without the rotating head, the device would be cumbersome and difficult to maneuver.
Cooling Vents
There are cooling vents on the top and sides of the head to prevent overheating.
Small dotted air vents at the top of the device also let out some bright light according to the direction the head is facing.
This may bother you, but it can be fixed by rotating the head the other way.
Treatment Window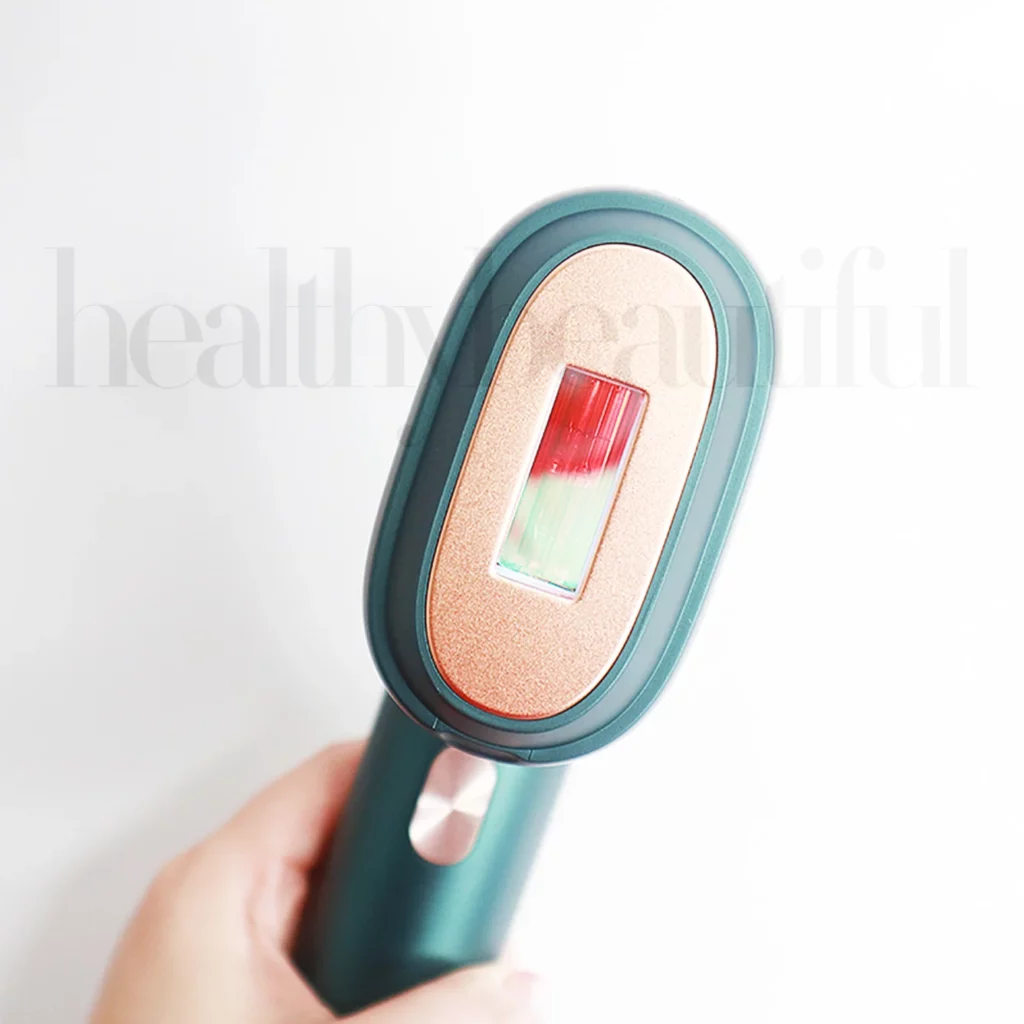 A stylish, golden-finish metallic surface surrounds the flash window. If the sapphire ICE mode is activated, this plate cools the skin through an internal refrigeration system.
The IPL flash bulb is located inside the recessed window.
On the outside, an angled ridge positions the optical filters. A slight indentation at the bottom makes it easier to remove them.
Durable Cords
The JOVS Venus Pro is a mains-powered device, although the ads make it seem cordless.
A short cable connects the power adapter to the device, while a longer cable connects it to the plug. The cord is high quality, thick and flexible.
However, it's not long enough, in my opinion. While the device is convenient to work around the body, the length of the cord will be challenging.
I needed to use an extension cord to treat my whole body comfortably.
Size & Portability
The handset is hefty but manageable. It does, however, take its toll as you go through the treatment. I can feel its weight by the time I'm on my legs.
I wish it could be portable, but I don't think the weight of an extra battery will be feasible at this point.
If they can work around this problem, that would be game-changing. There's only one battery-powered at-home laser hair removal device I know of, and that's the Tria 4x Diode Laser. That machine is also quite heavy.
I do need to comment that all the ads make it seem like it's wireless. I'm sure people will find it a bit misleading when they find out it's not.
Cartridge & Product Lifespan
Version I of the JOVS Venus Pro has built-in 500,000 flashes. It has a counter on top of the handle to keep track of your use.
Version II, however, is advertised as having "unlimited flashes."
That's not true, of course, as the machine and flash lamp will eventually succumb to wear and tear.
But if a previous release like the one we have is already at 500,000 flashes, the latest one might well be "unlimited" with the number of uses you can get out of it.
We've reviewed over 35 hair removal devices, and this is one of the highest number of flashes a handheld device can offer.
Braun's Silk-Expert Pro 5 boasts 400,000 flashes and can give 22 years' worth of treatments.
While the FDA can let this "unlimited" label fly, I'm pretty sure that's not allowed in Europe. So I checked if they had the specs over there, but version II hasn't been released yet!
It seems they've prioritized launching state-side. Once they do launch it though, I'll make sure to update this JOVS hair removal review.
Operations: Using the JOVS Venus Pro
Video: JOVS Venus Pro – Step 1 – Treatment phase
Even with more moving parts than most devices, it's still intuitive enough to use easily.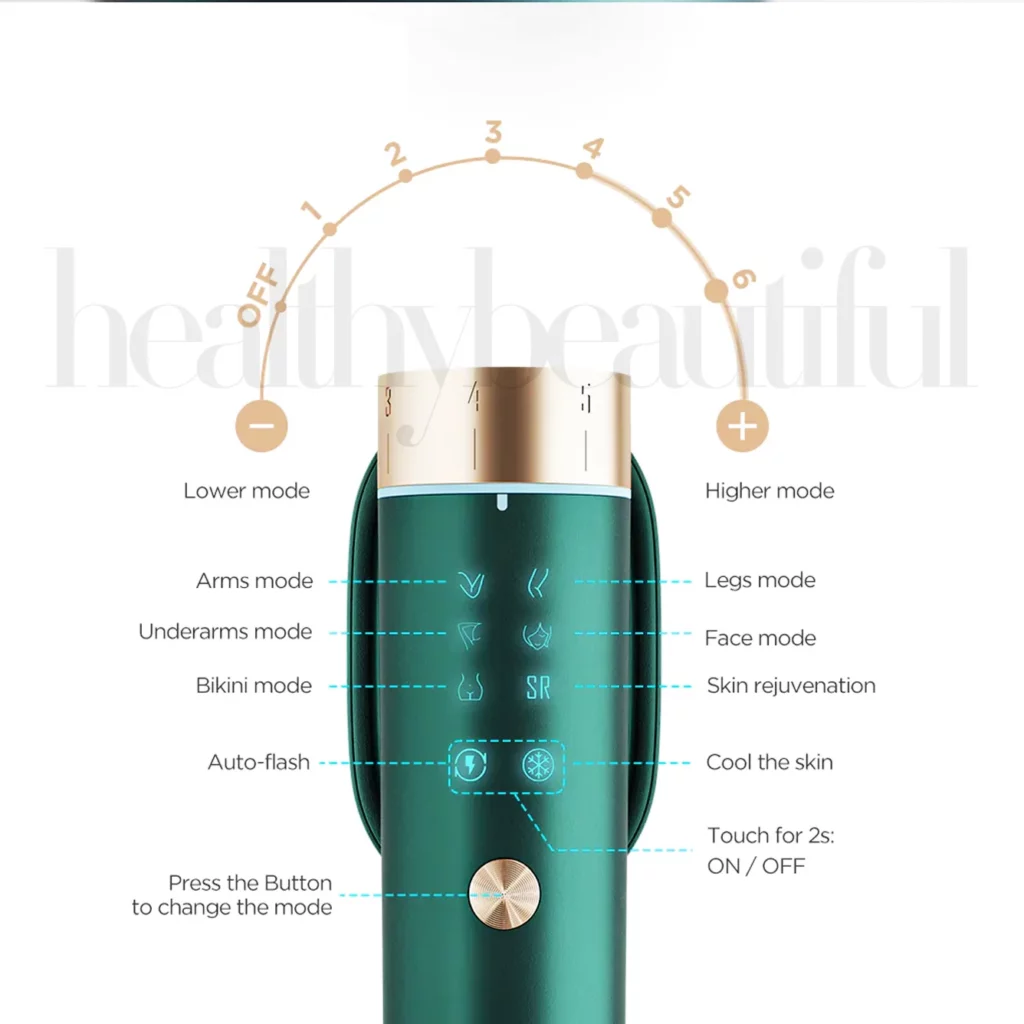 There are really only three major areas to toggle at the back:
Energy Level Switching Ring – This is the gold knob at the top of the handle that changes the energy level from 1-6. The higher the energy level, the stronger the pulsed light. Zero will switch the device off.
Mode Status – These are the icons that light up on the back of the handle.

5 body part icons for the arms, underarms, bikini, legs, and face
1 SR icon for skin rejuvenation
1 Continuous Flash indicator on the bottom left
1 Cooling Mode indicator on the bottom right

Gold Button – A bit smaller than the one in front, this button is to toggle the Mode Status icons above.
With time, it becomes easier and faster to use the JOVS IPL. You start with level 1 and gradually work your way up to level 6.
You will also learn the most comfortable way of maneuvering the device until it becomes second nature. Doing full-body treatments will be a breeze, especially with the auto-flash mode.
Energy Levels
There are six energy levels with values ranging from 1-6 J/cm².
This can be adjusted using the gold dial at the top of the handle. 
Pain Levels
Regardless of which brand of at-home laser hair removal device you choose, you should start at level one and then work your way up according to your pain threshold.
The higher levels are uncomfortable rather than painful, but you do get used to them over time. If you're a beginner, it can be helpful to get a partner to help you zap your skin.
Remember the more powerful the energy level, the more effective your treatments will be.[2]
The JOVS Venus Pro is relatively painless, especially with cooling mode turned on. You may feel a slight tingle, but nothing unbearable.
Nevertheless, if you experience pain, stop immediately.
Speed & Pulse Duration
The JOVS Venus Pro has a quick flash rate, especially at lower intensity levels.
On level 1, it flashes approximately every 0.7 seconds and gets slightly slower as you increase the levels. Each flash lasts just over 1 second on level 3 and a fraction over 1.5 seconds on level 6.
The device is easy to use and allows for a steady, consistent pace when sliding over your skin, with the auto-flash Mode providing 15 consecutive flashes before requiring repositioning.
However, it may take longer to cover larger areas of the body, with the full legs taking around 16 minutes on level 6 and 10 minutes on level 1.
The device continuously emits gentle, rapid pulses of light, with the ability to produce up to 500,000 flashes, compared to competitors, which range from 90,000 to 400,000 flashes.
---
Product Technology
Hair Removing Mechanism:
The JOVS Venus Pro has a laundry list of features that may be overwhelming at first glance, all seeming new and unique for an at-home hair removal device.
The two stand-out technologies that give it an edge are the Optimal Pulse Technology (OPT™) and Multi-frequency Continuous Pulse Technology (MFCPT).
Advanced Optimal Pulse Technology (OPT)
While most at-home devices use plain Intense Pulse Light (IPL), the JOVS Venus Pro comes in with a unique variation of it called OPT™.
OPT™ stabilizes scattered IPL light to deliver a more focused and controlled light energy.[3, 4]
This makes every flash more efficient and minimizes any diminishing returns occurring in IPL during the target's energy absorption.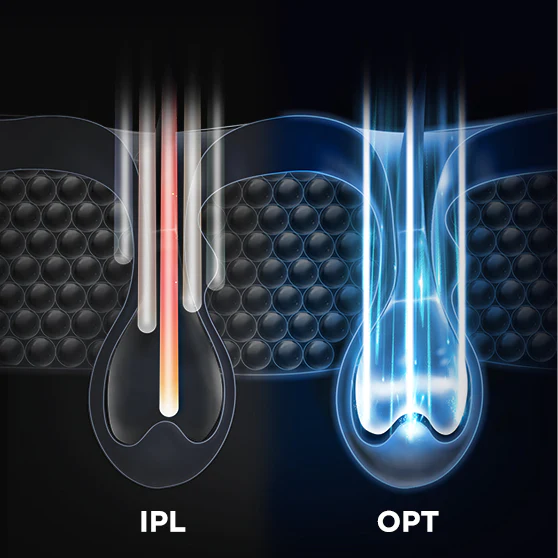 This means each flash using OPT™ will be more effective than plain IPL using the same energy level.
This also means you can have significant results with minimal risk. It's overall more efficient, more effective, and less prone to side effects.
OPT™ may be new to at-home laser hair removal, but it's neither a new technology nor proprietary to JOVS.
Several professional hair removal machines like the Lumenis M22 Lumenis OPT™ and Pmise OPT™ Laser use it.
It is, however, never been used in an at-home system.
OPT™ is also a novel technology used to treat skin conditions. This includes rosacea, infantile hemangiomas, sensitive skin (SS), and eye conditions like keratoconjunctivitis and age-related cataracts.[5, 6, 7, 8]
Multi-Frequency Continuous Pulse Technology (MFCPT)
While OPT™ is a proven and utilized technology, MFCPT is not.
I've looked at their (frankly very vague) PR and technical specs.
It seems they've managed to encapsulate an old laser hair removal technique and rebrand it as something new.
They're describing a professional laser hair removal method that combines low fluence or energy with a high repetition rate.[9, 10]
It's an alternative approach to selective photothermolysis, the primary mechanism of laser hair removal.[11]
Selective photothermolysis is when you use light energy to target the melanin in your hair. This is so it absorbs enough heat and destroys itself without damaging any of the surrounding tissue.
The standard way to do this is to use high-energy pulses to deliver light and heat to the follicle.
Using MFCPT, however, you're firing energy at a lower intensity but doing it rapidly, so your hair is slowly accumulating thermal damage to the root.
It increases pulse duration, shortens thermal relaxation time (TRT), and sustains effective photothermal damage to the follicle.
This technique reduces the risk for those with sensitive skin and low pain tolerance while keeping clinical efficacy.
Applying this to a home device is an excellent solution for those who can't tolerate intense light energy.
That said, this is not in any of their materials at all. The above is purely conjecture and comes from years of professional laser hair removal.
I can only assume it's lost in translation, as even their user manual is poorly put together.
There are no peer-reviewed studies in any major scientific publications as far as my subscriptions can see. In another language, perhaps. They present their own, but this implies corporate-backed studies, which we'd have to take with a grain of salt.
At the end of the day, as long as it delivers results, that's all that matters.
---
ICE Cooling System (JOVS Venus Pro I) / Sapphire Skin Cooling System (JOVS Venus Pro II)
JOVS Dynamic Cooling System
Cooling systems are a staple at professional laser hair removal clinics because they mitigate any pain the client may experience.[12]
This may come as frigid air that blows on your skin during your laser treatment or a cooling plate that makes direct contact with your skin after each flash.[13, 14]
Both versions of the JOVS Venus Pro have built-in cooling systems.
They maintain a temperature of 5° C, ensuring that treatments are always completely painless.
The filter caps go over the cooling plate.
---
Six Mode Status – Custom Wavelength / Depth of Penetration
A unique feature of this device is its custom setting for each body part.
Face Mode (1 cm) – for facial hair, including upper lip
Arm Mode (3.6 cm) – for thick hair on hands and arms
Leg Mode (3.6 cm) – for thick and coarse leg hair
Underarm Mode (3.6 cm) – designed specifically for underarm hair
Bikini Mode (2 cm) – for bikini area / pubic hair with sensitive skin
SR Mode (3 cm) – a special mode for skin rejuvenation that helps restore skin elasticity & softness
This is a novel feature because this, and its twin Bosidin, are the only devices with different settings for different body parts.
The difference between these modes is the output wavelength or depth of penetration. This is how deep the pulse penetrates the skin to reach the root of the hair.[15, 16]
In general, shorter wavelengths are more potent, but longer wavelengths reach deeper and are safer for dark skin tones.
Related: A Comprehensive Study on the Safety & Efficacy of At-Home IPL Hair Removal Devices: Wavelength
This seems a good idea because most devices have a fixed wavelength to work around.
However, I do have a few caveats about this feature.
There are only two classifications of hair: terminal or coarse hairs and vellus or thin hairs.
Which type of hair grows where can be individualistic and not always dependent on regions of the body.[17]
One example is how a woman of middle-eastern descent will likely have terminal hairs on her legs while someone of Asian descent will likely have vellus hairs on the same area.
There are other parameters more important for efficacy than anatomical sites.
But the average buyer won't know this, so I suppose it's easier to match the depth needed for each body part. It also keeps the user from using the wrong settings.
It doesn't help that the manual has no technical specifications. We'll have to go by its range until they attach specifics to those parameters.
---
Spot Size / Flash Windows
Video: JOVS Venus Pro – Step 2 – Maintenance
We're reviewing Version I of the JOVS Venus Pro, which has several caps to mix and match.
Each cap has a different shape and optical filter to match a body part for treatment.
They snap into place on the front of the device using a strong magnet. It gives a satisfying click once locked in.
They're all solidly built and sturdy so they won't fall off in the middle of a treatment.
Each cap has an icon at the top and bottom.
Five are for hair removal, targeting different body parts. The sixth option is SR, or skin rejuvenation for the face and body.
Each icon on the cap matches the icon on the device's handle. In combination, they filter the IPL light and set the appropriate wavelength needed to treat the hair in each body part.
Version II comes with just one universal filter, and I find that's the more convenient option, to be honest.
The varying spot sizes make it very confusing to use and get used to.
I also experienced patchy areas due to not being able to cover every bit of skin 100% each time.
Another issue I've encountered is that the cap covers the cooling plate.
It relays a bit of the cooling, but I would much prefer to feel it straight from the plate.
If you have the option, get the JOVS Venus Pro II with the fixed cap—less hassle.
---
SR Technology – Skin Rejuvenation
Video: JOVS Venus Pro – Step 3 – Skin Rejuvenation
The SR red optical filter is for skin rejuvenation.
Physicians commonly use IPL and OPT™ as non-surgical cosmetic therapy for skin rejuvenation.[18]
It's used to improve wrinkles, pigmentation, vascular lesions, and skin laxity.[19]
Whether these results translate to this device remains to be seen, but the technology is there.
You can use the SR Mode feature every day, but it is recommended not to go higher than level 2.
---
Technical Specifications
Hair Removing Technology: 
Advanced Optimal Pulse Technology (OPT) + Multi-Frequency Continuous Pulse Technology (MFCPT)
Maximum Energy Fluence/Power: 
6 J/cm² (Joules per cm)
Cooling Temperature:
5° Celsius / 41° Fahrenheit
Flash Speed:
0.7 seconds flash burst on level 1
Output Wavelength: 
590-1200 nm
Skin Tone Coverage: 
Fitzpatrick I-V (light, medium, and dark skin tones)
Natural Hair Color Coverage: 
Naturally black or brown hair. This may not be effective on grey, white, blonde, or red hair.
Safety Mechanisms: 
Contact sensors, Contact cooling mechanism, IPL glasses
Recommended Treatment Schedule & Results: 
1st month: Use 3-4 times a week. 2nd month: 2-3 times a week. 3rd month onwards: once or twice a month as necessary.
Lifespan/No. of Flashes: 
"Unlimited" 500,000+ flashes
Flash Window Sizes: 
1 cm² – 3.3 cm²
Power System: 
Mains powered
Can be used with a pre-treatment gel?
No
Adapter:
Input: 100 – 240V~  50/60 Hz, 1.5 A
Output: 24 V = 2.5 A
Additional Peripherals:
SR / Skin Rejuvenation filter, Safety glasses, Shaving razor
---
Safety
Safety Certifications
JOVS has received 11 internationally recognized safety certifications.
This includes but is not limited to: FDA Clearance, RoHS Compliance, SGS Certified, PSE Certification for Japan, European Health, Safety, and Environmental Protection Standard Compliance, etc.
This makes it one of the safest hair removal devices on the global market.
Skin Protection
The JOVS Venus Pro protects your skin in two ways:
Contact Cooling – The majority of professional laser machines are equipped with cooling devices and methods. It protects the epidermis, reduces pain and redness, and increases laser efficacy.

JOVS Venus Pro I utilizes Dynamic Cooling, while JOVS Venus Pro II uses an upgraded Sapphire Skin Cooling System. Sapphire contact cooling is one of the most used cooling methods in clinics.

Both maintains a constant 5°C / 41°F to ensure that treatments are painless, even when set to its highest intensity.
Optical filters & Mode Status – This sets the optimal wavelength for each body part.

It ensures that darker areas of the skin are not subjected to excess melanin absorption, thereby reducing the risk of dermal heat injury.

In addition, this custom filter system adjusts the wavelength so that it is shorter and stronger where it is needed, like areas with thinner follicles or lighter body parts.
Failsafe from Overheating – The device automatically shuts off if the IPL lamp or machine overheats. The cooling fan will continue to work even after it powers down.
Eye Protection
The JOVS Venus Pro has even more mechanisms to protect your eyes:
Recessed Flash Window –This avoids close contact from the energy lamp, which becomes hotter the longer you use it in one sitting.
Contact Sensors – Requires that the entirely of the flash window to be in full contact against your skin to avoid stray flashes.
FREE IPL Glasses – A failsafe that protects your eyes from any stray flashes. There's no excuse not to use it since it comes with the package!
---
Drawbacks
As good as the JOVS Venus Pro is, no device is perfect for every person.
The notes below are based on our personal opinions about the product and do not reflect every user's experience.
The power cord is heavy and not long enough. Though the device is convenient to maneuver around the body, the cord is cumbersome.
The EU plug doesn't fit tightly in the socket and often falls out. I had to use an extra one I own so I don't keep accidentally pulling it out midway.
The cooling fan is noisy. The sound it makes is similar to a hairdryer on the lowest setting. It was fine initially, but it became annoying in the long run. To be fair, most home IPL machines also make a similar noise. Just not this loud, in my opinion.
The user manual is incredibly small and incomplete. It's really hard to follow a manual you can't read. Thankfully everything is intuitive, but I can imagine a first-time IPL user finding it a bit challenging. We've done our best to fill in the gaps in this article, so hopefully, that helps.
You have to do sessions 3x a week instead of 1x a week or 1x every two weeks, like most at-home IPL devices. That's a lot of time and effort to commit to. 3x a week is also the highest treatment frequency for a home IPL our team has ever come across. We reckon this may be a way to compensate in case you miss zapping an area on your first few tries.
Some of the hairs on my legs grew back patchy. I'll admit to this being a user error because I've started to breeze through my treatments as I got the hang of it. If you do it too fast, you'll definitely miss some areas. I just assumed that doing it 3x a week would solve this problem, but it hasn't for me so far. I'm being more deliberate about flashing now, but it also takes much longer to do my treatments.
The device is heavy and feels chunky in tight areas. While it's ergonomically designed and overall easy to maneuver around your body, it's still a hefty machine to hold for at least half an hour. I find myself supporting it with two hands as I work around my knees and other hard-to-reach areas.
I sometimes accidentally press the switch button while changing my grip. This turns the cooling or auto-flash on and off midway through my treatments. I've also knocked the energy level dial a few times. These are inconvenient but can still be considered design and UX issues.
The auto-flash is faulty at times. This feature supposedly makes the device flash only on complete skin contact. But sometimes, it won't work even on full contact, and sometimes it flashes off while re-positioning mid-air. I give it a moment to recover before it returns to normal. This can be problematic as those flashes can damage your eyes. You should always wear your IPL glasses!
There's no built-in storage for the IPL glasses and cords. These came in extra boxes, so it doesn't fit in the nice green casing that houses the device. Storing the set can be messy with the accessories all over the place.
It automatically stops after 30+ minutes of continued use to prevent overheating. This is actually not unique to the JOVS Venus Pro. The  Tria Hair Removal Laser 4X. does this as well. The good news is that your treatments will get shorter as you progress. The bad news is you'll have to deal with this inconvenience until then.
That's our top 11 cons of the JOVS Venus Pro. Some are more of a nuisance, while others can be considered design or build flaws.
Either way, please keep in mind that all of these are our personal opinions and not universal experiences.
---
Instructions & User Guide
Video: How to use the JOVS Venus Pro
How to Use the JOVS Venus Pro
This device has a bit more bells and whistles than most, but it's still intuitive and easy to use once you get the hang of it. Pre- and post-treatment instructions are the same as for any laser hair removal procedure.
Pre-Treatment, During, and Aftercare Steps:
---
Treatment Plan & Frequency
There are three phases to your treatment plan:
1st month: Use 3x – 4x a week. The goal is to disrupt the hair cycle by targeting your roots during their anagen or growth phase. Once done your hair will be thinner, and sparser, and its growth indefinitely delayed.

It's best to use the highest intensity you can for better results.

2nd month: 2x – 3x a week. Fewer sessions, but still multiple times a week.
3rd month onwards: once or twice a month as necessary. Treatments can range from monthly to an as-needed basis. If hairs start to grow back, treating them will once again make them dormant.
As with any laser hair removal, results vary from person to person.
This depends on several factors, including your hair's resilience, the strength of the IPL used, medication, ethnicity, hormones, etc. The speed at which hair grows also depends on the area.
JOVS did not explain why they recommend more frequent sessions vs. rival brands.
But perhaps the start-up sessions are more frequent to account for the less precise skin coverage when using the JOVS Venus Pro.
You'll likely miss bits of your skin during a session, so by doing more sessions; it's likely to zap all these missed hairs in the subsequent sessions.
The most important thing is to keep treatments on a tight schedule so as to not give your roots a chance to heal themselves.
---
Cleaning & Storage
Clean the treatment surface regularly to prevent light blockage or output damage. After each session, allow it to cool down before checking that the treatment window is free of any dirt or damage. If you see black marks or debris, you've missed a bit of hair that's now burned and stuck to the window. Wipe away immediately with a dry cloth.
Do not use liquid, abrasive, or corrosive cleaners to clean the device. Use a slightly damp cloth to gently clean the treatment window and cooling plate. 
Keep in a cool, dry place. To ensure a long-lasting device, protect the sensor and treatment windows.
It's important to keep your device clean to maintain best performance.
---
Compatibility Guide
This device has been designed to affect long-term hair growth after a certain period of treatment.
However, at-home IPL has certain limitations based on the color of your skin and hair, as well as the areas in your body you can treat.
As a general rule, most at-home laser hair removal devices will work on those whose hair color is darker than their skin tone.
This contrast is the ideal condition for selective thermolysis to occur.
Selective photothermolysis is using melanin to attract focused laser or light to the hair follicle, thereby destroying it, while keeping the surrounding skin safe from damage.[8]
This principle is the foundation of all laser hair removal.
The ideal candidate, therefore, is those who have dark hair and light skin.
---
Skin Tone & Hair Color
The JOVS Venus Pro will work on Fitzpatrick I-IV, or light to medium skin tones, in combination with dark to medium hair colors.
JOVS has provided a skin tone chart that we can follow. This is to know the range of energy level recommended for your skin and hair color.
It's not as straightforward as most, and unnecessary complicated to be honest. Ultimately though, the most efficient energy level for you to use is the highest your skin can tolerate. This assures you get the most effective treatment with the fastest possible results.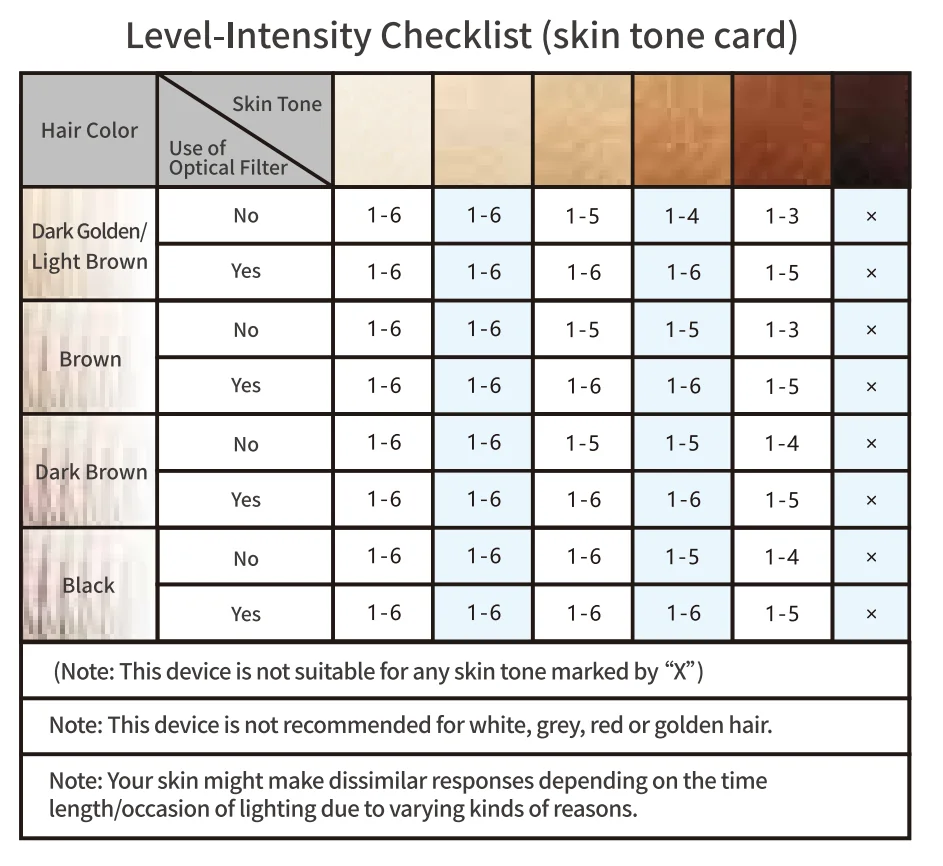 JOVS Venus Pro for Dark Skin:
Darker skin tones will have a low light intensity and a faster flash rate.
This may not be a device for you if your skin tone is darker than Fitzpatrick V.
As dark skin absorbs more light energy, treating dark skin with IPL may cause discomfort or pain. You may experience burns, blisters, discoloration, scarring, or other skin injuries.
We recommend the Silk'n Infinity instead, a unique at-home hair removal device that can treat all skin tones, including very dark skin.
---
Treatment Areas
JOVS Venus Pro for Women & Men: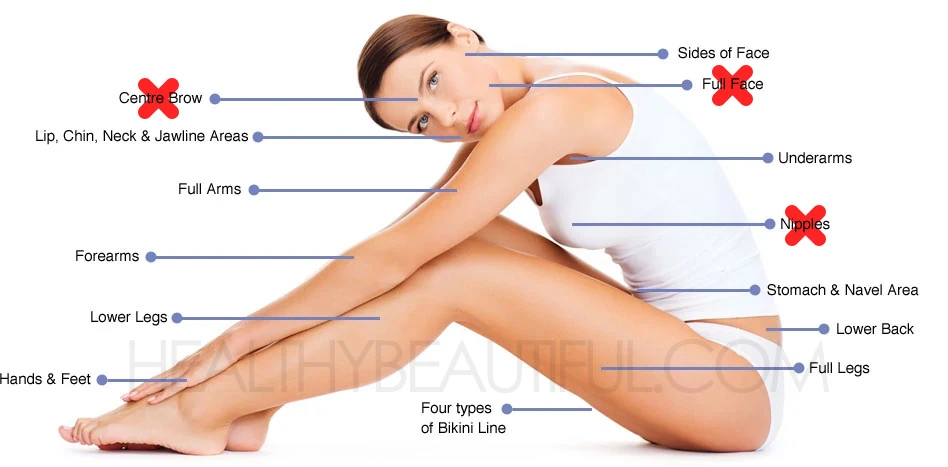 JOVS Venus Pro for the Face:
The JOVS Venus Pro is safe to use from the cheekbones down. It is NOT safe to use near the eyes and along the forehead.
Currently, no at-home IPL laser hair removal device is FDA-cleared for use near the eyes. The exception to this is diode lasers like the ViQure DepiMini.
---
Contraindications & Side Effects
This JOVS Venus Pro review guide is lifted from the user manual. You can refer to this list if you have difficulty reading from the tiny booklet.
Technical Warnings:
Please do not use if the product has any physical damage. It can cause an electric shock if touched.
Keep your device away from water or any liquid. Avoid using the device near showers, bathtubs, or any areas near water.
Do not use it if the cooling vent is blocked to avoid overheating. Make sure the fan is always on. 
It may overheat if used for long periods in warm rooms over 20° Celsius or 68° Fahrenheit. Rest for at least 2 hours if this happens. Best to do your treatments in cool areas.
If the power cord is damaged, contact the manufacturer to get a replacement.
Improper Use:
Possible physical injury caused by inappropriate or incorrect use
Keep in a safe environment. Please do not put any object into the product; it can cause electric shock.
Do not use this device on pets.
Make sure not to leave the device unattended while it is running or plugged in. Always switch it off when not in use.
Do not use near flammable or explosive materials.
Do not press the treatment surface against any black object to prevent damage to the device and the surface.
Do not leave your device in direct UV light or sunlight for long periods.
Safety Precautions:
Eyes

Bright flashes from the IPL can cause ocular damage. Make sure to wear goggles or look away entirely from the flashing light.
Please do not use it near or around the eyes. There is no at-home device currently cleared for use above the cheekbones. Laser hair removal near the eyes requires professional expertise and laser equipment.

Skin

Please do not use it for children under 15 years old. This device has yet to be tested below this age group.
Do not use the device on top of clothes or other objects to prevent burning, discoloration, or damage.
If you have sensitive skin or experience any redness, you can reduce discomfort using the cooling mode.
Treatment Proper:
Before:

You should always be freshly shaved before treatments. IPL will heat your hair. Any protruding strand longer than 1mm can burn on top of the skin. This can be uncomfortable for you and damage the device's treatment window.
Your skin should be dry and clean. Always remove any residual hair or skincare products from your skin before treatment. This will prevent skin damage or abnormal results.

During:

Ask for assistance when using the device on your back to avoid unnecessary risks.

Please do not use it in a dark room or in direct sunlight.

After:

Do not use deodorants or antiperspirants after treatment.
Do not expose treated areas to direct sunlight for 48 hours after treatment.
---
---
---
References:
Das A, Sarda A, De A. Cooling Devices in Laser therapy. J Cutan Aesthet Surg. 2016 Oct-Dec;9(4):215-219. doi: 10.4103/0974-2077.197028. PMID: 28163450; PMCID: PMC5227072.
Lepselter, J., and M. Elman. "Biological and clinical aspects in laser hair removal." Journal of Dermatological Treatment 15.2 (2004): 72-83.
Feng, Yu-Miao, Zhan-Chao Zhou, and Michael H. Gold. "Hair removal using a new intense pulsed light source in Chinese patients." Journal of Cosmetic and Laser Therapy 11.2 (2009): 94-97.
Battle Jr, Eliot F., and Cylburn E. Soden Jr. "The use of lasers in darker skin types." Seminars in cutaneous medicine and surgery. Vol. 28. No. 2. WB Saunders, 2009.
Yuan, Jiachen, et al. "Effective of a novel technique for sensitive skin treatment with optimal pulse technology: A clinical study." Journal of Cosmetic Dermatology 21.10 (2022): 4345-4353.
Li, Dong-Ni, et al. "Treatment of infantile hemangioma with optimal pulse technology." Journal of cosmetic and laser therapy 12.3 (2010): 145-150.
Ruan, Fang, et al. "Intense pulsed light therapy with optimal pulse technology as an adjunct therapy for moderate to severe blepharitis-associated keratoconjunctivitis." Journal of Ophthalmology 2019 (2019).
Ge, Jinling, et al. "Evaluation of the efficacy of optimal pulsed technology treatment in patients with cataract and Meibomian gland dysfunction in the perioperative period." BMC ophthalmology 20 (2020): 1-9.
Pai, Ganesh S., et al. "Safety and efficacy of low-fluence, high-repetition rate versus high-fluence, low-repetition rate 810-nm diode laser for permanent hair removal–A split-face comparison study." Journal of Cosmetic and Laser Therapy 13.4 (2011): 134-137.
Barolet, Daniel. "Low fluence–high repetition rate diode laser hair removal 12‐month evaluation: Reducing pain and risks while keeping clinical efficacy." Lasers in Surgery and Medicine 44.4 (2012): 277-281.
Lask, Gary, et al. "Laser‐assisted hair removal by selective photothermolysis preliminary results." Dermatologic surgery 23.9 (1997): 737-739.
Nahm, Walter K., et al. "Preliminary study of fine changes in the duration of dynamic cooling during 755‐nm laser hair removal on pain and epidermal damage in patients with skin types III–V." Lasers in Surgery and Medicine: The Official Journal of the American Society for Laser Medicine and Surgery 31.4 (2002): 247-251.
Ram, Ramin, and Alan Rosenbach. "Effects of ambient room temperature on cold air cooling during laser hair removal." Journal of Cosmetic Dermatology 6.3 (2007): 203-206.
Lanigan, Sean W. "Incidence of side effects after laser hair removal." Journal of the American Academy of Dermatology 49.5 (2003): 882-886.
Goh, C. L. "Comparative study on a single treatment response to long pulse Nd: YAG lasers and intense pulse light therapy for hair removal on skin type IV to VI–is longer wavelengths lasers preferred over shorter wavelengths lights for assisted hair removal." Journal of dermatological treatment 14.4 (2003): 243-247.
Ash, Caerwyn, et al. "Effect of wavelength and beam width on penetration in light-tissue interaction using computational methods." Lasers in medical science 32 (2017): 1909-1918.
Ross, E. Victor, et al. "Theoretical considerations in laser hair removal." Dermatologic clinics 17.2 (1999): 333-355.
Sales, Abdias Fernando Simon, et al. "Intense Pulsed Light on skin rejuvenation: a systematic review." Archives of Dermatological Research 314.9 (2022): 823-838.
Kohl EA, Babilas P, Landthaler M. Skin rejuvenation with intense pulsed light. Acta Dermatovenerol Croat. 2010;18(3):181-4. PMID: 20887700.
---