One of the Best Non-Comedogenic, Clean Beauty Mattifying Primer
Jane Iredale, the brand at the forefront of Clean Beauty before the term even existed, recently relaunched a new set of face primers under their Smooth Affair® line.
This lightweight face primer helps balance oil production, mattifies your skin, and reduces the visibility of pores and fine wrinkles for a smooth, flawless base.
The Smooth Affair® Mattifying Face Primer looks to be a derivative of the original Smooth Affair® Oily Skin Face Primer.
I've tested it for a few weeks now, and it's better than the previous edition in reducing shine.
The Smooth Affair® Oily Skin Face Primer has a unique PoreAway™ technology that settles on top of the skin to minimize the appearance of large pores.
This new release, however, has botanicals that focus on creating a balance of oil and water on your skin to prevent sebum overproduction.[3]
The Smooth Affair® Mattifying Face Primer also has anti-aging properties that promote skin elasticity and antioxidants that protect against UV damage.
Overall, it's a great non-comedogenic, mattifying primer for those with oily and acne-prone skin.
Coupon Codes & Current Promotions
Get the best price with the latest premium promo and discount codes when you buy Jane Iredale online.
Sales and special gifts are limited-time offers.
(Can't see the codes? Some links are likely disabled by Adblockers.)
BeautifiedYou
RETAILER
Free US Shipping on all orders over $25. Under $25 has a flat $5 fee.*
Buy 3, Get 1 Free on Eminence Products at BeautifiedYou.com with code EMINENCE! (lowest priced item will be free)
Get 10% off SkinMedica with Code SKIN10 at BeautifiedYou.com.
15% off Obagi at BeautifiedYou.com with Code OBAGI15.
Ulta Beauty
RETAILER
Interest-free payments with Afterpay.*
Free standard shipping on any $35 purchase.
Lookfantastic (US, Canada, UK, Australia)
RETAILER
Installments available via Clearpay / Laybuy / Splitit / Paypal.


*at the time of publishing. Subject to change.
Can't see codes? Try turning off any active adblockers.
Overview: jane iredale – Smooth Affair® Mattifying Face Primer
Smooth Affair Mattifying Face Primer | Smooth Start. Matte Finish.
Verdict: One of the Best Non-Comedogenic, Mattifying Primers in Clean Beauty
Best for: Oily, Acneic skin; Mature skin
Brand & Product Line: Jane Iredale, "The Skincare Makeup"; Smooth Affair® Primers
Type: Mattifying face primer
Formulation Base: Water-based primer
Color: Slightly pink tint
Consistency: Lightweight formula with a smooth, lotion feel
Finish: Soft matte finish
Clean Beauty: Vegan & wheat-free. All Jane Iredale products are formulated without talc, mineral oil, synthetic preservatives, synthetic fragrances, parabens, phthalates, and artificial dyes.
Safety Studies: Non-comedogenic, does not clog pores. Dermatologist-tested. Sensitivity- and Allergy- tested.
Cruelty-free: Yes
KEY BENEFITS:
Instantly smooths and mattifies skin for even makeup application
Helps balance oil production through the day and with long-term use
Minimizes the appearance of pores and fine lines
Anchors makeup for improved, extended wear
More youthful appearance by supporting skin elasticity
Gives antioxidant protection and repairs UV damage
CONS:
Some of the botanicals in this new formula can cause a reaction in sensitized skin. It might be best to strengthen and balance your skin first if you have a compromised skin barrier.[5]
Product Review: Packaging, Formulation, Results, Makeup-Artist Tips
Video: Jane Iredale Mattifying Face Primer | Let's try it!
Packaging, Size, and Versions:
The original release of the Smooth Affair® primers came in luxurious gold and rose gold colors.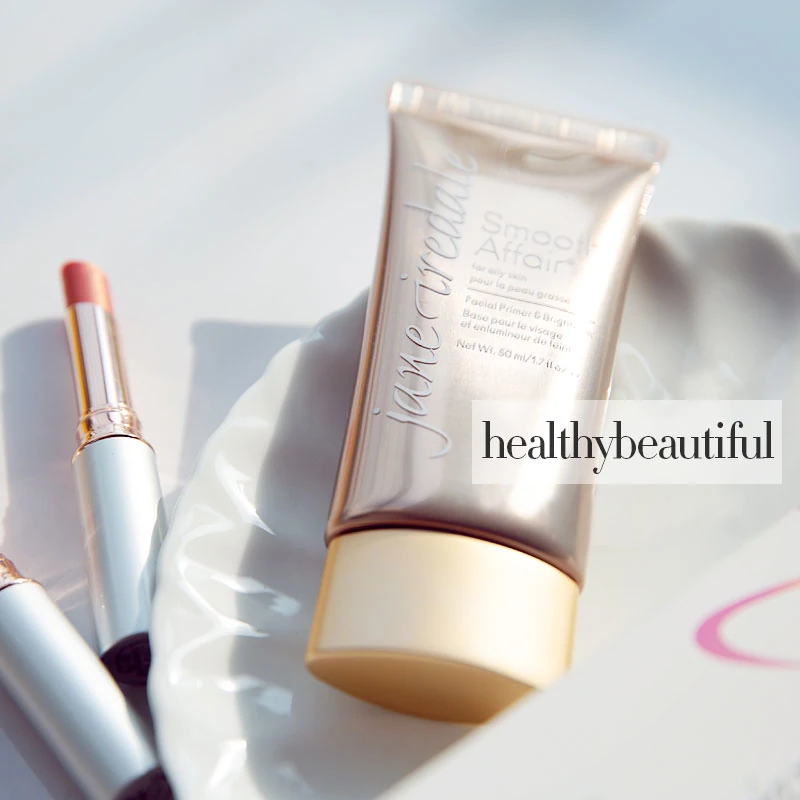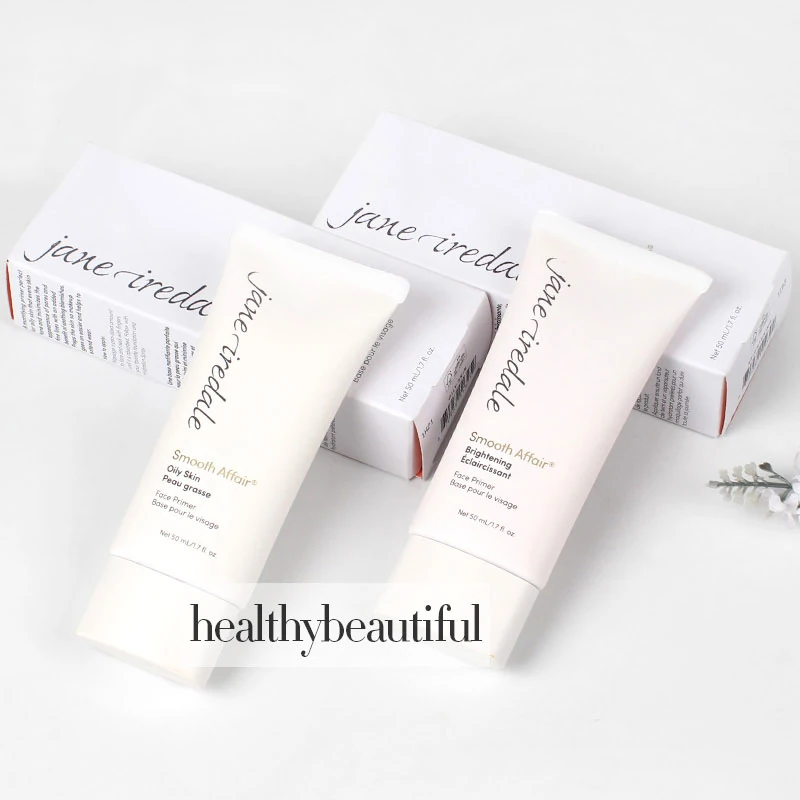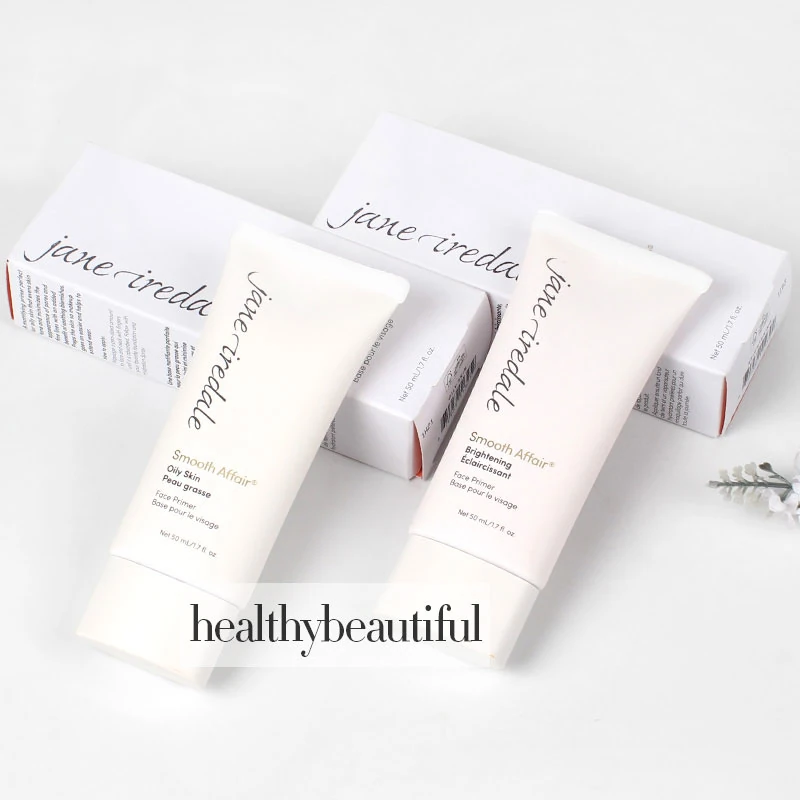 These new editions are more modern and minimalist, using fresh, sustainable packaging.
With this redesign, I assume they're trying to reflect the brand's roots in clean beauty and target a younger demographic.
All their face primers come in a one-size 50ml / 1.7 fl. Oz, which is the standard sizing.
Product Formulation & Results:
The product comes out from the tube a bit thin but feels more generous on your face.
It goes on smoothly, with a lotion-like feel that glides on your skin. It doesn't feel heavy and is not tacky, unlike some drugstore primers.
Note that it dries to a soft matte very quickly. It doesn't need to be "set" like other primers, which really saves time in the morning.
Once applied, you'll see an immediate difference in shine and finish.
Personally, my skin is much less oily. The matte finish also affects how my foundation sets.
My skin stays matte generally all day but can vary depending on the humidity and your skin's oil production.
This primer helps my makeup last for a few hours when I'm outdoors and all day when I'm in a much cooler environment indoors.
I've used it this summer and switched to the Smooth Affair® Brightening Face Primer in fall/winter/spring.
I've worn it under the Pure Pressed Base and various liquid foundations.
The powder usually settles on fine lines and pores, but this primer preps it nicely and helps ease them in.
The formula may be matte, but it isn't drying at all. I'd recommend this not just for oily skin but also for combination skin as well.
It also reduces some of my redness a bit and makes it healthier-looking. I can't guarantee it will do the same for everyone, though, as it does not particularly address redness.
I've also noticed that it's not as pore-minimizing as the Smooth Affair® Oily Skin Face Primer. However, it's more mattifying and better blurs pores and fine lines, especially if worn under foundation.
The Smooth Affair® Mattifying Face Primer is non-comedogenic and didn't cause any breakouts on my acne-prone skin.
This new formula also doesn't have any natural scent, unlike the other Smooth Affair primers that have a hint of citrus.
Key Ingredients:
Red Algae Extract – helps regulate sebum production and supports the skin's natural oil-moisture ratio; Gives a smooth and visibly matte appearance[6]
Hibiscus Back Extract – Prevents water loss; Promotes skin elasticity and your skin's repair process for a lifted, youthful appearance[7][8]
Rose Geranium Leaf Extract – A powerful antioxidant that protects and repairs UV damage[9]
Note: While botanicals have a host of skincare benefits, they can wreak havoc on sensitized skin.
Jane Iredale products are sensitive- and allergy-tested, but almost anything can irritate a compromised skin barrier.[10]
If you think you have damaged or sensitized skin, it's best to strip your skincare to just a gentle cleanser (e.g. Dermalogica Ultracalming Cleanser – Gentle Non-Foaming Face Wash for Sensitive Skin) and a skin-repairing moisturizer (e.g. Physiogel Daily Moisture Therapy Face Lotion or Eau Thermale Avène Cicalfate+ Restorative Protective Cream) until you've re-balanced your skin.
Make-up Artist Tips:
A pea-sized amount is all you need. Apply with your fingers for easier absorption.
It dries very quickly, so there is no need to set it, unlike some primers. You can immediately apply foundation after.
You can mix this with any liquid foundation for sheer coverage.
The primer penetrates on contact, the advantage of a lightweight formula.
It also works great on the eyelids and can be used as an eyeshadow primer.
You can also use this as a hand and body moisturizer.
Clean Beauty & Safety Tests:
Vegan and wheat-free.
Non-comedogenic, it will not clog pores or leave a greasy feel.
Dermatologist-tested. Sensitivity- and Allergy- tested.
All Jane Iredale products are formulated without talc, mineral oil, synthetic preservatives, synthetic fragrances, parabens, phthalates, and artificial dyes.
Cruelty-Free:
The Coalition for Consumer Information on Cosmetics (CCIC), the most reputable organization in the world for animal protection, has certified Jane Iredale as being cruelty-free through its Leaping Bunny Program.
Additionally, PETA has recognized that Jane Iredale cosmetics are cruelty-free.
Complete Ingredients:
Water (Aqua), Dimethicone, Polysilicone-11, Polymethylsilsesquioxane, Octyldodecanol, Arginine, Caprylyl Glycol, Carbomer, Potassium Sorbate, Sodium Dehydroacetate, Laureth-12, Ethylhexylglycerin, Glycerin, Aluminum Hydroxide, Algin, Hibiscus Syriacus Bark Extract, Pelargonium Capitatum Leaf Extract, Cyanidium Caldarium Extract, Titanium Dioxide (Ci 77891), Iron Oxides (Ci 77491)
Please be aware that ingredient lists may change or vary from time to time. Please refer to the ingredient list on the product package you receive for the most up-to-date list of ingredients.
---
About the Brand
Introduced in 1994, Iredale Mineral Cosmetics is one of the pioneers of clean beauty as we know it today.
Best known as "the skincare makeup", Jane Iredale is the first to supply the beauty industry with high-performance makeup infused with topical skincare.
The brand formulates with powerful natural ingredients that are non-comedogenic, anti-inflammatory, calming, and soothing for the skin.
They also work with leading plastic surgeons and dermatologists to create skin-loving formulas that can cater to all skin tones, skin conditions, and types.
Their CEO and namesake, Jane Iredale, began her career as a casting director and producer in TV and film.
She's worked with actors and models and has seen firsthand the damage that heavy stage makeup can do to your skin.[1]
Her experience working with people whose career depends on a clear complexion moved her to launch her first line of clean, non-toxic mineral makeup.[2]
Fast forward, their current Skincare Makeup System now combines an infusion of botanicals, antioxidants, and sun protection without sacrificing color pay-off and performance.
All their products are formulated without talc, mineral oil, synthetic preservatives, synthetic fragrances, parabens, phthalates, and artificial dyes.
The line has new primers, all reformulated with skin-loving ingredients.
| | Illuminating Glow | Brightening | Mattifying |
| --- | --- | --- | --- |
| | | | |
| SKIN TYPE | All skin types, Especially dry & dull skin | All skin types, Especially aging & dull skin | All skin types, Especially oily & acneic skin |
| FORMULA | Hydrating, Lightweight | Silky, Invigorating | Soothing, Mattifying |
| FINISH | Pearl, Soft-focus | Bright, Dewy | Smooth, Matte |
| KEY BENEFITS | Hydrates, Illuminates, Helps prevent moisture loss | Firms skin, Helps prevent moisture loss, Helps skin's elasticity | Helps regulate sebum production, Helps prevent moisture loss, Delivers antioxidant protection |
| IDEAL FOR | Looking for a radiant, healthy glow | Looking to blur pores for a flawless look | Looking to control and mattify skin |
References:
Ghani, Hira, et al. "An Investigation of Makeup Ingredients and their Effects on Acne Cosmetica with Dermatologic Practice Recommendations." SKIN The Journal of Cutaneous Medicine 5.5 (2021): 474-481.
Bi, Ming Yang, and Rajani Katta. "Mineral make-up and its potential utility in patients with contact dermatitis." Journal of the American Academy of Dermatology 62.3 (2010): 519-522.
Crocco, Elisete Isabel, et al. "Modulation of skin androgenesis and sebum production by a dermocosmetic formulation." Journal of Cosmetic Dermatology 20.1 (2021): 360-365.
Padgett, Paige. The green beauty rules: The essential guide to toxic-free beauty, green glamour, and glowing skin. Simon and Schuster, 2015.
Drakou, Katerina, et al. "Revealing the Correlation between Altered Skin Lipids Composition and Skin Disorders." Cosmetics 8.3 (2021): 88.
Januário, Adriana P., et al. "Red Seaweed-Derived Compounds as a Potential New Approach for Acne Vulgaris Care." Pharmaceutics 13.11 (2021): 1930.
Yang, Jung-Eun, et al. "Skin-protective and anti-inflammatory effects of Hibiscus syriacus L.(Mugunghwa): A comparative study of five parts of the plant." Pharmacognosy Magazine 16.67 (2020): 183.
Kassakul, Waruttaya, et al. "Characterization of the mucilages extracted from hibiscus rosa-sinensis linn and hibiscus mutabilis linn and their skin moisturizing effect." Int J Pharm Pharm Sci 6.11 (2014): 453-7.
Abdelbaky, Ahmed S., et al. "Green Synthesis and Characterization of ZnO Nanoparticles Using Pelargonium odoratissimum (L.) Aqueous Leaf Extract and Their Antioxidant, Antibacterial and Anti-inflammatory Activities." Antioxidants 11.8 (2022): 1444.
Menon, G. K., and A. M. Kligman. "Barrier functions of human skin: a holistic view." Skin pharmacology and physiology 22.4 (2009): 178-189.
Deckner, G. (2014, Jun 20). Soft focus technology. Prospector. Available at: https://knowledge.ulprospector.com/692/pcc-soft-focus-technology/