Coupon Codes & Current Promotions
Get the best price with the latest premium promo and discount codes when you buy Epionce online.
Sales and special gifts are limited-time offers.
(Can't see the codes? Some links are likely disabled by Adblockers.)
Walmart
Free shipping in select areas.*
Earn 5% cashback on Walmart.com. See if you're pre-approved with no credit risk.*


BeautifiedYou
Free US Shipping on all orders over $25. Under $25 has a flat $5 fee.*
Buy 3, Get 1 Free on Eminence Products at BeautifiedYou.com with code EMINENCE! (lowest priced item will be free)
Get 10% off SkinMedica with Code SKIN10 at BeautifiedYou.com.
15% off Obagi at BeautifiedYou.com with Code OBAGI15.
Dermstore
Earn reward points when purchasing this product as a rewards member.* Free delivery on all orders over $50.


StrawberryNET.com
FREE Shipping Anywhere in the world! (Conditions Apply)
Get US$10 off with code: SAVEONBEAUTY With Minimum US$80 Qualifying Purchase.
Shop Now!Get extra 24%off on selected brands.
Shop now
for extra 15% off body care products.
*at the time of publishing. Subject to change.
Can't see codes? Try turning off any active adblockers.
Overview: Epionce – Renewal Facial Lotion
Video: Renewal + Lytic | How-to by Epionce
Winner: 2022 Dermascope Awards: Aesthetician's Choice
Verdict: The best non comedogenic moisturizer for mature skin
Best for: Mature skin; Normal to Combination skin (Regular version); Normal to Oily/Problematic Skin (Lite version)
Brand & Product Line: Epionce; Lightweight version of their flagship product, the Renewal Facial Cream; Part of the Renew & Fortify line.
Type: Humectant, Emollient; AM/PM moisturizer
Formulation Base: Water-based moisturizer
Color: Sheer white
Consistency: Lightweight formula with a smooth, lotion feel
Finish: Non-greasy, invisible finish
Clean Beauty: Paraben-free, fragrance-free, sulfate-free and gluten-free. Not tested on animals.
Safety Studies: Non-comedogenic moisturizer, does not clog pores
Part of: The Best Non-Comedogenic Moisturizers for Oily Skin; The Best Non-Comedogenic Moisturizers for Acne-Prone Skin
KEY BENEFITS:
Lightweight formula that absorbs quickly into the skin without leaving a greasy residue
Contains antioxidants, ceramides, and botanical extracts to nourish and hydrate
Helps restore the skin's natural barrier
Non-comedogenic and suitable for oily and acne-prone skin
Clinically proven to improve the appearance of fine lines and wrinkles
Leaves skin looking more even-toned and radiant
Paraben-free, sulfate-free, gluten-free, and fragrance-free
Can be used day or night under makeup
CONS:
Some clients found the product not hydrating enough, particularly in winter
The pump dispenser can be difficult to use when the bottle is almost empty
The price point is higher than most moisturizers on the market
Product Review: Packaging, Formulation, Results
Video: Epionce Renewal Lite Facial Lotion Review by Dr. Nazarian of Nazarian Plastic Surgery in Beverly Hills.
"Hey guys, I wanted to share my thoughts on the Epionce Renewal Lite Facial Lotion. This is my go-to moisturizer for when I'm at the gym or just need a light moisturizer. During the winter months or even after a workout, my skin can feel dry and dehydrated, and this lotion really gives me a boost of hydration without leaving me feeling greasy or oily.

The lotion is very sheer and lightweight, making it perfect for oily to normal combination skin types. It contains ingredients like avocado, date, and apple, which smell really nice and provide some collagen building benefits as well. It's not the best choice for those with very dry skin or who need a heavier moisturizer, but it's perfect for those who want a light lotion that won't make them feel weighed down."

– Dr. Nazarian of Nazarian Plastic Surgery in Beverly Hills
Packaging, Size, and Versions:
The Epionce Renewal Facial Lotion is the lightweight version of the brand's flagship product, the Renewal Facial Cream.
There are two variations, the regular Renewal Facial Lotion and Renewal Lite Facial Lotion.
Renewal Facial Lotion – for normal to combination skin
Renewal Lite Facial Lotion – for normal to oily and problematic skin
Both have the same base formulation, one is just lighter than the other.
They contain similar active ingredients, such as meadowfoam extract, apple fruit extract, and orange fruit extract, which work to improve the appearance of the skin and provide antioxidant protection. The difference in weight and texture allows individuals to choose the product that best suits their skin type and personal preferences.
Product Formulation & Results:
I have been using the Epionce Renewal Facial Lotion with the Epionce Lytic Tx for a few weeks now and I must say, I am quite impressed. The texture is lightweight and goes on easily, without leaving any greasy or oily residue on my skin. It absorbs quickly and leaves my skin feeling soft, smooth, and well-hydrated.
I have combination skin that can sometimes be a bit oily, and this moisturizer has been perfect for me. It doesn't clog my pores or make me break out, and it doesn't feel heavy or suffocating on my skin.
After using this moisturizer consistently, I have noticed that my skin looks brighter and more even-toned. My fine lines and wrinkles seem to be less noticeable, and my skin feels firmer and more elastic. I also appreciate that it doesn't have a strong fragrance, which is a big plus for me.
I've had a great experience with this product and definitely worth trying out if you're looking for a non-comedogenic moisturizer for mature skin that won't clog your pores or cause any skin reactions.
Key Ingredients:
The Epionce Renewal Facial Lotion is formulated with a powerful blend of key ingredients that work together to create a non-comedogenic moisturizer that is perfect for mature skin.
Safflower Seed Oil – Rich in fatty acids and antioxidants, this ingredient helps to hydrate the skin and reduce redness caused by irritation.
Meadowfoam Extract – A natural hydrator, this ingredient is rich in fatty acids and improves the appearance of rejuvenated skin.
Apple Fruit Extract – Known for its antioxidant properties, this ingredient protects the skin against damage caused by free radicals, calms visible irritation and redness, and improves the appearance of dark spots.
Date Fruit Extract – Contains phytosterols, ursolic acid, and antioxidants that help improve the appearance of fine lines and wrinkles.
Flax (Linseed) Seed Extract – A major source of omega-3 fatty acids, this ingredient helps to calm irritation and has anti-aging benefits.
Orange Fruit Extract – Contains antioxidants and properties that improve the appearance of unwanted dark spots.
Olive Oil – A rich source of monounsaturated fatty acid, this ingredient helps to reduce the appearance of redness in the skin and is a source of antioxidants that prevent skin deterioration.
Lavender Extract – A rich source of flavonoids and antioxidants, this ingredient soothes and calms irritation in the skin.
Rosa Canina Fruit Oil – Contains flavonoids, minerals, and vitamin C, which reduce irritation, improve the appearance of skin tightness, and reduce signs of skin aging.
The combination of these ingredients in the Epionce Renewal Facial Lotion provides natural hydration, improves the appearance of fine lines and wrinkles, reduces irritation and signs of aging, and protects the skin against damage caused by free radicals.
The non-comedogenic formula is suitable for all skin types, including sensitive skin.
Clean Beauty & Safety Tests:
Paraben-free, fragrance-free, sulfate-free and gluten-free. Not tested on animals.
Complete Ingredients:
Water, Butylene Glycol, Trisiloxane, Petrolatum, Carthamus Tinctorius (Safflower) Seed Oil, Glycerin, PPG-2 Myristyl Ether Propionate, C10-30 Cholesterol/Lanosterol Esters, Limnanthes Alba (Meadowfoam) Seed Oil, Laureth-7, C13-14 Isoparaffin, Polyacrylamide, Beeswax, C12-15 Alkyl Benzoate, Caprylyl Glycol, Cetyl Alcohol, Citrus Aurantium Dulcis (Orange) Peel Oil, Citrus Limon (Lemon) Peel Oil, Cymbopogon Citratus Leaf/Stem Oil, Ethylene Brassylate, Ethylhexylglycerin, Glyceryl Stearate, Hexylene Glycol, Lavandula Hybrida (Lavandin) Oil, Linalool, Linalyl Acetate, Linum Usitatissimum (Linseed) Seed Oil, Litsea Cubeba Fruit Oil, Malic Acid, Octanal, Olea Europaea (Olive) Fruit Oil, PEG-100 Stearate, Persea Gratissima (Avocado) Oil, Phenoxyethanol, Phoenix Dactylifera (Date) Fruit Extract, Phytosphingosine, Phytosterols, Pyrus Malus (Apple) Fruit Extract, Quercetin, Rosa Canina Fruit Oil, Sodium Hyaluronate, Sodium Hydroxide.
Please be aware that ingredient lists may change or vary from time to time. Please refer to the ingredient list on the product package you receive for the most up-to-date list of ingredients.
---
About the Brand
Video: Loma Ashby, Clinical Aesthetician
As estheticians, we understand the importance of proper skin care in maintaining healthy skin. That's why we recommend Epionce, a brand that combines science and nature to create effective skincare products.
Epionce has an innovative approach to skincare that involves a focus on the skin barrier. The skin barrier is the outermost layer of the skin that helps protect against environmental stressors and moisture loss. When the skin barrier is compromised, it can lead to a variety of skin issues, including dryness, redness, and inflammation.
Epionce products are formulated with key ingredients that help strengthen and repair the skin barrier. These ingredients include natural botanicals, antioxidants, and vitamins that work together to promote healthy skin function.
But what really sets Epionce apart is their commitment to working with skin care professionals. By partnering with licensed professionals, Epionce ensures that their products are being used in the most effective way possible.
We appreciate that Epionce products are available directly through licensed professionals. This not only ensures that patients are receiving safe and effective products, but it also allows us to customize a skin care regimen that is tailored to each patient's unique needs.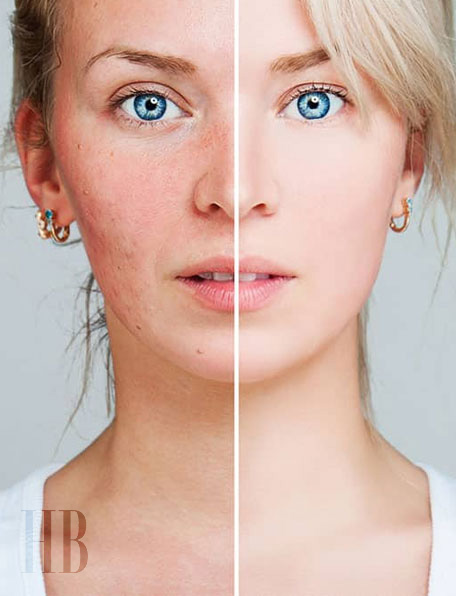 Recommended Acne Programs
---
If you're suffering from severe acne, it's best to undergo a program that will help you get to the root of the problem and address the causes. 
References:
Athar, M., & Nasir, S. M. (2005). Taxonomic perspective of plant species yielding vegetable oils used in cosmetics and skin care products. African journal of biotechnology, 4(1), 36-44.
Ahmed, I. A., Mikail, M. A., Zamakshshari, N., & Abdullah, A. S. H. (2020). Natural anti-aging skincare: role and potential. Biogerontology, 21, 293-310.
Ferreira, M. S., Magalhães, M. C., Oliveira, R., Sousa-Lobo, J. M., & Almeida, I. F. (2021). Trends in the use of botanicals in anti-aging cosmetics. Molecules, 26(12), 3584.
Ribeiro, A. S., Estanqueiro, M., Oliveira, M. B., & Sousa Lobo, J. M. (2015). Main benefits and applicability of plant extracts in skin care products. Cosmetics, 2(2), 48-65.
Jahan, F., & Happy, A. A. (2022). Revolutionizing plant-based extracts for skin care and therapeutics. In Nanotechnology for the Preparation of Cosmetics Using Plant-Based Extracts (pp. 75-130). Elsevier.
Alharbi, K. L., Raman, J., & Shin, H. J. (2021). Date fruit and seed in nutricosmetics. Cosmetics, 8(3), 59.
Schäfer, N. M., Sobczyk, M., Burczyk, D., Balwierz, R., & Skotnicka-Graca, U. (2022). Possibilities of using vegetable oils in acne skin care. Aesthetic Cosmetology and Medicine, 11(2).