The Only IPL Device that Auto-adjusts to your Skin Tone
With over a century of innovative product design, Braun and parent company Gillette have become synonymous with quality and precision in hair removal.
We've tested over 35 at-home laser hair removal devices to date.
After our Braun Silk-Expert Pro 5 review, the brand lived up to expectations and has one of the easiest to use home IPL system.
There are features that give the Braun at home IPL an edge, like its ultra-quick flashing speed that clocks in at an impressive 0.5 – .09 seconds per cycle at its best. This means faster and easier treatments compared to other IPLs that average 1-2 seconds per flash.
But what truly sets their flagship device apart is their proprietary technology called SensoAdapt™.
It's a machine that reads your skin tone 80x per second, then automatically adjusts its IPL flashes to the optimum energy fluence.
This takes any second guessing off your hands. It makes sure that every flash is safe for your skin tone.
There is very little room for error and, consequently, side effects. This is especially important for those who tan easily and have different skin tones all over their body.
The SensoAdapt™ is an exceptionally innovative tech that prioritizes user safety and comfort without compromising hair removal efficacy.
Coupled with the brand's reputation for superior builds, we haven't found this much ease and security in any other at-home IPL machine.
The Braun Silk-Expert Pro 5 also won the ELLE Editor's Choice in 2021 and is accredited by the Skin Health Alliance.
Braun Silk-Expert Pro 5 Coupon Codes
Get the best price with the latest premium promo and discount codes when you buy the Braun laser hair removal device online.
Braun hair removal sales and special gifts are limited-time offers.
Braun US
OFFICIAL WEBSITE
Free Shipping. 100-Day Money Back Guarantee. 2-year Warranty.*
Buy now, pay over time with affirm.*


---
---
---
*at the time of publishing. Subject to change.
*can't see codes? They might be disabled by Adblockers.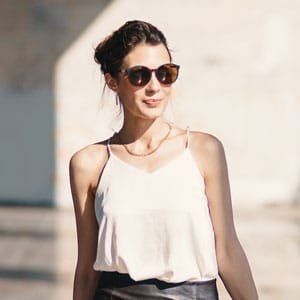 Ask the Expert: Is the Braun Laser Pro 5 right for you?
---
ANSWER: If you want a user-friendly and hassle-free device, the highly advanced Braun Silk Pro 5 Laser Hair Removal is the best choice for you.
Out of over 35+ at-home laser hair removal devices we've reviewed, and the Braun is one of the most foolproof home IPL we've tested.
Is the IPL Braun laser effective?
Video: What you need to know about At-Home IPL with Dr. Anita Sturnham
Braun has a laundry list of other high-tech features, but there are other devices that are equally competitive as well.
Your choice should ultimately come down to skin & hair compatibility, which functions you like best, and which would suit your lifestyle better.
If you don't think the  Braun Silk Pro 5 Laser Hair Removal  is right for you, below are some of the other devices we've reviewed and highly recommend.
Viable Alternatives:
Quick Overview: Braun Silk-Expert Pro 5 (PL5347, PL5157, PL-5137, PL5117, PL-5124, PL-5117, PL-5014, PL-5157)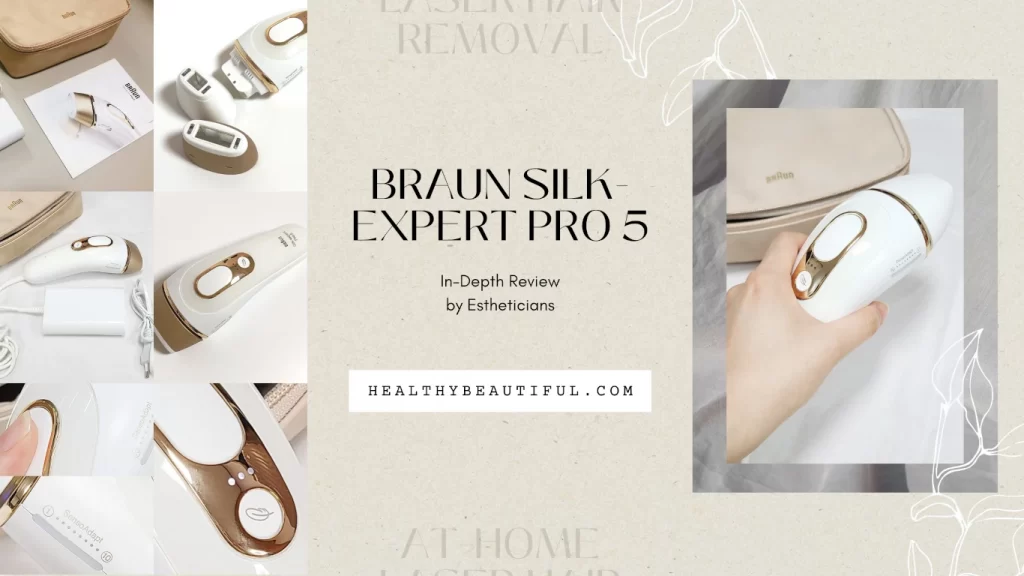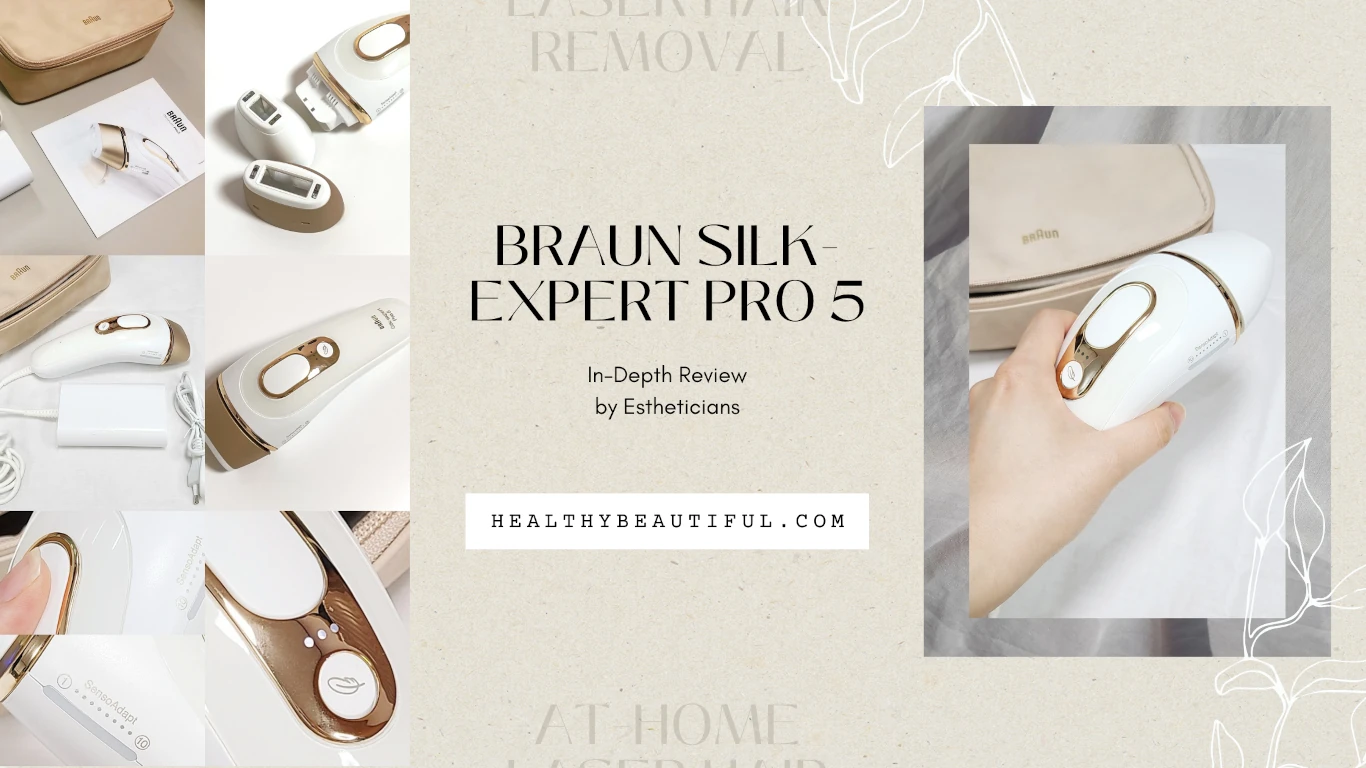 Verdict: The most user-friendly at-home laser hair removal device for dark hair and light to medium skin tones
Awards: ELLE Editor's Choice 2021, Dermatologically accredited by the Skin Health Alliance
Best for: Light to medium skin tones, Full body treatments, Sensitive skin or low pain tolerance, Uneven skin tone on the body
Hair-Removing Technology: IPL (Intense Pulsed Light)
Energy Fluence / Power: 3 – 6 J/cm² (Joules per centimeter)
No. of Flashes: 400,000 flashes; good for 22 yrs. of treatments
Safety Mechanism: SensoAdapt™ (Automatically adjusts energy fluence to your skin tone) + 2 Contact Sensors
Skin Tone Coverage: Fitzpatrick I-V (light to olive skin tone) compatible. Dark complexions are best compatible with the Silk'n Infinity.
Hair Color Coverage: Naturally dark to brown hair compatible
PROS:
Clinically tested and cleared by the FDA.
Intelligent SensoAdapt™ skin tone sensor automatically adjusts the light intensity to your skin tone for safety and efficacy
Incredibly easy and fast treatments with just 0.5 – 0.9 seconds between flashes
Skin contact sensors ensure the device is in full contact with your skin to prevent stray flashes from damaging your eyes
2 Device Caps or Heads: 'Standard cap' have bigger treatment windows to easily cover large areas like legs & arms, 'Precision cap' for smaller areas like upper lip & bikini
2 Treatment Methods or Flash Settings for easier use: 'Gliding' automatically flashes as you slide the device over large areas & 'Stamping' is for carefully treating small or sensitive areas
3 Gentle Modes for skin sensitivity: 'Standard', 'Gentle', and 'Extra Gentle'
CONS:
Uses IPL which has bright flashes, you'll want safety glasses for extra eye protection
Flashes during the gliding mode can be inconsistent depending on how hard you press, takes practice
It may not be effective on extremely strong, resilient hair
Video Reviews: Tests, Long-term & Short-term Results, Tips & Tricks, Before & After
Our tester has black hair and falls under Fitzpatrick III. For a more rounded perspective, we've collated consumer reports from those with different results and experiences with the product. This should reflect how the device works for a wider variety of users.
Braun IPL Before and After:
Video: My At-Home IPL Journey | 14 Week Update | Braun Laser Hair Removal Reviews
3-Month / 14-Week Update:
Really good results overall, especially on the legs
Responded well, considering body hair is mid-brown to light.
Each session takes about half-an-hour
Timeline:

4 Weeks – Not much results
12 weeks – Visible results with a few more areas that needed a couple of more sessions
14 weeks – Maintenance on the legs every 3 weeks. Underarms and bikini need a few more weeks before moving on to maintenance.

Have not yet done the arms due to tanning
Underarms, are still a bit patchy but grow a lot slower. The need to shave is down to twice a week instead of every other day.
Bikini area, most impressed with the results save for some areas that have stubborn re-growth
Pain isn't much of an issue, but it is a bit sore on the bikini line and shin area.
Video: Braun IPL Review | 9 months results
9-Month Update:
On arms: Now using once every 3 weeks to maintain vellus or baby hairs
Legs and armpits: Thick hair reduced to thinner, wispier hair but still using the device once a week to eliminate ALL hair
Hair on the inner side of the legs grows back more rapidly than the hair on the outer legs. The inner legs need to be shaved and treated once a week, while the hair on the outer legs can be done once every 2 weeks.
On re-growth: Not all hair came back. 40% still grows back and needs maintenance for complete hair loss in areas like the underarms
Video: MY IPL LASER HAIR REMOVAL EXPERIENCE | 12-Month Braun Laser Review
12-months Update:
Armpits and Lower Legs: Maintenance every 6-8 weeks
Upper thighs: Maintenance every 3 weeks
Product Overview
Video: BRAUN Silk-Expert IPL Pro 5 – Features | Braun IPL Hair Removal Reviews
---
Package Contents: Unboxing the Braun Pro 5 Laser Hair Removal
Video: Braun Laser Silk Expert Pro 5 PL5137 Unboxing | Braun IPL Laser Hair Removal Reviews
What's Inside the box?
Beauty pouch
Silk Expert Pro 5 (with the standard head attached)
Precision Head (interchangeable with the standard head)
Venus Razor
Transformer including power cord and plug
User Manual
---
Product Design & Our Experience Using the Brain Silk-Expert Pro 5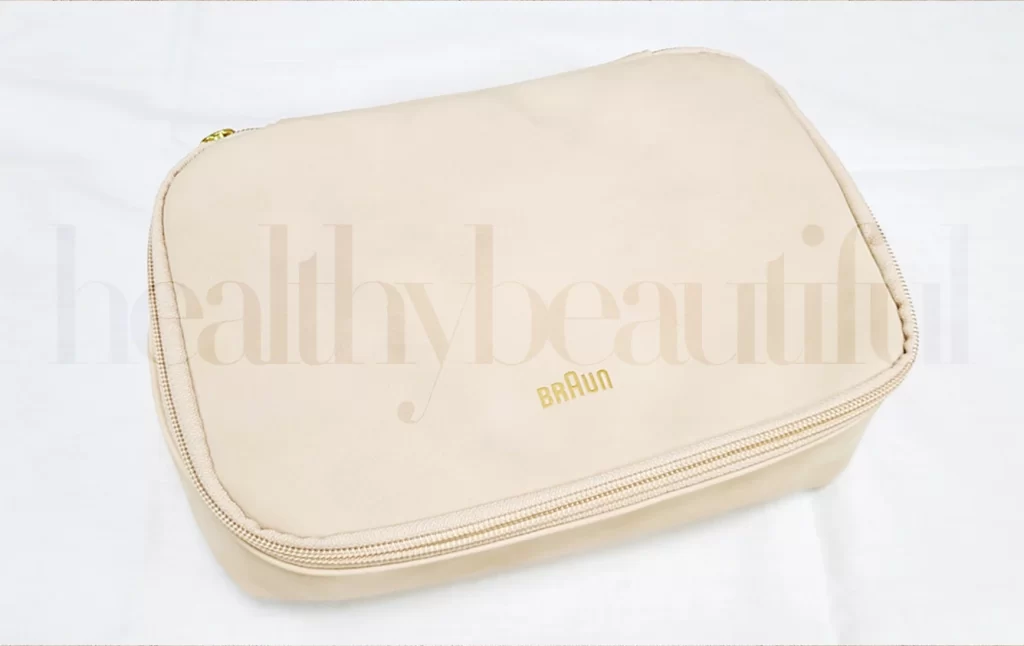 All the items can be stored neatly inside the Beauty Pouch, which can come in plain crème or a printed gold design.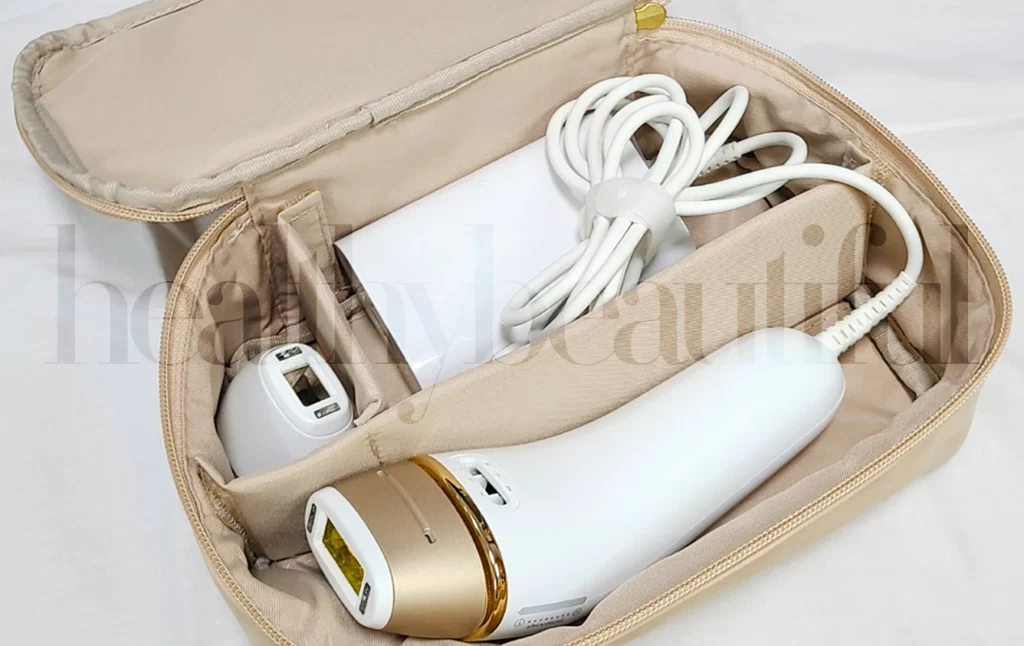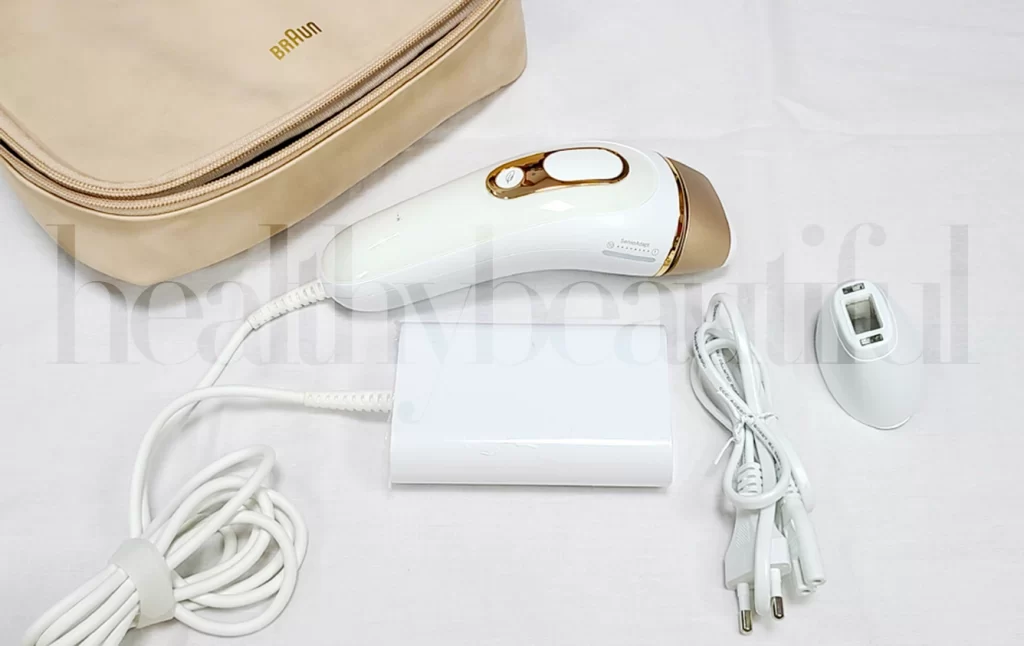 The power cord is longer than most IPL devices, which makes it very convenient.
You won't have any mobility issues during treatments, unlike other devices where your movements are limited by the length of the cord.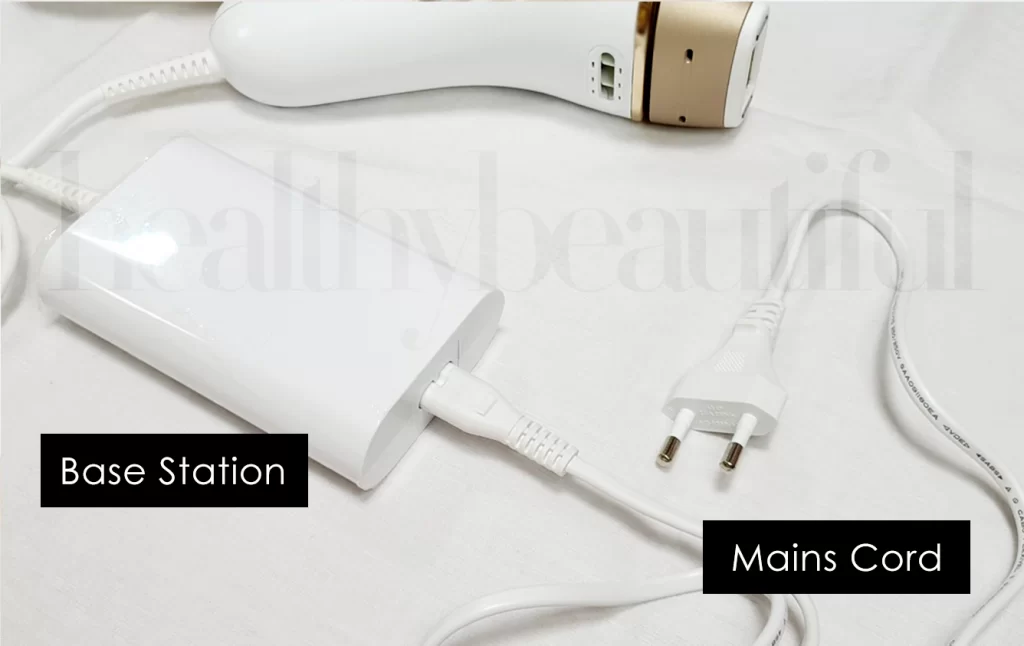 It's segmented into two: the line from the device to the base station, then to the main cord.
Ease of Use: Size, Weight, & Portability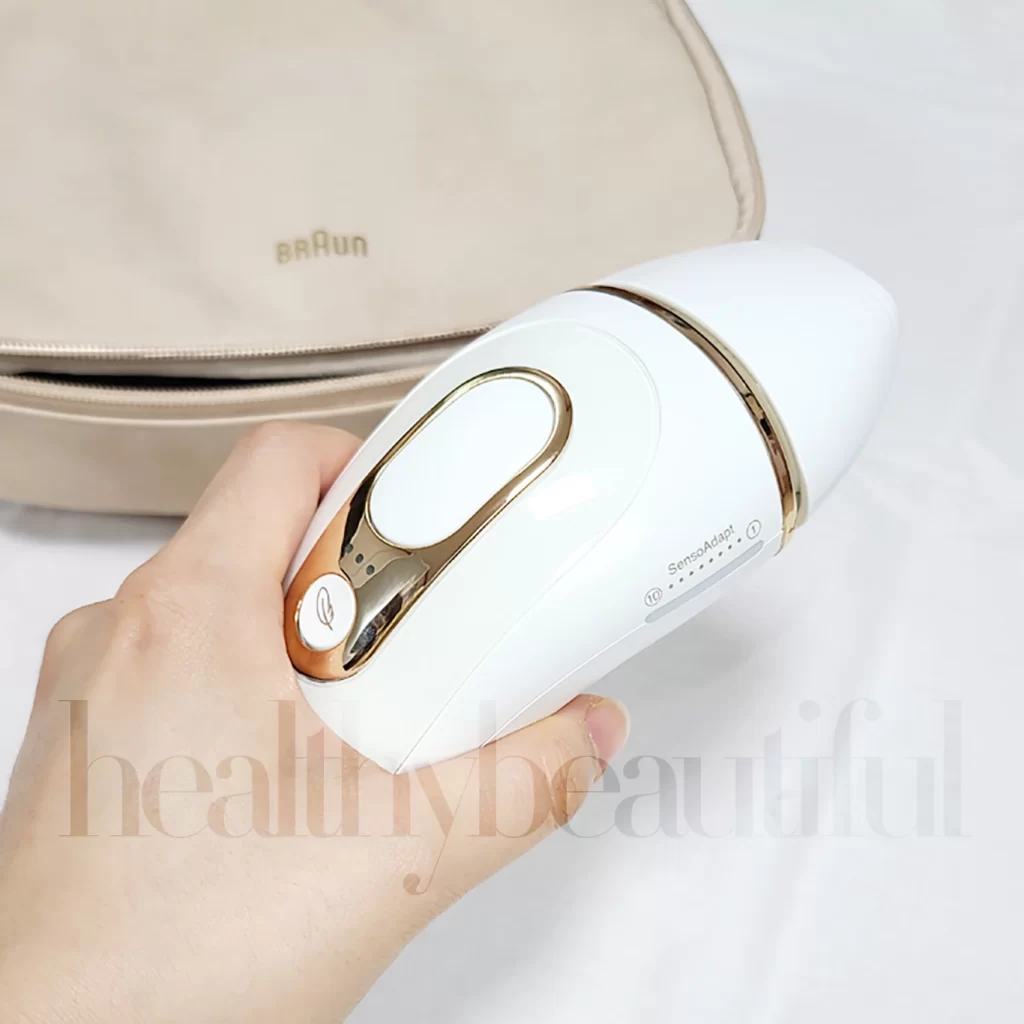 The device is sleek, lightweight, and ergonomically designed.
I've appreciated it fully once I've started doing treatments at speed, as my wrists don't go numb from awkward handling like with other brands.
The weight is also convenient and doesn't tire your arms with its extra heft.
It comes in a stylish white coat with gold accents.
The compact design is easy to handle, and the buttons can easily press with your fingers.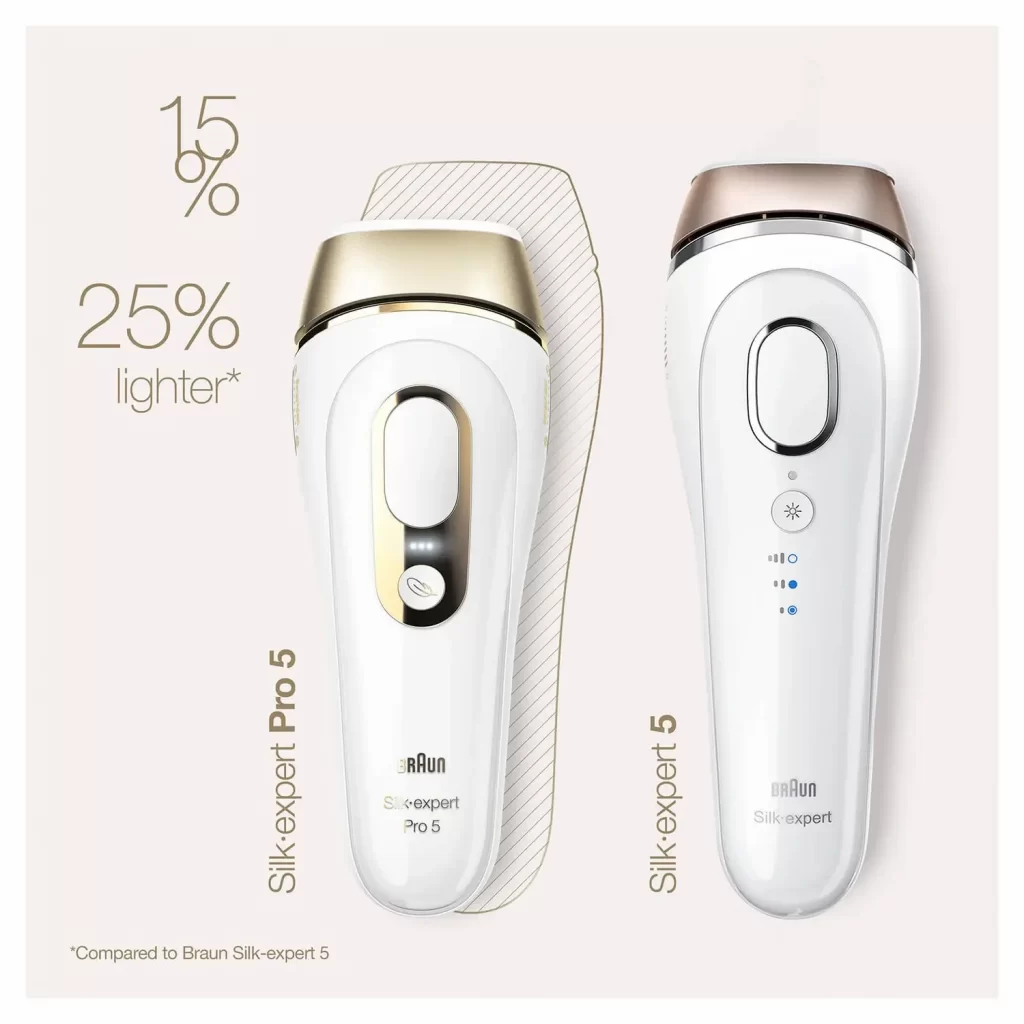 As with other IPL devices, this one also has a tendency to heat up and slow down the longer you do your treatments in one sitting.
I assume it gives the lamp ample time to cool in between.
Doing your sessions in a cool room is best to prevent overheating.
If the Treatment Window is too hot to the touch, you may need to pause and continue once the device completely cools down.
It took me 40+ minutes to get to this point though, so this will only be a problem in the beginning when you're doing full-body treatments. Once most of your hair is gone, and you're used to doing it yourself, your treatments aren't likely to take that long.
Buttons, Indicator Lights, & LED Power Bars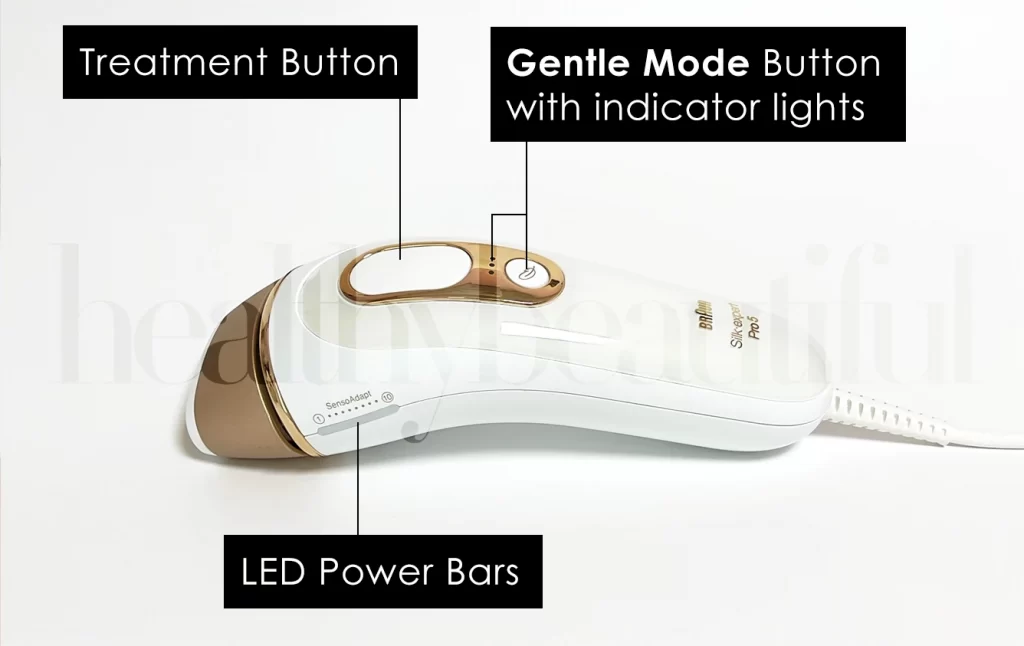 The body has two buttons:
The large Treatment Button is used to activate the flash
The small one with the gold feather is the Gentle Mode button to toggle between Extra Gentle (Level 1), Gentle (Level 2), and Standard (Level 3) energy intensities.
You can press either button to turn on the device.
There are also two light displays:
On the body are 3 indicator lights that specify which Gentle Mode level you've chosen. (More on this below)
On the side are the LED power bars indicating the energy levels used per flash. There are 10 lights, automatically adjusted by the SensoAdapt™ technology. (More on this below)
The intensity of each IPL flash relies on the Gentle Mode settings you've chosen and optimized by SensoAdapt™'s assessment of your skin tone.
3 Comfort Modes: Gentle Mode Button with Indicator Lights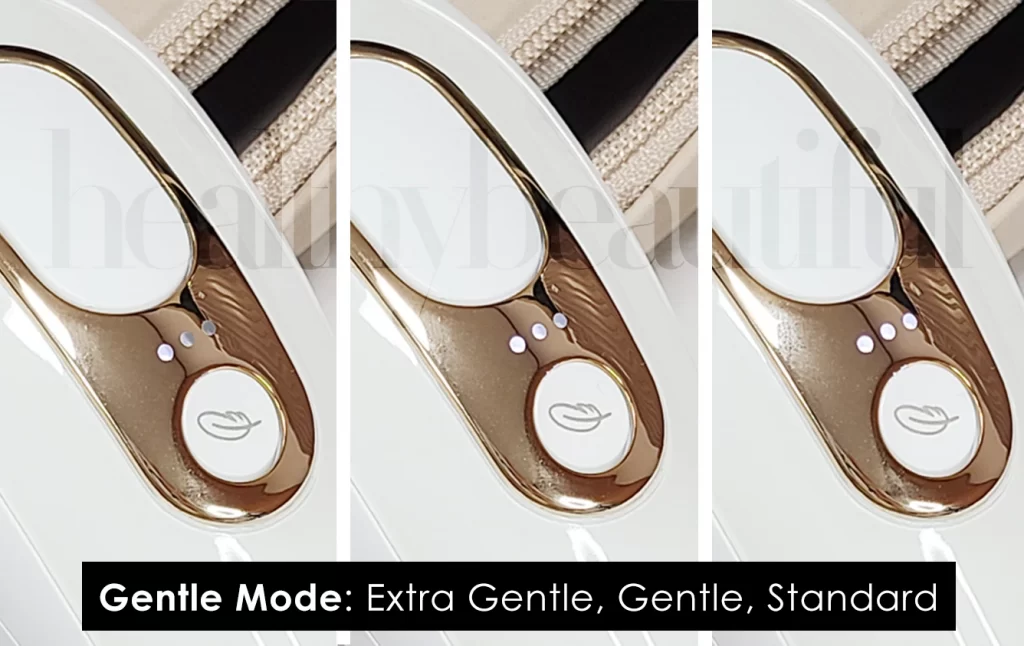 There are three settings you can choose from, each one gradually increasing the intensity of the IPL you're using.
Push the feather button to toggle between levels.
You will want to test each mode and get a feel of it on your skin before going ahead with the full treatment.
Pain Levels
Overall, it's not too strong, even at the highest level, and should be acceptable for most people.
To set the baseline, I have average pain tolerance and am used to professional laser hair removal used at the clinic.
I've tested the Silk-Expert Pro 5 without any numbing creams or soothing gels before treatment.
There are 3 Comfort Modes that you can set via the Gentle Mode Button:
Level 1: Extra Gentle (1 light) – The most conservative range of IPL energy is used. This feels just a bit of warmth on the skin.
Level 2: Gentle (2 lights) – Feels the same honestly. I feel like there's only a tiny bit of difference between levels 1-2.
Level 3: Standard (3 lights) – This allows the device to use its maximum IPL capacity. This feels a little stronger, like a soft snap of a rubber band but only on areas where there is thick hair, like the bikini area and the underarms. On the arms and legs is just a flash of warmth.
Start on Extra Gentle for best practice, and settle on a level based on how sensitive your skin is and how tolerant you are of pain.
If you are sensitive to the pain, especially on the thick, coarser hairs on the bikini area and underarms, you can start at level 1 for the first few weeks.
When the hairs eventually decrease in thickness and volume, the IPL won't hurt as much so you can move to a stronger setting.
It's best to use the Standard setting as soon as you can so you can have better and faster results.
If you're incredibly sensitive though, you may prefer deviced with contact cooling that ensure painless treatments like the JOVS Venus Pro Hair Removal and Ulike Sapphire Air+ IPL Hair Removal Handset.
Treatment Methods: Stamping & Gliding Method
Once you turn on the device, the device will immediately start and make a whirring sound, similar to a hair dryer.
At the front, you have the Treatment Window where the IPL flashes come from, and on either side are the SensoAdapt™ skin tone sensors.
Before it can flash, it does two safety checks first:
Confirms that both skin sensors on either side of the treatment windows are in full contact with your skin. This is to prevent any excess light from damaging your eyes and ensure that your hair takes full impact from the IPL shot.
Checks your skin tone for compatibility and adjust the energy levels accordingly.
The Treatment Button won't work if you press it mid-air. It has to be in contact with your skin first for safety and efficacy.
If this is your first time with an at-home laser hair removal device, it's best to start at Level 1 on a non-sensitive area like the legs or the arms.
This is so you get a baseline of how the flashes feel on your skin.
There are two types of treatment methods you can use:
Stamping – Where you quickly press the Treatment Button to trigger each flash. This is useful if you want more control over small or hard-to-reach areas like the bikini line, upper lips, chin, knees, etc.
Gliding – Press and hold the Treatment Button to activate the Gliding Method where the device continuously flashes on its own as you slide it over your skin. It does 125 automatic flashes per minute so it's a really rapid mechanism. This is convenient when covering large areas like the legs and the arms.
You still have to make sure that the device has full skin contact during "gliding", otherwise, it won't flash.
No LED light means the device isn't detecting full skin contact. You have to correct how you're holding the device so it's flush on your skin.
Red LED lights mean your skin tone is out of bounds and the device will not flash. (More on the SensoAdapt™ features below)
I find the gliding method more convenient, especially after a while of constantly clicking the Treatment Button.
You just move the device on your skin like you're shaving.
I've managed to treat my lower legs in just 5 minutes with this method at Level 1.
It is however a bit difficult to maneuver in bony parts like the knees or ankles, so it's better to do those using the Stamping method.
The flashing can also be inconsistent, depending on how much pressure you put into it. This can result in missed spots.
Don't press too hard that it leaves a mark as it makes the treatment a tad more painful than it should, but make sure not to hover it either, otherwise, the contact sensors won't work.
Treatment Duration: How long does it take for each session?
This will depend on the level you choose and how large the area is.
Level 1 uses less IPL energy and flashes really quickly.
Flashes at normal speed take just a second for each flash.
Treating the lower legs at level 1 takes just 5 minutes to complete.
Level 2 is a bit slower, but Level 3 takes twice as long in between flashes at 2 seconds each.
Treating my legs from level 1 to level 3 extends treatment time to about 15-20 minutes.
The lamp also gets very hot after using it for a while, so this might also be a factor in the flashes slowing down.
I recommend doing your treatments in a cool environment to avoid this.
Quality, Durability, & Lifespan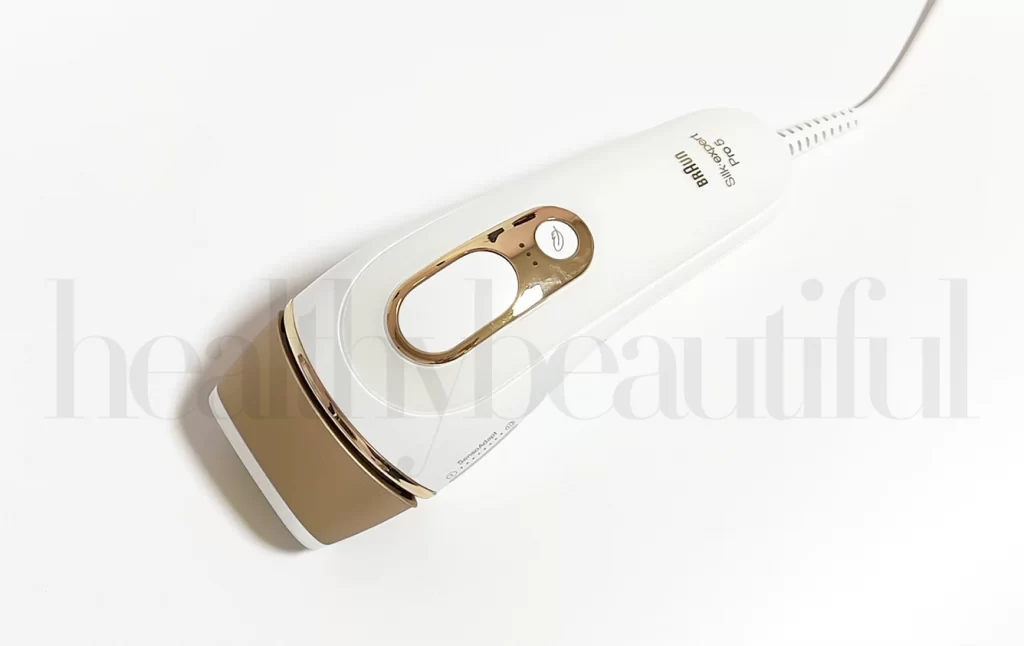 The lifespan of at-home laser hair removal devices can be measured by their total number of flashes.
This depends largely on the quality and durability of the quartz lamp used.
The Braun hair laser removal flashes a very generous 400,000x and can give you two decades' worth of treatments.
To be honest, you'll likely be hair-free before you finish this off.
The Braun laser machine claims to provide up to 22 years of treatment.
However, a close look at the user manual indicates that the device is intended for use only for up to 6 years by a single user.
I find that a bit misleading, though they could be referring to the equivalent time you get results from the device.
Either way, I feel you still get your money's worth in 6 years, especially if it gives you the desired results.
The body seems durably built, but you still have to be careful with the more sensitive parts, like the glass filter, the IPL lamp inside, and the interchangeable caps.
Always wipe them clean after each use and ensure that there isn't any debris that can get stuck on the windows.
Any issues with the hardware and you can contact the brand.
This is one of the best things about buying something from a well-known brand—quality assurance and customer assistance.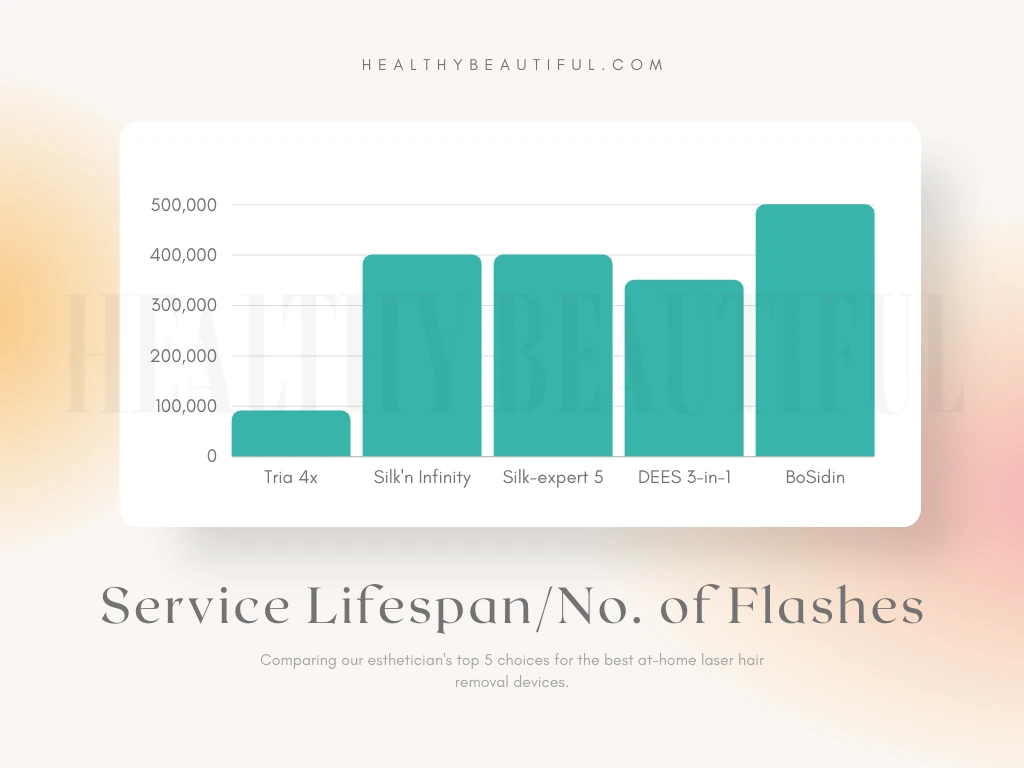 Note: All devices mentioned have built-in cartridges except for the DEES 3-in-1.
---
Product Technology
Video: Braun Silk-Expert Pro 5 – Technology | Braun Home Laser Hair Removal Reviews
Hair Removing Technology: IPL (Intense Pulsed Light)
The Braun at home laser hair removal uses IPL like most at-home laser hair removal devices on the market.
IPL works by using broadband light to target the melanin in your hair and heat it enough to damage it gradually until it stunts its re-growth. This is done over a series of periodic treatments.[1]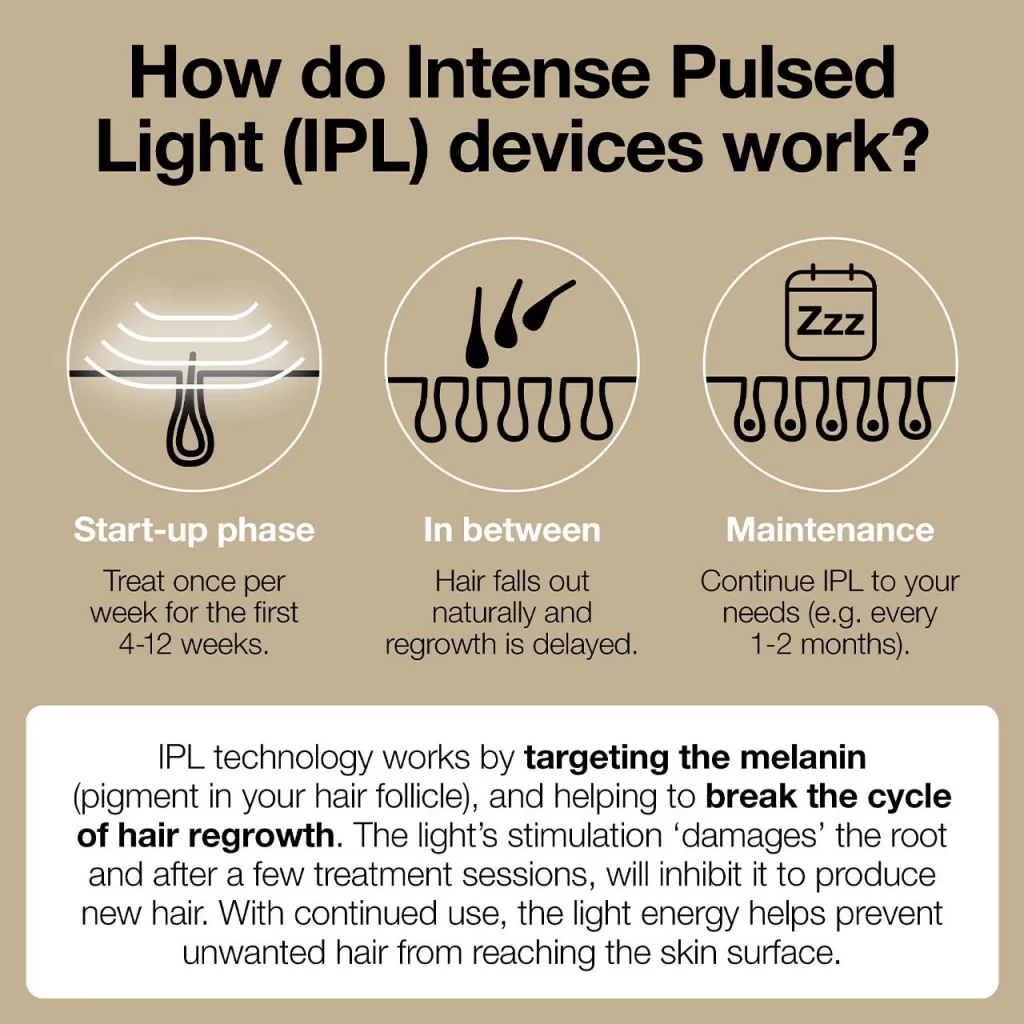 IPL vs. Laser
It's important to know that IPL differs from real lasers used in clinics.[3]
Though IPL can reduce and disable hair indefinitely, results can take longer and is much less permanent than real laser.[4]
This comes down to the difference in power real laser has over IPL.
For comparison, the Braun Laser Hair Removal Pro 5 clocks at 3 – 6 J/cm². This is the normal energy range for at-home IPL devices.
The Tria 4x. however, it uses a diode laser and has an extraordinary range of 7-22 J/cm².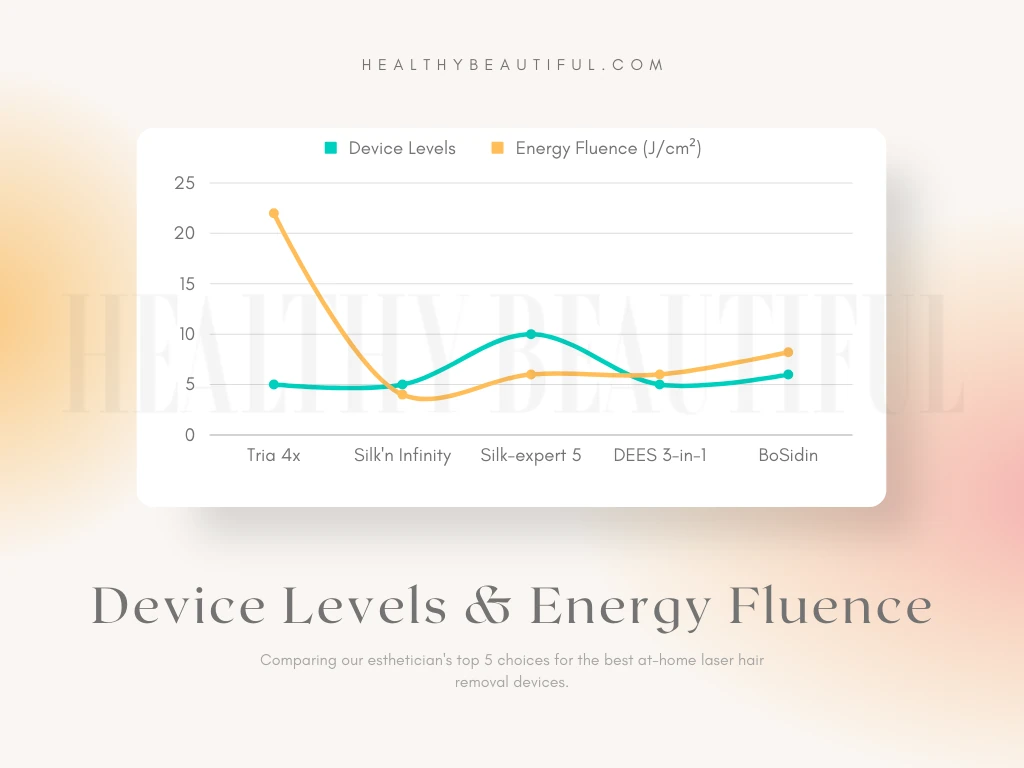 Note: All devices utilize optical energy except for the Tria 4x, which uses a diode laser.
Note that the benchmark is reliant on energy fluence. E.g., Tria's 5 power levels are distributed over a wide energy fluence of 6-22 J/cm². This means every level has a considerable jump in intensity compared to Braun's 10 levels, where it maxes out at just 6 J/cm²
The Tria 4x significantly increases in intensity as you go from level 1 to 5.
As of today, the only home device that uses a real laser is the Tria 4x. The brand has developed a miniature diode laser based on dermatologists' large, professional laser machines.
This was back in 2005, and Tria Beauty remains to this day the only company that could achieve this technological feat. All other at-home devices, including the Silk-Expert Pro 5, uses IPL.
So while the Braun IPL hair removal device edges out every brand in efficiency and safety, the Tria 4x is still miles ahead in terms of sheer laser power.
References: Tria 4x In-Depth Review: Most Powerful Diode Home Laser Hair Removal, Pros & Cons Braun vs. Tria
SensoAdapt™ Skin Tone Sensors & LED Power Bars
Arguably the most impressive feature of the Silk-Expert Pro 5 is its unique SensoAdapt™ technology.
It's a mechanism that regulates the strength of the IPL or energy fluence it uses based on your skin tone and the settings you've chosen from the Gentle Modes.
Most people have different skin tones throughout their bodies, and having this feature mitigates risks and ensures maximum safety and efficacy with every flash.
Lighter skin tones are safe with higher intensities, while darker skin tones need more conservative settings.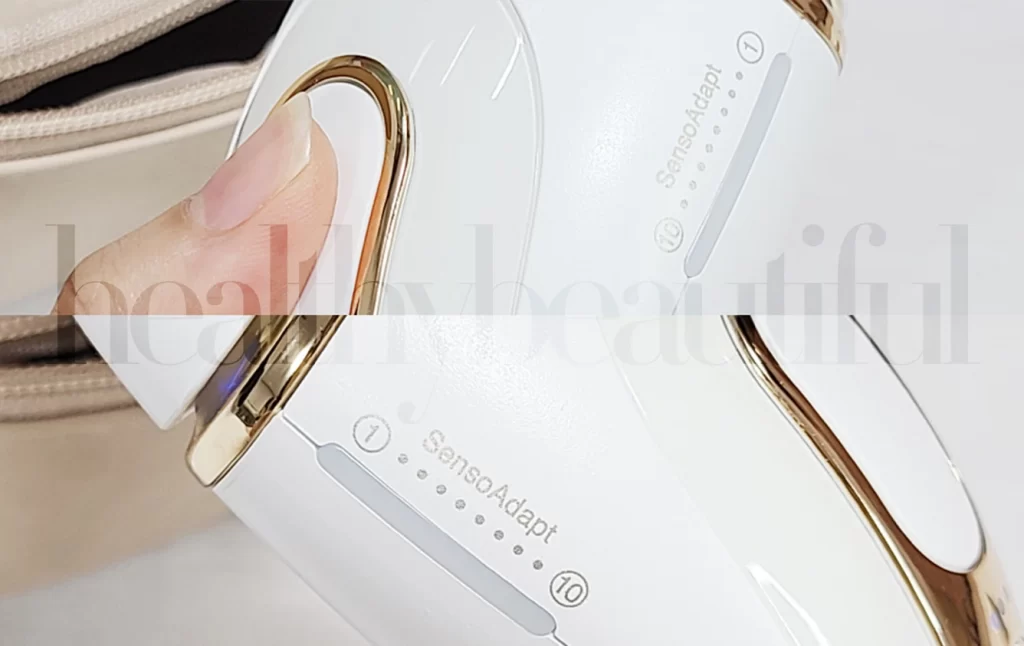 The SensoAdapt™ sensors are located on both sides of the Treatment Window and work to ensure two things:
Full skin contact to prevent stray lights from damaging your eyes and wasting flashes
Read your skin tone at 8x per second to ensure safety and efficacy
You'll notice the LED sensors changing as you glide the device on your skin.
This is especially prevalent in areas that are regularly exposed to the sun or nooks and crannies of the body where it's normally darker than the rest of your body.
Intensity Levels
The SensoAdapt™ skin sensors have 10 intensity levels that adjust according to your skin tone and Gentle Mode preference.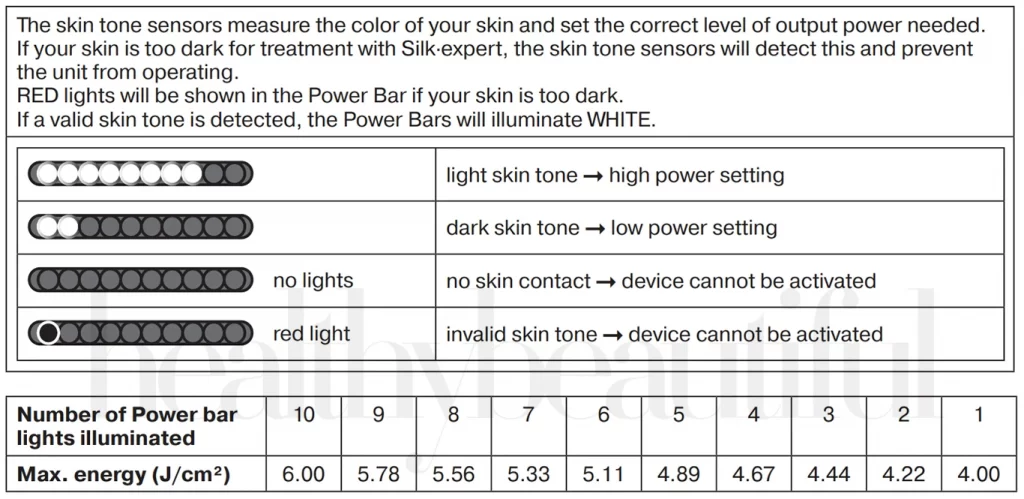 Even if you tan easily, the Silk-Expert Pro 5 can safely be used for whole-body treatments.
No second-guessing if your treatments will work or fears that you'll get burned.
The device will always work optimally on every part of your skin and hair.
---
Spot Sizes, Treatment Window, & Interchangeable Caps: Standard Head & Precision Head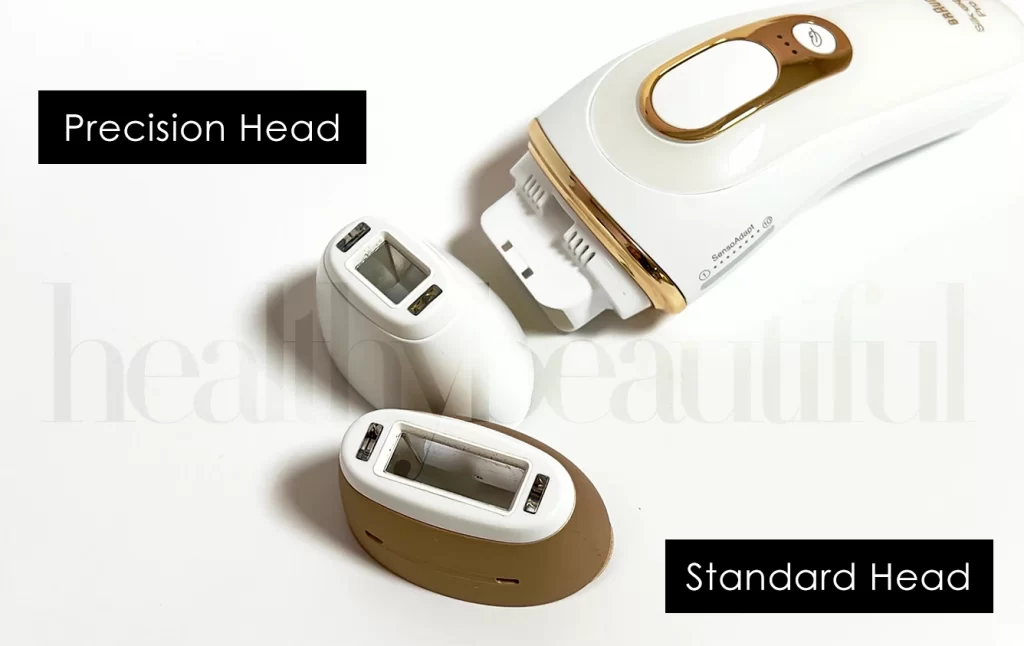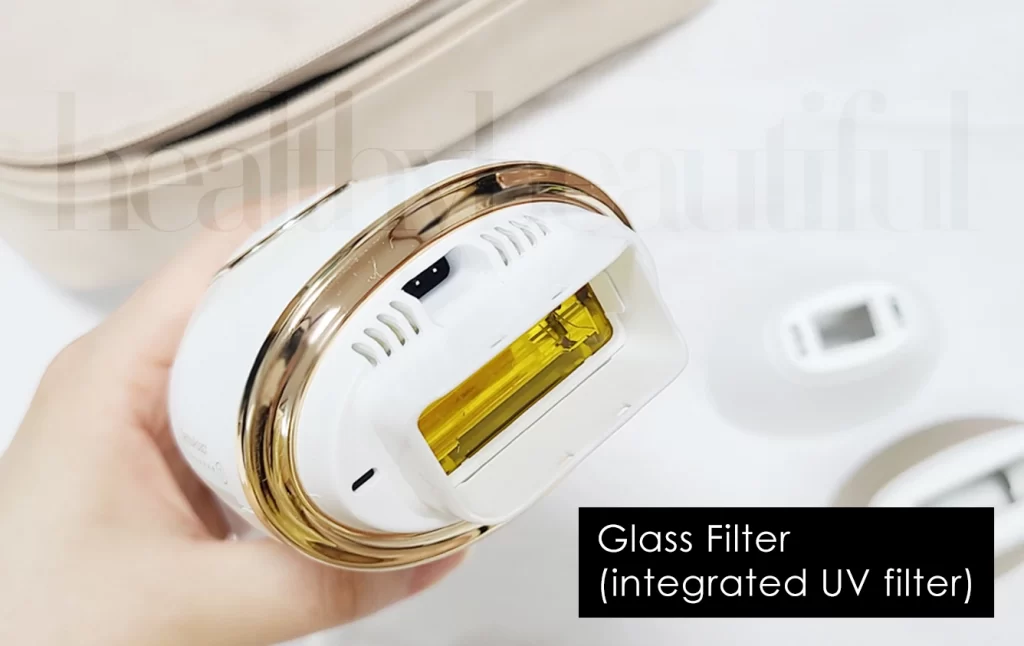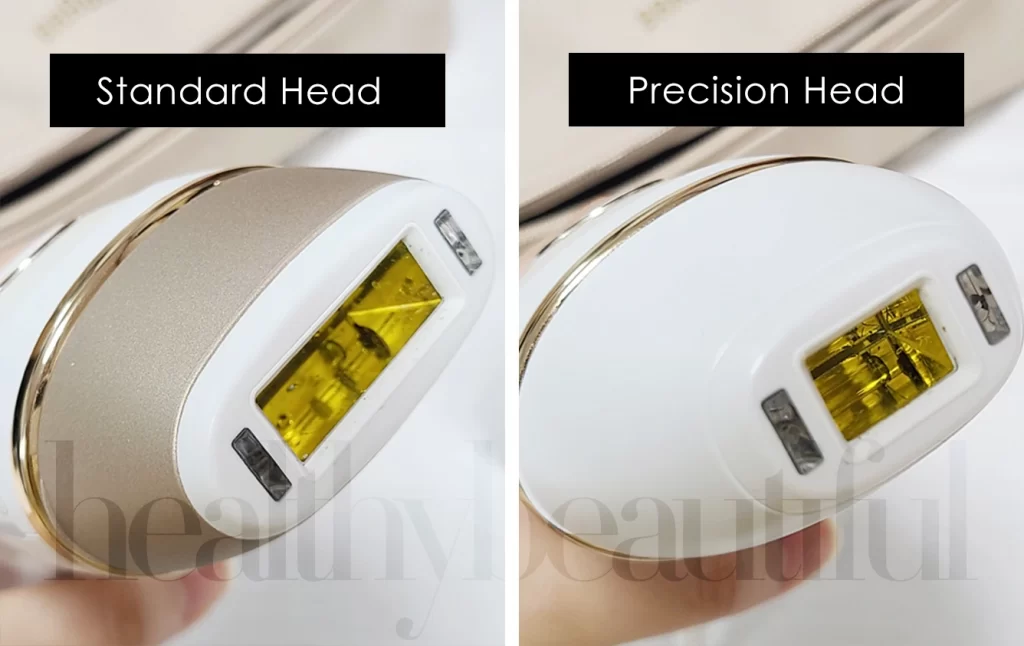 These caps are filters, not the actual lamp. The IPL lamp or quartz lamp is contained within the device.
Braun IPL lamp replacements are not possible as they are built-in.
The UV filter is built-in as well.
While I appreciate the customization, the difference in size isn't that noticeable during treatments.
I can easily use the standard head on smaller areas without a problem. Sometimes I don't even bother switching caps.
I also can't seem to use the gliding method with the precision head attached, which might be intentional since it's meant to be used carefully on sensitive areas.
Video: Braun Silk Expert Pro 5 IPL – How to choose the right head | Braun IPL Laser Reviews
Choosing which head to use for which areas of the body seems straightforward enough.
If it's part of your body you find hard to treat with the Standard head, like small or body areas, switch to the Precision.
Another wider head is available for purchase, but it's not included in this edition.
Speed & Repetition Rate
Based on our tests of over 35 devices, the Braun IPL laser hair removal is clocks in at 06 to 0.9 seconds at level 1.
This is an average speed among IPL devices.
However, several factors increase the time between flashes:
While the Standard Head goes off at less than a second in between, the Precision Head seems slower at 1-2 seconds.
The machine slows down its flash cycle when the IPL lamp accumulates heat with continued use. At this point, the heat may be uncomfortable on your skin, and it may be best to pause the treatment and continue once the device has cooled down. Another trick is to do your sensitive areas first, so the added heat won't bother you too much on the arms and legs.
I've used the standard head at gliding speed and finished half of a leg in about 5 minutes at the lowest level.
Higher levels take a bit longer, with full legs taking about 15 minutes.
I was also able to do my face, underarms, arms, and legs at a gliding speed in 30 minutes.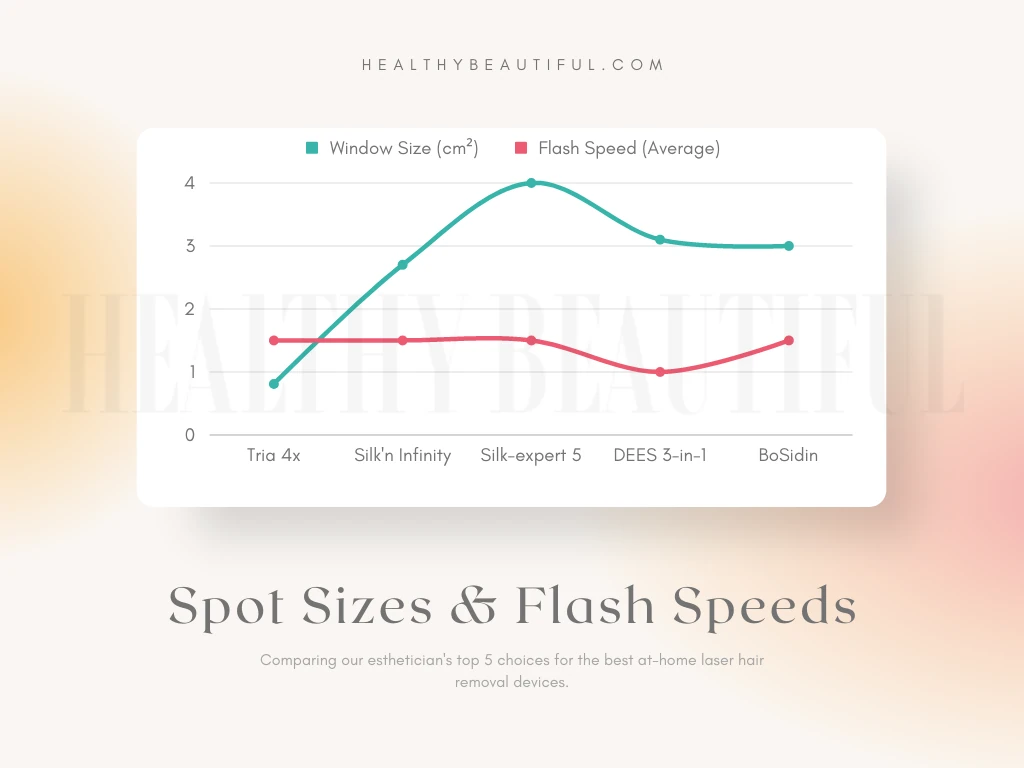 Spot Sizes and Flash Speeds will be good indicators of how long each of your sessions will last.
Wavelength
The Braun Laser IPL is marked at 510 – 2000 nm.
These wavelength numbers I find a bit confusing.
IPL's non-coherent light only has a wavelength of 500 – 1200 nm, with longer wavelengths penetrating more deeply into the dermis.
Theoretically, depth of penetration beyond 1200nm would be ineffective in IPL because of the scattering of light among other things.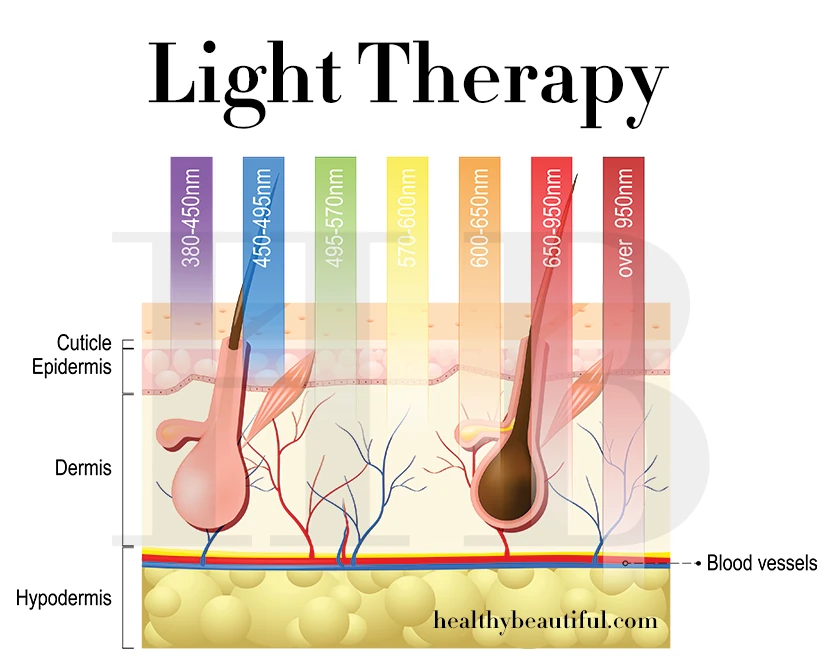 If it can go that deep, this device should be safer for much darker skin tones. And yet, it only covers up until Fitzpatrick IV.
In any case, I won't argue with the specs but will consider this with a grain of salt.
Technical Specifications
| | |
| --- | --- |
| Technology:  | IPL (Intense Pulsed Light) |
| Maximum Energy Fluence/Power:  | 4-6 J/cm2 (Joules per cm) |
| Flash Speed: | 0.5-0.9 seconds between flashes; 'Gliding Mode' for large areas triggers more flashes and lesser missed areas |
| Output Wavelength:  | 510 – 2000 nm |
| Skin Tone Coverage:  | Fitzpatrick I-V (light, medium, and dark skin tones) |
| Natural Hair Color Coverage:  | Naturally black or brown hair. This may not be effective on grey, white, blonde, or red hair. |
| Skin Tone & Contact Sensors:  | Unique Intelligent SensoAdaptTM skin tone sensor that continuously reads your skin tone at 80x per second and adapts the IPL intensity |
| Recommended Treatment Schedule & Results:  | 1x a week for 4-12 weeks. Treated hairs will naturally fall out within 1-2 weeks. Around 4 weeks, you should see a reduction in hair growth. After the 12-week program, there should be a significant reduction in hair with those left being lighter and finer. With continuous monthly treatments, you should be able to maintain a reduction in unwanted hair. |
| Lifespan/No. of Flashes:  | 400,000 flashes; equivalent to 22 years of full-body treatments |
| Flash Window Size:  | Standard Head: 3 cm2, Precision Head: 1.5 cm2 |
| Power System:  | Mains powered |
| Cooling System: | No |
---
Safety
Clinically tested and cleared by the FDA
FDA clearance is key in these home-use devices.[5]
They guarantee safety and quality, especially those that tout professional results in the hands of consumers.
We always recommend you go for tried and trusted brands with the data to back up their claims in the technology they use.
Good brands can also get behind you in terms of customer service and be available to cater to you should there be any issues with the device.
This is very rarely found in cheap off-brand products.
The Braun home laser, in particular, has the best safety features built-in that we've seen across all devices.
Skin Protection
The IPL Laser Braun Pro 5 protects your skin in two ways:
SensoAdapt Skin Tone Sensor – Reads and measures IPL intensity according to your skin tone at a rate of 80x per second. This is the one unique feature that elevates the Silk-Expert Pro 5 above all others. This leaves very little margin for user error and minimizes any chance of side effects.
Gentle Modes – This allows you to adjust the range of energy levels according to your skin sensitivity.
An integrated UV filter is built-in as well for additional safety.
Braun IPL – Eye Protection
Requires that the treatment window where the flashes are in full contact with the skin.
This prevents random flashes from damaging your eyes.
Only the highest-quality devices, including the Tria 4x and the Silk'n Infinity, have this feature.
IPL Goggles
Though the brand assures us there's no need for laser hair removal glasses, the device still uses IPL.
This means the light is extremely bright even with the contact sensor and the device flush against your skin.
The manual even advises looking away for every flash, which is a bit ridiculous since you need to look at what you're doing.
It's best to just buy a simple pair of IPL safety glasses for protection.
You only have one pair of eyes—don't risk it!
---
Instructions & User Guide
Video: Braun IPL – How to Use | Laser Hair Removal Braun Reviews
How to Use the Braun Silk-Expert Pro 5
One of the most straightforward IPL devices with just two control buttons. Pre- and post-treatment instructions are the same as with any laser hair removal procedure.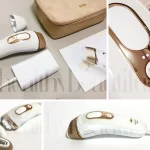 Pre-Treatment, During, and Aftercare Steps:
---
Treatment Plan & Frequency
There are two phases to your treatment plan:
Start-up Phase: Consists of weekly treatments for the first 4-12 weeks. The goal is to disrupt the hair cycle by targeting your roots during their anagen or growth phase. Once done your hair will be thinner, and sparser, and its growth indefinitely delayed.[6]

It's best to use the highest intensity you can for better results.

Maintenance Phase: Treatments can range from monthly to an as-needed basis. If hairs start to grow back, treating them will once again make them dormant.
Individual hair cycle differs per person and can be affected by hormones, medication, ethnicity, etc.[7]
The speed at which hair grows also depends on the area.
The most important thing is to keep treatments on a tight schedule so as to not give your roots a chance to heal themselves.
---
Cleaning & Storage
After each session, allow it to cool down before checking that the treatment window is free from any dirt or damage.
If you see black marks or debris, this means you've missed a bit of hair that's now burnt and stuck to the window.
Wipe away immediately with a dry cloth.
Do not use any liquid to clean the device.
Keep in a cool, dry place. Make sure to protect the sensor and treatment windows to have a long-lasting device.
---
Compatibility Guide
This device has been designed to affect long-term hair growth after a certain period of treatment.
However, at-home IPL has certain limitations based on the color of your skin and hair, as well as the areas in your body you can treat.
As a general rule, most at-home laser hair removal devices will work on those whose hair color is darker than their skin tone.
This contrast is the ideal condition for selective thermolysis to occur.
Selective photothermolysis is using melanin to attract focused laser or light to the hair follicle, thereby destroying it, while keeping the surrounding skin safe from damage.[8]
This principle is the foundation of all laser hair removal.
The ideal candidate, therefore, is those who have dark hair and light skin.
Skin Tone & Hair Color
The Braun Pro 5 Laser will work on Fitzpatrick I-V, or light to medium skin tones, in combination with dark to medium hair colors.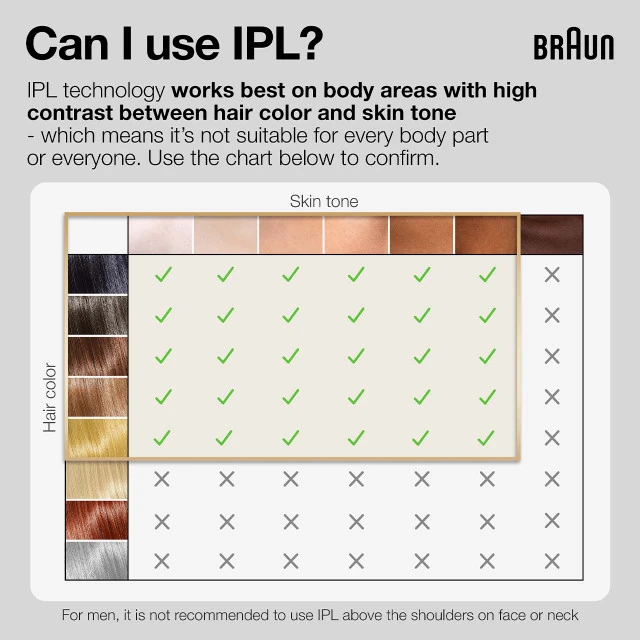 Braun Laser Hair Removal for Dark Skin:
Darker skin tones will have a low light intensity and a faster flash rate.
This may not be a device for you if your skin tone is darker than Fitzpatrick V.
As dark skin absorbs more light energy, treating dark skin with IPL may cause discomfort or pain. You may experience burns, blisters, discoloration, scarring, or other skin injuries.
We recommend the Silk'n Infinity instead, a unique at-home hair removal device that can treat all skin tones, including very dark skin.
Treatment Areas
Braun IPL Hair Removal for Women: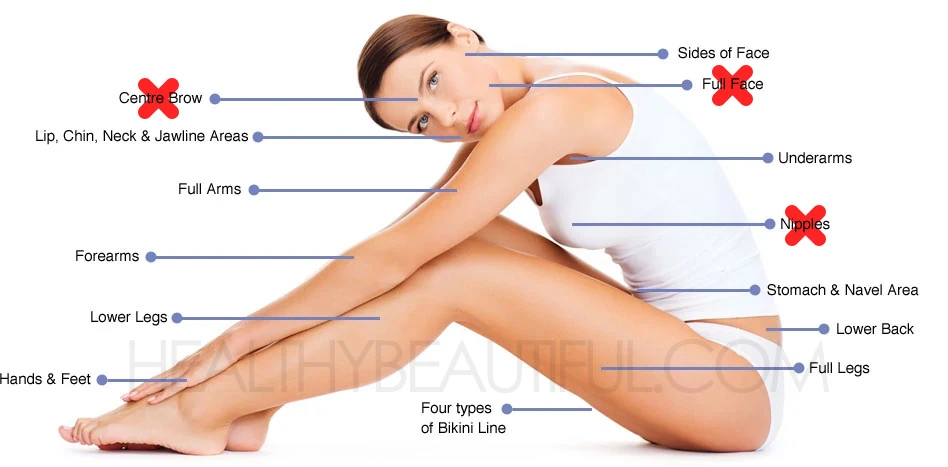 Braun IPL for Men: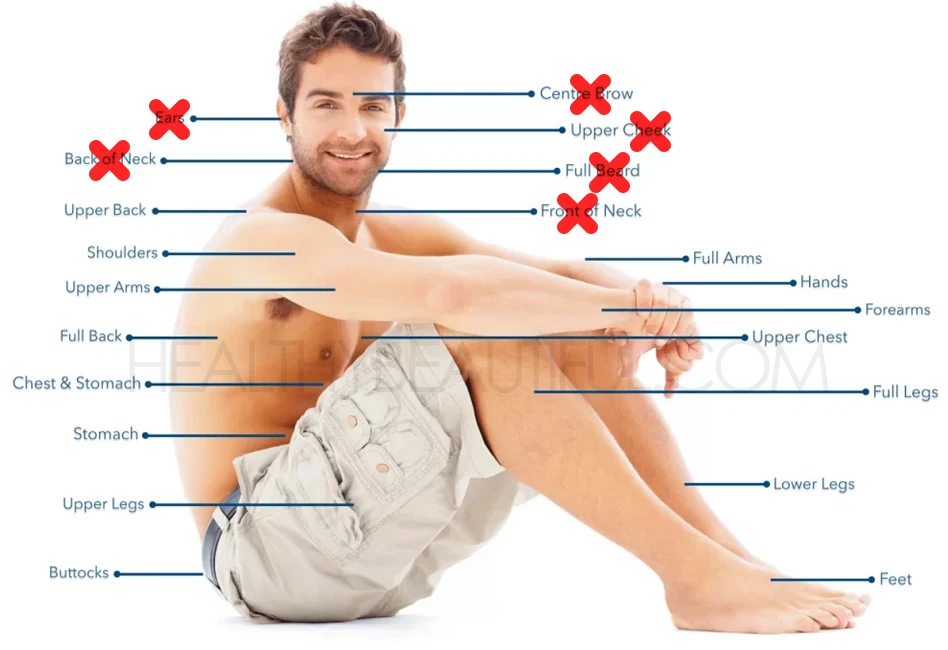 Braun IPL on Face:
The coverage for facial hair is different for men and women.
For women, the Braun IPL device is safe to use from the cheekbones down. It is NOT safe to use near the eyes and along the forehead.
Currently, no at-home laser hair removal device is FDA-cleared for use near the eyes.
For men, IPL on facial hair is not recommended at all because it can result in patchy areas. This includes beard hair that goes down the neck.
The Braun home IPL for men can be used from the shoulders down.
Braun IPL – Bikini Area:
The Braun at home hair removal can used on your bikini area.
This is applicable to both men and women.
Its best to attach the precision head for a slower, more accurate flashing sequence. Use the stamping method for hard-to-reach areas.
Braun IPL – Brazilian:
The Braun home IPL is not recommended for use on the genital area.
The device may cause discomfort/pain or injury to your skin in these areas since they may have darker skin color and/or increased hair density.
References:
Babilas, Philipp, et al. "Intense pulsed light (IPL): a review." Lasers in Surgery and Medicine: The Official Journal of the American Society for Laser Medicine and Surgery 42.2 (2010): 93-104.
Raulin, Christian, and Syrus Karsai, eds. Laser and IPL technology in dermatology and aesthetic medicine. Heidelberg: Springer, 2011.
Eadie, Ewan, et al. "Assessment of the optical radiation hazard from a home‐use intense pulsed light (IPL) source." Lasers in Surgery and Medicine: The Official Journal of the American Society for Laser Medicine and Surgery 41.7 (2009): 534-539.
Haedersdal, M., and H. C. Wulf. "Evidence‐based review of hair removal using lasers and light sources." Journal of the European Academy of Dermatology and Venereology 20.1 (2006): 9-20.
Waheed, Saphia. "Home use medical devices: analysis of adverse events in the home setting." Journal of Clinical Engineering 45.1 (2020): 72-76.
Roosen, Guido F., et al. "Temporary hair removal by low fluence photoepilation: histological study on biopsies and cultured human hair follicles." Lasers in Surgery and Medicine: The Official Journal of the American Society for Laser Medicine and Surgery 40.8 (2008): 520-528.
Buffoli, Barbara, et al. "The human hair: from anatomy to physiology." International journal of dermatology 53.3 (2014): 331-341.
Sadighha, Afshin. "Meta-analysis of hair removal laser trials." Lasers in medical science 24.1 (2009): 21-25.