Budget-friendly primers that won't break you out
Choosing makeup for acne-prone skin can be frustrating, from products that clog pores to premium ingredients that command luxury prices.
But high-quality primers with non-comedogenic formulations aren't restricted to luxury cosmetics.
There are gems to be found in the drugstore and prestige sections too.
Big brands like Maybelline and L'Oreal have fan-favorite primers that have received universal acclaim.
Makeup artist staples like Embryolisse and French pharmacy brands like La-Roche Posay, a dermatologist favorite, can also easily be found OTC.
More than anything, the formulation must be designed for your skin type and complexion concerns.
We've compiled the best non-comedogenic drugstore primers so you can pick up wallet-friendly staples that last through the seasons.
Check the "Best for" line to see which suits you best.
Esthetician's Choice:
The Best Non Comedogenic Drugstore Primers
We've curated the best non comedogenic drugstore primers for acne-prone skin.

This award-winning selection is the best-selling and highest-rated in the beauty industry.

All products listed are explicitly labeled non comedogenic.

Make sure to choose the primer that's best suited for your skin type and skin issues.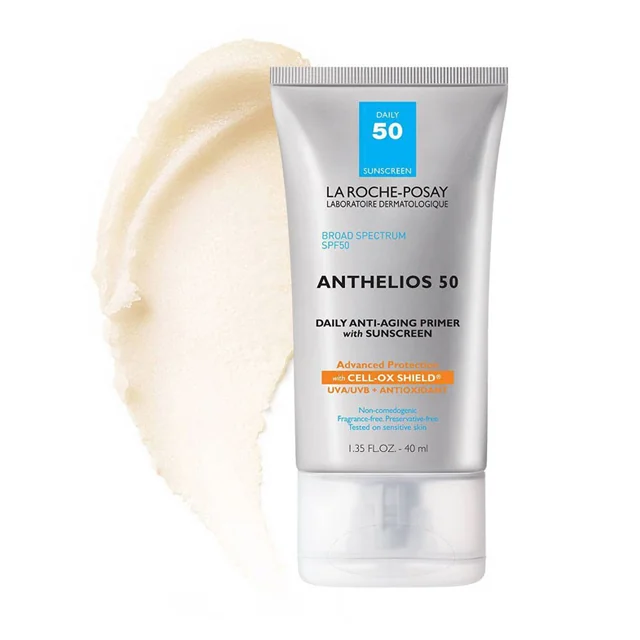 La Roche-Posay – Anthelios Anti-Aging Primer with SPF 50 Sunscreen
BEST FOR: All skin types; Photo-protection from Sun damage; Sensitive skin; Wrinkles, fine lines
Our list continues with another multi-purpose primer, this time from dermatologist-favorite La Roche-Posay.
This French brand is known for their medical-grade products created specifically for skin concerns like sensitivity, acne, dryness, and rosacea.
They've reformulated their signature Anthelios sunscreen into a face primer that instantly blurs visible signs of aging and provides long-term skin protection.
Video: Anthelios 50 Daily Anti-Aging Primer with Sunscreen
Key Ingredients:
Cell-Ox Shield® Technology – A core antioxidant technology in the Anthelios sun care line. It combines photostable UVA/UVB filters to provide broad-spectrum protection and potent antioxidant defense.
Senna Alata – An extract from a tropical herb that protects skin cells in the epidermis from the sun's harmful free radicals.[1]
La Roche-Posay Prebiotic Thermal Water – A unique natural antioxidant rich in selenium[2]
Ceramide-3 – A skin-identical lipid that helps retain moisture and maintain a healthy skin barrier[3]
Niacinamide – A soothing water-soluble vitamin known for its restorative properties[4]
Glycerin – An excellent humectant derived from vegetable sources. It hydrates the skin by absorbing water from its surroundings.[5]
Dimethicone – A silicone-based polymer applied to the skin as a moisturizer to prevent water loss.
Silica – A powder containing spherical beads that gives a smooth feel and a soft-focus effect. It is lightweight and absorbs a considerable amount of oil from the skin.
The La Roche-Posay Anthelios Anti-Aging Primer has the weight of a night cream but is easily absorbed and doesn't leave a white cast.
This dermatologist recommended primer is cosmetically elegant, especially for a sunscreen with five active ingredients.
Safety Testing: Dermatologist-Tested. Allergy-Tested. Suitable for sensitive skin. Fragrance-Free. Non-Comedogenic.
Clean Beauty: Oil-Free.
Formulation Base: Silicone-based primer
Color: Translucent white
Consistency & Finish: Thick and smooth with a mousse texture, Matte finish
Key Benefits:
SPF 50 broad spectrum photoprotection
Mattifying, oil-absorbing texture
A potent antioxidant complex that helps protect skin from free radicals caused by UV rays.
Fine lines, wrinkles, and pores are visibly smoothed and blurred for an even complexion and younger-looking skin.
Created and rigorously tested for skin tolerance, especially on sensitive skin
Cons:
This can feel heavy if you have very oily skin
The product starts to pill if applied too quickly before makeup. Make sure to wait until the primer is set before applying your foundation.
Video: Anthelios 50 Daily Anti-Aging Primer with Application Tips
Make-up Artist Tips:
Use as you would sunscreen–apply liberally 15 minutes before going out in the sun and reapply every 2 hours.
Instead of a sponge, use the warmth of your fingers to help it meld into your skin.
When swimming or sweating, use a water-resistant sunscreen.
If used with other skincare products, use it as the final step in the regimen. Use as is or with makeup.
Video: PRIMER with SPF 50 – Anthelios 50 Sunscreen Primer Hides Wrinkles – Review Tutorial
---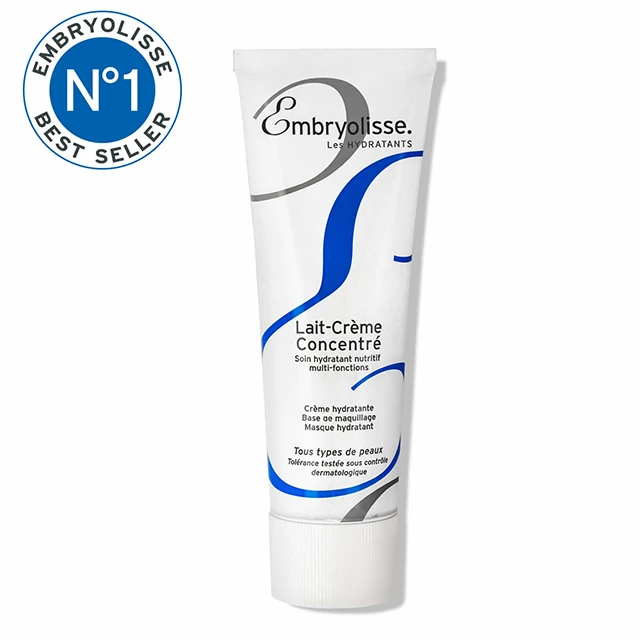 Embryolisse – Lait-Crème Concentré, Face Cream, & Makeup Primer
BEST FOR: All skin types, especially dry, dehydrated, & combination skin
2022 NewBeauty – Award Winner
EH! Best of Beauty Awards 2022 – Best Primer (Makeup)
Beauty Insider MY – Best Face Makeup 2022 – Sub-Category: Best Primer; Readers' Choice Award
French beauty brand Embyolisse and their award-winning Lait-Crème Concentré have been global best-sellers for over 70 years.
And nothing vouches more for a formula than one that has stood the test of time.
It's so popular one is sold every 5 seconds worldwide.
A Cult Favorite
The Lait Crème Concentré is a shelf staple sold by millions to dermatologists and makeup artists. You'll always see it backstage at fashion week.
Celebrities have dubbed this product the "swiss army knife of skincare."
Video: Embryolisse – How it all began
Clean Beauty
This multi-function primer has nourishing and moisturizing properties that come from Natural Origin ingredients.
This means it was extracted using Green Chemistry, and not through petrol like most products.
Key Ingredients:
Shea butter is an excellent emollient that delivers essential fatty acids to repair the lipid barrier and increase elasticity.[8]
Soy proteins tone and firm your skin to help diminish fine lines[9]
Aloe vera & beeswax work together to soothe irritation or any redness[10]
It leaves your skin plump and revitalized, alleviating any discomfort from dryness.
The Embryolisse Lait Crème Concentré is non comedogenic.
Incredible Versatility
This non comedogenic drugstore primer improves skin quality for makeup application and functions as a remover if you need to change looks quickly.
You can use it to rehydrate the skin to fight off jetlag, as an overnight cream mask, and as a primer to improve your overall complexion.
You can even use this as an after-shave.
The Lait-Crème Concentré also mixes incredibly well with other makeup. You can turn any cream foundation into a liquid and liquid foundation into a tinted moisturizer.
Mixing it with powder makes it creamier and helps apply highlighter or eyeshadows more consistently.
See makeup artist tips below for other pro ways to use the Lait-Crème Concentré.
Alternatives: Same product line, reformulated for different skin types and conditions
Safety Testing: Non-comedogenic for all skin types. Silicone-free.
Sustainability: Recyclable tube and packaging.
Formulation Base: Water-based primer
Color: Milky-white
Consistency & Finish: Light and milky texture with a soft satin finish
Key Benefits:
Multi-function: A non pore clogging primer, moisturizer, skincare mask, makeup remover, and an after-shave in one
Award-winning formula tested by time, a global best-seller for over 70 years
Natural Origin ingredients, extracted using Green Chemistry
Rich in essential fatty acids and vitamins
A staple of celebrities and makeup artists on TV shoots, fashion shows, magazines, and movies
This can be used on all skin types
Cons:
Video: How to Use Embryolisse Lait Creme Concentrate by Makeup Artist Angie Di Battista
Make-up Artist Tips:
If you have acne with flaky skin around the breakout, use a q-tip as an exfoliator to eliminate any dead skin cells. It's gentle and provides hydration, so the skin won't be tight and rough when you put on your foundation.
Absorbs quickly but takes a minute to settle before putting on makeup. Otherwise, your foundation isn't going to apply smoothly.
Great to use as a quick exfoliation on dry, dehydrated skin. Take a pea-sized amount on a cotton pad and slough off the superficial layer of dry skin. This will relieve your skin of that tightness and avoid making you look wrinkly underneath the makeup. An overall great drugstore primer for dry skin.
Use to break down makeup as needed to a thinner consistency. Using a cream foundation can transform it into a liquid foundation whenever you need a smoother application. A liquid foundation can turn into a tinted moisturizer for a healthier glow.
Create a luminous cream highlighter by combining the Embyrolisse with a powder highlighter. You can apply this on top of your foundation. This works amazingly well, especially under the brow.
Makes a great after-shave, especially for those who get skin irritations after shaving. Leave a thick coat on for about 5-10 minutes and wipe it off. This will hydrate your skin so you don't get that tight, red, irritated feeling.
Also makes for a fantastic cream for your hands, elbows, and anywhere you need instant moisturizing.
Video: TESTING OUT BEYONCE'S MAKEUP HACK FOR FLAWLESS SKIN | Beauty Bay
---
TULA SKIN CARE – Brighten Up Smoothing Primer Gel
BEST FOR: All skin types, especially Oily & Acne-Prone Skin
Innovative Probiotic Extracts
Probiotic extracts are a breakthrough innovation in skincare. It helps nourish, soothe, and hydrate skin to improve its balance and calm irritation.
At the forefront of clinical testing and scientific research is TULA, with their line of skincare products powered by superfoods, prebiotics & probiotic extracts.
Their proprietary S6Pro Complex™ is developed to provide six clinically proven benefits, including restoring, nourishing, soothing, strengthening, improving, and protecting all skin types.
Video: Dr. Roshini Raj discusses the benefits of probiotic skincare
Formulated for Dull, Blemished Skin
We've chosen the Brighten Up Smoothing Primer Gel as one of the best for acne-prone skin as it has ingredients that help calm and soothe blemish-prone skin.
Probiotic Extracts – Improve smoothness of skin and calm irritation
Yuzu – Brightens the skin for a more radiant appearance
Willowherb – Provides soothing relief for blemish-prone skin
This silicone-free face priming gel packed with yuzu delivers brighter-looking skin.
The non-comedogenic formula grips makeup without clogging pores and bursts onto the skin to make it instantly cool and refreshing.
Extensive Product Testing
To ensure high-quality, high-performance cruelty-free products, they only partner with ingredient suppliers who adhere to the industry's strictest standards.
All TULA products undergo comprehensive testing beyond dermatologist testing. This includes stability, microbiology, irritation (safety for all skin types), toxicology, and clinical claims.
They also have collections tailored to specific concerns like acne, sensitivity, and anti-aging.
There are four primers in their current line. They all grip makeup and smoothen the skin at their core but are reformulated to address different skin concerns.
Safety Testing: Non-comedogenic.
Clean Beauty: Formulated without Parabens, Sulfates, Phthalates, Mineral Oil & Petrolatum, Formaldehyde, Formaldehyde Releasing Preservatives, Triclosan, Retinol, Gluten, Silicone, Dimethicone, Synthetic Fragrance
Green & Cruelty-free: Cruelty-free.
Formulation Base: Water-based primer
Color: Light yellow that disappears on application
Consistency & Finish: Silicone-free gel; Cooling, clear finish
Key Benefits:
Grips foundation for long-lasting makeup
A non-comedogenic formula won't clog your pores.
Brightens the skin
Improves the appearance of the skin
Formulated without silicones
Reduces the visibility of irritation
Cons:
I find tub packaging more inconvenient than a tube with a pump. It exposes so much more product to contamination, especially if you don't use a scoop.
It has a subtle hint of citrus, which can bother those who prefer fragrance-free products.
Make-up Artist Tips:
Apply a dime-sized amount to cleansed, moisturized skin. This smoothing primer can be used with or without makeup and give you a smooth canvas. Use it as the final step in your skincare routine after your other products.
Once you've let it set, it will feel a bit tacky, which will grip your makeup and make it stay throughout the day.
Video: REVIEW: Tula. BRIGHTEN UP SMOOTHING PRIMER GEL + Wear Test
Video: MAKEUP PRODUCTS I CAN'T LIVE WITHOUT
---
This hydrating non comedogenic face primer is formulated specifically for dry skin.
It has powerful skin-plumping ingredients like hyaluronic acid, glycerin, and coconut alkanes that give instant and lasting hydration. Perfect for winter use.
It also improves the application and wear time of your foundation. It smooths over flaky skin, fine lines, and pores and prevents any makeup from settling into creases.
Its rich, silky texture dries to a smooth, glowing finish with a soft-focus effect. A blend of minerals also gives a hint of opalescent luminosity.
Bonus: An alternative for combination skin is the COMBO CONTROL™ MILKY FACE PRIMER. This lightweight version keeps the skin's moisture balance while absorbing excess oil. It has a milky feel that dries to a powdery texture for a soft, natural finish.
Safety Testing: Non-comedogenic.
Clean Beauty: Paraben Free, Cruelty Free, Gluten Free, Talc Free, SLS Free, Synthetic Fragrance Free
Formulation Base: Silicone-based primer
Color: Skintone to transparent
Consistency & Finish: Rich, Silky
Key Benefits:
Instant and lasting hydration for dry skin
Minimizes the appearance of wrinkles and fine lines
Improves application and longevity of makeup
Oil-free, paraben-free, sulfate-free and fragrance-free
Contains antioxidant ingredients
Contains hyaluronic acid, glycerin, and coconut alkanes
Cons: It's rich and thick. You might need to work it in some instances.
Make-up Artist Tips:
Apply a pea-sized amount after your moisturizer and before foundation.
Don't rub it in—use the heat of your fingers and pat it on your skin. Wait for it to absorb before applying makeup to avoid any pilling.
Video: bareMinerals Good Hydrations Silky Face Primer on QVC
---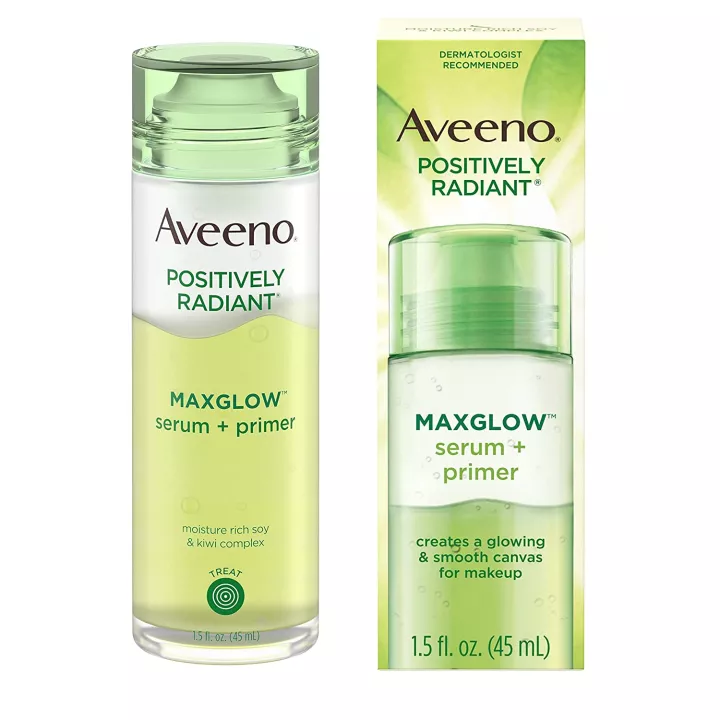 Aveeno – Positively Radiant MaxGlow Hydrating Face Serum + Primer
BEST FOR: Dry skin, Sensitive skin
Aveeno's Positively Radiant Maxglow is a 2-in1 brightening serum-primer that hydrates and smoothens as it preps the skin for makeup.#ezoic-pub-ad-placeholder-158
Its liquid formula is lightweight and fast-absorbing as well, so it doesn't take long before you're ready for foundation.
Soy and kiwi complex helps enhance the skin's natural radiance.
Safety Testing: Non-comedogenic. Hypoallergenic.
Clean Beauty: Paraben-free. Phthalate-free.
Green & Cruelty-free:
Formulation Base: Water-based primer
Color: Milky green
Consistency & Finish: Thin with a hydrated finish
Key Benefits:
Serum and primer in one, designed to enhance your skin's natural radiance
Kiwi is nutrient-rich and full of vitamins E and C. It also helps improve the skin's moisture retention.
An affordable solution for those looking for a serum as well as a primer
Cons: More serum than a primer, in our opinion, as it doesn't do much in blurring pores or fine lines
Makeup Artist Tips:
Very lightweight, which allows for layering. Best for dry but unblemished skin.
Will not do much in terms of covering up imperfections.
---
Mary Kay® – Foundation Primer Sunscreen Broad Spectrum SPF 15
BEST FOR: All skin types, including Sensitive skin
A primer and sunscreen in one, Mary Kay®'s foundation primer also offers broad-spectrum sun protection of up to SPF 15.
It's an oil-free, lightweight gel that applies to your skin effortlessly to fill out any creases and imperfections in the skin. It dries quickly and leaves an even, matte finish that improves foundation wear and longevity.
This makeup primer is mineral-enriched to help absorb excess oil and diffuse light to diminish the appearance of pores, fine lines, and wrinkles.
Results of an independent study:
98% said it applies smoothly and evenly.
90% said it helped skin look smoother.
87% said it helped perfect the appearance of skin.
85% said it helped reduce the appearance of pores.
85% said it extended the wear of makeup.
81% said skin looks healthier and helps skin look firmer.
*Over-the-counter drug product
**Results reported during a two-week independent consumer study
Key Benefits:
Multi-tasker primer with sunscreen for additional day protection
Contains a mineral optical diffuser called silica that helps reduce noticeable signs of skin flaws
Also contains a sin-conditioning agent to help smoothen out the application of foundation and extend its wear throughout the day
Cons: 
In our opinion, not hydrating enough for dry skin
Has a bit of a smell, but not overwhelmingly so
Make-up Artist Tips:
Apply using fingertips to improve blending with the skin.
Video: Mary Kay Review: Foundation Primer Sunscreen SPF 15 | Alicia Olsen
---
One of the best drugstore non comedogenic primers for large pores with legions of makeup fans.
The Magic Perfecting Base has a silky, lightweight texture. Some might it a bit thicker than other primers, that it's what sticks to the pores and fine lines. Once it warms on your hands, it glides on the skin and applies easily.
This face primer leaves the skin with a matte finish that's smooth to the touch.
Dermatologist-tested. Non-comedogenic.
Great Dupe for Benefit's Porefessional & Tatcha The Silk Canvas
Key Benefits:
Smoothens the skin and helps erase the appearance of pores and fine lines
Leaves a smooth and matte finish
Great dupe for higher-end primers
Cons: Comes in a pot, which may seem a bit unsanitary. Use a scooper instead of your fingers
Make-up Artist Tips:
Warm the product in your fingers before applying. This helps make the primer pliable and adhere well to the skin
Apply in a patting motion to avoid pilling
Make sure you're well exfoliated to avoid any dry patches. You can use AHA toners or serums to remove any build-up.
Also makes for a great eyelid primer
Video: TATCHA SILK CANVAS DUPE | L'OREAL MAGIC PERFECTING BASE PRIMER | REVIEW | WEAR TEST
---
Bodyography – Veil Foundation Primer
BEST FOR: All skin types, Skin tone issues like rosacea, redness, dull skin, sallow undertones
Bodyography is a brand found in most professional makeup artists' repertoire. One of their best-selling products is their multi-tasking, wide range of primers.
It has a clear version, a hydrating formulation, a bronzer, and color-correcting colors: green, purple, and neutral.
Clear primer – for all skin types.
Skin tone – Neutralizing, smoothing lines and pores
Green primer – Soothes redness instantly. Perfect for correcting acne scarring and rosacea
Purple primer – Instantly brightens tired or dull-looking skin, also keeps makeup from appearing ashy in dark skin tones
Neutral primer – Brightens uneven skin tone, Conceals undereye circles and age spots
Bronzer primer (Tahitian Glow, Monaco Matte) – Adds warmth to your skin and helps you achieve that sun-kissed glow
This primer is anti-aging as well, formulated with antioxidants, jojoba, vitamins E & A, and grapeseed oil.
This softens fine lines and prevents collagen breakdown. It is made of a weightless, professional-grade silicone based formula that gives the skin a smooth and flawless base.
This foundation primer helps control oil and extends makeup wear.
Safety Testing: Will not clog pores. Free from gluten and parabens.
Cruelty-free: Vegan. 100% Cruelty-free. PETA-certified.
Formulation Base: Silicone-based primer
Color: Variants: Clear, bronzed, color-correcting: purple, green, and neutral
Consistency & Finish: Smooth and weightless
Key Benefits:
Used by professional make-up artists
Have color-correcting variations to neutralize redness, dullness, and sallowness in the skin
Has anti-aging properties with vitamins and antioxidants that help prevent collagen breakdown
Smoothens fine lines and imperfections.
Extends wear of makeup.
Vegan formulation. Cruelty-free and PETA-certified.
Gluten-free and paraben-free.
Cons: 
Can be difficult to use with all the variations
Will have to purchase variants separately
Make-up Artist Tips:
One of the few primers that we recommend using a brush on, for an even application
Don't be afraid of the colors. This will blend out once you have your foundation in place.
Video: Bodyography Professional Cosmetics | Veil Foundation Primer
---
One of the best drugstore makeup primers in terms of performance and price point.
It's breathable, very lightweight, and doesn't feel heavy or greasy on the skin. It also helps with a shine for up to 9-hours, with or without makeup, comparable to other high-end brands.
Rimmel's Lasting Primer also has a matte finish but won't dry your skin. It leaves the skin feeling silky-smooth and hydrated.
From experience, the foundation blends seamlessly upon application.
Safety Testing: Non-comedogenic, doesn't clog pores.
Formulation Base: Water-based primer
Color: White, but goes on clear
Consistency & Finish: Lightweight with a velvet, matte finish
Key Benefits:
Controls excess oil for up to 9 hours
Extends the wear of makeup
One of the best drugstore makeup primers, especially considering its price
Non-comedogenic, which means it won't clog your pores
Breathable and lightweight
Leaves a velvety-smooth, matte finish
Cons: No blurring action on pores, wrinkles, and fine lines, unlike higher-end primers.
Make-up Artist Tips: After applying makeup, you can follow up with a setting spray to extend makeup wear.
Video: Bodyography Professional Cosmetics | Veil Foundation Primer
---
A gen-z favorite, the Maybelline Instant Pore Eraser can give you a smooth and matte finish.
This blurring primer instantly blurs the look of pores without clogging them.
This makeup primer also helps soften the look of pores and moisturize your skin.
It doesn't have any claims for oil control or makeup longevity, so I wouldn't recommend this for those with oily skin.
Key Benefits:
Cons: 
It comes in a little pot, which can be unhygienic for some. You can use a spatula instead of your fingers, just don't always lose it like I do!
From experience, can be a little bit too drying to dry skin.
Make-up Artist Tips: Make sure to hydrate and moisturize well before using to avoid any tendency of overdrying.
Video: Maybelline Baby Skin Instant Pore Eraser Primer 12hr Wear Test & Review | CORRIE SIDE
References:
Hennebelle, Thierry, et al. "Senna alata." Fitoterapia 80.7 (2009): 385-393.
Zeichner, Joshua, and Sophie Seite. "From Probiotic to Prebiotic Using Thermal Spring Water." Journal of Drugs in Dermatology: JDD 17.6 (2018): 657-662.
Wollenweber, Ute, and Mike Farwick. "Application of Skin-Identical Ceramide 3 for Enhance Skin Moisturization and Smoothness: Latest Results." Euro. Cosmetics (2006): 1-5.
Oblong, John E., and Joseph H. Jansen. "Topical Vitamins." Cosmetic Dermatology: Products and Procedures (2022): 420-429.
Greive, Kerryn. "Glycerine: the naturally effective humectant." Dermatological Nursing 11.1 (2012): 30-34.
Gawade, Rohini P., Shamal L. Chinke, and Prashant S. Alegaonkar. "Polymers in cosmetics." Polymer Science and Innovative Applications. Elsevier, 2020. 545-565.
Lam, Hubert. "Factors Enhancing Adhesion of Color Cosmetic Products to Skin: The Role of Pigments and Fillers." Surface Science and Adhesion in Cosmetics (2021): 487-541.
Mital, H. C., and F. R. Dove. "The study of shea butter." Planta medica 20.05 (1971): 283-288.
Liu, Jue-Chen, Jeff Wu, and Miri Seiberg. "Applications of Non-Denatured Soy in Skin Care." Textbook of Cosmetic Dermatology (2017): 105-124.
Loden, M. "The clinical benefit of moisturizers." Journal of the European Academy of Dermatology and Venereology 19.6 (2005): 672-688.
Habeebuddin, Mohammed, et al. "Topical Probiotics: More Than a Skin Deep." Pharmaceutics 14.3 (2022): 557.
Galloway, Lindsey. "Essence of the east: brighten your complexion and soothe your skin with products containing ingredients from Asia." Natural Health 41.1 (2010): 30-34.
Mohammadi Bazargani, Mitra, Mohsen Falahati-Anbaran, and Jens Rohloff. "Comparative analyses of phytochemical variation within and between congeneric species of willow herb, Epilobium hirsutum and E. parviflorum: Contribution of environmental factors." Frontiers in Plant Science 11 (2021): 595190.