Choose the Right Face Wash to Maintain Clear Skin & Pore Size
When you have oily skin, the quest to find the perfect facial cleanser is more complicated than most.
People with oily skin tend to attract more dirt and produce excess sebum than the average person. This makes finding a face wash that goes hard on the dirt but is gentle on the skin a bit tricky.
When I was young, I always felt like my face produced so much oil it attracted all the dirt in the air wherever I passed. So naturally, at the end of the day, I always felt like washing my face with a cleanser that made me feel dry and squeaky clean after.
It always made me feel like the product has done its job well by stripping everything off my face.
Little did I know, not only was it aggravating my oily skin but also putting my skin's lipid balance out of whack. It invited a host of other skin issues like sensitivity, dryness, and irritation.
It also worsened my bout with acne on top of everything else. And if you ask anyone who has had to battle acne and oily skin, any compounding skin issue can be an excruciating experience.[1]
Finding the right cleanser is crucial to how you're setting up your skin for the rest of your day.
It's also one of the main pillars of a balanced skincare routine, so choosing the right one for your skin type is essential.[2]
In this article, we'll discuss what you need to know when looking for the perfect cleanser, as well as a shortlist of the best products with our highest ratings for your skincare needs.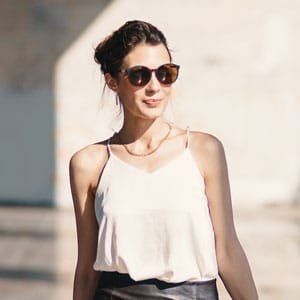 Ask the Expert: What should I look for in a cleanser if I have oily skin?
by Samantha Welch, Esthetician
---
The best cleansers for oily skin need to be a powerhouse in flushing out all that oil and grime at the end of each day but gentle enough that it won't dry or irritate your skin.
Foamy cleansers are meant to deep clean and remove excess oil & sebum.
However, it shouldn't be too harsh on your skin.
If you break the balance of your skin by stripping it too much of moisture and natural oils, it's going to compensate by generating more oil. That's why it's very important for people with oily skin to be well-hydrated. 
Choose a product that cleans well but does not leave you dry. Afterwhich, quickly follow up with a light, easily absorbed non-comedogenic moisturizer.
If you have oily and sensitive skin: use a cleanser formulated for oily skin that is both hypoallergenic and fragrance-free.
If you have oily skin with acne-prone skin, blackheads, whiteheads, and large pores: you can look for cleansers that incorporate gentle chemical exfoliants in their ingredients. Chemical exfoliants with alpha-hydroxy acids dissolve dirt and dead skin cells from the upper layer of your skin. Beta hydroxy acids loosen up hard plugs and flush out excess oil from pores.
If you have healthy and resilient skin: you may prefer a physical exfoliant instead of a cleansing brush or a microdermabrasion device twice a week to remove any remaining buildup.
This routine can be amazing and life-changing, but it's not for everybody. Some people, especially those with acne, can find chemical exfoliants to be irritating on the skin. 
If chemical exfoliants won't work for you, it's best to choose the routine for sensitive skin and combine it with your topical medication.
Esthetician's Choice:
The Best Face Wash & Cleansers for Oily Skin & Large Pores
Oily skin tends to be thicker and resistant (i.e. not sensitive), so it can usually tolerate a stronger cleanser formulated for oily skin. If you don't have sensitive skin or aren't acne-prone in particular, we highly recommend these to help maintain healthy and well-balanced skin.

These are our choices for the best cleansers for oily skin based on experience, product formulation, claims, value for money, and consumer reviews.

For best results, make sure to choose a product that is best suited for your skin type and skin issues.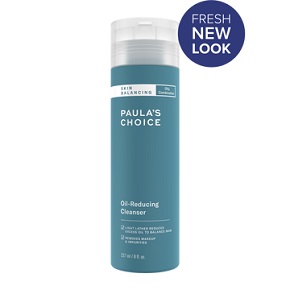 Paula's Choice Skin Balancing Oil – Reducing Cleanser with Aloe, Face Wash for Oily Skin & Large Pores
Best for: Normal, Combination, and Oily Skin with Large Pores
Our Review:
One of Paula's products that can provide an incredible mattifying effect and leaves skin shine-free for a long time. It can be a bit dehydrating for some though, so make sure to use a light moisturizer after.
It's lightweight in consistency and comes to a soft lather that is good enough to remove make-up (This is reportedly Elizabeth Taylor's go-to makeup remover).
Like all Paula's Choice products, it's fragrance-free but not hypoallergenic so it can cause irritations to those with sensitive skin. Make sure to do a patch test before trying this out if you do.
---
Skinceuticals Clean Pore-refining Gel Cleanser
Best for: Combination Or Oily Skin
Our Review:
This pre-refining gel has five hydroxy acids to help exfoliate dead skin cells at the top layer of the skin. This helps stimulate cell renewal for smoother skin and reduced pores. It also has anti-inflammatory ingredients like aloe and chamomile extracts to soothe the skin.
If you regularly use makeup, you'll need a separate makeup remover because this washes off just the oil and not cosmetics. Any form of acid can potentially irritate, so those with sensitive skin should do a patch test first.
---
Clinique Liquid Facial Soap – Oily Skin Formula
Best for: All skin types
Our Review:
Clinique's products have always been great, this one included. This is the first step in Clinique's famous 3-Step Skincare System.
The product develops into a foamy lather to gently break down dirt. It is also fragrance-free with a bit of cooling sensation from the menthol. This can feel refreshing for those with regular skin but can be irritating for sensitive skin.
---
Bioderma Sebium Foaming Gel Facial Cleanser
Best for: Combination to Oily Skin
Our Review:
This purifying cleanser contains powerhouses zinc sulphate and copper sulphate. It limits sebum secretion, reduces blemishes, prevents clogged pores, and cleans the epidermis.
This is an ultra-gentle face wash that promotes skin balance for healthy, vibrant skin. It has a patented natural complex to raise the skin's tolerance threshold. Guaranteed eye tolerance as well, for any sensitivities.
Non-comedogenic. Non-drying. Soap-free.
---
NEO CLEANSE Exfoliating Skin Cleanser
Best for: Dull & Dry Skin, Clogged pores, Excess Oil, Discoloration, Fine lines
Our Review:
With 9.9% glycolic acid, this gel cleanser helps re-texturize dry and dull skin. It gently exfoliates to prevent any build-up that can cause clogged pores. Glycolic acid also helps with excess oil, skin discolorations, and fine lines.
Moisture-attracting glycerin is a key ingredient, which helps with skin hydration. Perfect for prepping the skin to receive actives in your daily regimen.
Formulated without harsh ingredients like color additives, sulfates, and fragrances. Not tested on animals.
NEOCUTIS is a physician-dispensed skincare brand.
---
Oars + Alps Natural Solid Face Wash | No Spills, Exfoliating with Activated Charcoal, Non-Toxic
Best for: All skin types, Travel-friendly
Our Review:
No more spillage with this portable and solid face wash. This face cleansing stick made from Activated Charcoal dissolves deep-seated dirt that clogs pores and causes blackheads.
Alpine Caribou Moss is an antioxidant-rich ingredient that guards against environmental stressors while boosting skin elasticity.
Made from natural ingredients. Free from: sulfates, parabens, glycol, phthalates.
Travel-friendly and TSA-approved.
Never tested on animals.
---
RUGGED & DAPPER Daily Power Scrub Facial Cleanser For Men
Best for: All skin types
Our Review:
For all the men in the house who wants an all-in-one power cleanser, Rugged & Dapper has got you covered with their foaming exfoliator and energizing toner in one. It targets excess oil and deep-seated dirt and is gentle enough not to strip your skin of moisture.
It has a potent mix of natural and organic ingredients aloe vera, vitamin c, tea tree oil, willow bark, and burdock root. Vitamins and minerals help damaged skin recover and reduce the appearance of pores.
They even offer a money-back guarantee within 60 days if you're not 100% satisfied. It's an all-in-one solution for men on the go.
---
The Best Face Wash & Cleansers for Oily + Acne-Prone Skin
Combining BHAs and AHAs in your routine will not only help clear out impurities from the skin, but also increase cell turnover which results in younger, smoother, and more refined skin. Deep pore cleansing from facial cleansers also helps in inhibiting the growth of acne.

Shifting to these line of products has been a life-changing event for me, in making sure that breakouts are kept at a minimum while also gently smoothing out rough and dull skin.
Glytone Acne Self Foaming Cleanser with Salicylic Acid. Oil-Free, Non-Comedogenic, Non-Irritating
Best for: Oily skin with blackheads & whiteheads
Our Review:
This is a unique, non-irritating cleanser that works to unclog pores, remove surface debris, and gently exfoliate the skin.
It has salicylic acid, a type of BHA or beta-hydroxy acid that's proven to clear up acne pimples, whiteheads, and blackheads.
Its self-foaming technology prolongs the contact of salicylic acid for better penetration and efficacy. You can also do a deep masque-like cleanse by leaving it on for 30 seconds before rinsing.
Non-comedogenic, Non-irritating formula.
Paraben-free. Oil-free. Fragrance-free.
---
La Roche Posay Effaclar Deep Cleansing Foaming Cream Cleanser
Best for: Oily skin, Enlarged Pores, Sensitive Skin
Our Review:
One of the troubles with an anti-acne regime is that it can leave a lot of open pores in its wake. This product not only cleans out congested pores but is also known to close them up. It's the first step of EFFACLAR '3-Step' Anti-Blemish System.
The only downside of this is the medicinal scent. If scents like this don't bother you, this one comes highly recommended.
Dermatologist-Tested. Suitable for Sensitive Skin. Paraben-Free. Allergy-Tested.
---
Dr. Brandt Skincare Pores No More Pore Purifying Cleanser
Best for: Clogged pores, Excess oil
Our Review:
A powerhouse pore-refining gel cream that removes makeup, oil, and dirt without drying you out. It decongests pores and washes out sebum, leaving your skin fresh and mattified.
Key ingredients include:
Salicylic Acid – a beta-hydroxy acid (BHA) that exfoliates dead skin cells and unclogs pores
Tea Tree Oil – has antiseptic properties that purify the skin, leaving a smooth and clear complexion
White Willow Bark Extract – another BHA that soothes as it clears the skin
Free from: Formaldehyde, Parabens, Phthalates, Synthetic Fragrances, and Mineral Oil.
Hypoallergenic. Dermatologically-tested. Ophthalmologist-tested. Safe for contact lens wearers.
---
boscia Clear Complexion Cleanser – Vegan, Cruelty-Free, Natural and Clean Skincare
Best for: Vegans, Blemish-prone skin, Dark spots
Our Review:
This refreshing cleansing gel effectively exfoliates the skin to clear pores and minimize acne without irritation. Boscia's Clear Complexion Cleanser is formulated specifically for blemish-prone skin with its use of Willow Bark Extract, a natural salicylic acid.
Natural ingredients are front and center:
Willow Bark Extract – A natural BHA that gently exfoliates and refines pores
Rosemary Leaf Extract – An anti-inflammatory and antioxidant combo that helps visibly reduce the appearance of pores and firms the skin
Geranium – Boosts circulation, helps improve elasticity, and balances the production of sebum
Cruelty-free. Preservative-free. Artificial fragrance and color-free. Gluten-free. Vegan.
---
Vichy Normaderm Daily Deep Cleansing Gel Cleanser with Salicylic Acid
Best for: Oily & Acne-prone skin, Clogged pores
Our Review:
This deep cleansing gel is formulated for acne-prone and oily skin. Their combination of salicylic acid and LHA (lipo-hydroxy acid) gently exfoliates and unclogs pores without any irritation or dryness. This face wash helps control shine as well, leaving the skin soft and fresh.
Vichy's famous mineralizing water is also incorporated as a featured ingredient. It contains 15 minerals, preserved from the region of Auvergne in France. The water helps strengthen the skin's moisture barrier to keep it healthy and protected.
Dermatologist-test. Allergy-tested. Sensitive-skin tested.
Paraben-free.
---
Peter Thomas Roth AHA/BHA Acne Clearing Gel
Best for: Blackheads, Large pores, Acne-prone skin, Wrinkles & Fine lines, Discoloration
Our Review:
This deep pore-clearing gel has an advanced formulation with maximum strength 2% Salicylic Acid (BHA) and 10% Glycolic Acid Complex (AHA).
Salicylic acid penetrates and clears out pores, as well as treat and prevent blackheads and acne. The potent 10% Glycolic Acid, along with Retinyl Palmitate, Arnica, Licorice, and Aloe Vera helps exfoliate and hydrate the skin.
Clears breakouts while reducing wrinkles, the appearance of pore size, acne marks, fine lines, and residual discoloration. Dramatically improves the look of aging skin.
Oil-free. Fragrance-free.
---
PCA SKIN BPO 5% Cleanser, Clarifying Daily Facial Wash
Best for: Breakouts, Calming irritated skin
Our Review:
PCA is a brand known for its corrective and potent formulations using alpha-hydroxy acids. Exfoliants improve the health and appearance of skin by promoting cell renewal and preventing the buildup of dead skin cells.
This daily cleanser has a unique combination of 5% benzoyl peroxide and phytic acid (exfoliant) to eliminate existing and prevent future breakouts.
Gluconolactone is a calming, moisturizing ingredient that promotes a clear complexion. Botanical extracts soothe irritated and inflamed blemishes, allowing the skin to heal.
Free of potential irritants like synthetic dyes and fragrances. PCA SKIN® does not perform or condone animal testing.
---
Dermatologic Cosmetic Laboratories B Prox Anti-Blemish Face Wash
Best for: Eliminating acne, Reducing excess oil, Refining pore size, Diminishing skin sensitivity, Soothing redness
Our Review:
DCL's anti-acne formulation is a multi-tasker that aims to eliminate the cause, reduce the side effects, and prevent acne from coming back.
The 10% benzoyl peroxide (the highest % BP you can get OTC) washes away acne-causing bacteria, while its detoxifying mineral-rich clay and plant extracts work to absorb excess oil and refine pore size. This helps prevent any future breakouts–a critical feature if you have oily skin.
It also has an Advanced Algae Complex that helps diminish the sensitivity that often accompanies the use of aggressive acne treatments, and Canadian Willow Herb to help visibly and dramatically reduce redness and soothe irritation.
All in all, a power-packed product for those with oily skin who would like their treatment done to the next level.
Dermatologist tested. Paraben-free. Non-comedogenic, hypoallergenic.
---
The Best Face Wash & Cleansers for Oily + Sensitive skin
If your skin reacts badly to normal facial washes, you're likely to have sensitive skin. Personally, Ponds, Olay, and L'Oreal are some of the drugstore brands I steer clear from because they irritate my skin even after just one wash. I'm also wary about using scrubs, but there are brands with facial scrubs that are gentle and effective like VMV Hypoallergenics, Celeteque, and Neutrogena.

Look for cleansers that are hypoallergenic—meaning it contains fewer ingredients than regular products and few or none that can cause allergic reactions.

If you have oily AND sensitive skin, it's best to stick with very gentle cleansers like the ones below: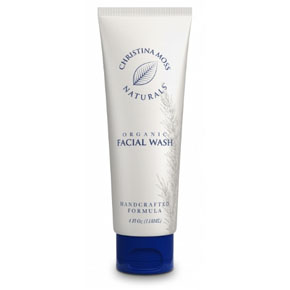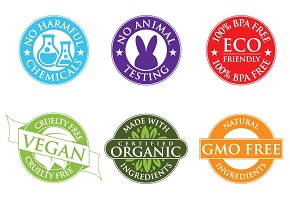 Christina Moss Organic Facial Wash
Best for: Very sensitive skin
Our Review:
Hypoallergenic with no harmful or toxic ingredients of any kind like chemical preservatives, SLS, parabens, sulfates, dyes, etc. Environmentally friendly.
Made with organic and natural ingredients. Greatly improves pores and skin condition. All their products are prepared on a weekly basis and they guarantee purity and freshness for 6 months after purchase.
Gently and thoroughly clean without stripping, drying, or leaving a residue. This also delivers nourishing ingredients, including botanical extracts and essential oils. Excellent for all skin types, including sensitive skin.
A dime-sized drop is enough for the whole face, so very economical as well.
Non-Drying, Non-Oily, No Harmful Chemicals.
---
Cetaphil Dermacontrol Oil Control Foam Wash
Best for: Oily or Combination skin
Our Review:
I know you've probably been hit with the head with this brand one but it's really one of the most affordable and gentlest cleaners out there.
Its innovative zinc technology has been clinically proven to remove impurities, pore-clogging oil, and makeup from your skin. It has a pH-balanced formula that doesn't strip the skin dry and keeps it healthy.
Hypoallergenic. Non-comedogenic.
---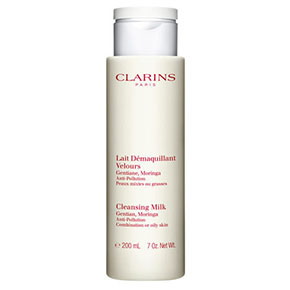 Clarins Cleansing Milk – Oily or Combination Skin
Best for: Oily or Combination skin
Our Review:
For those not familiar with milk cleaners, it works a little differently than gel and liquid ones. You simply put the product on your face and pat it until the product absorbs all the oil and makeup on your skin. Once the consistency is thick, rinse or tissue off to remove. This will lift all the impurities without irritating the skin.
The downside is it has a bit of fragrance, but it doesn't linger long after washing. Some people are a bit uncomfortable with using just a milk cleanser and use this in a double cleansing routine.
---
The Best Face Wash & Cleansers for Oily + Acne-Prone + Sensitive Skin
Otherwise known as the trifecta of common skin problems. Having acne-prone, sensitive, and oily skin means the products you use have to be hypoallergenic, non-comedogenic, fragrance-free, water-based products (whew!). This doesn't have to severely limit your choices though. With the right choice, you can still have the best face wash for oily skin and all the above features as well.
Almost all the products listed here are for acne-prone and sensitive skin unless otherwise stated but the below are the ones that crossed the finished line.
Avene Eau Thermale Cleanance Cleansing Gel – Soap Free Cleanser for Acne Prone & Oily Skin, Face & Body
Best for: Oily and Blemish-Prone Sensitive Skin
Our Review:
This product has a track record of not breaking out acne-prone AND sensitive skin. It feels soft and foamy when applied, which can result in cleaner and brighter skin. You only need a small amount so a bottle should last you about 2-3 months. Also known to work very well with serums.
The downside is if you're already suffering from breakouts, it's not formulated to fight but prevent acne. You would have to use this in combination with topical lotions or other acne medications.
---
La Roche-Posay Toleriane Purifying Foaming Cream Cleanser with Glycerin
Best for: Oily & Sensitive Skin
Our Review:
One of the bastions of French pharmacies, La Roche Posay produces a cleanser for oily and ultra-sensitive skin. It gently removes makeup and impurities without over-drying the skin.
The cleanser is very thick and foamy so a pea-sized amount would go a long way.
Dermatologist-Tested. Allergy Tested. Suitable for Sensitive Skin.
Paraben-Free. Fragrance-Free. Preservative Free.
Non-Comedogenic.
---
VMV Hypoallergenics Superskin Spring Cleaning Purifying Facial Wash for Oily Skin
Best for: Oil Control, Anti-acne, Irritated or overly-medicated oily skin
Our Review:
VMV is the first, and the only, brand in the world to rate its hypoallerginicity. Personally speaking, my mother has compounded skin allergies (rosacea, acne, sensitive skin) and this brand has been one of the few her skin can tolerate.
This is a gentle and light facial cream that leaves skin healthy and hydrated. It contains a coconut-derived anti-acne and antifungal ingredient called monolaurin. It also has soothing and anti-inflammatory antioxidants ideal for overly-medicated or irritated skin.
I personally prefer their Superskin Oil-Control Antibacterial Scrub over this, which I use on the regular, but if you don't like scrubs then the wash is the way to go.
Free from all common allergens from the extended allergen series of the North American Contact Dermatitis Group + European Surveillance System on Contact Allergies.
100% free from: All types of fragrance, preservatives, parabens, phthalates, and dyes.
Usage and Patch tested. SLS Allergen-Surfactant free.
Non-Comedogenic.
For Face, Hands + Body.
Tips to Prevent Oily Skin
Sometimes oily skin is hormones at play, sometimes it's the byproduct of unsuitable skin care, but most of the time it's just simply the skin that you were born with. Whatever the cause is, the universal goal if you have oily skin is to slow down your skin's oil production for as long as possible so you can get the benefits of having this skin type (fewer wrinkles as you grow older as it helps trap moisture under the skin) but not the disadvantages (shiny face, breakouts).[3]
The way to do it is to maintain a skincare regime using the right products–starting with the best face wash for oily skin.
Use a gentle cleanser that doesn't irritate your skin. – When you have very oily skin, there's always the temptation to scrub your face raw and dry at the end of the day just to feel clean. That's a mistake that most people make and will most certainly aggravate your oil (and acne). Not to mention compromise your skin barrier, opening the door to other issues like redness and eczema. Wash your face twice a day with gentle cleansers.[4] Face washes that can cause irritations and dryness will trigger an overproduction of oil and sebum leading to blackheads, whiteheads, and acne. 
For oily and acne-prone skin, you can use a face wash with AHAs (alpha hydroxy acid) and/or BHAs (beta hydroxy acids). – Chemical exfoliants in cleansers gently slough off dead skin cells to avoid any build-ups that can cause breakouts. It can also unclog pores and prevent blackheads and whiteheads from forming. BHAs are best as they are oil-soluble and go deep into the pore lining to purge deep-seated dirt. If you have them, you will have an initial "purging" or breakouts to clear out all this oil and bacteria from your skin. Fear not, as after a few weeks or so, the BHA would have done its job and cleared out all the grime that would eventually lead to an infection. If BHAs go deep, Alpha-hydroxy acids or AHA are water-soluble and work on the top layer of skin to buff it. They help stimulate cell renewal, face acne marks and minimize large pores. When starting out, use no more than 5% AHA and only at night then work your way up.
Use moderately warm water to help break down dirt and makeup. – It also helps soften the skin and prepares it for your skincare. Coldwater locks up your pores, which doesn't allow the natural release of sebum and bacteria.
After cleansing, make it a habit to use moisturizers. – Applying moisturizers specifically formulated for oily skin helps keep your skin hydrated without breaking you out. It rebalances your skin barrier so your skin is healthy–not too dry and not too oily.
Invest in a good quality blotting paper. – Easily control shine throughout the day in one swoosh. Low-quality ones are so thin, that you have to use several just to cover your whole face. You only need to use one good quality botting paper that will absorb like magic and can be re-used outside your T-zone.
Regularly use clay masks or mud masks. – Once a week or every other week to suck out any deep-seated oils that your regular washing may have missed. It's a form of deep cleanse that clears out and tightens your pores.
Look for oil-free and non-comedogenic products if you are acne-prone. – These types of products are usually void of irritants like fragrance and harsh chemicals, which can trigger breakouts. While some oils are non-comedogenic themselves, it doesn't help if you already have an overproduction of oil. This applies to skincare and makeup like primers, foundation, moisturizers, etc.
Make sure your skin is hydrated throughout the day. – This is extremely important because hydrated skin keeps oils at bay. Dehydrated skin can cause reactive seborrhea, wherein the body thinks your skin has been stripped of natural oils so it goes on overdrive. Balance is key. Drink water and keep a face spray on hand.
Avoid alcohol-based toners. – This is a very tempting thing to do because they're very effective in decreasing the skin and leaving you with a matte finish. But the long-term consequence can be brutal: slow erosion of the skin aggravates any acne or skin irritation and puts a strain on its process of replenishing and rejuvenating itself. Alcohol just about weakens the skin in general. (It's used to prep your face for chemical peels, in fact, to help the acid penetrate the upper layer.) So if you see any of these in your skincare–D alcohol, denatured alcohol, or isopropyl alcohol– just say no.
Use Retinol or Vitamin A. – No, you don't have to be in your 40's to start using retinol. It's one of the most widely used topical and oral treatments for oily skin. The oral medication has a host of side effects so it's reserved as the big guns, but the topical ones are available off the counter.
And that's it! Remember, the right combination of products will do wonders for your skin no matter what condition it's in. With this list, I hope you find the perfect facial cleanser for you.
References:
Arbuckle, R., Atkinson, M.J., Clark, M. et al. Patient experiences with oily skin: The qualitative development of content for two new patient reported outcome questionnaires. Health Qual Life Outcomes 6, 80 (2008). https://doi.org/10.1186/1477-7525-6-80
Goodman, G. Cleansing and Moisturizing in Acne Patients. AM J Clin Dermatol 10, 1–6 (2009). https://doi.org/10.2165/0128071-200910001-00001
Makrantonaki E, Ganceviciene R, Zouboulis C. An update on the role of the sebaceous gland in the pathogenesis of acne. Dermatoendocrinol. 2011 Jan;3(1):41-9. doi: 10.4161/derm.3.1.13900. PMID: 21519409; PMCID: PMC3051853.
HOW TO CONTROL OILY SKIN: 10 do's and don'ts from dermatologists. https://www.aad.org/
Avalon.edu. (2016). Oily Skin Advantages | Avalon School Of Cosmetology.
Avène USA Eau Thermale Avène – Sensitive Skin Care.
Best Skin Care, Makeup, Face & Body Creams – CLARINS.
Bioderma International.
Christina Moss Naturals – Organic, Healthy, Non-Toxic Cosmetics.
Clinique | Official Site | Custom-fit Skin Care, Makeup, Fragrances & Gifts.
Draelos, Z. D. (2006). The effect of a daily facial cleanser for normal to oily skin on the skin barrier of subjects with acne. Cutis, 78(1 Suppl), 34-40.
Doherty, B. and VanTine, J. (2002). Growing Younger: Breakthrough Age-Defying Secrets. Emmaus, PA: Rodale.
Gentle Skin Care Products | Cetaphil.
Glytone | Professional Skin Care Products and Peels.
Grigore, A. (n.d.). Skin Cleanse: The Simple, All-Natural Program for Clear, Calm, Happy Skin.
How to control oily skin | American Academy of Dermatology.
Hypoallergenics, V. Allergy Control & Hypoallergenic Products | VMV Hypoallergenics.
Kenet, B. and Lawler, P. (1999). How to Wash Your Face: America's Leading Dermatologist Reveals the Essential Secrets for Youthful, Radiant Skin. New York: Simon & Schuster.
La Roche-Posay Skincare, Sunscreen, Body Lotion Official Site.

RUGGED & DAPPER | Men's Grooming & Skincare Products.

University of Maryland Medical Center. Oily skin.
Shetty, R. (n.d.). Age Erase: Your ultimate beauty bible to ageing gracefully.
Shop Paula's Choice | Paula's Choice.
Shop Quality Skincare Products Backed by Science at SkinCeuticals.com.