Understanding Microdermabrasion
Through aging and other environmental factors, the process of skin renewal is disrupted. This causes delay and improper shedding of dead skin, which ultimately leads to dull and aged complexions.
The goal of this treatment is to:
stimulate the skin's renewal process
rejuvenate the skin[3]
produce components that provide strength and resilience to the skin such as collagen and elastin
even out melanin distribution for a clearer surface
improve the overall epidermal function[4]
correct skin issues like acne scars, large pores, fine lines, wrinkles, hyperpigmentation, and more (see more details in the article below)
The way microdermabrasion works is based on the principles of wound healing whereby removing the superficial layer of the skin promote cell renewal and generate a healthier epidermis.
Previously, microdermabrasion machines are large, bulky machines that are very expensive. The technology has now evolved to portable devices, making it easy for anyone to make it a regular part of your skincare regimen.[5]
What used to be an expensive clinical procedure that could only be done by skincare professionals, is now readily available for home use.
Video: All about Microdermabrasion – North Idaho Dermatology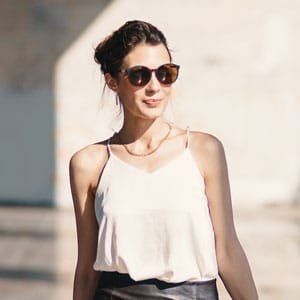 Ask the Expert: What are the Benefits of Microdermabrasion?
---
Visible clinical improvements with regular exfoliation using microdermabrasion machines are:
reduced hyperpigmentation (photodamage, sun spots, post-inflammatory scars) and evening out of skin tone
reduced fine lines and wrinkles
smoothes out rough skin and superficial acne scars
aids in penetration of active ingredients in your topical products, which means improved efficacy of regular skin care products
improved skin hydration
increased dermal thickness
refined pore size
the vacuum mechanism also takes out blackheads and whiteheads before they get a chance to get inflamed, thereby reducing your chances of getting acne (Heaven-sent for acne-prone skin!)
If you have post-inflammatory scarring from acne or have sun spots, an at-home microdermabasion system is one of the best products for hyperpigmentation you can buy. If you're trying to solve this problem, make sure you also have an effective treatment plan in place.
Esthetician's Choice:
The Best At Home Microdermabrasion Machines
Our Review
Silk n'Revit comes highly recommended by those with oily and acne-prone skin as the product still manages to pick up grime even after using deep cleansers like Clarisonic. Users (like myself) have experienced a reduction in pimples and acne after using this regularly.
This can be used up to two times a week without any discomfort. Those with severe acne scars that have used this for several months have seen improvements, though the scars are still visible.
Blackheads are no longer an issue as well, as the device picks it up along with the sloughed-off skin.
Some of the cons are the device's durability. I feel like the tip should fit more snugly, although it does glide smoothly. There also isn't that much difference between the two tips, especially after doing it for some time. For the price though, the device is very cost-effective.
Best for: Oily and Acne-prone skin
Video Review
Video: Microdermabrasion at Home | Silk'n Revit Microdermabrasion System Review
---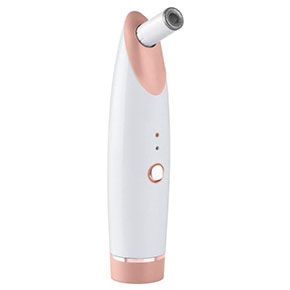 MiniMD by Trophy Skin – Handheld Portable Microdermabrasion Machine
Best for: All skin types, Sensitive skin
Our Review
The entire session as per advised takes only about 7 minutes, including prep and applying serums after, so the process is quick and easy, especially for beginners.
It's not as aggressive as other machines as well so this is perfect for those with sensitive skin or for skin maintenance.
One of the cons is that unit is light (more so than a Clarisonic or a Sonicare toothbrush) so it feels like it will crack easily. There is a warning on the manual though not to drop the device as it may damage the machine.
There is also the faint smell of something burning near the end of the process which I'm assuming is caused by the speed at which the dead skin is being collected in the filter. It doesn't bother me as much but still something to note.
Ideal for: All skin types, Sensitive skin
Viedo Review
Video: MicrodermMD Diamond Tip Mini Microderm System by Trophy Skin with Kerstin Lindquist
---
Trophy Skin MicrodermMD – At Home Microdermabrasion System
Best for: All skin types, Hyperpigmentation (acne spots), Acne scars, Photodamaged skin, etc.
Our Review
This is professional-grade and the closest to a salon-quality machine at your home. It has an LED display that will walk you through the process to make sure you attend to each area just right.
The device also has an AUTO MODE that automatically adjusts the suction and timer properly across your skin. The set comes with a blackhead extractor (nifty), 100 filters, and a 5x zoom-in mirror built-in so no more leaning into the mirror whilst doing the treatment.
The con is, of course, its size. You can't exactly lug it around as with the handheld versions. It's also quite an investment compared to the others, but it quickly paid for itself after a few weeks (especially since a single session at a salon costs $100+).
If you're doing microdermabrasion as part of a long-term solution for skin problems like hyperpigmentation (sun spots, acne scars, etc.), I would definitely go with this one.
Ideal for: All skin types, those with long-term skin issues like hyperpigmentation (acne spots), acne scars, photodamaged skin, etc.
Video Review
Video: Trophy Skin Microderm MD Review: Are the Claims True or Farce?
---
Trophy Skin RejuvadermMD – Microdermabrasion Machine On-The-Go
Best for: Normal to Combination Skin, Dry skin, and Oily skin
Our Review
RejuvadermMD is the middle child between the professional-grade MicrodermMD (shown above) and the MiniMD.
It's easy to use, has more available settings than the MiniMD, and costs less than the Microderm MD.
I'd say it has equal power as the Silk'n Revit.
Ideal for: Normal to Combination Skin, Dry skin, and Oily skin
Video Review
Video: At Home Microdermabrasion – RejuvadermMD Review
An Introduction to Microdermabrasion
How Does Microdermabasion Work?
The equipment is basically a closed vacuum that draws the skin to a diamond-tipped pad that abrades the skin's surface. The surface debris or dead skin is collected in the device for disposal after the treatment. The depth or the strength of skin resurfacing is comparable to that of a chemical peel but without downtime.
Video: Microdermabrasion Demonstration & Benefits
What Skin Problems Can Microdermabrasion Address?
As mentioned above, there are a variety of benefits one can achieve with regular exfoliation treatments. Among the top indications for skin treatments are:
hyperpigmentation (sun spots, post-inflammatory scarring, or acne marks)
superficial acne scarring
dilated and enlarged pores
blackheads and whiteheads
acne
rough skin texture
wrinkles and fine lines
dull and sallow skin color
Microdermabrasion at Home: Aftercare Reminders
Microdermabrasion treatments rarely have downtimes. If you have extra sensitive skin though, these symptoms may appear but usually subside after a few hours.
If you have sensitive skin, your skin may feel pink and sensitive after. If not, but it so happens that you were a bit enthusiastic and went in for a setting above what your skin is used to, you can apply a cold compress to ease any discomfort.
Initially, do the treatment in wide intervals. Maybe once or twice a week until you feel comfortable using the products on a more regular basis.
You can perform your regular skin regimen right after. If you have sensitive skin, apply your topical products only after the redness has faded.
Try to avoid direct sunlight a few hours after treatment. That's fresh new skin, you don't want to expose it to damage so soon!
Use a sunscreen suitable for your skin type with a minimum SPF of 30
References:
Karimipour, Darius J. M.D.; Karimipour, Gholamreza M.D.; Orringer, Jeffrey S. M.D. Microdermabrasion: An Evidence-Based Review, Plastic and Reconstructive Surgery: January 2010 – Volume 125 – Issue 1 – p 372-377 doi: 10.1097/PRS.0b013e3181c2a583
Samuel J. Beran, MD, Robert W. Bernard, MD, Microdermabrasion, Aesthetic Surgery Journal, Volume 20, Issue 3, May 2000, Pages 238–239, https://doi.org/10.1016/S1090-820X(00)70023-9
Mariane Fernandes, Nanci Mendes Pinheiro, VirgÍnia Oliveira Crema & Adriana Clemente Mendonça (2014) Effects of microdermabrasion on skin rejuvenation, Journal of Cosmetic and Laser Therapy, 16:1, 26-31, DOI: 10.3109/14764172.2013.854120
KIM, H.S., LIM, S.H., SONG, J.Y., KIM, M.-Y., LEE, J.H., PARK, .J.G., KIM, H.O. and PARK, Y.M. (2009), Skin barrier function recovery after diamond microdermabrasion. The Journal of Dermatology, 36: 529-533. https://doi.org/10.1111/j.1346-8138.2009.00695.x
Microdermabrasion at home—A clinical assessment, Journal of the American Academy of Dermatology, Volume 52, Issue 3, Supplement, 2005, Page P30, ISSN 0190-9622, https://doi.org/10.1016/j.jaad.2004.10.134. (https://www.sciencedirect.com/science/article/pii/S0190962204029056)
Vahlquist A, Törmä H. Ichthyosis: A Road Model for Skin Research. Acta Derm Venereol. 2020 Mar 25;100(7):adv00097. doi: 10.2340/00015555-3433. PMID: 32147743.
Augustin, M., Wilsmann-Theis, D., Körber, A., Kerscher, M., Itschert, G., Dippel, M. and Staubach, P. (2019), Diagnosis and treatment of xerosis cutis – a position paper. JDDG: Journal der Deutschen Dermatologischen Gesellschaft, 17: 3-33. https://doi.org/10.1111/ddg.13906
Greco MJ, Bhutta BS. Seborrheic Keratosis. [Updated 2021 Aug 11]. In: StatPearls [Internet]. Treasure Island (FL): StatPearls Publishing; 2022 Jan-.