Choosing a Safe & Effective IPL Device
As the global market for at-home hair removal devices expands, brands have been rising to meet the growing demand for innovative solutions.
As estheticians, we always try to stay current with any advancements in the beauty industry.
Over the years, we've extensively reviewed over 35 at-home hair removal devices here at Healthybeautiful.
We've collated all our data for this safety study and created this comprehensive guide to serve as your universal reference.
Our goal is to provide you with the expertise you need to make an informed decision about buying IPL devices.
You'll learn about all the safety concerns associated with using them at home.
Our experts, including estheticians, laser technicians, and dermatologists, provide a professional perspective on what constitutes "best practice" so you can minimize risk while maximizing efficacy.
From Professional Laser Hair Removal Services to Home-Use IPL Devices
Video: The technology behind Tria's Hair Removal Laser | Tria Beauty®
Since the invention of the safety razor in the late 18th century, personal care product companies have continuously worked to create safe and effective hair removal tools.
To meet the needs of domestic consumers wishing to remove unwanted hair in the privacy of their own homes and at a price cheaper than a professional service, several leading manufacturers have developed low-powered, miniaturized laser and intense pulsed light (IPL) systems.[1]
The shift from professional oversight to consumer use has led to the need for these devices to be "smart" to minimize the risk of accidental injury.[2, 3]
Table 1: A Historical Overview of Energy-Based Devices For Home Use
| Year | Historical Development of Companies Producing Home-Use Energy-Based Devices |
| --- | --- |
| 2003 | A $7 million collaboration agreement was signed with Gillette® to develop a home-use hair removal device that uses Palomar's professional laser hair removal patent portfolio. Cynosure acquired Palomar in 2013. |
| 2003 | In 2005, Tria Beauty, Inc. launched its hair removal device in Japan, which was consequently approved by the FDA in 2008. |
| 2003 | Vincent Brottier designed and launched the medically approved E-One hair removal device in 2007. |
| 2006 | In Europe, Dezac Group Ltd. launched its first at-home laser hair removal device |
| 2006 | Home Innovations Ltd launched the Silk'n® hair removal system. |
| 2007 | Syneron® Medical Limited developed a hair removal device named 'MeMyElos.' The company then signed a contract with P&G to develop home-use skin rejuvenation devices. |
| 2008 | The RéAura skin rejuvenation device and Lumea hair removal device were launched by Philips in 2010-2011. Philips has since formed a new, dedicated unit (Philips Light & Health) to develop next-generation light-based technology. |
| 2008 | With sales of >5 million units worldwide, Radiancy Inc. launched the no!no! hot wire device and became a TV shopping sensation. |
| 2009 | Unilever signed an agreement to develop wrinkle reduction devices for home use with Cynosure, Inc. |
| 2009 | The Remington home hair removal system was launched. |
| 2009 | P&G signed an exclusive distribution agreement with CyDen Ltd. after it launched the co-branded Boots SmoothSkin hair removal IPL. |
| 2011 | NASDAQ-listed Photomedex, Inc. acquired Radiancy, Inc. in a merger, making Radiancy a leading company in the industry |
| 2012 | French Groupe SEB joined the market with its own IPL hair removal device |
| 2014 | A joint venture has been formed between Unilever Ventures, Ltd. and Syneron, under the name Iluminage, Inc. Starting with the Skin Smoothing Laser launched in March 2014, all Syneron home-use devices will be sold through Iluminage, Inc. |
| 2016 | As part of P&G's brand, the company introduces Braun Silk-Expert, a high-speed IPL hair-removal device with the fastest IPL technology on the market. |
| 2018 | JOVS launched their first home hair removal device, VenusPro HIPL. It is the first device of its kind to combine ergonomically designed hair removal and skin care technology. Their latest, launched in 2023, is the Venus Pro II. |
While regulations do exist for these devices, they can vary by region.
There are various international guidelines that ensure the safe manufacturing, marketing, and use of these devices for cosmetic laser hair removal and photorejuvenation.
However, this lack of global standards for performance parameters of light-based devices for home use has led to some products being sold without reliable data on safety and efficacy.[4]
In addition, educating the consumer about light-based treatments is more complicated than traditional methods of DIY depilation, like waxing and shaving.
This comprehensive guide can serve as your reference for the safe use of your home-use IPL device.
Related: Is At-Home Laser Hair Removal Safe? The Complete Safety Checklist for IPL Devices
It includes a technical measurement methodology that focuses on critical parameters for safe use.[5] It also involves evaluating the performance and safety claims of various at-home hair removal devices.
Different brands can choose to highlight various safety measures. However, the general safety issues and the risks are the same. This applies to you and people in your vicinity while using the device.
An overview of the published technical performance of various home-use hair removal devices is presented, along with a discussion of the effective use of light-based technology.
A total of nine currently available IPL devices and one laser device for hair removal procedures are identified in this study.
Related: The Best Home Laser & IPL Hair Removal: Esthetician's Choice
Unwanted Facial & Body Hair
Video: Why Do Women Get Facial Hair? | Expert Advice by Dr. Bindu Sthalekar, Dermatologist & Cosmetologist
Unwanted body and facial hair can be a frustrating issue for many people. 
While it can be caused by certain medical conditions, such as hypertrichosis (excessive hair growth on any part of the body) and hirsutism (excessive hair growth in areas of the body that are sensitive to androgens, such as in women), it can also be a symptom of other underlying issues like endocrine disorders, malnutrition, medication, and tumors.[7]
Please be aware that these medical conditions require advice and treatment from a healthcare professional. 
Home-use hair removal devices should be used only for cosmetic purposes and not as a substitute for professional medical treatment.
They can be used to improve one's cosmetic appearance but results can vary depending on the presence of underlying medical abnormalities.
How Does IPL Work? The Principles of Photobiology
Video: How Does IPL work? by SmoothSkin IPL Hair Removal
Laser hair removal is a cosmetic procedure that utilizes light energy to destroy hair follicles and prevent hair growth. Melanin in the hair absorbs this light, causing the temperature to rise and damaging the hair follicles.
The manufacturers of laser hair removal devices have found ways to ensure that the light energy is specifically absorbed by your hair and not by the surrounding skin. 
This is achieved using specific wavelengths, energy densities, and pulse durations that selectively target hair follicles without harming the surrounding tissue. This process is referred to as selective photothermolysis.[8]
Note that the mechanism of action behind laser hair removal remains the same whether the procedure is performed in a professional setting or in the comfort of your own home. 
However, IPL devices tend to have lower energy levels, which may lead to fewer side effects. Nevertheless, safety precautions should still be taken when using these devices at home.[9]
Standards & Regulations
There are different standards and regulations for hair removal devices in other parts of the world.
FDA clearance or approval and the European CE Mark are the most recognized safety certifications for light-based hair removal devices. 
FDA clearance indicates that the device is determined to be safe and effective for its intended use.[10]
The CE Mark indicates that the device meets the safety and performance requirements of the European Union.[11]
Other certifications, such as TGA in Australia, Health Canada, and other country-specific certifications, are also considered reputable and recognized.
The JOVS Venus Pro, for instance, has 11 safety certifications from different countries, making it one of the safest laser hair removal devices on the market today.
The most prominent international safety certifications to look out for are:
Food and Drug Administration (FDA) 
European CE Mark
RoHS Compliance
SGS Certified
PSE Certification for Japan
European Health, Safety, and Environmental Protection Standard Compliance
Therapeutic Goods Administration (TGA) in Australia
Medical devices vs. Cosmetic products
In the United States, home-use hair removal devices are considered medical devices. 
They need to be approved by the Food and Drug Administration (FDA) before brands can sell them over the counter to consumers. 
However, these devices are considered cosmetic products in the European Union and are regulated differently.
This standard applies to all medical devices, whether consumers or professionals use them.
Which laser standards apply in the US?
The FDA, or the Food and Drug Administration, is responsible for ensuring the safety of laser hair removal devices in the United States. 
They have agreed to comply with specific guidelines set by the International Electrotechnical Commission (IEC) for laser safety, which most countries follow. 
However, the US also has guidelines set by the American National Standards Institute (ANSI) and the Center for Devices and Radiological Health (CDRH).
Recently, the FDA decided to adopt some of the IEC guidelines instead of the ones established by ANSI and CDRH. This means that the US will now use some of the IEC guidelines. 
This change intends to reduce the regulatory burden on manufacturers and the FDA, but it also means that laser manufacturers must comply with both IEC and FDA guidelines.
Manufacturers of laser hair removal devices intended for OTC (over-the-counter) use in the US must comply with the IEC 60825-1 (Safety of laser products – Part 1: Equipment classification and requirements) and IEC 60601-1-11:2010 (Medical electrical equipment Part 1–11: General requirements for basic safety and essential performance. Collateral standard: Requirements for medical electrical equipment and medical electrical systems used in the home healthcare environment) as well as the regulations outlined in 21 CFR §1040.10 and §1040.11. 
As previously mentioned, the FDA considers these medical devices. Therefore, they must comply with established guidelines and regulations to be approved for consumer sale. You can find more information on these regulations on the FDA's website.
Which laser standards apply in Europe?
When it comes to hair removal devices in Europe, they follow the standards set by the International Electrotechnical Commission (IEC) and ratified by CENELEC. 
The standard IEC 60601-2-57 for intense light devices, confirmed in April 2011, applies to these devices.
Manufacturers of home-use laser and intense light devices should follow these guidelines until a dedicated standard for home-use devices is developed. 
These standards are legally binding in Europe once recognized as 'harmonized standards' and listed in the Official Journal of the EU. This means manufacturers can claim that their products conform to the associated European Directives.
Some of the fundamental standards manufacturers should follow include the following:
IEC 60825-1 (Safety of laser products – Part 1: Equipment classification and requirements)
IEC 60601-1 (Medical electrical equipment – Part 1: General requirements for basic safety and essential performance)
IEC 60601-2-22 (Medical electrical equipment – Particular requirements for basic safety and essential performance of surgical, cosmetic, therapeutic, and diagnostic laser equipment)
IEC 60601-2-57 (Medical electrical equipment – Part 2-57: Particular requirements for the basic safety and essential performance of non-laser light source equipment intended for therapeutic, diagnostic, monitoring, and cosmetic⁄ aesthetic use)
ICNIRP Guidelines on exposure to broadband incoherent optical radiation.
Manufacturers must keep their devices up-to-date with safety standards and guidelines to sell them in the European market. They must ensure that their devices comply with any changes to these requirements.
Measuring Laser and IPL Devices
Understanding how lasers and IPL devices work can help you use them safely and effectively. 
We have found that five key measurements need to be taken: 
Standardizing these measurements guarantees that the devices are working correctly and that treatments are consistent and safe.
Energy fluence
Video: Energy density or Fluence
Energy measurement, or fluence, is the amount of light energy delivered per unit area and is measured in Joules per square centimeter.
Having the right amount of energy when using personal hair removal devices is essential.
Too much power can cause burns or blisters, while too little can lead to undertreatment and user dissatisfaction.
Manufacturers should be able to demonstrate repeatable and consistent energy measurements for IPL devices.
The consumer, in turn, should be able to easily select the settings for the appropriate power meter. Everything else should fall in line, including an absorber head that can accommodate the device's wavelength range, pulse duration, and energy range.
Home-use IPL devices typically release an average of 6-25 Joules of energy over a 2.5-60 millisecond time frame, in the wavelength range of 450-1200 nanometers, and cover treatment areas of 2-6 square centimeters.
The Tria 4x Diode Laser is in the highest range with a maximum energy output of 22 Joules per square centimeter. It has pulse durations of up to 600 milliseconds, and a treatment area of 0.79 square centimeters. In terms of power alone, this device is the most similar to professional medical equipment available on the market.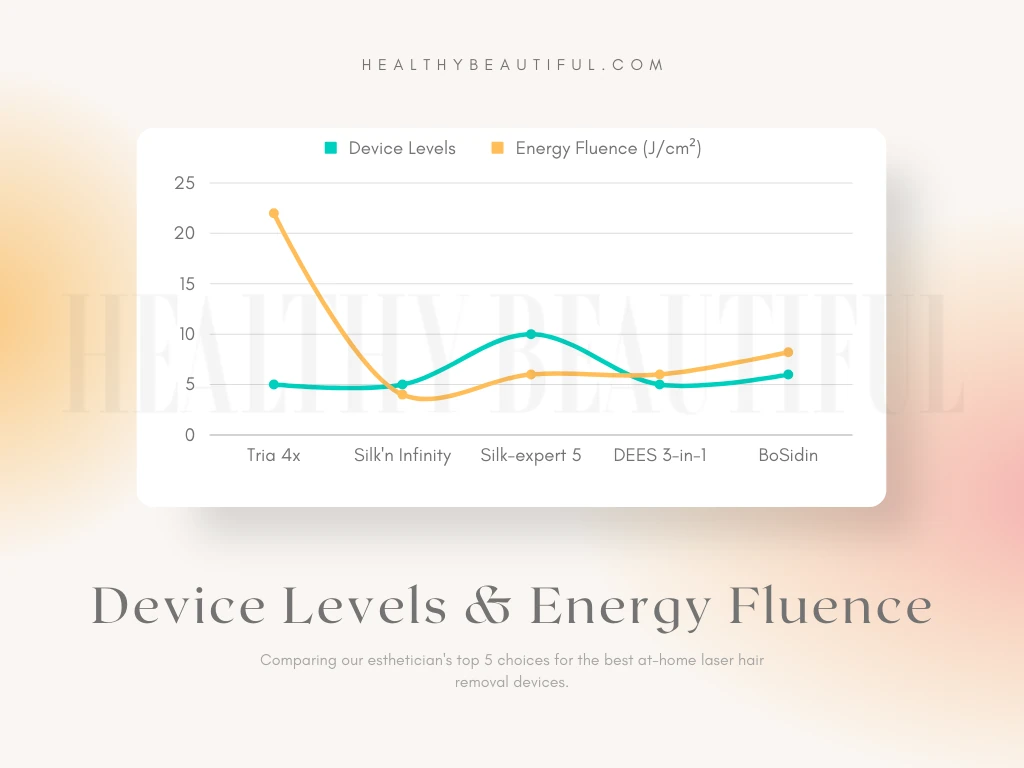 Note: All devices utilize optical energy except for the Tria 4x, which uses a diode laser.
Note that the benchmark is reliant on energy fluence. E.g., Tria's 5 power levels are distributed over a wide energy fluence of 6-22 J/cm². This means every level has a considerable jump in intensity compared to Braun's 10 levels, where it maxes out at just 6 J/cm²
The Tria 4x significantly increases in intensity as you go from level 1 to 5.
Spot size / Spatial distribution
Spatial distribution, also known as homogeneity in tissue, refers to how evenly the laser or IPL device distributes light on your skin.
If the light is not distributed evenly, it can lead to overtreatment in certain areas and undertreatment in others. This can cause skin burns, discoloration, and patchy hair growth.
To get the most out of the procedure, the spot size should be larger than the depth of the light penetrating the tissue, which is typically 5-10 nanometers.
In terms of safety, a larger spot size can increase the risk of burns or other skin damage. This is because each pulse exposes a larger area of your skin to light energy. On the other hand, a smaller spot size allows for more precise targeting of hair follicles and reduces the risk of skin damage.
In terms of efficacy, larger spot sizes can quickly cover more skin areas, which can be beneficial for treating large areas such as the legs or back. However, a smaller spot size allows for more precise targeting of your hair follicles, which can lead to better results.
Some devices have a standard window size for all body parts, while others have interchangeable caps for more tailored treatments.
Make sure to choose a device with a spot size that is appropriate for the area of skin that you wish to treat.
Premium devices like the Braun Silk-Expert Pro 5 and the JOVS Venus Pro have multiple caps for different areas of the body.
Check that the device is operated correctly and with appropriate safety precautions.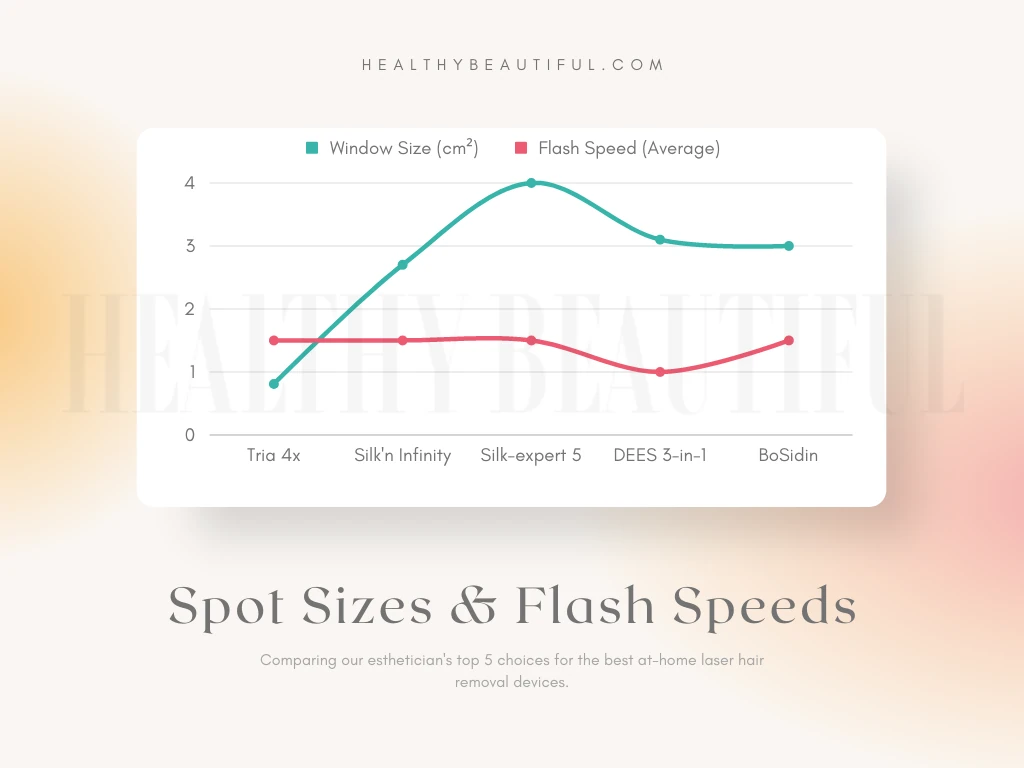 Spot Sizes and Flash Speeds will be good indicators of how long each of your sessions will last.
Pulse duration
Pulse duration is the time a pulse of light lasts when it hits the skin. 
The ideal pulse duration should be close to the time it takes for the target chromophore (a substance that absorbs light) to cool down. 
Studies have shown that higher hair clearance rates happen when the pulse duration is close to, or longer than, the thermal relaxation time of the hair follicle. 
However, if the pulse duration is too long, the heat can spread to surrounding tissue, increasing the risk of side effects. 
On the other hand, if the pulse duration is too short and the energy level is too high, it can also cause side effects.
Different laser and IPL devices from different manufacturers have different pulse durations. Some use true single pulses or use two or more sub-pulses to extend the overall pulse duration to allow for thermal relaxation in the skin.
Ideally, the pulse duration should be adjustable as different chromophores have different thermal relaxation times. This way, the device can match the right pulse duration to target the correct chromophore.
Most devices have similar pulse durations. 
The exception is JOVS Venus Pro, which utilizes a unique technology called Multi-Frequency Continuous Pulse Technology (MFCPT). 
Using MFCPT, you're firing energy at a lower intensity but doing it rapidly, so your hair is slowly accumulating thermal damage to the root. This increase in pulse duration shortens thermal relaxation time (TRT), and sustains effective photothermal damage to the follicle.
This technique reduces discomfort for sensitive skin and low pain tolerance while keeping clinical efficacy.
Spectral output 
Different parts of the skin, called chromophores, absorb different colors of light. 
This means specific light colors are better for treating certain conditions than others. 
For example, there are wavelengths better for hair removal, while others are better for skin rejuvenation. 
The wavelength or range used should also consider the absorption of all chromophores to avoid any damage to the skin. 
Knowing the spectral output of IPLs also helps to understand the emitted wavelengths, such as ultraviolet and infrared radiation, which can pose immediate and long-term health risks.
Wavelength
Video: IPL systems, Wavelengths, and How to choose the right filter
Intense pulsed light (IPL) and laser hair removal use light energy to remove hair but use different types of light.
Laser hair removal uses a single, specific wavelength. The most commonly used wavelength for laser hair removal is 810nm. This wavelength is absorbed by the melanin pigment in the hair and causes thermal damage to the hair follicle, inhibiting hair growth. Other wavelengths, such as 755 nm, 1064 nm, and others, can also be applied depending on skin type and hair color.
IPL is broad-spectrum light scattered over a range of wavelengths between 500-1200 nm, absorbed by the melanin in the hair follicle and the surrounding tissue. IPL hair removal devices use a wide range of wavelengths, which makes them less specific than laser hair removal. If not used correctly, this can result in side effects like burns and pigmentation.
The right laser wavelength for you depends on your skin tone and hair follicle depth.
Lighter skin responds best to shorter wavelengths, while darker skin responds best to longer ones.
The Silk'n Infinity has the longest wavelength among all at-home hair removal devices. It is also one of the few able to treat Fitzpatrick VI, the darkest of complexions.
In terms of depth, your hair follicles can reach between two and seven millimeters beneath the skin. Targeting them with different wavelengths is the most effective way to achieve the best results.
The JOVS Venus Pro has a function that has custom settings for each body part. Assumingly, longer wavelengths are used for areas with deep, thick hair, like the axilla and bikini, while shorter wavelengths are used for other sites.
For light-colored and fine hair, a laser with a high attraction to melanin works best, while for darker and thicker hair, a laser with a low attraction to melanin is typically the most effective choice.
Note: All devices utilize optical energy, except for the Tria 4x which uses a diode laser.
Eye Safety and Ocular Damage
Video: Laser safety and Eye protection before treatment
When using laser or intense pulsed light (IPL) devices at home, be aware of the potential risks to your eyes. 
These risks include damage from photochemical, photomechanical, or photothermal effects. Photothermal damage is most likely to occur with near infrared (laser) and IPL emissions, but photochemical damage is also possible.
Manufacturers of home-use laser and IPL devices should be responsible for providing safe eyewear, but most do not. IPL glasses are usually left to the consumer to purchase as an additional safety measure. 
Manufacturers also claim that protective eyewear is not necessary because the light is self-contained within the device. Nevertheless, it would be prudent to consider it a risk factor for eye damage.
There are standards for protective goggles or glasses for different laser classes, but there is currently no international safety eyewear standard for IPL devices.
Follow the manufacturer's instructions and use safety eyewear to minimize the risk of eye damage.
Additionally, avoid aiming the device directly at your eyes and be aware of any safety mechanisms that may be in place to prevent accidental exposure.
Retina, Cornea, and Lens
The retina is a highly vascularized tissue located at the back of the eye. It is responsible for converting light into electrical signals sent to the brain, allowing us to see. The cornea is the transparent outer layer of the eye that helps focus light. The lens is located behind the iris and helps focus light further.
When it comes to non-cosmetic domestic laser products, even a laser pointer with an output greater than 5mW can potentially cause permanent retinal damage. This is because the energy from the laser can be focused by the cornea and lens. This results in a high power density that can cause thermal damage to the highly pigmented and vascularized retinal tissues. 
Retinal injury can range from a peripheral blind spot to partial or total blindness.
IPL (Intense Pulsed Light) devices are different in that the light they produce is highly divergent and cannot be focused by the lens in the eye to a small point on the retinal epithelium. 
IPLs should also not include ultraviolet (UV) light, which can cause cataracts and permanent damage to the cornea and lens over time.
Blue Light Hazard
Most home-use IPLs emit a minimal amount of light in the spectrum's 400-550 nm (blue/green light) region. 
However, this light can be transmitted to the back of the eye and absorbed by the retinal pigments. 
This results in a temperature rise in the retina and the highest probability of inducing permanent ocular damage.
Infrared Hazard
Lasers and IPLs that produce wavelengths in the higher wavelength region of the spectrum (above 1400 nm) can cause corneal burn. 
Additionally, wavelengths above 750 nm and below 400 nm can cause lens cataracts and photochemical damage to the cornea.
Iris
The iris is the colored part of the eye that surrounds the pupil and controls the amount of light that enters the retina. It is rich in melanin, a pigment that helps absorb light. 
However, if a narrow beam laser or highly divergent IPL (Intense Pulsed Light) device is used, it can cause damage to the iris sphincter muscle, which controls the amount of light that hits the retina. If this muscle is partially damaged, it can cause ocular hypertension, a long-term condition that can lead to visual distortion (glaucoma) and migraines.
The degree of thermal absorption that may occur in the iris depends on the amount of melanin pigment in the iris. The iris acts not only as an optical filter but also as a very efficient diffuser of the light beam. 
For light to be absorbed in the pigmented layers of the iris, it first has to pass through the thin eyelid skin, the cornea, the anterior chamber of the eye, and the anterior surface of the iris muscle.
Although no eye injury cases have been reported following home-use laser or IPL treatments, several instances of iris damage following professional IPL treatments have been recorded in the literature. 
In one of these cases, a 2-year-old patient was treated for a facial port wine stain using a high-powered medical IPL system with a 550-1000 nm filter, which delivered 14,000 watts of pulse power.
 As these are rare recorded cases showing ocular injury and the use of IPL technology is so widely used, it can be concluded that the incidence of documented professional IPL ocular injury is very low.
Safety Measures
Most home-use IPLs do not include a water filter that would reduce emissions from a xenon flash lamp at higher wavelengths above 900 nm. 
Therefore, IPL manufacturers need to measure irradiance and calculate exposure limit values (ELVs) to ensure that published safety thresholds are not exceeded.
Note that this hazard could only occur if the skin contact safety mechanism failed or was accidentally or intentionally defeated.
To avoid the risk of permanent damage to the retina, lens, or cornea of the human eye through accidental or intentional misuse of home-use devices, manufacturers test their devices to ensure that they meet current safety standards. 
Protective eyewear is essential to prevent ocular damage if a device is not compliant with these standards.
Risk of Skin Damage vs. Efficacy
Video: Laser/IPL Hair Removal – Choosing the correct fluence and the importance of skin colour
It is well known that side effects can occur when using laser and IPL (Intense Pulsed Light) devices for hair reduction and other skin treatments, even when trained and qualified healthcare professionals use them. 
These side effects can range from discomfort and pain to burns and scars. It is, therefore, not surprising that home-use devices, which also use selective photothermolysis to produce positive treatment results, can also cause some adverse incidents.
When it comes to hair reduction and extended hair regrowth delay, threshold values for efficacy have been established by Manstein et al., and several studies have reported positive results from using home-use or simulated home-use treatments.
In these studies, an average of 40% hair reduction was seen after as few as three sequential weekly or bi-weekly treatments. Mild to moderate transient erythema (redness) was the most commonly reported adverse effect, followed by varying levels of discomfort or pain. 
However, in one study, the incidence and severity of adverse effects increased significantly when the device was used on a subgroup of unsuitable skin types.
Note that any treatment using a device or chemical compound will have side or adverse effects. The risk of these side effects is determined by the energy produced by the device, the skin type of the user, and how the device is used. 
Contraindications & Side Effects
Temporary Side Effects
If you use a laser or IPL device, you may experience a few temporary side effects. 
These include:
Soreness, edema (swelling), redness, or irritation can be treated with appropriate patient advice and medication if needed. 
For crusting, you can use healing ointments if this happens.
Mild to moderate pruritus (itching) usually settles over 1-3 days but may require medication to relieve the itching.
Skin pigment changes are possible, both hyperpigmentation and hypopigmentation (lightening of the skin). However, these changes are usually temporary and may take weeks or months to resolve completely.
Hyperpigmentation (darkening of the skin) is usually temporary, but you should check the correct device settings for your skin type before further home treatments. Other causes include sun exposure before or after use, spray tan, concomitant use of other hair removal methods, or photosensitive drugs or herbal remedies.
Leukotrichia (bleaching of the hair) is a rare side effect that is generally associated with using professional, high-energy devices. The effect is usually temporary, and normal hair color returns in 1-4 months.
Herpes simplex activation requires appropriate medication.
If the user has had any side effects from self-treatment, an assessment should be made of whether it was due to the treatment or subsequent activities. 
If there has been less improvement than expected, or if no further clearing is likely to occur with additional treatments, you should seek medical advice and professional treatment if appropriate.
Paradoxical Hair Growth
In some cases, optical hair removal treatment can have the opposite effect and stimulate hair growth in treated areas. This is called paradoxical hair growth and is usually associated with a condition called polycystic ovarian syndrome (PCOS). 
The incidence of paradoxical hair growth in professional treatments ranges from 0.6% to 10%. Even though PCOS is listed as a contraindication by some home-use device manufacturers, people with PCOS will likely still use light-based consumer devices, which can lead to the activation of dormant hair follicles in areas close to the treated areas.
Individuals with darker skin types (III-VI) who receive facial treatments are more susceptible to this side effect. In most cases, paradoxical hair growth occurs in areas with a high vellus count (fine, short, and light-colored hair) and relatively free of terminal hairs, such as adjacent to untreated facial areas or the neck. 
All laser and light sources have the potential to cause hair induction. This is because there is no clear relationship established between the types of hair removal devices or the fluence used and the incidence of paradoxical hair growth. 
Possible causes include the effect of inflammatory mediators and sub-therapeutic thermal injury causing induction of the hair cycle.
In some cases, hair growth has also been reported to occur after professional IPL treatment for removing a port wine stain or a tattoo. 
Clinical experience suggests stopping treatment in cases of paradoxical hair growth. Traditional hair removal methods, such as waxing, should be used instead.
Laser hair removal and pigmented skin lesions
Avoid exposing skin lesions that contain heavy melanin, such as congenital melanocytic nevi and dysplastic nevi, to laser and IPL hair removal treatments. This is because it can cause burns or scarring. 
There are several types of pigmented skin lesions. Some of the most common ones include:
Melasma — This condition causes dark, discolored patches on the skin, typically on the face.
Freckles — These are small, flat, tan, or reddish-brown spots that can appear on the skin, typically in areas exposed to the sun.
Lentigines — These are age spots or liver spots and are flat, brown, or black spots that can appear on the skin, typically in areas exposed to the sun.
Nevi — These are known as moles and are benign (non-cancerous) growths on the skin. They can be various shades of brown and can be raised or flat.
Melanoma — This type of skin cancer develops in the cells that produce pigment in the skin. It usually appears as a dark, irregularly shaped mole.
Seborrheic keratosis — These benign growths look like warts and can be shades of brown, black, or tan.
Additionally, there have been reports of the appearance of clinically atypical nevi when nevus cells were treated in areas previously treated for hair removal. 
If you have a history of dysplastic nevi or a family history of malignant melanoma, it's imperative to keep this in mind. 
Do not treat areas with melanocytic nevi for hair removal.
Laser hair removal and tattoos
If you have tattoos and are considering laser or IPL hair removal treatment, you should be aware of their potential risks and complications. 
This poses several problems:
The optical energy used in these treatments can potentially cause fading of the tattoo
Absorption of the photons by the tattoo ink leads to reduced efficacy of hair removal
Potential adverse effects such as burning, pigment changes, or scarring. 
We recommend avoiding treating skin for hair removal in areas where tattoos are present to prevent these potential complications.
Laser hair removal and pregnancy
No documented studies have specifically evaluated the safety of laser or IPL hair removal during pregnancy.
Without any evidence or technical rationale to suggest that the treatment would affect fetal development or pregnancy, it's difficult to determine whether or not it is safe to undergo these procedures while pregnant.
Additionally, testing on pregnant women for cosmetic purposes is considered unethical, so no company has conducted any studies in this area.
To be safe, avoiding laser and IPL hair removal during pregnancy is advised.
Laser hair removal and sun exposure
Avoid sun exposure before and after your laser or IPL treatment. 
Sun exposure can make your skin more sensitive and affect the effectiveness of your treatment. 
Additionally, after your treatment, use a broad-spectrum sunscreen that protects against both UVA and UVB rays with an SPF of 15 or higher.
This will help protect your skin from any sun damage.
Laser hair removal and compromised skin
Compromised skin is skin that is injured, inflamed, or infected. It is more fragile and less able to withstand certain procedures, including laser or other light-based hair removal. 
Compromised skin can take on many different forms depending on the underlying cause.
However, some common signs of compromised skin include:
Redness, inflammation, or swelling
Rashes, blisters, or sores
Itching, burning, or pain
Dry, flaky, or scaly skin
Discoloration or uneven pigmentation
Open wounds or cuts
Thickened or hardened skin
Sunburn or sun damage 
Note that compromised skin can also be caused by underlying medical conditions such as eczema, psoriasis, or skin cancer.
If you are unsure whether your skin is compromised, it's best to consult a dermatologist who can examine your skin and provide a proper diagnosis.
It's necessary to be extra cautious when your skin is compromised. Ensure that your skin is in the best condition before proceeding with any hair removal treatments.
Avoid using home-use lasers or IPLs until your skin has fully healed.
Laser hair removal and drug intake
Some pharmaceuticals can cause heightened sunlight sensitivity, leading to adverse side effects after treatment.
There are also a small number of botanicals and drugs that have the potential to cause a reaction when exposed to visible wavelengths.
Several over-the-counter (OTC) drugs can cause increased skin sensitivity to light. Some examples include:
St. John's Wort: This herb is commonly used as a natural remedy for mild to moderate depression. It can cause increased sensitivity to sunlight, resulting in sunburns and other sun-related skin reactions.
Nonsteroidal anti-inflammatory drugs (NSAIDs): Drugs such as ibuprofen and naproxen, commonly used to reduce pain and inflammation, can cause increased sensitivity to sunlight.
Certain antibiotics: Tetracyclines, a class of antibiotics commonly used to treat various infections, can make skin more sensitive to sunlight.
Birth control pills: Some birth control pills have been known to increase skin sensitivity to light, increasing the risk of sunburns and other sun-related skin reactions.
Acne medications: Medications that contain retinoids, such as isotretinoin, can make skin more sensitive to light and increase the risk of sunburns and other sun-related skin reactions.
Several prescription drugs can cause increased skin sensitivity to light in addition to over-the-counter (OTC) drugs. Some examples include:
Antidepressants: Certain antidepressants, such as selective serotonin reuptake inhibitors (SSRIs), can make skin more sensitive to sunlight.
Blood pressure and heart medications: Drugs such as ACE inhibitors and diuretics can cause increased sensitivity to sunlight.
Chloroquine and Hydroxychloroquine: These drugs are used to prevent and treat malaria and are also used in autoimmune disorders like lupus, rheumatoid arthritis, and others. They can cause increased sensitivity to sunlight.
Immunosuppressant drugs: Drugs such as methotrexate, cyclosporine, and azathioprine, which are used to suppress the immune system, can make skin more sensitive to sunlight.
Cancer chemotherapy drugs: Many chemotherapy drugs can cause increased sensitivity to sunlight, leading to an increased risk of sunburns and other sun-related skin reactions.
Note that these are just a few examples and other medications that may cause increased skin sensitivity to light. 
Check the package insert of any medication you're taking for any side effects involving skin sensitivities. You can also check with your physician so that they can advise you accordingly.
Phototoxicity
Phototoxicity in laser hair removal is less likely to occur with a single-wavelength laser than with a broadband IPL.
The majority of home-use hair removal lasers operate in the near-infrared at 810 nm, where phototoxicity is not a concern.
However, IPLs with spectral emissions in the 450-550 nm range have a higher potential for phototoxicity.
There are two ways in which a drug or cosmetic might interact with light-based therapy:
The drug or cosmetic absorbs light, resulting in a phototoxic reaction. However, current medications and cosmetics do not absorb wavelengths emitted by visible/IR lasers or IPLs, so this is unlikely to happen.
The drug or cosmetic changes the structure or function of the skin, making it more sensitive to light-based therapy. For example, isotretinoin, a drug used to treat severe acne, has been known to cause increased skin sensitivity. Studies have shown that diode laser hair removal is safe for patients undergoing isotretinoin therapy, but this may not be the case for other types of lasers.
Laser hair removal and Isotretinoin
Several studies have been done on laser hair removal and its effects on patients taking Isotretinoin. Isotretinoin is a prescription drug used to treat severe acne.
In one study, a researcher followed seven female patients taking Isotretinoin and undergoing laser hair removal treatment. The study found that patients experienced mild redness after treatment but no other negative side effects. 
Another researcher conducted a similar study with six patients and found similar results.
These studies suggest that laser hair removal treatment is safe for patients taking Isotretinoin. However, remember that these studies were limited, and more research is needed to confirm these findings. 
Isotretinoin has also been reported to cause keloid formation and slow down the healing process after laser treatment. You need to be aware of these potential risks when considering laser hair removal if taking Isotretinoin.
Long-term side effects
In rare cases, patients may experience permanent hypopigmentation or even scarring. 
If this occurs, it's crucial to stop any further at-home treatments and seek professional medical advice. 
While some research has been done on the topic, it's worth noting that long-term side effects have yet to be extensively studied.
---
References:
Haedersdal, M., F. Beerwerth, and J. F. Nash. "Laser and intense pulsed light hair removal technologies: from professional to home use." British Journal of Dermatology 165 (2011): 31-36.
Hession, Meghan T., Alina Markova, and Emmy M. Graber. "A review of hand-held, home-use cosmetic laser and light devices." Dermatologic Surgery 41.3 (2015): 307-320.
Town, Godfrey, et al. "Light‐based home‐use devices for hair removal: Why do they work and how effective they are?." Lasers in Surgery and Medicine 51.6 (2019): 481-490.
Town, Godfrey, and Caerwyn Ash. "Are home-use intense pulsed light (IPL) devices safe?." Lasers in medical science 25.6 (2010): 773-780.
Town, Godfrey, and Caerwyn Ash. "Measurement of home‐use laser and intense pulsed light systems for hair removal: Preliminary report." Journal of Cosmetic and Laser Therapy 11.3 (2009): 157-168.
Town, Godfrey, Ron Petersen, and Dominique Du Crest. "The recent rapid development of the directed-energy, home-use device sector." European Medical Journal 2 (2014): 50-55.
Dessinioti, Clio, and Andreas D. Katsambas. "Hirsutism and hypertrichosis." European Handbook of Dermatological Treatments. Springer, Berlin, Heidelberg, 2015. 385-396.
Lee, Jae Dong, and Min Jin Maya Oh. "Intense Pulse Light (IPL) and Extended Theory of Selective Photothermolysis." Lasers in Dermatology: Parameters and Choice: With Special Reference to the Asian Population. Singapore: Springer Nature Singapore, 2023. 97-105.
Gold, Michael H., Amy Foster, and Julie A. Biron. "Low-energy intense pulsed light for hair removal at home." The Journal of clinical and aesthetic dermatology 3.2 (2010): 48.
Center for Devices and Radiological Health. (n.d.). 510(k) clearances. U.S. Food and Drug Administration. Retrieved January 23, 2023, from https://www.fda.gov/medical-devices/device-approvals-denials-and-clearances/510k-clearances
CE marking – obtaining the certificate, EU requirements – Your Europe. Your Europe. Published 2022. Accessed January 22, 2023. https://europa.eu/youreurope/business/product-requirements/labels-markings/ce-marking/index_en.htm