The Best Glycolic Acid Peel At Home – The Ultimate Review & Guide: Treatment for Acne, acne scars, post-inflammatory hyperpigmentation, dull skin texture, fine lines, sun damage, melasma.
Can you imagine instant, baby-smooth skin without breaking the bank?
Glycolic acid peels are amongst the most popular type of chemical peels used by dermatologists worldwide that is easy to replicate at home.
This it is a simple and inexpensive procedure that addresses a host of skincare issues like mild to moderate inflamed acne, acne scars, post-inflammatory hyperpigmentation (acne spots), melasma, dull skin texture, and sun damage among a host of others.
Another great advantage of glycolic peels is there is virtually no downtime, unlike other types of chemical peels. It also has keratolytic, anti-inflammatory, and anti-oxidant effects.
Glycolic acid has the smallest molecular weight amongst AHAs which makes for easy penetration to the skin. Products are available in varying concentrations and used depending on the skin type and tolerance.
The higher the concentration and lower the pH, the deeper and more intense the peel.
The depth of chemical peels depends on the concentration, number of coats, and length of time it stays on the skin before it's neutralized. This is why AHA peels can be used for superficial and medium depth peels.
As a guide, the % and classification of glycolic peeling are:
Very superficial – 10-50%, 1-2 minutes
Superficial – 50-70%, 2-5 minutes
Medium depth – 70%, 3-15 minutes
Always make sure to follow the enclosed instructions in the product to avoid accidents (it's still an acid after all!)
A combination of treatments with best glycolic acid peels can also be done for faster and improved results. For instance, if you're looking to get rid of acne scarring, you can use glycolic peels in combination with microdermabrasion.
How to Use Glycolic Acid Peels at Home
Chemical peels vary in type and strength.
When choosing which product to choose, there are several things you should keep into account:
Your skin sensitivity or tolerance to acids – This will determine what % or concentration you should choose. Glycolic peels are generally safe for all skin types with oily skin being the most resistant of all. Some people also have built resistance by having various forms of acids already in their skincare regimen. If you're new to peeling, it's best to start with the lowest concentration possible so you can avoid skin irritations. You can patch test a product before going all out as a precaution if you have sensitive skin. The list below is in ascending order or the lowest % to highest % for easier assessment.
Check your skin for scaly patches, any open sores, or lesions – Glycolic acid or tretinoin creams can exacerbate these issues. You'll need to be well healed before performing any type of chemical peel.
What skin problems you're looking to address (dull skin, pigmentation, etc.) – This will determine the necessary depth and frequency of treatments. Repeat the peeling session every 15 days for 4-6 months until desired results. If you're looking to correct imperfections that are deeper in the skin like melasma or acne scars, a series of medium to deep peels would be very beneficial.
You can prime your skin for increased peel efficacy – Using retinol or retinoids and skincare products with Vitamin C or hydroquinone before the peel can improve results and reduce the risk of hyperpigmentation (discoloration).
Understand the proper procedures – Using the right acid concentration, knowing the peel timing, performing pre-peel priming, neutralization, and having the proper peeling equipment will ensure great results and no potential side effects. The video below demonstrates that proper clinical procedure in implementing glycolic acid peels. Make sure to watch and understand, as well as read the instructions that come with the product you purchase.
Video: DermTV – In-Office Lunchtime Glycolic Peel Demo Dr. Schultz
Basic Application Method:
Clean and degrease the skin with a gentle cleanser
Protect the eyes, corner of the lips and nose with Vaseline
Apply glycolic acid solution using a cotton bud or a fan brush (e.g. Fan Brush Taklon 7.75″) following the video
Have your neutralizing agent (e.g. Planet Eden Organic Botanical Skin Chemical Peel Neutralizer) ready for application after the time limit
Use soothing gels like aloe vera, hyaluronic serums, gentle moisturizers, or hydrocortisone
If there is frosting at any time before the set time limit, neutralize the skin immediately.
Always start with the lowest concentration and work your way up once your skin has acclimated to the % concentration.
Disclaimer Notice

This website is for informational purposes and is not intended to be a substitute for professional medical advice, diagnosis, or treatment.

Recommendations are based on our research, results, a comprehensive analysis of the products' formulation, claims, and value for money. We make an effort to be as objective as possible and give advice in good faith; however, our reviews are 100% honest and therefore may still contain conjectures and opinions based on our personal experiences.

It's important to know that as with any product (especially cosmetics), what may be perfect for you may not be right for the next person. So as much as we want to guarantee that these will be everyone's next holy grail, results can still be affected by individual factors like your current skin condition, the environment you're in, use of the product, reaction to your other skincare, and so on. For best results, make sure to choose products that are suited for your skin type and skin issues.

At the end of every review, there will be a link for you to check current discounts and other customer reviews on Amazon. These, along with some other links that redirect you to third-party sites, are affiliate links where we earn a small commission if you do decide to make a purchase. This is at absolutely no extra cost to you and will help in maintaining the quality of the site.

There are millions of products and services that relate to beauty and health. However, we have and will only recommend products or services that we have had experience with or thoroughly investigated. Our content is not influenced by affiliates but by what we truly feel will deliver value to you. We are deeply passionate about health and wellness, and one of our goals is to help you make educated choices so you can get closer to your #skincare goals. 🙂

Thank you for visiting and here's to being the best version of yourself!

 Editor's Choice: The Best Glycolic Acid Peels At Home
---
We've chosen the best glycolic acid peels at home for every available % concentration based on our analysis, experience, specifications, value for money, and consumer reviews.
The list goes up in concentration as it goes on. If this is your first time incorporating acids in your regime, it's best to start with a low percentage and work your way up.
Best for: All skin types
Treatment for: Acne, acne scars, post-inflammatory hyperpigmentation, dull skin texture, fine lines, sun damage, melasma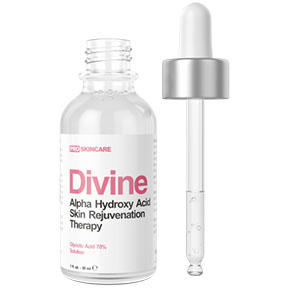 The Best Glycolic Acid Peel Kits
When you buy your first bottle of chemical peeling agent, you'll need to purchase other tools as well, like a brush applicator and a neutralizing agent among others.
You can save yourself the trouble and reduce any chances of buying the wrong one by getting a complete set instead.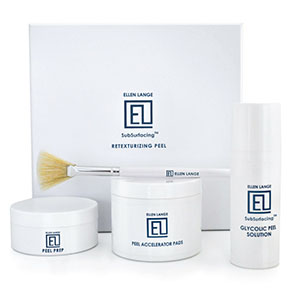 References
---
Alam, M. (2003). Glycolic Acid Peels. Archives of Dermatology, 139(9).
Divinederriere.com. (2018). Well-made, effective skincare that does what it says it does. 
Ellenlange.com. (2018). Best at home glycolic skin peels, chemical peels, microdermabrasion. 
Myplaneteden.org. (2018). Chemical Skin Peels | Skin Peels | Glycolic Acid Peels | TCA Peels | Lactic Acid Skin Peels | Salicylic Acid Skin Peels | Professional Results for Home Use. 
Perić, S. (2012). Effects of Local Usage of Glycolic Acid in the Treatment of Acne. 1st ed. Saarbrücken: LAP LAMBERT Academic Publishing.
Perfectimage.co. (2018). The Art of Skin Perfection – Perfect Image. 
Richards, S. (2008). Textbook OF Chemical Peels: Superficial, Medium and Deep Peels in Cosmetic Practice. Australasian Journal of Dermatology, 49(1), pp.63-64.
Sharad, J. (2013). Glycolic acid peel therapy – a current review. Clinical, Cosmetic and Investigational Dermatology, p.281.
Reviews:
★★★★★

based on

6

reviews
Overall rating:
"
Really cheap and effective way to get a weekly facial. I do the 10% peeling routine just before going to bed and cap it with the Avene cream. My skin is recharged for the week! Never felt the need to go back for a facial since since I started doing home peels.
"
"
The clinic I go to uses the Vivite brand!!! And they charge an arm and a leg for it! If I knew I could buy the same stuff OTC I would have done it myself!!
"
"
I'm going with the glycolix treatment, it seems very convenient and afforable to boot.
"
"
Acid peels everyday totally changed my skin. I recommend the pads because they're so easy to work with and great for sensitive skin.
"