The Best Glycolic Acid Peels at Home: Ultimate Review & Guide – Can you imagine instant, baby-smooth skin without breaking the bank?
Glycolic acid peels are amongst the most popular type of chemical peels used by dermatologists worldwide that is easy to replicate at home. It is used in conjunction with treatments for acne, acne scars, post-inflammatory hyperpigmentation, dull skin texture, fine lines, sun damage, melasma.
This it is a simple and inexpensive procedure that addresses a host of skincare issues like mild to moderate inflamed acne, acne scars, post-inflammatory hyperpigmentation (acne spots), melasma, dull skin texture, wrinkles, and sun damage or photoaging among a host of others.
Another great advantage of glycolic peels is there is virtually no downtime, unlike other types of chemical peels. It also has keratolytic, anti-inflammatory, and anti-oxidant effects.
Glycolic acid has the smallest molecular weight amongst AHAs which makes for easy penetration to the skin. Products are available in varying concentrations and used depending on the skin type and tolerance.
The higher the concentration and lower the pH, the deeper and more intense the peel.
The depth of chemical peels depends on the concentration, number of coats, and length of time it stays on the skin before it's neutralized. This is why AHA peels can be used for superficial and medium depth peels.
As a guide, the % and classification of glycolic peeling are:
Superficial Peels – 10-25%, 2-5 minutes
Medium Depth Peels – 50%-70%, 3-15 minutes
Deep Peels – Physician's only
Always make sure to follow the enclosed instructions in the product to avoid accidents (it's still an acid after all!)
A combination of treatments with best glycolic acid peels can also be done for faster and improved results. For instance, if you're looking to get rid of acne scarring, you can use glycolic peels in combination with microdermabrasion.
Disclosure: We independently research, test, and only recommend materials that we truly feel will deliver value to you. When you buy through our links, we may earn an affiliate commission. As an Amazon Associate, we earn from qualifying purchases. Learn more.
Chemical peels vary in type and strength.
When choosing which product to choose, there are several things you should keep into account:
Your skin sensitivity or tolerance to acids – This will determine what % or concentration you should choose. Glycolic peels are generally safe for all skin types with oily skin being the most resistant of all. Some people also have built resistance by having various forms of acids already in their skincare regimen. If you're new to peeling, it's best to start with the lowest concentration possible so you can avoid skin irritations. You can patch test a product before going all out as a precaution if you have sensitive skin. The list below is in ascending order or the lowest % to highest % for easier assessment.
Check your skin for scaly patches, any open sores, or lesions – Glycolic acid or tretinoin creams can exacerbate these issues. You'll need to be well healed before performing any type of chemical peel.
What skin problems you're looking to address (dull skin, pigmentation, etc.) – This will determine the necessary depth and frequency of treatments. Repeat the peeling session every 15 days for 4-6 months until desired results. If you're looking to correct imperfections that are deeper in the skin like melasma or acne scars, a series of medium to deep peels would be very beneficial.
You can prime your skin for increased peel efficacy – Using retinol or retinoids and skincare products with Vitamin C or hydroquinone before the peel can improve results and reduce the risk of hyperpigmentation (discoloration).
Understand the proper procedures – Using the right acid concentration, knowing the peel timing, performing pre-peel priming, neutralization, and having the proper peeling equipment will ensure great results and no potential side effects. The video below demonstrates that proper clinical procedure in implementing glycolic acid peels. Make sure to watch and understand, as well as read the instructions that come with the product you purchase.
Video: DermTV – In-Office Lunchtime Glycolic Peel Demo NYC dermatologist, Dr. Neal Schultz.
Basic Application Method:
Clean and degrease the skin with a gentle cleanser
Protect the eyes, corner of the lips and nose with Vaseline
Apply glycolic acid solution using a cotton bud or a fan brush (e.g. Fan Brush Taklon 7.75″) following the video
Have your neutralizing agent (e.g. Cellbone Neutralizer Skin pH Balancer, Planet Eden Organic Botanical Skin Chemical Peel Neutralizer, QRxLabs Chemical Peel Neutralizer) ready for application after the time limit
Use soothing gels like aloe vera, hyaluronic serums, non comedogenic moisturizers, or repair creams to maximize your skin healing and recovery (e.g. Hydrating Repair Peptide Wrinkle Cream (Post Peel), Glytone Soothing Lipid Recovery Cream)
If there is frosting at any time before the set time limit, neutralize the skin immediately.
Always start with the lowest concentration and work your way up once your skin has acclimated to the % concentration.
Editor's Choice:

The Best Glycolic Acid Peels At Home
We've chosen the best glycolic acid peels at home for every available % concentration based on our analysis, experience, specifications, value for money, and consumer reviews.
The list goes up in concentration as it goes on. If this is your first time incorporating acids in your regime, it's best to start with a low percentage and work your way up.
Best for: All skin types
Treatment for: Acne, acne scars, post-inflammatory hyperpigmentation, dull skin texture, fine lines, sun damage, melasma
The list of products below below starts from the mildest concentration to the highest.
Glycolix Elite 10% / 15% / 20% Glycolic Acid Treatment Pads, 60 Count
Easy and convenient, this package comes with individual pads so there's less room for mistakes. This is a perfect starting point for beginners. It gently exfoliates the skin, sloughs off dry skin, excess oil, and other residues from the skin.
The key ingredients include:
Glycolic Acid at pH 4 – to gently exfoliate and enhance texture and skin tone
Liposomal Vitamins A, C, E, Green Tea, and Co-Q10 – to nourish the skin
Witch Hazel – helps refine pore size and reduce surface oil
Overall this targets uneven skin texture and tone, large pores, acne, excess oil, fine lines, and wrinkles. 
This is something that you can treat yourself with to a more regular basis as part of your skin maintenance and prep the skin for other topical treatments.
Available in 10%, 15% and 20% strengths.
CANE + AUSTIN Acne Retexture Pad, 2% Salicylic and 5% / 10% Glycolic Acids
This facial treatment is a powerful combination of uniquely formulated pure, active pharmaceutical-grade glycolic and salicylic acid. These are AHAs (alpha hydroxy acids) that can work in synergy to gently exfoliate and combat acne and blemishes for clearer, brighter skin.
Unlike glycolic acid, salicylic acid is oil-soluble–meaning it has the ability to unclog deep-seated dirt from pores. Glycolic acid then works to improve overall skin tone and texture in the process.
With regular use, these pads can help reduce acne blemishes, blackheads, enlarged pores, hyperpigmentation and skin discoloration; as well as reduce the appearance of wrinkles and fine lines.
Available in (2% Salicylic + 5% Glycolic) and (2% Salicylic + 10% Glycolic) combinations.
Dr. Dennis Gross Skincare Alpha Beta Daily Face Peel, Extra Strength
Skincare phenomenon and cult favorite Dr. Dennis Gross has packaged his signature 7-acid anti-aging peel into easy-to-use daily peels. It's an extra strength version of the peel he developed and uses in his NYC clinic.
They come in a pair of pre-moistened cotton pads that you use one after the other.
Step 1: Contains the exfoliating solution. Wait 2 minutes for the acids to penetrate the skin.
Step 2: Neutralizes the acid while delivering anti-aging and nourishing actives.
This patented two step formula is incredibly easy to use and add to your daily routine. It takes the guesswork out of the peeling process to help you achieve clear, bright, and smooth skin.
Cruelty-free. Vegan formula. Paraben-free and Phalate-free.
Available in 5-Count, 30-Count, and 60-Count boxes.
Best for: Oily skin and imperfections, uneven skin tone or texture, enlarged pores, wrinkles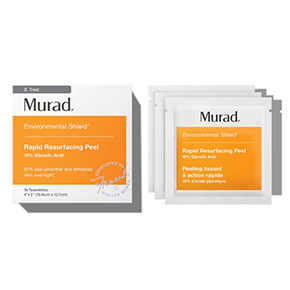 Murad Rapid Resurfacing Anti-Aging Peel - 10% Glycolic Acid + Antioxidant Vitamin C & Licorice Root Extract Blend
This 10% Glycolic Acid extra strength peel quickly resurfaces dull skin and replaces dark, damaged cells with a softer, smoother, and younger-looking texture.
It also contains Vitamin C which improves radiance while its antioxidants protect skin from harmful environmental aggressors.
Licorice Root Extract boosts skin brightness and soothes skin to minimize and irritation from the acid.
It comes in packets of moist towelettes that contains just the right amount of acid solution. Swipe it on your face, neck, and chest to make the most out of each packet. Allow for 3 minutes to absorb and follow with a moisturizer. You can use this 2-3x a week for best results.
Formulated without: Parabens, Sulfates, Phthalates, Gluten
Best for: Normal, Combination, to Dry skin; Dull and rough skin texture
Glycolic Acid 30% Gel Peel - Enhanced with Retinol and Green Tea Extract (Professional Chemical Peel)
This is a moderately strong solution that has Retinol or Vitamin A, which is a proven anti-aging ingredient because of its ability to induce younger and healthier skin cells. It also has Chamomile and Green Tea Extracts that act as an anti-inflammatory and anti-bacterial agent.
There are glowing reviews for this product from those who have suffered from adult acne. With continuous use, red bumps, large pores, and fine lines have reportedly decreased.
But again, just as with any peel, if this is your first time and would like to opt for a stronger solution than the starting 10%, make sure you prepare by having all the necessary tools on hand and read the accompanying instructions carefully.
Gluten Free. No Parabens, Sulfates, or Phthalates.
Cruelty-Free – No Animal Testing on Products or Ingredients
Sustainable Raw Materials & Practices.
To maximize your treatment, you can opt for the Glycolic 30% Peel + Hydra Repair Wrinkle Cream Combo. The Hydra cream is designed to repair, replenish, and protect your skin after chemical peels. It has Matrixyl® 3000 (stimulates fibroblast cells) and Argireline® (works similarly to BOTOX®) to boost reduction in fine lines and wrinkles.
Glycolic Acid 50% Gel Peel - Enhanced with Retinol & Green Tea Extract (Professional Skin Peel)
This is a powerful solution that aimed for more problematic skin issues like deeper lines, acne scarring, and moderate sun damage.
Retinol (Vitamin A) has been proven to reduce fine lines, wrinkles, and promote collagen to help rejuvenate the skin and even out skin tone.
Green tea with cucumber extract is a synergistic combination that provides anti-inflammatory, anti-bacterial, and antioxidant benefits to the skin.
Even if you have prior experience with chemical peeling, make sure you thoroughly read how to use this product properly. This should come with a pamphlet that is detailed and very informative about pre- and post-treatment, contraindications, etc. to make sure you achieve the best results it can offer.
Gluten Free. No Parabens, Sulfates, or Phthalates.
Cruelty-Free – No Animal Testing on Products or Ingredients.
Recycled Materials – Sustainable Raw Materials & Practices.
Glycolic Acid Peel 70% Deep+ Peel Unit - Professional Strength Medical Grade Chemical Face Peel for all Skin Tones
A 70% solution is the highest you can go without a prescription.
If used correctly, and the results will be phenomenal. This is the type of chemical peels that one would pay top dollar to an aesthetician for.
This deep but superficial peel is recommended for those with experience in peeling.
Fine lines can disappear, as well as age spots, hyperpigmentation, and dilated pores.
Best for sun damaged, dull, uneven toned, and dehydrated skin. Great for overall skin rejuvenation.
The Best Glycolic Acid Peel Kits
When you buy your first bottle of chemical peeling agent, you'll need to purchase other tools as well, like a brush applicator and a neutralizing agent among others.
You can save yourself the trouble and reduce any chances of buying the wrong one by getting a complete set instead.
Glyco-Lactic Acid 60% Gel Peel (20% Glycolic + 40% Lactic) with After-Peel Neutralizer
This is a 2-in-1 set in more ways than one. This peel combines 20% glycolic acid + 40% lactic acid in one bottle, combining the benefits of two of the most popular chemical peels used by dermatologists.
Both exfoliates and stimulates collagen to reveal younger looking skin but each type has their own unique strengths:
Glycolic acid is fast-acting and penetrates deeper into the skin. It treats acne, dull skin, wrinkles, hyperpigmentation, and more.
Lactic acid attracts moisture to the skin and hydrates it, improving dry or dehydrated skin. It also helps brighten and even out the skin tone.
This at-home kit comes with its own neutralizer so you don't have to purchase one separately. Their calming After-Peel Neutralizer stops the peeling action to prevent burns and irritation. It also contains 6 acne-fighting and anti-aging ingredients: Aloe Vera, Kojic acid, Vitamin C, Retinol, Mulberry, and Licorice.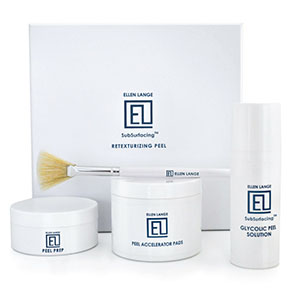 Retexturizing Chemical Glycolic Facial Skin Peel Kit
This professional skin peel helps refine pore size, control break outs, release congested and clogged pores, even out skin tone, reduce dry patches, fine lines, and wrinkles.
It's a unique system that combines 3 different exfoliants: glycolic acid, enzymes, and physical exfoliation to resurface and rejuvenate skin texture.
The kit includes:
Peel prep – an enzyme scrub
Peel Accelerator Pads (60 count) – pre-moistened glycolic peel pads
Glycolic Peel Solution – the original peel kit solution
Fan brush and Dispensing cup
The Ellen Lange Retexturizing peel utilizes their SubSurfacing technology proprietary delivery system that accelerates product migration into the epidermis. Its controlled oxygen feature targets collagen regeneration, metabolic activity, and dermal cell production. This combination helps clear complexion, improve texture, even out skin tone, and enhances the skin's overall glow.
Allure Best of Beauty Award
Leaping Bunny Certified (Cruelty-Free Certification)
Plastic Surgeon Tested.
Not tested on animals.
Free from: Parabens, Sodium Lauryl Sulfate, Gluten, Barley, Wheat.
30% Anti-Wrinkle Anti-Aging Glycolic Peel System - FREE $65 Anti-Wrinkle Creams INCLUDED
Safe & proven brand with over 27 years of servicing dermatologists and spas.
This professional strength glycolic acid is to minimize oil production, acne breakouts, scars, redness and inflammation; all while improving your skin's tone and texture. It also stimulates collagen production and moisture retention.
You can see the same results done by professionals by using the same products AND save money in the long run. Peels at spas & dermatologist that uses this brand can run from $100 to $500 PER SESSION. This kit offers great value as it's good for an estimate 10-15 facial peels, with each peel clocking at just roughly $7.50.
You should see a difference after 4-6 applications when used regularly. Just keep in mind that this is NOT a one-time solution but a long-term skin regimen for consistent, younger-looking skin. Please be patient.
Aside from this solution, the kit is also available in various strengths:
LIGHT (30% Glycolic acid) – for those looking to peel away blemishes and reveal healthy skin. Use to get rid of age spots, fine lines, and for acne-prone skin. No downtime or heavy peeling.
MEDIUM (40% Glycolic acid) – For experienced peelers that would like to have faster results than those seen at 30%.
DEEP (60% Glycolic acid) – For very seasoned peelers with damaged skin that you're working to correct.
The glycolic acid used are derived from natural cane sugar and supplemented with hyaluronic acid, aloe vera, green tea, chamomile, cucumber, grapefruit, and grapeseed to ensure a clean peeling session that hydrates and doesn't overly dry the skin.
This is 100% Vegan, Paraben-free, Cruelty-free, and doesn't contain Sulfates, Synthetic Dyes/Fragrance, Mineral Oil, Formaldehyde Releasers, Alcohols, and MI/MCI Preservatives.
Planet Eden 70% Glycolic Acid Chemical Skin Peel Kit + Glycolic Acid Pre-Peel Cleanser + Antioxidant Recovery Cream + Treatment Fan Brush
It's best not to second-guess your peeling process, especially when dealing with very strong concentrations.
This package is great because it has everything you need in every step of the way, from cleansing to the recovery cream.
The recovery cream, in particular, is formulated with over a dozen different antioxidants that help heal your skin after your peel. It provides anti-inflammatory protection and stimulates collagen. This is geared towards restoring skin elasticity and refined skin texture.
This concentration is recommended for a whole host of skin issues like acne, enlarged pores, fine lines, sun damage, wrinkles, keratosis pilaris, age spots, melasma, freckles, hyperpigmentation, uneven skin tone, dry dull skin, and rosacea. You'll notice an improvement as well in hydration and suppleness within a few uses, and see continuous improvement with regular use.
That said, it is still a whopping 70% in strength so is recommended only for those who have experience with peeling and looking to correct damaged skin.
Alam, M. (2003). Glycolic Acid Peels. Archives of Dermatology, 139(9).
Divinederriere.com. (2018). Well-made, effective skincare that does what it says it does. 
Dr. Dennis Gross Skincare. (2019).
Ellenlange.com. (2018). Best at home glycolic skin peels, chemical peels, microdermabrasion. 
Hurley, M. E., Guevara, I. L., Gonzales, R. M., & Pandya, A. G. (2002). Efficacy of glycolic acid peels in the treatment of melasma. Archives of dermatology, 138(12), 1578-1582. https://doi.org/10.1001/archderm.138.12.1578
Kafi, R., Kwak, H. S. R., Schumacher, W. E., Cho, S., Hanft, V. N., Hamilton, T. A., … & Voorhees, J. J. (2007). Improvement of naturally aged skin with vitamin a (retinol). Archives of dermatology, 143(5), 606-612. https://doi.org/10.1001/archderm.143.5.606
MOY, L. S., MURAD, H., & MOY, R. L. (1993). Glycolic acid peels for the treatment of wrinkles and photoaging. The Journal of dermatologic surgery and oncology, 19(3), 243-246.
Murad, H., Shamban, A. T., & Premo, P. S. (1995). The use of glycolic acid as a peeling agent. Dermatologic clinics, 13(2), 285-307.
Myplaneteden.org. (2018). Chemical Skin Peels | Skin Peels | Glycolic Acid Peels | TCA Peels | Lactic Acid Skin Peels | Salicylic Acid Skin Peels | Professional Results for Home Use. 
Perić, S., Bubanj, M., & Jančić, S. (2011). Glycolic acid peeling in the treatment of mild to moderate inflammatory facial acne vulgaris. Scientific Research and Essays, 6(32), 6671-6680.
Perfectimage.co. (2018). The Art of Skin Perfection – Perfect Image. 
Richards, S. (2008). Textbook OF Chemical Peels: Superficial, Medium and Deep Peels in Cosmetic Practice. Australasian Journal of Dermatology, 49(1), pp.63-64.
Sharad, J. (2013). Glycolic acid peel therapy – a current review. Clinical, Cosmetic and Investigational Dermatology, p.281.