The Best AHA Serums of 2020 (Alpha Hydroxy Acid, Glycolic) Review – You've probably come across a ton of serums and creams that promises to give you that smooth, ageless Jennifer Lopez skin.
And if you're like me, you've probably tried more than your fair share of fancy and expensive bottles.
This much is true: if you can invest in only one skincare product in your daily routine, it should be your serum.
Other steps like cleansing and moisturizing have functions that can be done effectively through products that won't break the bank.
Serums, however, are made to be packed with a multitude of active ingredients whose sole goal is to nourish and restore your skin.
And you only want to feed your skin the best ingredients if you want effective and long-lasting results.
You'll thank your skin when you're 40 and don't look a day over 30.
Your ideal serum should promote anti-aging, skin rejuvenation, and spot lightening among its laundry list of benefits.
And serums that have these inclusive set of characteristics usually have a good dose of alpha hydroxy acids in its formulation.
In this article, you'll get a deeper understanding of how AHAs benefit your skin.
Most importantly, and this is where most people do it wrong, you'll learn how to properly use and incorporate AHA serums into your daily skincare routine.
Once you have a grasp of these key points, you will not only maximize the benefits of alpha hydroxy acids but also avoid the usual pitfalls most people that start using AHAs fall into.
Now without further ado, let's start.
Below is a general skin care routine you can follow, applicable for all skin types. If you have several products that you layer, you can insert them between your serums and moisturizers.
One quick rule in layering products: apply them on from the thinnest to the thickest consistency. Make sure to also give them a few minutes to absorb. This technique will make sure that all your products are in full effect and work in synergy.
Cleansers
Toners – You can use facial cotton to sweep off any excess dirt left by your cleanser. If you do a double cleanse or you're confident with your cleansing routine, you can just gently tap the toner onto your skin to save the product.
Serums or other corrective products with active ingredients – start once every few days and work up to a daily application.2
Moisturizers – Or products with thicker consistencies and/or are oil-based.
Sunscreen (AM) or Night Cream (PM) – Sunscreen is crucial if you have exfoliators in your regimen. They help protect your skin from any photosensitivity that AHAs bring.
Editor's Choice:

The Best AHA Serums for your Skincare Regimen
We've chosen the best AHA serums based on our analysis, product specifications, value for money, and consumer reviews.
Make sure to choose a product that is suited for your skin type and skin issues for best results.
Video: Introducing Good Genes Treatment by Sunday Riley by Sephora
Video: Video: BEFORE & AFTER: Sunday Riley Good Genes Treatment | Le Petite Bain Blog by Madison Bath
Our Review:
Sunday Riley's lines are cult favorites and holy grail products to many skincare enthusiasts.
Their products are very potent, just below prescription level concentrations, but formulated so it's gentle and non-irritating.
This serum is known for its immediate and dramatic effect on the skin. It's been credited with smoothing, brightening, and plumping effect the day after using it a night cream.
Key Active Ingredients:
Pharmaceutical-grade Lactic Acid – superior is its ability to signal the skin cells to increase hyaluronic acid production, which results in a dramatic increase in dermal moisturization; ideal for sensitive skin as it's one of the gentlest and safest acids to use; helps maintain the skin's natural pH level; works well with skins of color and those prone to dryness, discoloration, and post-inflammatory hyperpigmentation
Licorice – an antioxidant which helps get rid of free radicals–one of the leading causes of skin aging, helps with inflammation and skin irritations, fades dark spots and post-inflammatory hyperpigmentation (acne spots)
Lemongrass – increases circulation for a healthier complexion
Expected results from long-term use include reduction of dark spots, fine lines and wrinkles, restoration of sun damaged skin, increased skin firmness, and an evened out skin tone.
This serum can be used as a night time serum or under foundation for a flawless application.
*Clinically tested and proven to significantly improve the appearance of lines and wrinkles in 3 minutes. Results obtained via profilometry analysis. 100% of women said their skin looked and felt significantly smoother and more radiant, with visibly reduced lines and wrinkles. 100% of women said this was the most effective skin plumping product they have ever used and would definitely recommend this product to a friend.
Cons: Highly coveted, so it's hard to come across it especially during winter. It's also one of the most expensive serums out there and will be one of your skincare investment pieces. The concentration can be too potent for very sensitive skin, so best to do a patch test before going all out.
Ideal for: All skin types especially dry skin, dehydrated skin, mature skin; winter seasons, those with fine lines and wrinkles, dull and uneven skin tone, sagging skin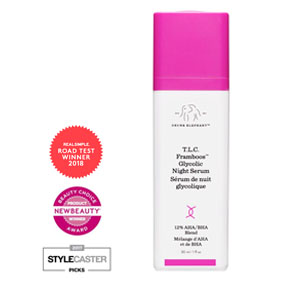 Video: Drunk Elephant TLC Framboos Glycolic Night Serum Introduction by Drunk Elephant Skincare
Video: Drunk Elephant Review Part 1 | Marula, Juju, Pekee, C-Firma, TLC Framboos!
Our Review:
An award-winning product from another cult favorite brand, Drunk Elephant.
Drunk Elephant is cruelty-free, and known for using only non-toxic and clean ingredients based on biocompatibility. They don't use alcohol, silicones, chemical screens, fragrance, dyes, or SLS; making their products compatible with every skin type.
Their T.L.C. Framboos™ Night Serum is a distinct combination of 12% AHA + BHA. This, along with its high-tech gel formulation and ideal pH level of 3.8-4.0, sinks into the skin for maximum absorption.
A supporter of the IEF (International Elephant Foundation).
Key Ingredients:
12% T.L.C. Framboos™ AHA blend: (Glycolic, Tartaric, Lactic, and Citric acids) – a unique blend of acids that effectively dissolves dead skin cells and resurfaces dull skin for a brighter, smoother, and more even complexion
1% Salicylic Acid – unclogs pores and loosens sebum
Raspberry Fruit Extract – calms and rehydrates damaged skin; has antioxidant properties
Cactus Extract – soothes skin while using hydroxy acids
Horse Chestnut – helps improves the appearance of redness and broken capillaries
Galactoarabinan (polysaccharide extracted from larch trees) – acts as a gentle exfoliant, minimizes the appearance of fine lines while preventing moisture loss
Phytostem Buddleja Davidii Meristem Cell Culture – plant-derived, cultured stem cells with potent antioxidant properties that help defend against photodamage and oxidative stress
Virgin Marula Oil – exceptionally absorbable oil, high in critical antioxidants and omegas 6 and 9; helps nourish and rejuvenate skin
White Tea Leaf Extract – a potent antioxidant that provides soothing benefits
Sodium Hyaluronate Crosspolymer – has an exceptionally small molecular weight that is able to deeply penetrate skin to deliver intense hydration, reduce the appearance of fine lines and wrinkles, and promote firmness
Yeast Extract – brightens and reduces the appearance of fine lines and wrinkles, helping to minimize skin stress and soothe redness.
100% free of fragrance, silicones, and essential oils.
*Consumer Testing Results:
98% found skin was smoother
96% found skin was softer
93% found skin felt retexturized and refined
93% found skin had a healthy, radiant glow
91% found skin looked more even-toned, brighter and luminous
*in an independent consumer testing panel of 50 women ages 25 to 55.
Cons: Because of its clean formulation, this comes with quite the price tag in comparison with other AHA serums. Also, those who are used to higher concentrations of acids in their skincare may not see much difference.
Ideal for: All skin types with vegan preferences, dull & uneven complexion
Our Review:
This oil-free, clarifying serum is especially designed to correct adult acne. This includes general symptoms such as clogged pores, excess sebum, scars, and uneven skin tone.
It has an original blend of 5 alpha hydroxy + beta hydroxy acids that aims to reduce the number and severity of acne blemishes. Soothing botanicals also assist in healing the skin. All this while also smoothing out the appearance of fine lines and wrinkles.
You can use this as a spot treatment or all over your face.
Key Ingredients:
Salicylic Acid + LHA –BHAs that are lipid or oil-soluble, which makes it effective in decongesting sebum-filled pores; also works as an effective exfoliant, with anti-inflammatory and antiseptic properties
Dioic Acid – helps fade scars, dark spots, and uneven tone
Glycolic + Citric Acids – AHAs that exfoliates, brightens, improve texture and fine lines, shrinks the appearance of enlarged pores
Turmeric + Arnica Extracts – antioxidants with healing and damage repair, anti-inflammatory properties, helps tighten and firm the skin
Centella Asiatica + Ginger Root – boosts collagen production, assists in wound healing, improves elasticity, anti-bacterial
Cucumber Extract – soothes redness and inflammation
In a clinical study after 28 days, of subjects tested:
96% agreed the product reduced skin's roughness + dryness
96% agreed the product reduced the appearance of dull skin
95% agreed their skin felt younger + appeared healthier-looking
95% agreed their skin had a more youthful glow
91% agreed their skin appeared more even-toned
91% agreed the product improved their skin's overall appearance
Labeled as an OTC drug by the FDA. (This means it passed a more rigorous certification process vs. cosmetics.)
Dermatologist tested and approved. Hypoallergenic. Non-comedogenic.
Formulated without: fragrances, parabens, synthetic dyes, phthalates, sulfates, propylene glycol, formaldehyde, TEA.
Cons: Skin irritation may occur if you use this in conjunction with another topical acne medication. You can start once every other day to acclimate the skin and build up to 3x daily as needed.
Ideal for: Oily & Acne-prone skin, Scars, Congested pores, Excess sebum, Uneven skin tone, Aging skin (fine lines & wrinkles), Sensitive skin
Our Review:
Another award-winning product from the UK, this rose enriched anti-aging serum is formulated with a laundry list of botanicals and bio actives. It is 80% organic and 98% natural.
This regenerating serum aids in cell renewal, cell turnover, and in restructuring the skin. It increases collagen production, improves elasticity, noticeably tones the skin, and combats the appearance of wrinkles & fine lines. It leaves the skin brighter, softer, visibly toned, and enhances overall complexion.
Vegan, Cruelty-free, Toxin-free. Not tested on animals. 100% free of parabens, propylene glycol, phthalates, synthetic colors & fragrances, EDTA, PEGS, sulphates, and petrochemicals.
It comes in a lightweight gel formula that allows for easy application.
Key Ingredients:
15% Hyaluronic Acid (plant-based) – One HA molecule can hold up to 1,000x its weight in water. This is of the most effective skincare ingredients to attract & retain moisture. It boosts skin hydration and restores elasticity to the skin.
Glycolic Acid – Increases cell turnover and improves skin texture
Rose Water (Rosa Damascena) & Rose Absolute – Helps nourish & moisturize the skin
Aloe (Aloe Barbadensis Leaf) – Anti-inflammatory
Witch Hazel (Hamamelis Virginiana) – Conditions the skin and helps restore suppleness of the skin
Kojic Acid/Reishi (Wildcrafted Ganoderma Lucidum) – Brightening
White Willow Bark/Salicylic Acid – Helps fight acne, a gentle and all-natural exfoliant
Organic Oils including: Rosehip Seed Oil (Organic Rosa Canina), Jojoba Oil (Organic Simmondsia Chinensis)
Essential Oils including: Melissa Essential Oil (Melissa Officinalis), Rosewood Essential Oil (Aniba Rosaeodora var Amazonica), Rose Geranium Essential Oil (Pelargonium Roseum)
Botanicals including: Organic Licorice (Glycyrrhiza Glabra), Lemon Balm (Wildcrafted Melissa Officinalis), Chinese Ginseng (Wildcrafted Panax Ginseng), Organic Anise (Pimpinella Anisum), Horseradish (Armoracia Rusticana), Schisandra (Schisandra Chinensis), Fennel (Foeniculum Vulgare), Centella Asiatica (Gotu Kola), Horsetail (Equisetum Arvense), Dandelion (Taraxacum Officinale), Wild Geranium (Geranium Maculatum)
Vitamin E (Tocopheryl Acetate)
Cons: Whilst the long list of botanicals have a tremendous amount of benefits, it also increases the potential for irritation especially for sensitive skin.
Ideal for: Dry & dehydrated skin, Mature skin, Vegan preferences, Dull & uneven complexion
Video: Get Even: The Best Regimen for Irregular Pigmentation | Vivant Skin Care
Our Review:
A dramatically unique AHA serum that works to target 3 primary skin issues—acne, aging, and irregular pigmentation. It's safe for all skin tones and is a great alternative to hydroquinone (skin brightener), glycolics, and skin too sensitive for benzoyl peroxide.
Formulated with mandelic and lactic acid, it gradually resurfaces the skin to reduce the signs of skin aging, blemishes, and acne scars. The results will be in a firmer, brighter, and more even skin tone, as well as a refinement in pores and texture.
This is an ideal serum if you're just starting an exfoliation routine.
Key Ingredients:
Mandelic Acid – A natural skin lightener that is effective in targeting discoloration, age spots, acne, and wrinkles while minimizing irritation. Naturally derived from bitter almonds.
Lactic Acid – One of the gentlest AHAs, derived from fermented milk. It exfoliated dead skin and encourages cell renewal. It also aids in regulating pH and acts as a moisture binder.
Urea – Promotes skin rehydration
Sodium PCA – One of the skin's natural moisturizing factors, it helps repair the skin and repels polluting aggressors like smoke and UV rays
Niacinamide – a water-soluble form of Vitamin B that acts as an anti-inflammatory agent and firms the skin
Inositol – A part of the Vitamin B family that provides maintenance to the cell membrane
Cons: From experience, the consistency can be a bit heavy once applied. You might need to wait for at least 10 minutes (in my case) for it to absorb. One good trick for easier absorption is to apply on damp skin.
Ideal for: Normal, Combination, Oily Skin, Acne-prone Skin; Fades Blemishes, Uneven color, Hyperpigmentation, Wrinkles; Darker skin tones, Skin too sensitive for benzoyl peroxide, hydroquinone, & glycolics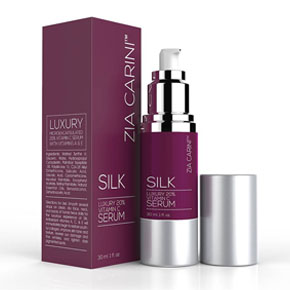 Our Review:
A professional spa-quality serum that has an all natural, vegan, cruelty-free, and gluten-fee formulation.
It is hypoallergenic and has no parabens, sulfates, and other potentially dangerous additives or fillers.
Key Active Ingredients:
Glycolic Acid – One of the fastest reacting AHA that ensures all other ingredients penetrate the skin effectively; accelerates cell turnover to help fade dark spots and promote healthier, younger looking skin
Salicylic Acid – A BHA (beta hydroxy acid) that works in tandem with glycolic acid to unclog pores and loosen deep-seated oils and dirt to be easily washed away during cleansing
Vitamins C + E + A – a potent blend of the most powerful natural antioxidants which helps prevent and correct signs of skin aging
Tri-peptide matrixyl – rebuilds collagen and hyaluronic acid, which helps repair damaged skin and restore its firmness
Polysilicone-15 – Provides sunscreen protection against UVB rays
The consistency is smooth and silky, ensuring quick absorption. Perfect for oily and acne-prone skin.
Their bottle is unique as well–an airless pump that prevents oxidation of your vitamins, ensuring full potency until the last drop. Great for travel.
They also have a 100% money back guarantee, which is always reassuring as a consumer as it shows their confidence are results-based rather than just marketing.
Cons: Not fragrance-free as expected, which is a little disappointing considering it's a hypoallergenic product. It has a light citrus scent.
Also a flip side for products with such a variety of blended active ingredients, you're likely going to get a small portion of each at a time. This is unlike serums like Sunday Riley's Good Genes above or the La Roche-Posey Effaclar below, where the limited ingredient list allows it to deliver its benefits at a very potent rate.
Ideal for: All skin types especially sun damaged skin, oily and acne-prone skin, mature skin, and dry skin
Video: Anti-Aging Acne Skincare | Effaclar by LaRochePosayUSA
Our Review:
A long-standing product that remained in the brands best selling list throughout the years.
This pore-minimizing serum targets large and open pores and works to soften and visibly reduce its appearance.
The consistency of the serum is light and especially fast absorbing, making it ideal for oily skin.
The formulation is also non-comedogenic; reducing any possible incidences of blackheads, whiteheads, and acne formation.
Fragrance-free and paraben-free. This doesn't contain excessive additives that can potentially cause irritations (which is what La Roche is known for).
Key Active Ingredients:
Glycolic Acid – this type of AHA has one of the smallest compounds of all the acids, which makes it very easy to penetrate the skin and help deliver beneficial properties; accelerates collagen production and improve skin firmness; helps fade spots and dark patches as it works to continuously exfoliate the skin
Lipo-hydroxy acid (LHA) – a relatively new type of hydroxy acid that, aside from its usual hydroxy acid properties of skin exfoliation and renewal, has anti-bacterial and anti-inflammatory properties as well; it also provides micro-exfoliation and latches on to oil more effectively than glycolic acid (which is water-soluble and more effective on dead skin cells); LHA can also operate at a much lower pH than normal acids so there is a lower potential for irritation
Cons: While targeted for oily and acne prone skin, this product should be treated as a booster to your skincare lineup instead of an acne-solution. If you have cystic acne or blackheads, this can only minimally help you actively fight those if used on its own.
This serum would work best in tandem with your medication as it will boost efficacy by helping your other products penetrate the skin more easily.
Ideal for: Oily skin, acne-prone skin with large pores, sensitive skin, rough and dull skin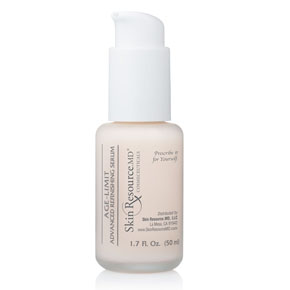 Our Review:
A staple in many clinics, this unique serum is specially made for those with very sensitive skin.
The Age-Limit™ serum utilizes a patented AHAminoPlex™ molecule that prolongs the delivery of glycolic acid to the skin. This process, along with a host of clinically-proven soothing plant extracts, allows the skin to tolerate acids with little to no irritation.
It delivers all the benefits of AHAs including exfoliation, cell turnover, hydration, reduction of fine lines and wrinkles; without the need to have resistant skin.
The gel can be applied in the evening or during the day. It does not flake, crack, or discolor so it can work well under makeup.
It also does not contain parabens, fragrance, colorants, or preservatives.
Key Active Ingredients:
Glycolic Acid & Lactic Acid – Combined AHAs for easier penetration and extra hydration
Pentylene Glycol – Provides extra hydration
White Tea Extract (camellia sinensis leaf), Kola Extract, Mate Extract, Guarana Extract – clinically proven skin-calming plant extracts
Sea Whip Extract (pseudopterogorgia elizabethae) – Extra-strength soothing
Cons: Those with experience with and have a high tolerance for acids may gain little benefit with its patented formulation. If you already have resistant skin, it may be best to go with serums stronger concentrations like Sunday Riley or (shown above) to maximize the product and your dollars.
Ideal for: All skin types especially extra sensitive skin; previously intolerant of glycolic acid; aging skin, ashy or rough/scaly and sun-damaged; clogged and acneic skin
When applied to the skin, AHA serums can stimulate the exfoliation of old, roughened skin to promote cell renewal. Basically, this method tells your skin to speed up its regeneration process. This process includes efficient exfoliation, proper moisturization, and collagen synthesis for skin firming and recovery.
AHAs or Alpha hydroxy acids are one of the most effective active ingredients found in skincare today. AHAs are used in the treatment of acne, scarring, pigmentation, dryness, and wrinkles. In fact, it is one of the most popular ingredients used to reverse the leading cause of skin aging today: photodamage (sun damage).
When we were younger, this isn't really something we had to worry about because our skin is working at its optimal efficiency. However, as we grow older and expose our skin to damage, this regeneration process gradually slows down. This results in a slew of issues like clogged pores, dull skin, wrinkles, dryness, uneven skin tone among others.
AHA serums can invigorate and revitalize your skin so it's able to regenerate quickly and correct the damage that your skin has incurred throughout the years.
What are the Benefits of AHA Serums?
Clinical trials have shown that hydroxy acids bring significant improvements in skin hydration, elasticity, tone, texture, and smoothing wrinkles.
Alpha hydroxy acids were actually initially used in dermatology to treat other serious skin conditions like hyperkeratosis.
However, when they found that AHAs also promote softer and smoother skin, lighten blemishes, faded wrinkles and age spots; it soon began to have a major role in cosmetic skin care.
Further studies have also shown improvements in the skin's barrier function and restored firmness.
In one scientific study, a twice-daily application of 4% L-lactic acid formulations (pH 3.7-4.0) lead to significant improvement in protective barrier function and reduces sensitivity to common skincare irritants like sodium laureth sulphate (SLS) after 4 weeks.
Major benefits of AHA serums include:
helping diminish the appearance of fine lines and hyperpigmentation (acne spots)
rejuvenates dull, lifeless skin
smoothens out skin texture
evens out skin tone
combat mild acne, blackheads, and whiteheads
restore hydration and maintain proper moisture levels in the skin
improve skin barrier function and skin firmness
improve effectivity of other skincare products
The higher the concentration of the acid and the lower the pH (the measure of acidity) of the product, the more effective it will be.
However, the strength of the formulation is also related to its ability to cause skin sensitivity.
One way to minimize this is by raising your skin's tolerance to acids and lowering your skin's pH levels through AHA toners.
Once the skin is conditioned enough, you can deliver higher concentrations of acids in the form of serums or chemical peels for more dramatic results.
What You Should Know Before Using AHAs
Everyone's skin is affected by the skin type we were born with, our hormones, the environment, the skincare and makeup we use on a daily basis–the list goes on.
However, having a good idea of what your skin needs and its current condition is crucial in picking the right products.
There are several things you should consider before delving into AHA serums.
When you've gone through these general guidelines, you'll have a better chance of picking the right product for your skin and be able to reap all the benefits AHA serums have to offer.
Here are the basic guidelines in choosing the right AHA for your skin:
Choose the right type of AHAs for your skin type to maximize its benefits – Identify the skin issues you want to address and use the kind of AHA that would be most beneficial for your needs. The list of products below identifies the AHAs active in each product, as well as outlines what type of skin issues it can address.
Be aware of your skin's sensitivity or resilience to active ingredients – AHAs and other active ingredients are generally more effective at higher concentrations. That said, you might be tempted to use AHAs on a daily basis right off the bat. This is one of the most common missteps in choosing AHAs. Acids can be highly irritating if applied to the skin without preparation. Our skin needs to be introduced to the acids slowly, starting from the lowest concentration possible and worked all the way up. With this, you can avoid issues like irritation, redness, and other complications. As mentioned, this can be done through low concentration products like AHA toners.
Incorporating it successfully into your skincare regime – knowing how to layer your skincare is crucial in getting the product to reach your skin and be fully effective. One basic rule of thumb is: products should be applied from the lightest to thickest consistency. So your serum should be layered sometime after cleansing and before your moisturizer. Another important point to remember is to wait until your serum is fully absorbed before layering on the next product. This should be around 5-15 minutes.
Be wary of skin irritation vs. allergic reaction – Whenever you're introducing a new product to your skin, especially if it has potentially irritating actives like acids, it's important to check if you're allergic to any of the ingredients. This is done by doing a patch test. This way, you'll be able to differentiate between an allergic reaction and skin irritation. If it reacts in your patch test outside your face, you're likely allergic. It's best to take note and avoid the product overall. If it reacts to your face, it's probably irritation. This isn't a lost cause by far. One of the most common misconceptions people have is just because a product is irritating, it's not working or you won't be able to use the product anymore. You actually just need to start with a lower concentration of acids and work your way up.
Observe precautions when starting to use acids if you have sensitized skin – If you have aggressively overused a product and currently have over-sensitized skin, it may be best for you to transition away from these harsh products to allow your skin to recover. Reset your skin's natural barrier by going back to basics–a gentle cleanser, moisturizer, and sunscreen. Try going by this for a few weeks and slowly incorporate your products to better acclimatize your skin and avoid irritations. Generally, two weeks is sufficient for your skin to rebuild its compromised skin barrier.
How to Incorporate the Best AHA Serums in Your Skincare Routine
Below is a general skin care routine you can follow, applicable for all skin types. If you have several products that you layer, you can insert them between your serums and moisturizers.
One quick rule in layering products: apply them on from the thinnest to the thickest consistency. Make sure to also give them a few minutes to absorb. This technique will make sure that all your products are in full effect and work in synergy.
Cleansers
Toners – You can use facial cotton to sweep off any excess dirt left by your cleanser. If you do a double cleanse or you're confident with your cleansing routine, you can just gently tap the toner onto your skin to save the product.
Serums or other corrective products with active ingredients – start once every few days and work up to a daily application.2
Moisturizers – Or products with thicker consistencies and/or are oil-based.
Sunscreen (AM) or Night Cream (PM) – Sunscreen is crucial if you have exfoliators in your regimen. They help protect your skin from any photosensitivity that AHAs bring.
Bioactive, P. (2020). PHACE BIOACTIVE®: pH Optimized Skin Care® | Marisa Vara Arredondo.
DailyMed – PHACE BIOACTIVE CLARIFYING SERUM- salicylic acid cream. (2020).
Dermatologist Recommended Skin Care. (2020).
DUFFY, D. (1998). Alpha Hydroxy Acids/Trichloroacetic Acids Risk/Benefit Strategies. A Photographic Review. Dermatologic Surgery, 24(2), pp.181-189.

Drunk Elephant Skincare. (2020).
Greive, K., Tran, D., Townley, J. and Barnes, T. (2014). An antiaging skin care system containing alpha hydroxy acids and vitamins improves the biomechanical parameters of facial skin. Clinical, Cosmetic and Investigational Dermatology, p.9.

Innovative – Botanical – Skincare » Baie Botanique | USA. (2020).
La Roche-Posay Skincare, Sunscreen, Body Lotion Official Site. (2020).
Moghimipour, E. (2012). Hydroxy Acids, the Most Widely Used Anti-aging Agents. jundishapur Jornal of Natural Pharmaceutical Products, 6(2), pp.9-10.
Michalun, N. and Michalun, M. (2001). Milady's skin care and cosmetic ingredients dictionary. 1st ed. Australia: Milady Thomson Learning.

 

Riley, S. (2020). Sunday Riley.
SUEKI, H. (2001). Pharmacological Effects of Alpha-Hydroxy Acids (AHAs) on Human Skin. Nishi Nihon Hifuka, 63(3), pp.221-225.
VIDT, D. and BERGFELD, W. (1997). Cosmetic use of alpha-hydroxy acids. Cleveland Clinic Journal of Medicine, 64(6), pp.327-329.
Vivant Skin Care. (2020).
VORARAT, S., AROMDEE, C. and PODOKMAI, Y. (2002). Determination of Alpha Hydroxy Acids in Fruits by Capillary Electrophoresis. Analytical Sciences, 18(8), pp.893-896. [Source]
WOLF, B., PASTER, A. and LEVY, S. (1996). An Alpha Hydroxy Acid Derivative Suitable for Sensitive Skin. Dermatologic Surgery, 22(5), pp.469-473. [Source]
Zia Carini Beauty. (2020).