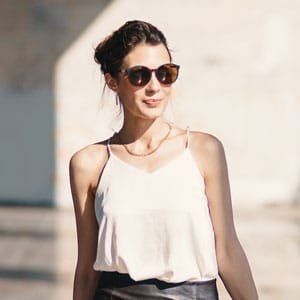 Ask the Expert: Is home IPL laser hair removal safe?
---
Answer: While there are safety precautions you need to take, using laser hair removal devices at home is safe when used correctly.[1]
The shift from professional oversight to consumer use means companies have to develop devices that are both intuitive to use and have built-in safety mechanisms.
Our team of dermatologists, estheticians, and beauty editors has reviewed over 35 hair removal devices over the years.
We have so much data that we've decided to write a comprehensive safety study using at-home laser hair removal machines.
It's admittedly a long read, though, so we've also made this complete safety checklist to serve as an overview. With this, you'll have everything you need to make an informed decision when buying an IPL device.
Keep in mind that the various price points differ in build and quality.
Pros & Cons: At-Home vs. Professional Laser Hair Removal
Video: Is At-Home Laser Hair Removal Effective? by Dr. Sam Bunting, Dermatologist
At-Home Laser Hair Removal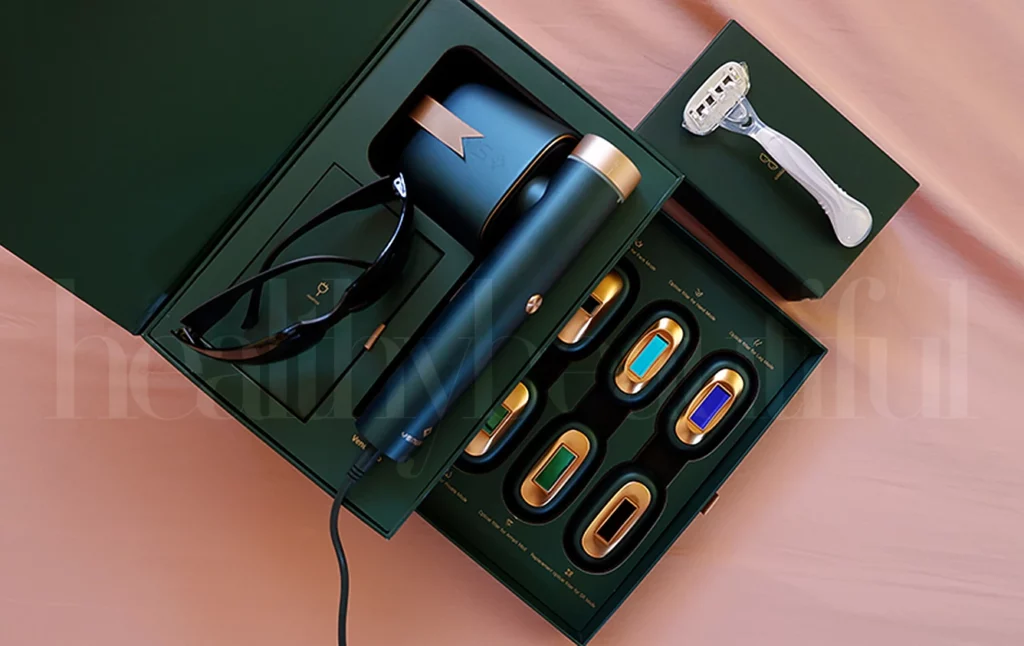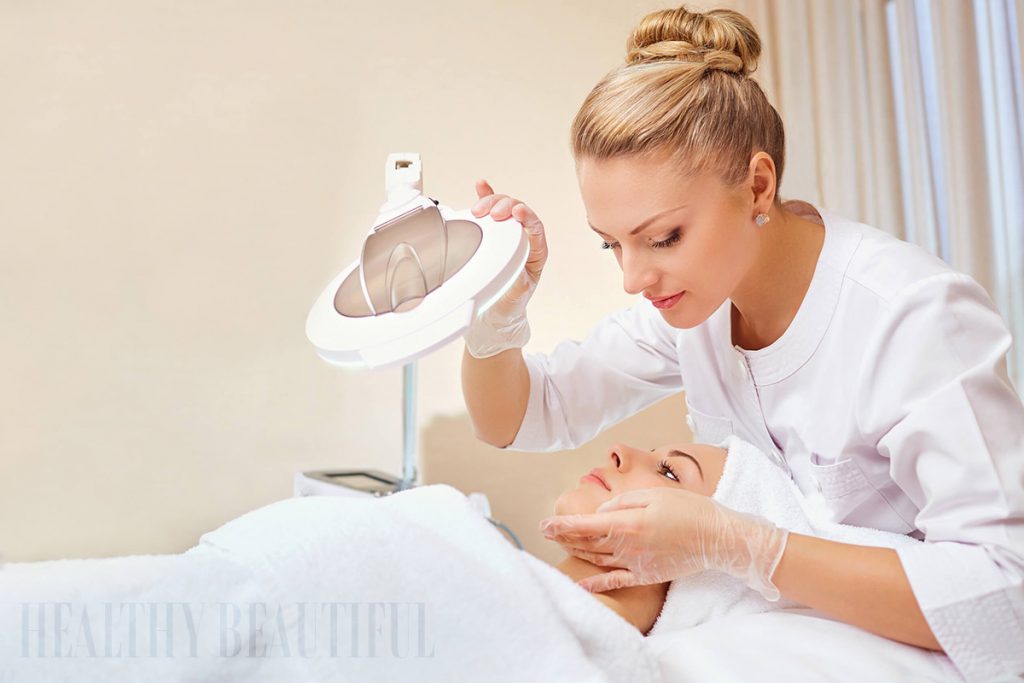 Professional Laser Hair Removal
Safety Checklist: At-Home Laser Hair Removal Devices
What to look for in an IPL device:
When looking for an at-home IPL hair removal device, these are key factors to consider for safe and effective use. 
FDA Clearance and/or International Safety Certifications: Look for devices that the FDA has cleared for at-home use. This means that the device has been tested and found to be safe and effective for use at home.
Skin Type & Hair Color: Make sure the device suits your skin type and hair color.[2] Most devices are not recommended use on darker skin or lighter hair, except for rare devices like the Silk'n Infinity.[3]
Safety Mechanisms: Look for devices with built-in safety features, such as skin tone sensors to help prevent burns and cooling systems for pain-free treatments.[4]
Hair-Removing Technology: The majority of hair removal devices use basic IPL. High-end brands have advanced or proprietary technologies that deliver more effective results.[5]
Reviews & Clinical Studies: Before making a purchase, read reviews of the device and look for clinical studies that have been conducted on its safety and efficacy.[6]
If you can, consult a healthcare professional before using any at-home IPL hair removal device to ensure it is safe and appropriate for your needs.
---
Safety Precautions, Contraindications, Technical Warnings, & Improper Use
As skincare professionals, we always want you to have accurate and reliable information.
Our team at Healthybeautiful reviewed over 35 devices and compiled all their user manuals to create this massive safety guideline. This list should apply to most IPL devices currently on the market.
Keep in mind that while this guide aims to prepare you with an overall understanding of best practices and safety standards, you should still read and follow the instructions provided by the specific device you're using.
Adhere to safety precautions to minimize risk and side effects, no matter how easy or convenient shortcuts may be.
If you have any healthcare concerns, we recommend you consult a professional before using any at-home IPL hair removal device to ensure it is safe and appropriate for your needs.
Safety Precautions:
Eyes
IPL light can cause ocular damage.[7]
Please do not use your device near or around the eyes. There is no at-home device currently cleared for use above the cheekbones. Laser hair removal near the eyes requires professional expertise and laser equipment.
Make sure to wear IPL goggles or look away entirely from the flashing light.
Do not look directly at the operating lamp.
Never point the treatment window into an open space to emit a light pulse. Always make sure that the treatment surface is pointed at and in full contact with the skin during use.
Skin
Unsuitable IPL settings can cause temporary and permanent side effects.[8]
Sensitive Skin – If you have sensitive skin or experience any redness, you can reduce discomfort by lowering the energy fluence or using the cooling feature. (Note that not all devices have a cooling mechanism in place. Brands thave have them are: JOVS Venus Pro, DEESS Laser Hair Removal System)
Compromised Skin – Do not use on injured, inflamed, itchy, flaky, or infected skin.
Skin Tone – Follow the skin color chart provided by the manufacturer when selecting energy levels. This is to avoid the risk of burns, blisters, or changes in skin color.
Alcohols – Never use flammable liquids such as alcohol to clean the skin before use. This includes perfumes, sanitizers, acetone, and other chemicals.
Tanned Skin – Do not use after recent sun exposure, including artificial tanning machines. This is because higher quantities of melanin expose the skin to greater risk when using any light-based hair removal method. This applies to all skin types, even those that don't seem to tan quickly.
Body Parts
Do not use on these areas:
Dark Areas . Tattoos or permanent makeup, dark brown or black spots such as large freckles, moles, or warts; nipples, genitals, or lips.
Above the cheekbones, especially near your eyes.
Injected fillers or toxins.
Metal braces or metal implants. Consult your physician if you have any doubts.
Painful areas.
Areas where you may want hair to grow later. The results are permanent.
Contraindications:
Dark Skin – Treating dark skin that is out of coverage can result in adverse effects. If you have very dark skin, we highly recommend the Silk'n Infinity.
Light Hair Color – Most devices won't work on you if you have naturally white, grey, blonde, or red body hair.
Children – Please do not use it for children under 15 years old. IPL devices have yet to be tested below this age group.
Pregnant or Nursing – IPL devices have also not been tested on this group.
Metal Allergy – or sensitivity to contact with chrome.
Monitoring equipment – Do not use the device where there is monitoring equipment (e.g., cardiac monitors, ECG alarms), which may not operate properly when the device is in use.
Epilepsy – Suffer or have suffered from epilepsy
Cannot Sense Heat Properly – Caused by an illness or other health-related issue
Skin Conditions:

Have a history of keloidal scar formation
Have abnormal skin conditions caused by diabetes, for example, or other systemic or metabolic diseases.
Skin that has active eczema, psoriasis, lesions, open wounds, or infections (cold sores)
A part of the body that has a history of herpes outbreaks unless you have consulted your physician and received preventative treatment before using the device.
Have a history of skin cancer or areas of potential skin malignancies.
Have a known sensitivity to light (photosensitivity), or have a related disease such as porphyria, polymorphic light eruption, solar urticaria, lupus, etc.

Exposure to Medical or Cosmetic treatments:

Were exposed to strong sunlight or an artificial tanning machine during the past 4 weeks.
Have received radiation therapy or chemotherapy treatments within the past 3 months.
Have an active implant, such as a pacemaker, an ICD, an incontinence device, an insulin pump, etc.
Have areas where you have metal braces or a metal implant.
Areas with injected fillers or toxins.

Medications:

Taking medication that makes the skin more sensitive to light. This includes but is not limited to: non-steroidal anti-inflammatory agents, (e.g., aspirins, ibuprofens, acetaminophen), tetracyclines, phenothiazines, thiazide, diuretics, sulfonyluraes, sulfonamides, DTIC, fluorouracil, vinblastine, griseofulvin, Alpha Hydroxy Acids (AHAs), Beta-Hydroxy Acids (BHAs), azaleic acid, Retin-A®, Accutane® and/or topical retinoids.
Have been treated with Accutane® (isotretinoin) within the past 6 months.
Have received drugs from your physician for a skin condition within the past 6 months.
Have been on a steroid regimen within the past 3 months.

Have any other condition that in your physician's opinion, would make it unsafe for you to use the device.
Technical Warnings:
Physical Damage – Please do not use if the product has any physical damage. It can cause an electric shock if touched. Contact the brand for any issues.
Water – Keep your device away from water or any liquid.

Avoid using near showers, bathtubs, or any areas near water.

Make sure that the device and your hands are completely dry before connecting the adapter to the electricity supply.

If the device has come into contact with water, disconnect it immediately from the electricity supply before touching the handheld device.

Cooling Vents – Do not use if the cooling vent is blocked to avoid overheating. Make sure the fan is always on. 
Overheating – It may overheat if used for long periods in warm rooms over 20° Celsius or 68° Fahrenheit. Rest for at least 2 hours if this happens. Best to do your treatments in cool areas.
Power Cords – If the power cord is damaged, contact the manufacturer to get a replacement.

Never use the adapter if it has a damaged cable or plug, isn't working properly, or has been submerged in water. If that happens, unplug the adapter immediately before touching it. Failure to unplug the adapter may result in an electric shock.

Never pull the adapter out of the socket by the cable. Always remove it by taking hold of the adapter.

Do not kink the adapter cable or lay it over sharp edges.

Fire & Electricity – Do not operate the device in environments where there is a risk of explosion. Most devices are not suitable for use in the presence of flammable anaesthetic mixture with air, oxygen or nitrous oxide. Keep the device and all its parts away from open flames and hot surfaces.

Never leave the device unattended when connected to the electricity supply. Keep the adapter accessible at all times, so it can be removed from the electricity supply easily in case of an emergency.

Always switch the device off and disconnect it from the electricity supply when you are not using the device when you intend to clean it, or in the event of a fault.

Manufacturer Change and Repairs

Changes or modifications to devices not expressly approved by the party responsible for compliance could void the user's authority to operate the equipment.

Do not use if: the manufacturer does not supply the parts or accessories, if the device or any of its parts are damaged in any way or do not appear to be working correctly, or if you see or smell smoke.

Only authorized personnel are permitted to perform repairs. Do not attempt to modify, open or repair the device. You may expose yourself to dangerous electrical components and cause serious harm. It will also void the warranty.
Disposal – Do not dispose with household waste. This depends on where you are, but some law requires that you dispose of this electrical device (including all accessories and parts) at a designated recycling collection point for electrical devices.
Improper Use:
The following people must not use at-home laser hair removal devices: children, adults with limited physical, sensory or psychological capacities, or those lacking experience or knowledge of using the device.
Possible physical injury caused by inappropriate or incorrect use.
Most manufacturers do not accept liability for damage or injuries caused by improper or incorrect use.
Keep in a safe environment. Please do not put any object into the product; it can cause electric shock.
Do not use this device on pets.
Make sure not to leave the device unattended while it is running or plugged in. Always switch it off when not in use.
Do not use near flammable or explosive materials.
Do not press the treatment surface against any black object to prevent damage to the device and the surface.
Do not leave your device in direct UV light or sunlight for long periods.
Do not use the device on top of clothes or other objects to prevent burning, discoloration, or damage.
Do not use for any purpose other than hair removal as described in this user manual.
Do not use in areas where you may want hair to grow later. The results may be permanent.
How to Use a Home IPL Device:
Spot tests
Always do a spot test on the areas of your body you want to treat. A spot test will let you know which energy level is most comfortable for you. 
Video: Laser Hair Removal Patch Test
Test on a spot near the areas you are about to treat. Note that different areas of your body have different sensitivities as well as different skin tones. Start with areas with thicker skin, like the arms or the legs, before moving to more sensitive areas, like the upper lip or underarms.
Start at the lowest energy level.
Do not flash on the same area twice in a single session.
Leave for about 2 hours and check for any redness or discomfort. Avoid direct exposure to sunlight during this time.
You can start your treatment using this energy level if all seems well. You can gradually raise the level in subsequent sessions.
Treatment Proper:
Before:
Be freshly shaved before treatment. As IPL will heat your hair, any protruding strand longer than 1mm can burn on top of the skin. This can be uncomfortable for you and damage the device's treatment window.
Shave, do not pluck. Laser hair removal is less effective when the hair is plucked at the root. A patient who has had their roots removed must wait 15 to 21 days before having another session. 
 Your skin should be dry and clean. Do not apply deodorant, makeup, or other skincare products to the areas to be treated. They can prevent the laser from reaching the hair root, compromising the results. In addition, they could cling to the treatment window and damage your device.
 Remove all jewelry before use.
During:
Be aware of your device's spot size and spatial distribution across your skin. Make sure you cover an area completely without gaps or overlapping pulses. This can take a while to get used to, but you'll get the hang of it with enough practice. Regularly missed spots can result in patchy hair growth. 
Select your energy settings carefully. You can get better results with higher energy intensity, but the risk of side effects and complications also increases. Use a lower energy level if you experience severe discomfort.
Unless explicitly allowed by the manufacturer, do not flash the same area more than once per hair removal session.
If you see redness, blisters, or burns, stop using your device immediately and apply a healing ointment or gel. Double-check your settings.
If you feel pain, stop using it immediately and double-check your settings.
If the device becomes too hot to touch, stop use immediately and let it rest for at least 2 hours.
Ask for assistance when using the device on your back to avoid unnecessary risks.
Please do not use it in a dark room or in direct sunlight.
After:
During the 48 hours following laser hair removal, avoid sun exposure and indoor tanning. Your skin will be sensitive and your pores will be open. The effects of ultraviolet light and indoor tanning may result in hyperpigmentation.
The treated area should be protected from the sun with a high-SPF sunscreen.
Following the treatment, use minimal makeup on the treated areas.
Moisturize the treated areas with a post-laser cream or a cooling balm. Moisturizing accelerates the healing process.
---
References:
Promise, Deliver What They. "Do Home-use Hair Removal Lasers & Intense Light Devices Deliver What They Promise?."
Warner, Jeremy, Michael Weiner, and Karol A. Gutowski. "Laser hair removal." Clinical obstetrics and gynecology 49.2 (2006): 389-400.
Gold, Michael H., and Hela Goren. "The Effect of Novel Low Energy Pulsed Light Combined with Galvanic Energy for Home-Use Hair Removal of Dark Skin." Journal of Cosmetics, Dermatological Sciences and Applications 5.04 (2015): 283.
Cohen, Marc, et al. "Home-based devices in dermatology: a systematic review of safety and efficacy." Archives of dermatological research 314.3 (2022): 239-246.
Hession, Meghan T., Alina Markova, and Emmy M. Graber. "A review of hand-held, home-use cosmetic laser and light devices." Dermatologic Surgery 41.3 (2015): 307-320.
Thaysen‐Petersen, D., et al. "A systematic review of light‐based home‐use devices for hair removal and considerations on human safety." Journal of the European Academy of Dermatology and Venereology 26.5 (2012): 545-553.
Lee, Wendy W., et al. "Ocular damage secondary to intense pulse light therapy to the face." Ophthalmic Plastic & Reconstructive Surgery 27.4 (2011): 263-265.
Fodor, Lucian, and Olimpiu Bota. "Complications After IPL Treatment." Aesthetic Applications of Intense Pulsed Light. Springer, Cham, 2020. 195-216.
Russe, Elisabeth, et al. "Evaluation of safety and efficacy of laser hair removal with the long‐pulsed 755 nm wavelength laser: a two‐center study with 948 patients." Lasers in Surgery and Medicine 52.1 (2020): 77-83.
Lanigan, Sean W. "Incidence of side effects after laser hair removal." Journal of the American Academy of Dermatology 49.5 (2003): 882-886.
Clatici, Victor Gabriel, et al. "Complications of laser hair removal—How we could reduce them?." Dermatologic Therapy 33.4 (2020): e13518.
Lim, S. P. R., and S. W. Lanigan. "A review of the adverse effects of laser hair removal." Lasers in medical science 21.3 (2006): 121-125.
Guduk, Sukran Sarigul, and Gulsen Tukenmez Demirci. "Safety of laser hair removal in patients receiving systemic isotretinoin for acne Vulgaris." Dermatologic Surgery 47.11 (2021): 1448-1452.
Hamilton, Mark M., Steven H. Dayan, and Paul J. Carniol. "Laser hair removal update." Facial plastic surgery 17.03 (2001): 219-222.
Kontoes, Paraskevas, et al. "Hair induction after laser-assisted hair removal and its treatment." Journal of the American Academy of Dermatology 54.1 (2006): 64-67.
Noyman, Yehonatan, et al. "Using blend wavelengths in order to improve the safety and efficacy of laser hair removal." Journal of Cosmetic Dermatology 20.12 (2021): 3913-3916.
Kluger, Nicolas, Sophie Hakimi, and Pascal Del Giudice. "Keloid occurring in a tattoo after laser hair removal." Acta dermato-venereologica 89.3 (2009): 334-335.
Barolet, Daniel. "Low fluence–high repetition rate diode laser hair removal 12‐month evaluation: Reducing pain and risks while keeping clinical efficacy." Lasers in Surgery and Medicine 44.4 (2012): 277-281.
Fontana, Carla Raquel, Daniel Bonini, and Vanderlei Salvador Bagnato. "A 12-month follow-up of hypopigmentation after laser hair removal." Journal of Cosmetic and Laser Therapy 15.2 (2013): 80-84.
Battle Jr, Eliot F., and Lori M. Hobbs. "Laser‐assisted hair removal for darker skin types." Dermatologic therapy 17.2 (2004): 177-183.