Dry Patches & Polka-dot Pores
We've all experienced it.
Putting the finishing touches on a full face, then realizing in horror that the foundation on your nose has started to break up.
You see dry patches and polka dot pores on your nose where your foundation has settled.
Video: How to Reduce Bumpy, Textured Foundation for Smooth, Flawless Skin
You now scramble to fix it, from putting on powder to primer—but nothing works.
And unfortunately, nothing less than re-doing the area will fix it.
I've encountered many of these in my professional career, most often happening to those with oily or dehydrated skin.
The key to solving this is two-fold:
Short-term solution through makeup – Knowing how to hide large pores with proper makeup techniques
Long-term solution through skincare – trying to minimize them through your skincare routine
The best way to stop foundation settling in your pores is by having a pore-minimizing skincare routine and knowing proper makeup techniques.
Follow the guidelines below, and we'll help you work towards permanently getting a smooth and flawless finish.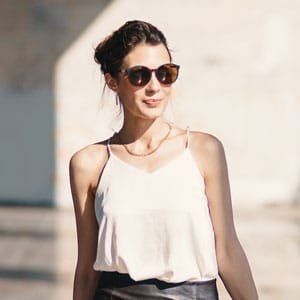 Ask the Expert: Why does your makeup settle into your pores?
---
There are several reasons why foundation may settle into the pores on the nose:
Pore size – The pores on our noses are typically larger and more noticeable than those on other areas of the face, making them more prone to uneven makeup application. Irregular texture on some noses can also be caused by enlarged pores or ice-pick scars.
Oily, congested skin – If you have oily skin, excess sebum can cause clogged pores.[2]
Incorrect product choice – Pairing incompatible products and using a heavy, oily foundation can also exacerbate this problem
Poor application technique – Not blending the right way can result in a patchy, uneven finish
Dehydrated skin – Dry, dehydrated skin can cause your foundation to cling to your pores and emphasize their appearance.
By understanding the causes of why foundation settles into your pores, you can take steps to prevent it from happening.
This may include using a different foundation formula, changing your application technique, or taking steps to keep your skin hydrated and healthy.
How to Keep Foundation from Settling into Your Pores
A Step-by-Step Guide by our Makeup Artist, Michelle Evans
Have a skincare routine that regularly unclogs your pores
The size of your pores is genetic, so you can't really physically shrink them without cosmetic treatments like laser or chemical peels.
Changing the factors that affect large pores is beyond any skincare product's paycheck, but that doesn't mean we can't find ways to minimize their look.
Reference: Top 5 Steps to Unclog Your Pores & Refine Your Skin
Keeping your pores unclogged will not only prevent breakouts but also helps keep foundation from settling into them.
Instead of using pore strips or having regular extractions, preventing the build-up of oil and dirt in the first place is a gentler, better way to maintain clean pores.
Video: Minimize your large pores – Dermatologist Tips
Here are some specific ways and skin care techniques that can help you achieve this:
Incorporating some of these pore-minimizing skincare techniques into your routine prepares your skin and gives your makeup the best chance to perform.
If you have sensitive skin, alternate your actives instead of layering them to avoid irritation.
Use silicone-based makeup to smoothen your skin texture
A. Using Silicone-based products
Due to their unique properties, silicone-based products are often considered the best for large pores and textured skin.
Here's why:
Smoothing effect – Silicones have a smooth, silky texture that can help fill fine lines, wrinkles, and large pores, creating a smooth surface for your foundation.
Blurring effect – Silicone-based products have a blurring effect on the skin, helping to minimize the appearance of imperfections, including large pores and textured skin.
Non-comedogenic – Silicones are non-comedogenic, meaning they won't clog your pores, which is essential for those with large pores and textured skin.
Hydrating – Silicones are hydrophobic, meaning they repel water, but they also form a barrier on the skin that can help to lock in moisture and prevent moisture loss. This can be beneficial for those with dry or dehydrated skin.
Long-lasting – Silicone-based products have a long-lasting formula that can help to keep your foundation in place throughout the day, reducing the likelihood of it settling into your pores.
Silicone-based primers and foundations are two popular types of silicone-based products that can help to minimize the appearance of large pores and textured skin. 
Silicone-based primers help to create a smooth base for your foundation, reducing the likelihood of your foundation settling into your pores. 
Silicone-based foundations, on the other hand, provide a smooth, flawless finish and help to blur the appearance of imperfections, including large pores and textured skin.
PSA: There have been rumors and concerns in the beauty industry about the safety and efficacy of silicone-based products. Some claim silicones are unsafe for skin use, cause breakouts, and clog pores.
However, scientific evidence does not support these claims and is generally considered false. Silicones are widely used in medical and personal care and are considered safe for topical use. They are FDA-approved and have undergone extensive safety testing.
Video: How to Make Your Pores DISAPPEAR With Makeup!
B. Using products with the same base formulation
Using makeup products with the same base, such as silicone-based primer with silicone-based foundation or water-based primer with water-based foundation, can have several benefits for your skin.
Improved Adhesion – Products with the same base tend to work better together as they have a similar chemical composition, which allows them to adhere to your skin more effectively. This helps ensure your makeup stays in place for longer without settling into fine lines or pores.
Better Compatibility – Products with the same base are often better tolerated by the skin as they have similar ingredients and are less likely to irritate. This can be especially important for those with sensitive or easily irritated skin.
Enhanced Effectiveness – Using products with the same base can improve the overall effectiveness of your skincare and makeup routine. For example, using a silicone-based primer with a silicone-based foundation can help to create an even more flawless and pore-minimizing finish on the skin.
Better Layering – Products with the same base can also be easier to layer, as they are less likely to mix or react with each other. This can create a more natural and seamless look without unwanted caking or flaking.
Using makeup products with the same base can create a more effective skincare and makeup routine that works well with your skin type and provides better results.
Learn makeup techniques that will hide your pores
Here are some makeup techniques not only to prevent your foundation from settling into your pores:
Dab primer directly on pores – Dab a SMALL amount of silicone-based primer directly on your pores, focusing on the areas around the areas where your pores are the largest. Carefully build as you go; only apply a little at a time. Silicone primers tend to slide off if you use too much.
For large pores and ice-pick scars, fill indented areas – Using the warmth of your fingertips, gently push your primer in with a rolling motion into your pores until filled. Make sure your primer is non-comedogenic, has a matte finish, and that your skin is well-moisturized. This prevents the overproduction of oil that can dislodge your makeup later in the day. 
Wait for your primer to dry – Give your primer a few minutes to set before applying foundation.
Apply a silicone-based foundation – Use a damp sponge or soft blending brush to blend it evenly over your skin. Use circular motions to buff the foundation and work it in.
Set with powder – To further prevent your foundation from settling into your pores, set it with a light dusting of translucent powder using a fluffy brush.
Video: SHRINK LARGE PORES INSTANTLY WITH THIS TRICK! by Wayne Goss, Makeup Artist
Using these techniques, you can fill in and smooth over your pores, creating a smooth base for your foundation.
Your primer will also help to prevent your foundation from settling into your pores throughout the day, ensuring that your makeup stays in place and looks fresh.
Foundation settling in your pores can be frustrating, but with the right skincare and makeup techniques, it is possible to prevent this from happening.
By keeping your skin clean, exfoliated, and protected with sunscreen, you can help to prevent the development of enlarged pores. Additionally, using a silicone-based primer and foundation, and taking the time to properly blend your makeup, can help to give you a smooth, even, and natural-looking complexion that minimizes the look of large pores.
Whether you have textured skin or want to achieve a flawless finish, these tips and techniques can help you achieve the beautiful, glowing complexion you desire.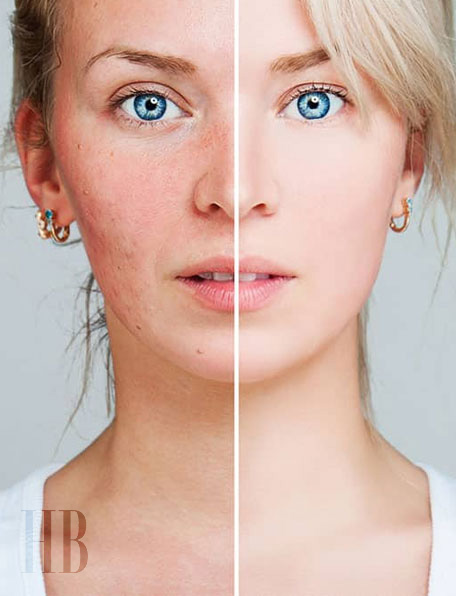 Recommended Acne Programs
---
If you're suffering from severe acne, it's best to undergo a program that will help you get to the root of the problem and address the causes. 
References:
Brown, Bobbi. Bobbi Brown makeup manual: For everyone from beginner to pro. Hachette UK, 2008.
Roh, M., Han, M., Kim, D., & Chung, K. (2006). Sebum output as a factor contributing to the size of facial pores. British Journal of Dermatology, 155(5), 890-894.
Rozell, C. (2009). Face Time: The Art of Makeup (Doctoral dissertation).
Draelos ZD. The effect of a daily facial cleanser for normal to oily skin on the skin barrier of subjects with acne. Cutis. 2006 Jul;78(1 Suppl):34-40. PMID: 16910029.
DeHaven, C. (2015). Mechanisms of exfoliation. Science of Skincare.
Smith, M. (2005). Toners and astringents. In Cosmetic Formulation of Skin Care Products (pp. 91-102). CRC Press.
Lee, J. S., Ha, J., Shin, K., Kim, H., & Cho, S. (2019). Different cosmetic habits can affect the biophysical profile of facial skin: a study of korean and chinese women. Annals of Dermatology, 31(2), 175-185.
Dong, J., Lanoue, J., & Goldenberg, G. (2016). Enlarged facial pores: an update on treatments. Cutis, 98(1), 33-36.